Genes2Networks: connecting lists of gene symbols using mammalian protein interactions databases
BMC Bioinformatics
2007
8:372
Received: 07 May 2007
Accepted: 04 October 2007
Published: 04 October 2007
Abstract
Background
In recent years, mammalian protein-protein interaction network databases have been developed. The interactions in these databases are either extracted manually from low-throughput experimental biomedical research literature, extracted automatically from literature using techniques such as natural language processing (NLP), generated experimentally using high-throughput methods such as yeast-2-hybrid screens, or interactions are predicted using an assortment of computational approaches. Genes or proteins identified as significantly changing in proteomic experiments, or identified as susceptibility disease genes in genomic studies, can be placed in the context of protein interaction networks in order to assign these genes and proteins to pathways and protein complexes.
Results
Genes2Networks is a software system that integrates the content of ten mammalian interaction network datasets. Filtering techniques to prune low-confidence interactions were implemented. Genes2Networks is delivered as a web-based service using AJAX. The system can be used to extract relevant subnetworks created from "seed" lists of human Entrez gene symbols. The output includes a dynamic linkable three color web-based network map, with a statistical analysis report that identifies significant intermediate nodes used to connect the seed list.
Conclusion
Genes2Networks is powerful web-based software that can help experimental biologists to interpret lists of genes and proteins such as those commonly produced through genomic and proteomic experiments, as well as lists of genes and proteins associated with disease processes. This system can be used to find relationships between genes and proteins from seed lists, and predict additional genes or proteins that may play key roles in common pathways or protein complexes.
Keywords
Intermediate NodeReference NetworkMount Sinai SchoolSeed NodeTotal Link
Background
The rapid increase in experimentally identified binary interactions between proteins has brought us to a stage where we are now able to start viewing how these interactions and components come together to form large functional regulatory networks [1]. However, it is impossible for researchers to keep up with the ever expanding literature. The emergence of high-throughput experimental technologies, such as yeast-2-hybrid screens [2, 3], cDNA microarrays [4, 5] and mass-spectrometry [6], as well as databases that mine legacy experimental literature [7, 8] allow for the construction of large networks. Networks, formally graphs, are simple abstract representations of biomolecular interactions where cellular components are represented as nodes, and interactions connect these nodes through links.
The construction of cellular network datasets has several valuable uses. Network representation allows for extraction of global topological statistical and structural properties such as connectivity distribution [9], clustering [10], and the identification of network motifs [11] or graphlets [12]. These measurements provide clues about the design principles of intracellular organization. Interaction network datasets can also be used to predict unidentified interactions [13, 14], or used as a starting point for quantitative computational modeling [15]. Additionally, interaction networks can assist in interpreting experimental results when identified lists of proteins or genes from proteomic or genomics experiments or computational studies can be placed in their contextual local interaction networks [16].
Methods
Our aim in developing the Genes2Network software is to provide cell- and molecular-experimental biologists as well as computational biologists with a user-friendly tool for creating subnetworks from lists of mammalian genes or proteins by connecting these genes or proteins using known protein-protein interactions. To accomplish this task we developed a large-scale high-quality mammalian protein-protein interaction database. This database was created by consolidating databases containing mostly low-throughput literature-based protein interaction data extracted manually by expert biologists, but also data generated from high-throughput methods. To develop Genes2Networks, we consolidated ten currently available mammalian protein interaction network datasets into one large dataset. To prune out interactions of low confidence, a simple filter was implemented. Genes2Networks is delivered as a web interface application. This tool can be used to extract relevant subnetworks given lists of gene or protein names. The input to the system is a list of Entrez gene symbols. The system uses the merged datasets made of selected databases to find interactions between the nodes in the seed list. The merged datasets can be filtered based on user preferences concerning the maximum number of interactions a reference can provide, and the minimum number of references required for interactions to be included. The resultant filtered dataset serves as a reference network for exploring, by depth-first traversal, paths between the seed nodes. Nodes that fall on paths shorter than a user defined path length between seed nodes are included as intermediates in the outputted subnetwork. The system's output includes a statistical analysis report, and a three color network map, highlighting the seed nodes in one color, the significant intermediates in another color, and the non-significant intermediates in a third color. The statistical analysis provides a list of intermediate nodes used to connect the gene names, sorted by significance of specificity to interact with nodes from the seed list. This process is illustrated in Figure
1
.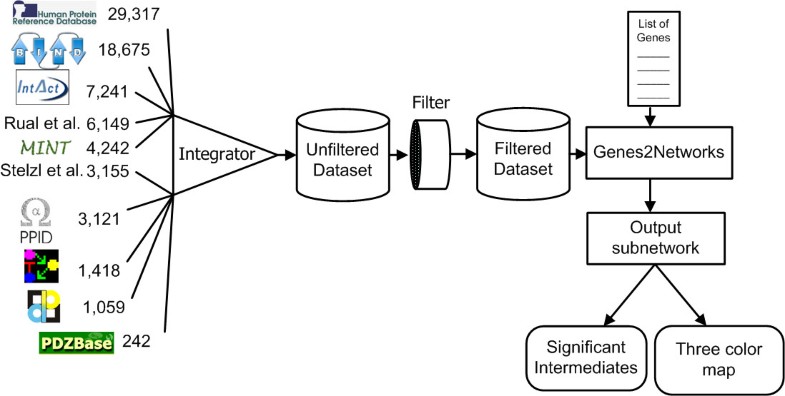 Discussion and Conclusion
Several commercial and academic initiatives have been attempting to address the need for integration, consolidation, visualization, querying and organization of information about binary mammalian protein-protein interactions and signaling pathways from sparse sources. For example, Cytoscape [37] is Java-based desktop software for protein and gene network visualization. Cytoscape's several plug-ins allow for analysis and integration of experimental data as well as incorporation with Gene Ontology [38]. One Cytoscape plug-in, called cPath [39], is a data warehouse that joins together databases stored in PSI-MI XML format [19]. Other similar software platforms include: PIANA [40], Pathway Studio [7], ProViz [41], PATIKA [42], and Ingenuity. Some are commercial products and some were developed by academic laboratories and are freely available. Genes2Networks provides several advantages over existing systems; the consolidated network made from the ten databases, after filtering, is a high quality yet comprehensive dataset; the user interface is an intuitive web-based Web 2.0 enabled application; the systems is free for academic users; the system provides predictions about intermediate components and their involvement with the proteins and genes from seed lists by ranking intermediates according to their specificity to interact with the seed list. Genes2Networks is suitable for analysis of diverse proteomic and genomic experimental results. The web interface and visualization provide easy access and a user friendly environment eliminating the need for training.
Availability and requirements
Project name: Genes2Networks
Project home page: http://actin.pharm.mssm.edu/genes2networks
Operating system: Platform independent
Programming language: C, JavaScript, PHP, Perl
Other requirements: The HPRD and PPID dataset are only available to Mount Sinai School of Medicine users due to licensing restrictions.
License: GNU GPL
Any restrictions to use by non-academics: License needed. Users should contact technology@mssm.edu
Declarations
Acknowledgements
This research was supported by NIH Grant No. GM-054508 and an advanced center grant from NYSTAR to Ravi Iyengar. We thank the anonymous reviewers for their useful comments.
Authors' Affiliations
(1)
Department of Pharmacology and Systems Therapeutics, Mount Sinai School of Medicine, New York, USA
Copyright
© Berger et al; licensee BioMed Central Ltd. 2007
This article is published under license to BioMed Central Ltd. This is an Open Access article distributed under the terms of the Creative Commons Attribution License (http://creativecommons.org/licenses/by/2.0), which permits unrestricted use, distribution, and reproduction in any medium, provided the original work is properly cited.