Current approaches to gene regulatory network modelling
BMC Bioinformatics
2007
8(Suppl 6):S9
Published: 27 September 2007
Abstract
Many different approaches have been developed to model and simulate gene regulatory networks. We proposed the following categories for gene regulatory network models: network parts lists, network topology models, network control logic models, and dynamic models. Here we will describe some examples for each of these categories. We will study the topology of gene regulatory networks in yeast in more detail, comparing a direct network derived from transcription factor binding data and an indirect network derived from genome-wide expression data in mutants. Regarding the network dynamics we briefly describe discrete and continuous approaches to network modelling, then describe a hybrid model called Finite State Linear Model and demonstrate that some simple network dynamics can be simulated in this model.
Keywords
Boolean FunctionGene Regulatory NetworkReverse EngineeringBoolean NetworkPart List
Introduction
Most cellular processes involve many different molecules. The metabolism of a cell consists of many interlinked reactions. Products of one reaction will be educts of the next, thus forming the metabolic network. Similarly, signalling molecules are interlinked and cross-talk between the different signalling cascades forms the signalling network. And the same is true for regulatory relationships between genes and their products. All these networks are closely related, e.g. the regulatory network is influenced by extracellular signals. But there are characteristic features in the signalling network, which do not exist in the regulatory network; therefore dealing with these networks separately makes sense. Our main interest is in transcription regulation networks and we will refer to them as "gene networks", but many principles are valid for a wide range of networks. High-throughput technologies allow studying aspects of gene regulatory networks on a genome-wide scale and we will discuss recent advances as well as limitations and future challenges for gene network modelling. This survey is largely based on and is an extension of two previous publications [1, 2].
Gene networks are concerned with the control of transcription, i.e. how genes are up and down regulated in response to signals. In the 1960's genetic and biochemical experiments demonstrated the presence of regulatory sequences in the proximity of genes and the existence of proteins that are able to bind to those elements and to control the activity of genes by either activation or repression of transcription. These regulatory proteins are themselves encoded by genes (Figure
1
). This allows the formation of complex regulatory networks, including positive and negative feedback loops. These principles of gene regulation apply to prokaryotes (e.g. bacteria) as well as to eukaryotes (e.g. higher organisms). The control of gene activity is much more complex than Figure
1
suggests. It involves many kinds of proteins thus allowing additional levels of control particularly in eukaryotes. Transcription factors, the proteins that recognize the regulatory elements in the DNA (the binding sites) need to interact with other proteins in order to activate gene expression. In addition to control of gene expression there are regulatory controls to determine the maturation, transport and degradation of the mRNA, as well as its translation. Just to illustrate the complexity of gene regulation: Gene Ontology (GO), a controlled vocabulary used to describe protein functions contains currently over 7500 different terms describing biological process 'transcription', including over 6500 terms under process 'regulation of transcription' [
3
].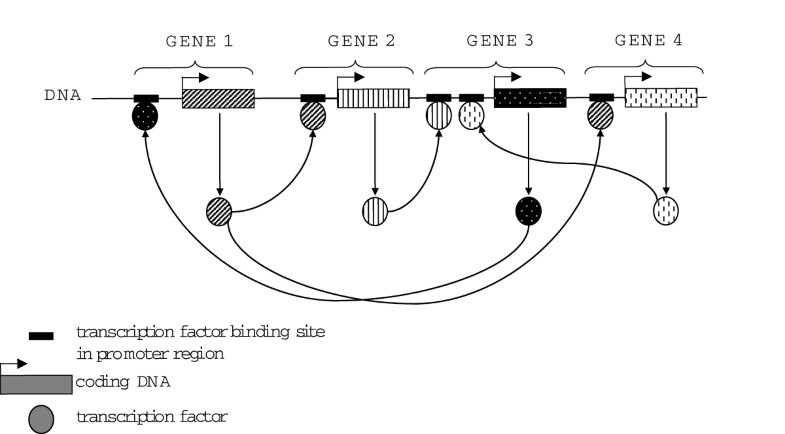 Gene networks are often described verbally in combination with figures to illustrate sometimes-complicated interrelations between network elements. Due to the complexity of these networks, such models are not always easy to comprehend and they often leave a considerable amount to ambiguity to the reader's imagination. Since the 1960's methods from mathematics and physics have been used to describe and simulate small gene networks more stringently. Nowadays, molecular biological methods and high-throughput technologies make it possible to study a large number of genes and proteins in parallel enabling the study of larger gene networks. This allows tackling gene networks more efficiently and has led to a new discipline called Systems Biology, which seeks to combine methods from biology with methods from mathematics, physics and engineering to describe biological systems.
We proposed to categorize gene networks models in four classes according to increasing level of detail in the models [
1
]. Each class has its own advantages and limitations. The four classes are:
i.

parts lists – a collection, description and systematisation of network elements in a particular organism or a particular biological system (e.g., transcription factors, promoters, and transcription factor binding sites);

ii.

topology models – a description of the connections between the parts; this can be viewed as wiring diagrams where directed or undirected connections between genes represent different types of interactions;

iii.

control logic models – a description of combinatorial (synergetic or interfering) effects of regulatory signals – e.g., which transcription factor combinations activate and which repress the transcription of the gene;

iv.

dynamic models – the simulation of the real-time behaviour of the network and the prediction of its response to various environmental changes, external, or internal stimuli.
Obviously, for a fixed number of network elements each next level is more detailed and complex. But the size of the networks that we are able to model at each particular level is limited. Much larger networks can be described on topological level than on the dynamic level. In the following section we will discuss these classes in more detail.
Organisational levels of gene network models
"All models are wrong, but some are useful". – George E. P. Box
Reverse engineering and synthetic networks
"With four parameters I can fit an elephant, and with five I can make him wiggle his trunk" – John von Neumann
Reverse engineering of gene networks
Reverse engineering refers to an approach where one starts from data and tries to design a model that fits the data (semi-) automatically within the given model class, without additional prior hypothesis about the biological system. The model derived from the data is judged by the results of simulations compared to new experimental data. For example, one could use a gene expression data set to construct a particular gene network model that is consistent with the data. Inconsistencies between simulated data generated using this model and new data, that has not been used to construct the model, indicate shortcomings of the model. These inconsistencies can be used to choose between alternative models, or to improve the model. However, reverse engineering is possible only (1) if we have chosen an appropriate model class (in the sense that the desired properties of the real world network can be described in it), and (2) if we have enough quantitative data describing the behaviour of the system. Of course, even if the answers to these two questions are positive, reverse engineering is still a difficult problem, and few efficient algorithms are known. The methods chosen for reverse engineering depend crucially on the kind of modelling technique used. Quantitative models are normally more demanding than qualitative models. Dynamic models contain many parameters, and detailed experimental data are required to work out the parameters.
Miyano et al. have proposed algorithms to infer Boolean networks [67, 72] and Friedman et al. developed methods to extract probabilistic graphical models, such as Bayesian networks from experimental data [49, 52]. Tegner et al. proposed an approach for the reverse engineering of dynamic gene networks based on integrating genetic perturbations [97]. They identified " [...] the network topology by analysing the steady-state changes in gene expression resulting from the systematic perturbation of a particular node in the network." [97]. However, they only apply their approach to simulated data and to a comparatively small biological system consisting of only 5 genes.
Synthetic networks
A powerful approach to test our understanding of gene regulatory networks is to build new networks from scratch in an approach called synthetic biology. Predictions of small models have been successfully tested experimentally using specifically engineered control circuits, such as feed forward loops [98] and feedback loops [99–103]. In a sense this is reverse engineering of a real world network. For a more detailed description see the reviews by Kaern et al. and Ball [104, 105].
Summary and open questions
"If you torture the data long enough, Nature will confess." – Ronald Coase
At the basis of any modelling, including network modelling, there is a realisation and acceptance that a model describes only some properties of the 'real world' system, and ignores others. Thus it emphasizes particular aspects of reality, leaving out details that are not relevant for the purpose of the study.
How far are we from being able to build realistic cell models? The availability of large-scale data sets such as microarray gene expression and genomic localisation data triggered the search for suitable approaches to model complex biological systems. As the result of genome projects we are now able to compile parts lists on genome scale, though we do not know how many important categories in these parts lists are missing. Models describing the network topology are approaching the whole genome scale. High-throughput experiments, most notably microarrays, provide us with temporal information about transcriptional processes in time series experiments. These have been used to study control logics as well as some dynamics aspects of transcription regulation in processes such as the cell cycle [8, 106, 107], stress response [108, 109], or galactose utilization [110]. Models have been built to explore the fundamentals for example of the cell cycle for yeast [65] and improvements in the understanding of genome wide dynamics of cell cycle have been made [111]. Nevertheless, high-throughput technologies have yet to have a direct impact on quantitative real time simulations of gene networks.
The function of about one third of all genes is still unknown for the yeast Saccharomyces cerevisiae despite it being one of the best-studied organisms. And even for many of the better-known genes and core processes that have been studied for decades, like the cell cycle, there is still not enough data available to exactly know all changes in concentration and activation patterns. Currently it seems not feasible to simulate even relatively simple cells like yeast. Mechanisms like RNA interference, regulated degradation of mRNAs and proteins, chemical modifications of key molecules and others might play a larger role than anticipated in current models, other processes might still be unknown. It is obvious that the separation into gene regulatory networks, metabolic networks and protein interaction networks is possible only up to a certain degree. To what extent can the transcription regulation networks be decoupled from other networks, such as signal transduction networks? We need to integrate many types of information if we want to build realistic dynamic models, however, for current modelling approaches we have to limit the complexity of the systems we are dealing with.
One possibility to reduce the complexity of biological systems depends on the modularity of the real world networks and their robustness (stability against changes of various network parameters and initial conditions). If the networks are modular and robust, it might be possible to build genome scale networks as sets of smaller modules. If we can find modules – units behaving independently of each other – it would be possible to build the complete model as a set of modules.
The belief that real world biological networks 'must be' robust and 'must be' modular is quite wide spread. However precise definitions of biological robustness and modularity and, moreover, the proofs of their presence remain elusive. The principles of modularity and robustness used in engineering are sometimes given as a reason that the same must be true in biological systems, but there are many examples when the 'designs' in nature, which are obtained by natural selection are different from the designs one would use in engineering. However, there are other arguments why biological networks could be modular, such as reuse of the components after genome duplications, but they are no proofs. There are indications that, on the dynamic level, network modules exist. For instance, cell growth can be decoupled from cell cycle in yeast (e.g., [112]), indicating that to some extent independent modules control these two processes. Similarly, the Drosophila developmental network indicates that the exact values of the model parameters may not be crucial in large-scale systems behaviour [85]. But to what extent can specific processes be decoupled from each other?
Another possibility to reduce complexity in network models depends on the importance of the exact values of parameters and substance concentrations. How much do the exact quantitative values, such as substance concentrations, matter in determining the more general patterns of system behaviour, such as cell differentiation? If we are not interested in predicting the exact concentrations of different substances, but only in the patterns of the systems behaviour such as steady states, we can often use simplified Boolean-type networks instead of differential equations [113] and hybrid models might offer "good enough" solutions.
The question "Is real time simulation on genome scale possible at all?" is still open. Obtaining high quality systematic quantitative data characterizing systems parameters such as mRNA, protein and metabolite concentrations, interactions and spatial and temporal localization of different molecules will be important. Nevertheless, the data will not provide new insights automatically. We believe that hypotheses expressed as rigorously defined models, the properties of which can be studied independently and tested on experimental data, will play an important role in understanding the living systems on genome-wide level. In any case, finding the right language for describing the models is a prerequisite for success.
Declarations
Acknowledgements
This article is an extended version based on two earlier publications [1, 2]. The project is funded by the European Commission by the DIAMONDS grants under the RTD programme "Quality of Life and Management of Living Resources".
This article has been published as part of BMC Bioinformatics Volume 8 Supplement 6, 2007: Otto Warburg International Summer School and Workshop on Networks and Regulation. The full contents of the supplement are available online at http://www.biomedcentral.com/1471-2105/8?issue=S6
Authors' Affiliations
(1)
Department of Medical and Molecular Genetics, King's College London School of Medicine, London, UK
(2)
European Bioinformatics Institute, EMBL-EBI, Cambridge, UK
Copyright
© Schlitt and Brazma; licensee BioMed Central Ltd. 2007
This article is published under license to BioMed Central Ltd. This is an open access article distributed under the terms of the Creative Commons Attribution License (http://creativecommons.org/licenses/by/2.0), which permits unrestricted use, distribution, and reproduction in any medium, provided the original work is properly cited.