LTRharvest, an efficient and flexible software for de novo detection of LTR retrotransposons
BMC Bioinformatics
2008
9:18
Received: 12 October 2007
Accepted: 14 January 2008
Published: 14 January 2008
Abstract
Background
Transposable elements are abundant in eukaryotic genomes and it is believed that they have a significant impact on the evolution of gene and chromosome structure. While there are several completed eukaryotic genome projects, there are only few high quality genome wide annotations of transposable elements. Therefore, there is a considerable demand for computational identification of transposable elements. LTR retrotransposons, an important subclass of transposable elements, are well suited for computational identification, as they contain long terminal repeats (LTRs).
Results
We have developed a software tool LTRharvest for the de novo detection of full length LTR retrotransposons in large sequence sets. LTRharvest efficiently delivers high quality annotations based on known LTR transposon features like length, distance, and sequence motifs. A quality validation of LTRharvest against a gold standard annotation for Saccharomyces cerevisae and Drosophila melanogaster shows a sensitivity of up to 90% and 97% and specificity of 100% and 72%, respectively. This is comparable or slightly better than annotations for previous software tools. The main advantage of LTRharvest over previous tools is (a) its ability to efficiently handle large datasets from finished or unfinished genome projects, (b) its flexibility in incorporating known sequence features into the prediction, and (c) its availability as an open source software.
Conclusion
LTRharvest is an efficient software tool delivering high quality annotation of LTR retrotransposons. It can, for example, process the largest human chromosome in approx. 8 minutes on a Linux PC with 4 GB of memory. Its flexibility and small space and run-time requirements makes LTRharvest a very competitive candidate for future LTR retrotransposon annotation projects. Moreover, the structured design and implementation and the availability as open source provides an excellent base for incorporating novel concepts to further improve prediction of LTR retrotransposons.
Keywords
Transposable ElementSeed LengthWhole Genome ShotgunTarget Site DuplicationCandidate Pair
Background
For decades it has been known that parts of eukaryote genomes are repetitive. The major fraction of repeats are transposable elements, which are spread throughout the genomes in an interspersed fashion and make up approx. 50% of the human genome [1] or even higher percentages in plant species. Transposable elements are classified in three groups according to their mode of mobilisation (transposition): LTR retrotransposons (retrovirus like elements), non-LTR retrotransposons, and DNA transposons. They are well described by their sequence features as analysed with molecular genetics methods and by sequence comparison. However, the molecular mechanisms of transposition are in most cases not fully understood and the elucidation of their functions is still a matter of discussion. In addition, there are more questions than answers regarding the origin of transposable elements and their role in evolution, especially their contribution to modification of genomes. The genome wide identification of transposable elements is not only an essential step in the annotation of genomes but also offers an opportunity to obtain in depth knowledge on features of transposable element families.
Repeat detection is a well studied problem in bioinformatics. It is mostly based on sequence analysis. A multitude of computational tools have been developed for an automated annotation of repeat families in sequenced genomes. Probably the best known program is RepeatMasker [2]. It screens DNA query sequences for interspersed repeats and low complexity DNA sequences. Precompiled sequence libraries and special scoring matrices are used to detect similar copies in the query sequence. Therefore, RepeatMasker is the first choice for repeat annotation in genomes, in which repeat families have already been well characterized, although annotating vertebrate genomes takes days of calculation time on a single computer.
Transposable element families are reported to be lineage-specific, e.g. half of all human repeats arose after the divergence of mouse and human and most repeats in the mouse genome are not found in the human genome [3]. RepeatMasker's repeat libraries contain lots of repeat families from model organisms, while repeat libraries for non-model organisms exist with only limited curation [4]. In addition, transposable elements within a family might be highly divergent depending on the time of activity of the source repeat and in these cases identification by sequence comparison methods is not always successful. This holds especially when the search is performed over species borders. Therefore, automated de novo methods for repeat detection are desirable. Once for conducting a fast repeat detection, and additionally to speed up the cumbersome process of generating repeat libraries.
In most cases de novo methods for finding repeats start with a self-comparison to detect sequence similarities, followed by clustering methods to group related sequences into families. A number of widely used programs are already available for this task, e.g. REPuter [5] (or the improved and more general software tool Vmatch [6]), RECON [7], RAP [8] and PILER [9].
Besides their repetitive nature, most classes of transposable elements are characterized by more specific constraints. These can be, for example, distance and length constraints for repetitive sequences within the repeat element or some motif, that is typical for this repeat element. Thus, repeats identified by general repeat detection tools additionally have to be screened in order to find candidates satisfying criteria of their specific class of transposable element. To achieve high quality predictions it is necessary to build software for the individual classes of transposable elements.
LTR retrotransposons make up a large fraction of the interspersed repeats and are well classified by several structural attributes [10]. The long terminal repeats (LTRs) are the hallmark of canonical LTR retrotransposons and make them an ideal target for de novo prediction. Full length or nearly full length LTR retrotransposons bear the following features that might be suitable for de novo prediction: LTRs appear in a certain size range and distance between each other. In addition, LTRs are flanked by a short target site duplication (TSD). In some species, e.g. in yeast, the LTRs contain a conserved dinucleotide motif at their 5' and 3' end. The internal region contains genes important for retrotransposition and some conserved sequence motifs. However, depending on the age of the element, the LTR sequences, the open reading frames, and motifs are degenerated through mutations.
There are already some software programs specifically designed for the de novo LTR retrotransposon detection problem. LTR_STRUC [11] is the best known of these programs. LTR_STRUC has been applied to the genomes of the fruitfly Drosophila melanogaster [12], Oryza sativa (rice) [13], Mus musculus (mouse) [14] and recently Pan troglodytes (chimpanzee) [15]. The program LTR_par [16] follows a similar approach but uses a faster algorithm than LTR_STRUC. The de novo prediction of LTRs is also the first step in the recently developed software [17] (abbreviated LTR_Rho in this publication), and by the program LTR_FINDER [18]. Both programs consider further features of LTR retrotransposons in post processing steps to enhance the quality of the predictions.
The aim of this work is the development of a software tool, that efficiently works on large genomes and in addition is flexible in parameterization in order to be used for various species. Our program called
LTRharvest
implements the same LTR model as
LTR_par
, but uses a different composition of algorithms and features:
1)

It allows for fast computation of large data sets, e.g. vertebrate genomes that are in the order of 2 – 3 gigabases sequences length.

2)

Flexible parameter settings allows the user to incorporate biological features like LTR length and distance, TSD length and motifs.

3)

LTRharvest accepts sequences in multiple FASTA format and is therefore able to work on whole genome shotgun (WGS) sequencing data, which usually come as multiple unordered contigs.

4)

LTRharvest is open source software that can easily be modified and extended to satisfy further needs.
Here we present a comprehensive introduction to the software tool LTRharvest and show several benchmarks. LTRharvest was validated on yeast and fruitfly genome annotations with very good results in both sensitivity and specificity of the predictions. We also compare the quality and performance of LTRharvest to existing software tools LTR_STRUC [11], LTR_par [16], LTR_Rho [17] and LTR_FINDER [18]. This benchmark demonstrates that LTRharvest is considerably faster and memory efficient with a prediction quality as good as or even better then the aforementioned software tools.
Implementation
Features of LTR retrotransposons used for de novo prediction
An autonomous LTR retrotransposon (for a review see [10]), that bears all features essential for retrotransposition is composed of two nearly identical LTR sequences which are flanked by TSDs of usually 4 – 6 bp. In some species, small palindromic motifs at the 5' and 3' end of the LTRs are observed. The internal region is composed of several open reading frames, for example the pol gene encodes for protease, reverse transcriptase (RT) and integrase (IN) enzymatic functions and the gag gene encodes structural proteins for the virus-like particle. In rare cases, an env-like gene, that is essential for the retroviruses life cycle, is present in LTR retrotransposons although not essential for retrotransposition. Finally, conserved sequence motifs, e.g. the so-called primer binding site (PBS) that acts as starting point for the reverse transcription and a purine rich sequence called the poly purine tract (PPT) is observed at the 3' end of the internal region. All these features may be used for de novo predictions. However, in a particular genome some or most of the LTR retrotransposons may not have these features due to mutations they acquired during evolution. Point mutations lead to full length or nearly full length elements with degenerate LTR sequences as well as disruption of the internal open reading frames. Large deletions or insertions of other sequences, mainly from other transposable elements, are often observed and lead to truncated or nested LTR retrotransposons, respectively. Such LTR retrotransposon elements lack the canonical features to a certain extent and may be missed with de novo prediction software. Another common degenerated product are the so called solo LTRs, which consist of only one LTR due to exchange between the two LTRs flanking an element.
For computational detection, structural attributes of LTR retrotransposons are modeled in
LTRharvest
following the model of [
11
] and [
16
] (see also Figure
1
):

Length constraint: The number of nucleotides between the start and end positions of an LTR is bounded within a range [L min , L max ].

Distance constraint: The number of nucleotides separating the start positions of the two LTR instances is bounded within the ranges [D min , D max ].

Similarity constraint: 5' and 3' LTR sequences normally show a high sequence identity. For newly inserted LTR retrotransposons the LTR sequences are identical due to the specific reverse transcription mechanism. Over evolutionary time, the LTRs can undergo mutations and therefore may differ more or less in their sequences.

Target site duplications (TSDs): The regions 4–6 bp immediately upstream and downstream of the 5' and 3' LTR respectively normally show a high sequence identity, but may have aquired mutational variations over evolutionary time.

LTR motif: Often LTR sequences start and end with a short conserved motif consisting of two nucleotides that form a palindromic sequence when joined, i. e. tg...ca.
In summary, LTRharvest is designed to detect LTR retrotransposon candidates that contain at least two LTRs. Solo LTRs, truncated elements that lack one LTR, or elements with large insertions do not fulfill the model underlying LTRharvest. However, such copies can be detected in a postprocessing step e.g. by homology searches of the computed LTR retrotransposons in the genome under investigation.
Algorithms and workflow underlying LTRharvest
The first step in the work flow of
LTRharvest
(Figure
2
) is the construction of an enhanced suffix array for the genome or chromosome under consideration. As input,
LTRharvest
can also handle sequences in multiple FASTA format, such as those from WGS sequencing data.
LTRharvest
considers each sequence of a (multiple) FASTA file independently. That is, it does not search across boundaries of a sequence. Ambiguous characters (N, S, Y, W, R, K, V, B, D, H, M) are treated such that they do not match anywhere (not even themselves).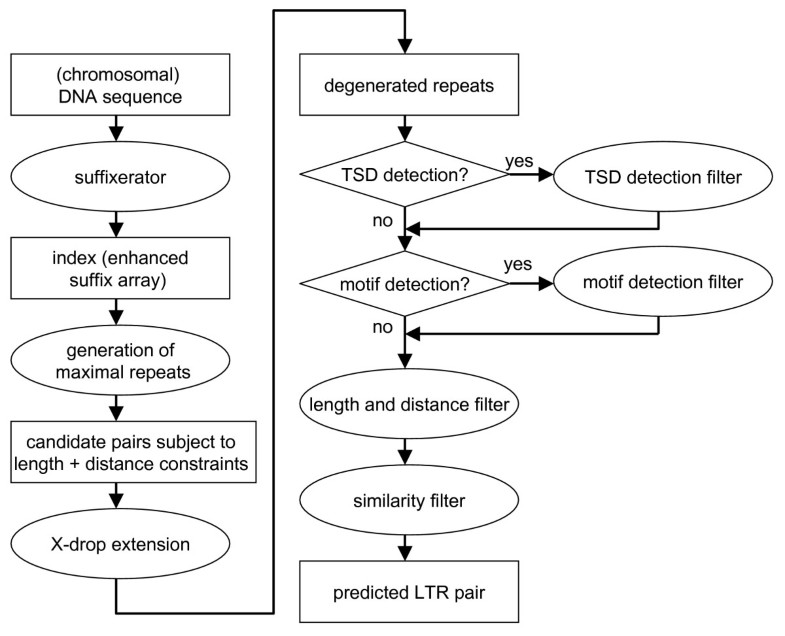 We use the program suffixerator which is part of the GenomeTools [19]. This enhanced suffix array requires 5 n bytes of memory, where n is the length of the input sequence. In contrast to other software for LTR retrotransposon prediction the enhanced suffix array is stored on file. Thus the most time consuming preprocessing step is separated from the LTR detection phase. This saves considerable time when processing the same genome with different parameter settings.
The software tool LTRharvest maps the enhanced suffix array into the main memory and begins searching for maximal exact repeats, using the linear time algorithm of [20]. The minimum length of the maximal exact repeats can be specified by the user. Maximal exact repeats satisfying user defined length and distance constraints are further processed to determine degenerated repeats. This is done by extending the seeds to the left and to the right by the greedy dynamic programming algorithm of [21]. This algorithm, called X-drop extension algorithm, runs considerably faster than traditional dynamic programming algorithms, while still delivering optimal alignments. The user defined drop-off parameter X allows to prune the search space: The smaller X, the smaller the search space and the more similar the aligned regions are. For maximum flexibility, we implemented the X-drop algorithm with user defined scores for deletions, insertions, and replacements.
The degenerated repeats, called candidate pairs, are then subject to the detection of LTR retrotransposon specific features, namely TSDs and palindromic LTR motifs. Both features are optional. TSDs of a user specified minimum and maximum length are searched in the left and right vicinity of the 5' and 3' instance of a candidate pair, respectively. To efficiently search for TSDs, LTRharvest extracts the corresponding two sequence sections from the genome. We consider the smaller of these sequence sections a reference and the larger a query. For the reference, LTRharvest constructs the suffix array in main memory and runs the standard search algorithm of [22] to find all exact matches of the query and the reference with length greater than or equal to the minimum TSD length. The TSD-search (if switched on) rejects all candidate pairs lacking the TSD. All other candidate pairs are processed further.
The palindromic LTR motif consists of two pairs of two nucleotides and an allowed number of mismatches between these. If the optional TSD filter is switched off, all candidate pairs are searched for this motif using a linear scan of the sequences at the outer boundaries of the candidate pair. In case the TSD filter is switched on, the candidate pairs with TSDs are searched by a simple character comparison at the TSD boundaries. A candidate pair without the palindromic LTR motif is rejected. All other candidate pairs are further processed.
Finally, LTRharvest checks for each remaining candidate pair whether the user specified LTR distance and length constraints are satisfied. Additionally, it is checked whether the LTR sequences including the TSDs and motifs (corresponding to the candidate pair) have a user defined minimal sequence identity. This is calculated by the greedy alignment algorithm of [23].
If all filters are passed, then the candidate pair is a predicted LTR retrotransposon. LTRharvest reports its start and end position as as well as some additional information of the prediction (e.g. the positions of the TSDs, the motif, the similarity, the sequence) in tabular format, in GFF format (version 3) [24] and/or FASTA format.
Conclusion
The goal of this work was to develop a run-time efficient and space efficient LTR retrotransposon detection software tool delivering high quality predictions. The basic model of the LTR retrotransposon structure was taken from McCarthy and McDonald [11] and from Kalyanaraman and Aluru [16]. Based on this model efficient and flexible filter algorithms, different from those used in [11] and [16], were implemented in the software program LTRharvest. The results from the validation of LTRharvest are encouraging. In all test-runs, LTRharvest showed a sensitivity of at least 90% on the S. cerevisiae genome and more than 96% on the D. melanogaster genome for the detection of full-length LTR retrotransposons. Moreover, LTRharvest achieves a high level of specificity (> 93% and > 72% for the 'all' and the 'full length' annotations, respectively) if clustering is carried out as a post processing step. Together, the LTRharvest prediction and the clustering process represent a strong method for obtaining a high quality de novo annotation of full length or near full length LTR retrotransposons. As holds true for other de novo prediction tools, short partial LTR retrotransposon copies, solo LTRs and some nested elements cannot be predicted by LTRharvest. However, these copies can be identified by a sequence similarity search using de novo identified species specific LTR retrotransposons. LTRharvest showed fast run-times and low memory consumption enabling de novo prediction for large data sets like vertebrate chromosomes. As the time consuming step of building the enhanced suffix array has to be carried out only once for a dataset, iterative predictions using different parameter settings e.g. for improving sensitivity or specificity are fast and easy to perform.
The source code, a test dataset and the manual of LTRharvest can be found at the homepage of the Center for Bioinformatics Hamburg [33]. We provide precompiled binaries for Linux and Mac OS X (Intel). The manual includes a detailed description of the filters and their parameters. All parameters can be specified by command line options.
Future improvements of LTRharvest will focus on the implementation of further filters checking for the presence of LTR retrotransposon specific open reading frames, primer binding sites (PBS) or poly purine tracts (PPT).
Availability and requirements
Project name: LTRharvest
Project home page: http://www.zbh.uni-hamburg.de/LTRharvest
Operating system(s): POSIX compliant UNIX systems, for example Linux, Mac OS X, Solaris and OpenBSD
Programming language: C
Other requirements: GNU C compiler and GNU make for compiling the source code; bash and python for running the example scripts
License: BSD-like open source licences, see http://genometools.org/license.html
Any restrictions to use by non-academics: none
Declarations
Acknowledgements
We thank Gordon Gremme for critical reading of the manuscript and helpful discussions on open source software aspects as well as Sascha Steinbiss for assistance in setting up the web page. We thank A. Kalyanaraman for sending a copy of his LTR_seq program and Z. Xu for sending a copy of the LTR_FINDER program.
Authors' Affiliations
(1)
ZBH – Center for Bioinformatics, University of Hamburg, Hamburg, Germany
Copyright
© Ellinghaus et al; licensee BioMed Central Ltd. 2008
This article is published under license to BioMed Central Ltd. This is an Open Access article distributed under the terms of the Creative Commons Attribution License (http://creativecommons.org/licenses/by/2.0), which permits unrestricted use, distribution, and reproduction in any medium, provided the original work is properly cited.