Methodology article

Open Access
A visual analytics approach for understanding biclustering results from microarray data
BMC Bioinformatics
2008
9:247
Received: 21 December 2007
Accepted: 27 May 2008
Published: 27 May 2008
Abstract
Background
Microarray analysis is an important area of bioinformatics. In the last few years, biclustering has become one of the most popular methods for classifying data from microarrays. Although biclustering can be used in any kind of classification problem, nowadays it is mostly used for microarray data classification. A large number of biclustering algorithms have been developed over the years, however little effort has been devoted to the representation of the results.
Results
We present an interactive framework that helps to infer differences or similarities between biclustering results, to unravel trends and to highlight robust groupings of genes and conditions. These linked representations of biclusters can complement biological analysis and reduce the time spent by specialists on interpreting the results. Within the framework, besides other standard representations, a visualization technique is presented which is based on a force-directed graph where biclusters are represented as flexible overlapped groups of genes and conditions. This microarray analysis framework (BicOverlapper), is available at http://vis.usal.es/bicoverlapper
Conclusion
The main visualization technique, tested with different biclustering results on a real dataset, allows researchers to extract interesting features of the biclustering results, especially the highlighting of overlapping zones that usually represent robust groups of genes and/or conditions. The visual analytics methodology will permit biology experts to study biclustering results without inspecting an overwhelming number of biclusters individually.
Keywords
Transcription LevelVisualization TechniqueGlyphHeat Shock ConditionSimultaneous Grouping
Conclusion
The present article analyzes and compares results from three prominent biclustering methods when applied to a real microarray experiment using a visual analytics framework that allows whole representation and interaction for all biclusters. The main conclusions are the following:
The proposed visualization allows to display large number of biclusters in a single representation, enhancing the detection of overlap among biclusters.

As a consequence of conveying overlapping groups, actual biological features can be extracted by the detection of super-biclusters and hub nodes.

The combination of different representations (hulls, piecharts, labels) with the interaction and navigation through the graph helps in the analysis, allowing to simplify the visualization of complex results.

This visualization also helps to determine biclustering algorithms characteristics, and differences and similarities between biclustering algorithms.

The integration of the presented visualization into a visual framework that provides standard representations helps experts to follow the results more easily. Furthermore, the linkage of novel and traditional visualizations permits a deeper analysis of results, from overview to details, thus gaining insight into the problem at hand.
Following these promising results, our future line of work will be based on the research and optimization of the layout when different biclustering algorithm's results are compared with each other, and on the integration of additional biological knowledge from gene and condition databases.
Methods
This section details the main characteristics of the presented visual analytics approach, focusing on the description of the novel graph-based bicluster visualization (we will refer to it as
overlapper
) and its use inside a framework (
BicOverlapper
) that implements other well known bicluster visualizations such as heatmaps or parallel coordinates (see Fig.
9
).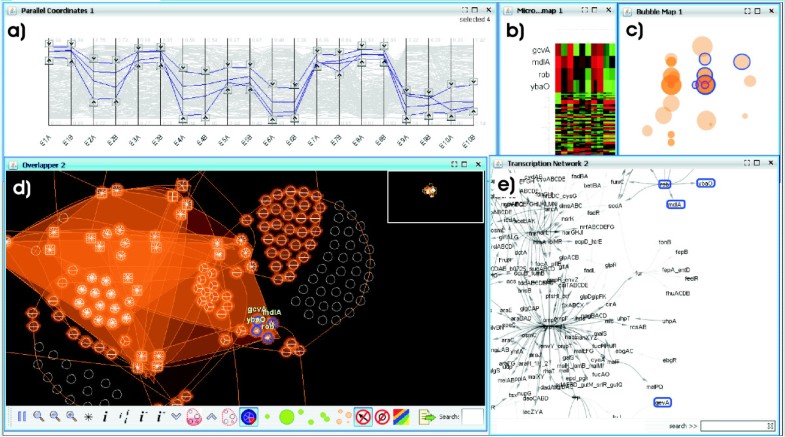 We start with the definition of bicluster, then we explain the graph building, layout and complexity. Finally, we will see how the overlapper and the other views interact and are linked together to help discover new knowledge.
Declarations
Acknowledgements
This work was supported by the Ministerio de Educación y Ciencia of Spain under project TIN2006-06313 and by a grant from the Junta de Castilla y León autonomous government. The authors wish to thank Francisco Antequera for his biological advice.
Authors' Affiliations
(1)
Departamento de Informática y Automática, Universidad de Salamanca, Salamanca, Spain
Copyright
© Santamaría et al; licensee BioMed Central Ltd. 2008
This article is published under license to BioMed Central Ltd. This is an Open Access article distributed under the terms of the Creative Commons Attribution License (http://creativecommons.org/licenses/by/2.0), which permits unrestricted use, distribution, and reproduction in any medium, provided the original work is properly cited.