The metagenomics RAST server – a public resource for the automatic phylogenetic and functional analysis of metagenomes
BMC Bioinformatics
2008
9:386
Received: 14 February 2008
Accepted: 19 September 2008
Published: 19 September 2008
Abstract
Background
Random community genomes (metagenomes) are now commonly used to study microbes in different environments. Over the past few years, the major challenge associated with metagenomics shifted from generating to analyzing sequences. High-throughput, low-cost next-generation sequencing has provided access to metagenomics to a wide range of researchers.
Results
A high-throughput pipeline has been constructed to provide high-performance computing to all researchers interested in using metagenomics. The pipeline produces automated functional assignments of sequences in the metagenome by comparing both protein and nucleotide databases. Phylogenetic and functional summaries of the metagenomes are generated, and tools for comparative metagenomics are incorporated into the standard views. User access is controlled to ensure data privacy, but the collaborative environment underpinning the service provides a framework for sharing datasets between multiple users. In the metagenomics RAST, all users retain full control of their data, and everything is available for download in a variety of formats.
Conclusion
The open-source metagenomics RAST service provides a new paradigm for the annotation and analysis of metagenomes. With built-in support for multiple data sources and a back end that houses abstract data types, the metagenomics RAST is stable, extensible, and freely available to all researchers. This service has removed one of the primary bottlenecks in metagenome sequence analysis – the availability of high-performance computing for annotating the data.
Keywords
Metagenome Sequence
Metabolic Reconstruction
Open Source System
Genomic Standard Consortium
Metagenome Project
Background
The genomic revolution of the 1990s has yielded almost a thousand sequenced microbial genomes. More recently, the explosion of random community genomics, or metagenomics, where DNA is sequenced directly from environmental samples has provided insights into microbial communities. Currently, two approaches to sequencing metagenome samples are commonly used. In the traditional approach, DNA is cloned into BACs, or small plasmids, and dideoxy chain termination sequencing ("Sanger sequencing") is used to determine the sequences [1, 2]. In the alternative approach, DNA is sequenced without cloning, using one of the so-called next-generation sequencing techniques, usually pyrosequencing. Both approaches have advantages and disadvantages. For example, Sanger sequencing generates longer sequence reads but has inherent biases due to the cloning. Pyrosequencing has much higher throughput and a lower error rate per base sequenced compared to Sanger sequencing, but those errors are biased toward certain mistakes [3].
Regardless of the sequencing approach used to generate the data, the first steps in analysis of any metagenome involve comparing those sequences to known sequence databases. This computationally intensive task provides the basic data types for many subsequent analyses, including phylogenetic comparisons, functional annotations, binning of sequences, phylogenomic profiling, and metabolic reconstructions.
Here we describe the development of a freely available, fully automated open source system for processing metagenome sequence data to generate these basic elements. A public implementation of this system has been provided for all researchers to analyze their metagenomes. Our service, the metagenomics RAST server (mg-RAST for short), is available over the web to all researchers, and access is not limited to specific groups or data types. Almost 500 metagenomes have been processed through the beta version of the pipeline so far.
Implementation and results
The MG-RAST server is an open source system based on the SEED framework for comparative genomics [
4
,
5
]. Users can upload raw sequence data in fasta format; the sequences will be normalized and processed and summaries automatically generated. Genome annotation systems are ever evolving; therefore, in order to accommodate new methods that may be developed, the pipeline was designed with a modular framework that allows the rapid addition of new analysis steps or comparative data at any stage of the analysis. The server provides several methods to access the different data types, including phylogenetic and metabolic reconstructions, and the ability to compare the metabolism and annotations of one or more metagenomes and genomes. In addition, the server offers a comprehensive search capability. Access to the data is password protected, and all data generated by the automated pipeline is available for download and analysis in variety of common formats. Here we describe the key components of the pipeline, which are summarized in Figure
1
.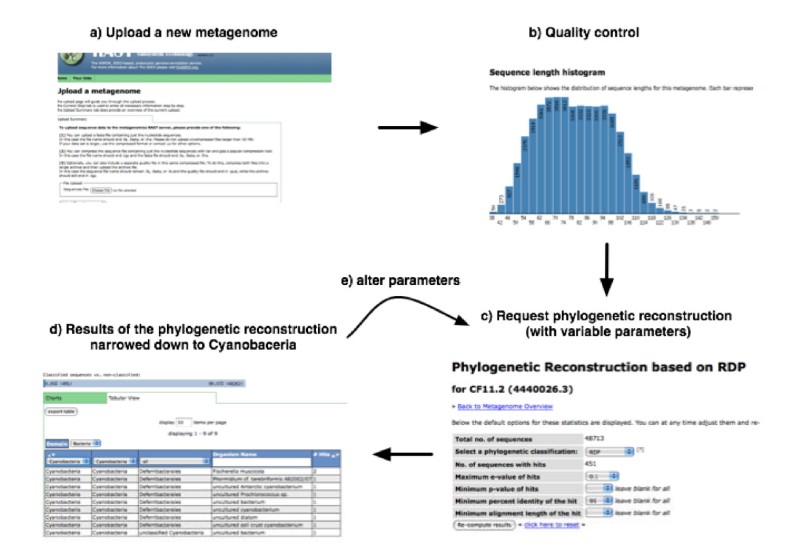 Discussion
A completely new public metagenome annotation system has been developed and released. The process is the result of several years of planning and engineering. Designed to leverage the SEED microbial genome annotation platform, the mg-RAST platform provides seamless integration of metagenome data, microbial genomics, and manually curated annotations. Each metagenome project has its own requirements for stringency, datasets to be analyzed, and output format for results. The metagenomics SEED pipeline was designed to allow alterations to the parameters for the sequence matches underlying both the phylogenetic and metabolic reconstructions to restrict matches. It has been built by using an extensible format allowing the integration of new datasets and algorithms without a need for recomputation of existing results.
The mg-RAST service handles both assembled and unassembled data. Each approach has advantages that should be considered when comparing metagenomes. For example, if one is carrying out comparative metagenomics or if statistics are being used to compare samples [18, 19], the sequences cannot be assembled, since the assembly process loses the frequency information critical for determining differences between samples. In contrast, assembled sequences tend to be longer and therefore more likely to accurately identify gene function or phylogenetic source from binning [20].
The analytical methods integrated into the pipeline provide core annotation and analysis tools to compare and contrast a diverse set of metagenomes [21–24]. The approach underlying the subsystems-based functional analysis of metagenomes has been validated with 90 different samples from nine major biomes. The analysis demonstrated that the biomes could clearly be separated by their functional composition [25]. All of the metagenomes present in that study are included in the publicly available datasets visible in the mg-RAST server.
Although the service contains core functionality for the annotation and analysis of metagenomes, many of the techniques traditionally used for genome analysis (e.g., approaches for the prediction of coding sequences) either do not work with metagenomes or show a significant performance degradation [26]. Many of the differences between complete genome annotation and metagenome annotation are reminiscent of those encountered previously with the analysis of expressed sequenced tags [27]. Therefore, new analytical methods are needed to fully understand metagenomics data. The most obvious problem is with the large number of unknown sequences in any sample. Depending on the specific sample processed, as few as 10% of the sequences or as many as 98% of the sequences may have no known similarity to anything in the database [28]. We and others are developing new binning, clustering, and coding region prediction tools to handle these unknown sequences, and effective tools will be incorporated into the pipeline when available. Another problem is that the rapid pace with which sequence data is being generated outpaces increases in computational speed, and therefore improvements in common search algorithms are required to ensure that sequence space can be accurately and efficiently searched. A third problem, common to all annotation platforms, is that metabolic reconstructions and analyses are dependent on the underlying quality of the data. The SEED has the most consistent and accurate microbial genome annotations of any publicly available source because of the subsystems approach to annotation. However, the SEED subsystems are necessarily focused on core metabolism and pathogenesis of a select few organisms. Comprehensive subsystem coverage of secondary metabolism, and especially of metabolism specific to diverse environments, is required to truly comprehend those data sets.
Conclusion
We have provided a free, public resource for the analysis of metagenome sequence data. Our service does not require a specific type of sequence data and has no requirement for release or control of the data. All sequence data remains protected by a password mechanism and is visible only to permitted users. This metagenomics annotation pipeline was specifically developed to handle pyrosequencing data and accommodate some of the nuances associated with that data. However, the tools and approaches we have developed are applicable and available for any metagenome project, regardless of sequence type. This service has removed one of the primary bottlenecks in metagenome sequence analysis – the availability of high-performance computing for annotating the data.
Availability
The service is available to all users after a simple registration process. In addition to being available through the integrated SEED-Viewer [29] interface, all results are available for download in variety of formats, including GFF3, GenBank, and flat text formats (e.g., tab-separated text for use in spreadsheets). The server is made available on a best-effort basis, and all underlying data and software are open source (please see ftp://ftp.theseed.org).
Plans include the development of novel tools to allow systematic data mining in the samples and improved support for in-depth analysis of 16S-based metagenome data sets.
Abbreviations
RAST:

Rapid Annotation using Subsystems Technology
mg-RAST:

RAST for metagenomes.
Declarations
Acknowledgements
Part of this project has been funded with federal funds from the National Institute of Allergy and Infectious Diseases, National Institutes of Health, Department of Health and Human Services, under Contract No. HHSN266200400042C. Argonne National Laboratory's work was supported under U.S. Department of Energy contract DE-AC02-06CH11357. We thank Forest Rohwer and all members of his group for helpful advice while developing the pipeline. We thank Veronika Vonstein and Ross Overbeek and the members of their group for advice and comments in using subsystem technology.
The submitted manuscript has been created by UChicago Argonne, LLC, operator of Argonne National Laboratory ("Argonne"). Argonne, a U.S. Department of Energy Office of Science laboratory, is operated under Contract No. DE-AC02-06CH11357. The U.S. Government retains for itself, and others acting on its behalf, a paid-up, nonexclusive, irrevocable worldwide license in said article to reproduce, prepare derivative works, distribute copies to the public, and perform publicly and display publicly, by or on behalf of the Government.
Authors' Affiliations
(1)
Mathematics and Computer Science Division, Argonne National Laboratory, Argonne, USA
(2)
Computation Institute, University of Chicago, Chicago, USA
(3)
Department of Computer Science, San Diego State University, San Diego, USA
Copyright
© Meyer et al; licensee BioMed Central Ltd. 2008
This article is published under license to BioMed Central Ltd. This is an Open Access article distributed under the terms of the Creative Commons Attribution License (http://creativecommons.org/licenses/by/2.0), which permits unrestricted use, distribution, and reproduction in any medium, provided the original work is properly cited.