Presenting and exploring biological pathways with PathVisio
BMC Bioinformatics
2008
9:399
Received: 28 May 2008
Accepted: 25 September 2008
Published: 25 September 2008
Abstract
Background
Biological pathways are a useful abstraction of biological concepts, and software tools to deal with pathway diagrams can help biological research. PathVisio is a new visualization tool for biological pathways that mimics the popular GenMAPP tool with a completely new Java implementation that allows better integration with other open source projects. The GenMAPP MAPP file format is replaced by GPML, a new XML file format that provides seamless exchange of graphical pathway information among multiple programs.
Results
PathVisio can be combined with other bioinformatics tools to open up three possible uses: visual compilation of biological knowledge, interpretation of high-throughput expression datasets, and computational augmentation of pathways with interaction information. PathVisio is open source software and available at http://www.pathvisio.org.
Conclusion
PathVisio is a graphical editor for biological pathways, with flexibility and ease of use as primary goals.
Keywords
Biological Pathway
Biological Knowledge
Pathway Statistic
Interaction Information
Pathway Information
Background
The concerted actions of genes, proteins, and metabolites are often conceptualized as pathway diagrams. Pathways represent a familiar concept in biological research, and software designed to work with pathways can help the researcher to organize information related to research questions. Here we present PathVisio, a visualization tool for managing biological pathways, and show several ways in which this tool can facilitate the process of doing research.
It is often said that an image is worth a thousand words, and this is especially true for describing complex interactions among biomolecules. Pathways are commonly used with great effect as teaching aides in textbooks, as notes in lab journals, and as explanatory slides in research presentations. However, a pathway that is drawn in a notebook or presentation software is just a static image. The usefulness of a pathway could be increased dramatically if the software knows something about the biological entities it represents. For example, one could click on entities of a pathway to view the Ensembl page of a relevant gene in a browser window. Ideally, textbook pathways could be combined or compared with other versions of the pathway and stored in an online repository. New pathway information could be compiled from the latest experiments and discoveries. Large experimental datasets would be more understandable through pathways. Clearly, user-friendly software would be helpful for dealing with biological pathways.
A new program, PathVisio, is based on many design principles derived from GenMAPP[1], a popular software suite among bench biologists (which includes MAPPFinder [2] for finding biologically relevant pathways). PathVisio is designed to augment GenMAPP, replacing some but not all aspects of the software by using more flexible technologies such as XML and Java that allow for completely new features and increase the possibilities for future extension. PathVisio is suitable for the creation and exploration of pathways, while relying on GenMAPP for visualization of experimental data and MAPPFinder for statistical analysis.
PathVisio improves GenMAPP in four separate areas. First, PathVisio is written in the Java programming language as opposed to Visual Basic. Thus, PathVisio is cross-platform, easier to integrate with other scientific software (often written in Java), and works with web technologies such as Java applets and Java Webstart. PathVisio already integrates well with some other Java-based scientific tools such as Cytoscape[3] for network analysis and Eu.Gene [4] for pathway statistics. Second, PathVisio uses a newly designed file format for storing pathway information that is extensible (XML-based) yet at the same time backwards compatible with the MAPP format used by GenMAPP. This means that the existing GenMAPP pathway archive can be used in PathVisio and other GPML-compliant programs. GPML has already been extended with new shapes and the capability to define relationships between nodes, allowing a network view of the pathway. Because of the novel features of GPML, it is preferable to use this format for pathway storage even if the MAPP format is used in later analysis steps. Third, the structure of the application is such that the pathway view and the data model are separated in different code modules. This enables the implementation of "copy," "paste," and "undo" commands, which are expected in modern user interfaces, yet are absent in GenMAPP. Separation of the data model also makes it easier to support different pathway file formats and image formats. PathVisio can be used to prepare illustrations suitable for publications with its vector graphics export feature. Finally, PathVisio re-implements GenMAPP's underlying gene databases with a new database schema that can be accessed more efficiently with fewer queries. These four technical improvements make the software more flexible, and open the possibility of new functionality and better integration with other tools.
The most important aspect of GenMAPP that has been mimicked in PathVisio is that the software places the biologist at the center. PathVisio works best in the hands of experimental biologists with a high level of domain knowledge. We aimed to avoid the situation where the software is so difficult to use that a specialized bioinformatician is needed. We want to gather pathway knowledge directly from the biologists who conceptualize pathways when designing and performing their experiments. This was our main guideline during the software design process. For example, we chose to use manual instead of automatic layout, to emulate presentation software that may be already familiar to the user. We chose locally installable synonym databases to make cross-referencing gene identifiers quick and automatic.
Implementation
As noted above, the data model of PathVisio is completely separated from the rest of the application. It consists of two parts: the pathway data model and the synonym database model.
In the pathway data model (Figure
1
), there are three main types of objects in a pathway:
DataNode
objects represent biological entities,
Line
objects represent various types of interactions, and
Shape
objects serve as graphical annotation. The term DataNode is similar to the GenMAPP term GeneProduct, but we chose to use the former to show that it can be used to refer to any type of biological entity, not just genes and proteins. DataNodes can be grouped to show that they are biologically related (e.g., for paralogous genes or proteins in a complex).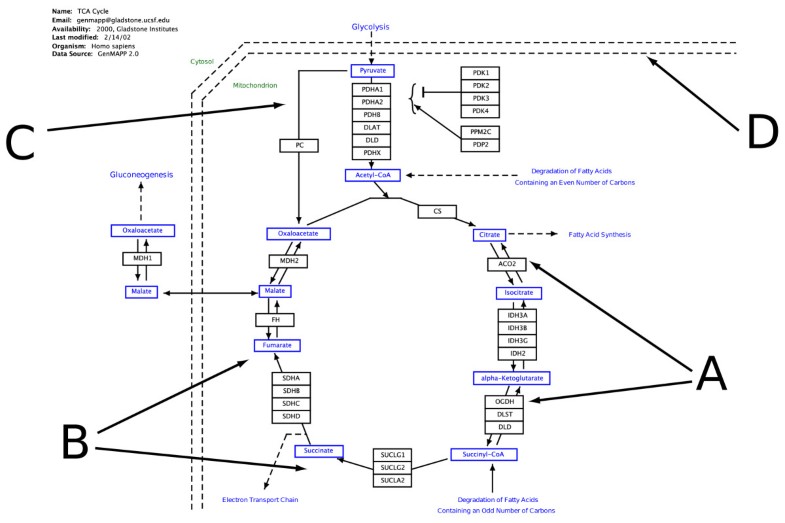 To store this pathway model, we developed GPML or GenMAPP Pathway Markup Language. GPML is backwards compatible with the GenMAPP MAPP format, meaning that all information stored in MAPP format can be stored in GPML as well, and pathways can be readily converted. GPML has a set of extensions on top of the initial requirement of compatibility. It allows storing relations among different elements, so that a graph can be derived from a pathway. A pathway using this facility can be converted into a network, something that is impossible with the MAPP format. The utility of this feature will be discussed below. It also can link to BioPAX [5, 6]. BioPAX is an emerging pathway standard for exchange of pathway data. The current version of BioPAX (level 2) lacks the ability to store coordinates and graphical annotations that are part of the GenMAPP format. By linking GPML elements to BioPAX elements, both are extended in XML fashion. In this way, GPML could be used as a presentation layer on top of BioPAX. To handle various pathway file formats, PathVisio makes use of a generic import/export interface.
The second part of the model used in PathVisio is the synonym database model. A variety of online genome databases are available to the bioinformatics community, leading to multiple identifiers for the same gene. One solution to this problem would have been to standardize on a specific database and let users make use of external services such as DAVID [7] to translate between ID types. This extra step for the user can be cumbersome and prone to errors. PathVisio uses another solution also implemented by GenMAPP, letting the software handle the translation through synonym databases.
Synonym databases (called gene databases in GenMAPP) can be downloaded from the website pathvisio.org. Because this type of database is potentially used intensively, we chose to create locally installable versions rather than relying on a slow web-service. The synonym database schema (Figure
2
) consists of three tables: "Info", "DataNode" and "Link". Info provides meta-data on the database. DataNode provides per-gene information, including a short description. Link provides a many-to-many relation between entries in the DataNode table that is used to store cross-references.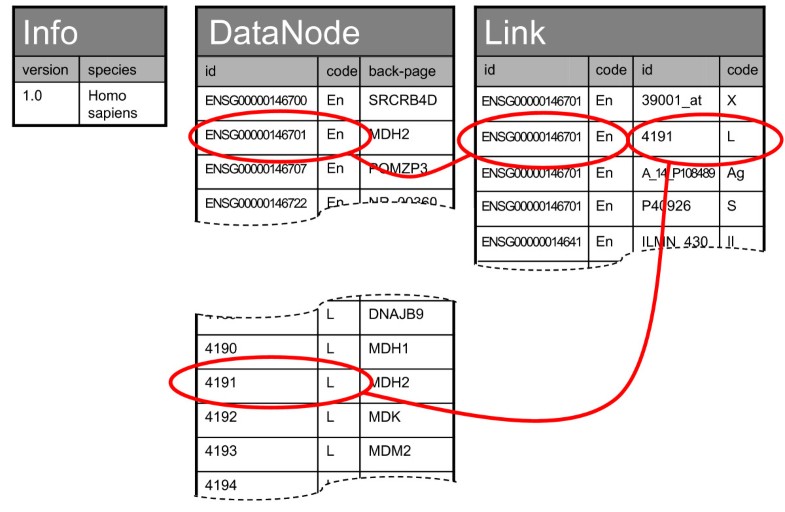 Synonym databases that we produce are based on Ensembl [8] and can in principle be made for any species that is annotated in that database. They are produced based on the Derby relational database system [9], because Derby can be packaged with the PathVisio software making installation easier. However, PathVisio is not tied to a specific database back-end. Depending on speed, usability and cost requirements, a different embedded or client-server database system could be used through the Java DataBase Connectivity (JDBC) layer. The use of synonym databases is not restricted to gene information; metabolites can be used as well to unify PubChem[10], ChEBI[11] and HMDB[12].
For viewing pathways, we chose an implementation based on the Java Graphics2D API, which makes it possible to output to screen as well as various file types. The flexibility of this API makes it trivial to add Shape types in the future. The Batik SVG Toolkit [13] is used for exporting to graphic formats, including those suitable for publication.
Results and discussion
We envision three ways in which PathVisio could aid biologists doing research.
Conclusion
PathVisio is fully open source, and GPML is an open format. We see open source as a necessity for this type of bioinformatics tool. Open source makes it possible for other tools to adapt to PathVisio and vice versa. With closed-source tools (e.g. CellDesigner and commercial packages), this adaptation can only go one way, which is a strong disincentive to collaborate. In a field where integration is of utmost importance, open-source software provides an optimal solution. To further encourage cooperative development, PathViso supports the addition of plug-ins, something that is facilitated by the Java programming language.
With PathVisio and GPML we have developed a framework for visual pathway analysis. This framework is very flexible with future extensions in mind. Development of PathVisio is ongoing. We wish to continue in the direction of increased flexibility and tighter integration with other bioinformatics standards and applications. This should ensure that pathway analysis and visualization can be done efficiently to improve biological research.
Availability & requirements
Project Name: PathVisio
Project Home Page: http://www.pathvisio.org
Operating System: cross-platform. PathVisio has been tested on Windows XP, Ubuntu Linux 8.04 and Mac OS X 10.5.
Programming Language: Java
Other Requirements: Java 5 or higher
License: Free and open source under the Apache 2.0 License. There are no restrictions to use by non-academics. The source code is available at http://svn.bigcat.unimaas.nl/pathvisio
Declarations
Acknowledgements
We thank Lynn Ferrante for the first work on the XML Schema definition of GPML, Gontran Zepeda for work on MAPP import/export, and Rene Besseling, Sjoerd Crijns, Margriet Palm, Erik Pelgrim and Hakim Achterberg for help in PathVisio development. This work was supported by grants from the NIH (GM080223, HG003053), the BioRange 1.2.4 research program of the Netherlands Bioinformatics Centre and funding from Transnational University Limburg (tUL).
Authors' Affiliations
(1)
Department of Bioinformatics, BiGCaT Maastricht University, Maastricht, the Netherlands
(2)
Gladstone Institute of Cardiovascular Disease, San Francisco, USA
(3)
Departments of Medicine, and Molecular and Cellular Pharmacology, University of California, San Francisco, USA
Copyright
© van Iersel et al; licensee BioMed Central Ltd. 2008
This article is published under license to BioMed Central Ltd. This is an Open Access article distributed under the terms of the Creative Commons Attribution License (http://creativecommons.org/licenses/by/2.0), which permits unrestricted use, distribution, and reproduction in any medium, provided the original work is properly cited.