XplorSeq: A software environment for integrated management and phylogenetic analysis of metagenomic sequence data
BMC Bioinformatics
2008
9:420
Received: 10 July 2008
Accepted: 07 October 2008
Published: 07 October 2008
Abstract
Background
Advances in automated DNA sequencing technology have accelerated the generation of metagenomic DNA sequences, especially environmental ribosomal RNA gene (rDNA) sequences. As the scale of rDNA-based studies of microbial ecology has expanded, need has arisen for software that is capable of managing, annotating, and analyzing the plethora of diverse data accumulated in these projects.
Results
XplorSeq is a software package that facilitates the compilation, management and phylogenetic analysis of DNA sequences. XplorSeq was developed for, but is not limited to, high-throughput analysis of environmental rRNA gene sequences. XplorSeq integrates and extends several commonly used UNIX-based analysis tools by use of a Macintosh OS-X-based graphical user interface (GUI). Through this GUI, users may perform basic sequence import and assembly steps (base-calling, vector/primer trimming, contig assembly), perform BLAST (Basic Local Alignment and Search Tool; [1–3]) searches of NCBI and local databases, create multiple sequence alignments, build phylogenetic trees, assemble Operational Taxonomic Units, estimate biodiversity indices, and summarize data in a variety of formats. Furthermore, sequences may be annotated with user-specified meta-data, which then can be used to sort data and organize analyses and reports. A document-based architecture permits parallel analysis of sequence data from multiple clones or amplicons, with sequences and other data stored in a single file.
Conclusion
XplorSeq should benefit researchers who are engaged in analyses of environmental sequence data, especially those with little experience using bioinformatics software. Although XplorSeq was developed for management of rDNA sequence data, it can be applied to most any sequencing project. The application is available free of charge for non-commercial use at http://vent.colorado.edu/phyloware.
Keywords
Graphical User InterfacePhylogenetic LineageBiodiversity IndexInspector WindowFlat File Format
Background
The recent explosions in culture-independent studies of environmental DNA sequences ("metagenomics") and automated DNA sequencing capabilities have prompted the creation of numerous software applications designed to aid the analysis of an avalanche of sequence data. However, many of the commonly used, freely available applications require some facility with the UNIX/Linux operating system and/or specialized scripting languages to either manipulate files in batch or pipe data between applications. As automated DNA sequencing and sequence analysis has become commonplace in laboratories that do not specialize in bioinformatics, need has arisen for the development of powerful, yet simple-to-use, software.
XplorSeq, written for the Macintosh OS X operating system, provides a graphical user interface (GUI) that integrates the use of several popular UNIX-based DNA sequence analysis applications. A number of additional features have been incorporated in order to track, annotate, and analyze sequence information in a manner conducive to high-throughput metagenomics. Implementation of a common GUI (Fig.
1
) eliminates the need for the user to possess the kind of knowledge generally restricted to bioinformaticists and computer professionals: UNIX/Linux command shells (tsh, csh, or bash) and associated scripting languages. By presenting a unified GUI, XplorSeq, simplifies sequence analysis projects by allowing the user to focus on science, rather than the details of disparate software.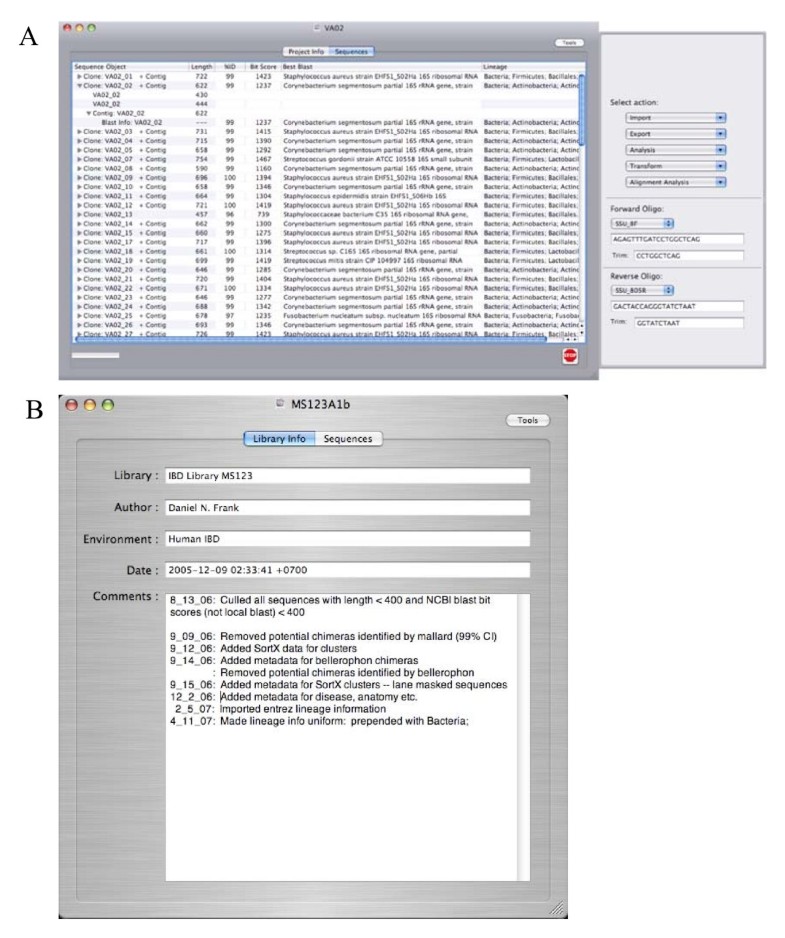 XplorSeq was developed for rapid compilation and analysis of rDNA clone libraries, but should be applicable to any sequencing project (computer hardware may, however, limit the scale of projects). Although several commercial and non-commercial software packages implement some of the same basic functionalities as XplorSeq, the development of XplorSeq was motivated by the absence of GUI-based software designed specifically for high-throughput, batch analysis of rDNA sequences, such as arise from culture-independent metagenomic studies. Specifically, the extant software could not accommodate the phylogenetic orientation of analyses and sequence annotations that are most useful for metagenomics. In contrast, XplorSeq implements several domain-specific software tools (e.g. for state of the art phylogenetic tree inference, OTU clustering, biodiversity estimates) that are not available in general-purpose DNA analysis packages. Many published studies, from a variety of laboratories engaged in metagenomics, have used XplorSeq, and thereby established its stability, ease-of-use, and capabilities [4–29]. The software is freely available for non-commercial use at http://vent.colorado.edu/phyloware.
Implementation
XplorSeq is written in Objective-C using the Cocoa application framework (Apple Inc.). Releases are compiled for the OS X operating system (current versions require OS 10.4.x or 10.5.x) as universal binaries, which run natively on Macintosh computers with Intel or PowerPC microprocessors. Similar to Cocoa, the architecture of XplorSeq is based on the Model-View-Controller (MVC) design pattern. XplorSeq is multi-threaded and can adjust its operation to accommodate multiple shared-memory microprocessors.
The rationale for implementing XplorSeq as a standalone Macintosh application involved 1) desire for a highly responsive, feature-rich graphical output, thus precluding web-based applications; 2) recognition that the BSD-Unix operating system underpinning OS X would allow leveraging of existing open-source software; 3) observation that many computer novices (an intended audience for this software) were more comfortable with OS X than other operating systems; and 4) the maturity, stability, and support inherent in the Cocoa application framework.
Third-party software packages and plugin executables (sortx and biodiv) were written in C and C++. When possible, compiled executables are incorporated directly into the XplorSeq application bundle (essentially, a hidden directory structure) so that users can install and operate XplorSeq without the need for local compilation or extensive configuration. Full implementation of XplorSeq requires separate installation of phred and phrap (obtained at http://www.phrap.org).
Results and discussion
The following sections outline the data structures and analytic tools that form the basis of the XplorSeq workflow.
Conclusion
Although XplorSeq was developed to expedite the phylogenetic analysis of ribosomal RNA (rRNA) gene libraries, it should prove useful in any sequencing project, particularly ones facilitated by batch analysis of multiple clones. Moreover, any UNIX-based DNA sequence analysis tool that can be ported to Mac OSX can be readily incorporated into XplorSeq. Suggestions for the addition of other modules to the XplorSeq package are most welcome.
Availability and requirements
Project name: XplorSeq
Project home page: http://vent.colorado.edu/phyloware
Operating system: Macintosh OS X (currently requires 10.4.x or 10.5.x)
Programming language: Cocoa/Objective-C, C, C++
Other requirements: phred and phrap are available at http://www.phrap.org
License: Daniel N. Frank. Free for non-commercial use
Any restrictions to use by non-academics: Contact corresponding author. Users are requested to notify the corresponding author when XplorSeq is cited.
Declarations
Acknowledgements
The author wishes to thank Prof. Norman R. Pace for encouragement and support, Charles E. Robertson for invaluable mentorship in software engineering and web-site support and Laura Baumgartner, J. Kirk Harris, Jeffrey Walker and members of the Pace laboratory for extensive software testing and feedback. Both anonymous reviewers are thanked for their constructive feedback.
Authors' Affiliations
(1)
Department of Molecular, Cellular, and Developmental Biology, Mucosal and Vaccine Research Program Colorado, University of Colorado, Boulder, USAUSA
Copyright
© Frank; licensee BioMed Central Ltd. 2008
This article is published under license to BioMed Central Ltd. This is an Open Access article distributed under the terms of the Creative Commons Attribution License (http://creativecommons.org/licenses/by/2.0), which permits unrestricted use, distribution, and reproduction in any medium, provided the original work is properly cited.