Methodology article
Open Access
Algorithm of OMA for large-scale orthology inference
BMC Bioinformatics
2008
9:518
Received: 22 August 2008
Accepted: 04 December 2008
Published: 04 December 2008
Abstract
Background
OMA is a project that aims to identify orthologs within publicly available, complete genomes. With 657 genomes analyzed to date, OMA is one of the largest projects of its kind.
Results
The algorithm of OMA improves upon standard bidirectional best-hit approach in several respects: it uses evolutionary distances instead of scores, considers distance inference uncertainty, includes many-to-many orthologous relations, and accounts for differential gene losses. Herein, we describe in detail the algorithm for inference of orthology and provide the rationale for parameter selection through multiple tests.
Conclusion
OMA contains several novel improvement ideas for orthology inference and provides a unique dataset of large-scale orthology assignments.
Keywords
Duplication EventOrthologous GroupLateral Gene TransferBreak PairStable Pair
Background
The classification of genes according to evolutionary relations is essential for many aspects of comparative and functional genomics. Evolutionary relations are often described as pairwise relations. Two genes that share a common ancestor are defined as homologs, while genes that are similar in sequence without a common origin are termed analogs. Homologs can be divided into several classes [1]: orthologs, which originate from a speciation event; paralogs, which originate from gene duplication; and xenologs, which originate from horizontal gene transfer. Orthologs are valuable in numerous analyses, including reconstruction of species phylogenies, protein function inference, database annotation, and genomic context analysis.
Evolutionary relations can also be defined with respect to a third gene. Paralogs are classified as out-paralogs or in-paralogs [2]. In-paralogs are genes that diverged by a duplication that occurred after a speciation event of reference. The term co-orthologs is used occasionally to describe the same scenario from the perspective of a third gene that is orthologous to both genes. In contrast, out-paralogs are paralogs that diverged before a particular speciation event of reference.
To address the need for reliable sources of orthologs, several initiatives have been created for better orthologs prediction Commonly, there are two classes of prediction methods: phylogeny based methods, which compare gene trees with species trees (e.g. NOTUNG [3], Orthostrapper [4], RIO [5], Softparsmap [6], LOFT [7], Ensembl [8]) and pairwise based methods, which perform homology search with (optional) subsequent clustering (e.g. BBH [9], COG [10], InParanoid [11], KOG [12], OrthoMCL [13], RSD [14], MultiParanoid [15], Roundup [16], Homologene [17], eggNOG [18]).
In 2005, we introduced the OMA orthology prediction project with the goal to classify all orthologs in completely sequenced genomes [19]. OMA is a pairwise based method with a number of distinctive features: alignments are performed using an efficient implementation of full Smith-Waterman dynamic programming [20] (as opposed to methods with lower sensitivity such as BLAST), confidence intervals explicitly consider estimation uncertainty, and exclusion of paralogs is achieved using sequences in third-party genomes as "witnesses of non-orthology" [21].
Since then, we have substantially improved the OMA algorithm. Orthology is now inferred on the basis of evolutionary distances rather than alignment scores, the predicted orthologs are no longer limited to one-to-one orthologs. We build groups of orthologs using a maximum-weight clique algorithm. A web interface now enables interactive exploration of the predictions [22]. In addition, the number of complete genomes under analysis has increased to over 657, which requires efficient solutions regarding computation speed and memory consumption.
In this paper, we describe the current OMA algorithm in detail, motivate our parameter selection, and offer a discussion about the method and results.
Methods
The algorithm of OMA takes as input a set of complete genomes and outputs pairs of orthologous genes that are optionally clustered into orthologous groups. The algorithm follows four steps (see Figure
1
):

Step 1: To find homology, we compute pairwise alignments between all pairs of sequences for all genes in all genomes. Pairs with significant alignment scores are retained as candidate pairs.
Step 2: Orthologs are usually the closest genes in two genomes, because they started diverging at speciation, whereas paralogs started diverging at a duplication prior to speciation. Genes across genomes that are mutually the most closely related sequences, taking into account inference uncertainty, are upgraded to stable pairs.
Step 3: In cases where an ortholog is missing, we seek to avoid erroneous classification of paralogs as orthologs (pseudo-orthologs) by verifying stable pairs with sequences in a third genome that can act as witness of evolution. Pairs that pass the verification step are upgraded to verified pairs, and pairs that do not pass are paralogs and referred to as broken pairs.
Step 4: For some applications, such as species tree reconstruction, it is advantageous to cluster orthologs into orthologous groups. Pairs of sequences in such groups are termed group pairs.
In the following, we describe each of the four steps, and motivate all parameter choices.
Results and discussion
Assigning evolutionary relationships
The goal of the OMA project is to detect all orthologous sequence relationships among sequenced genomes. Considering that orthology is a pairwise relation, the starting point is all sequence pairs that successively filter through several steps to yield pairs of orthology (Figure
9
). Table
2
lists the names of shrinking subsets and their meaning in terms of the corresponding evolutionary relationships. The first step of the method, the all-against-all alignment, removes the majority of pairs and leaves only a small fraction of candidate pairs. These are further filtered in subsequent steps, and the decrease of the relative number of pairs after each step is depicted in Figure
10
. A substantial reduction occurs with the classification of stable pairs from candidate pairs and serves to reduce the complexity of the verification step. The reduction of stable pairs to verified pairs is comparatively small, but nevertheless important, since this crucial step removes non-orthologs and explicitly indicates cases of paralogy (broken pairs). Finally, group pairs are the fewest in number, because all but the most similar orthologous relationships have been removed.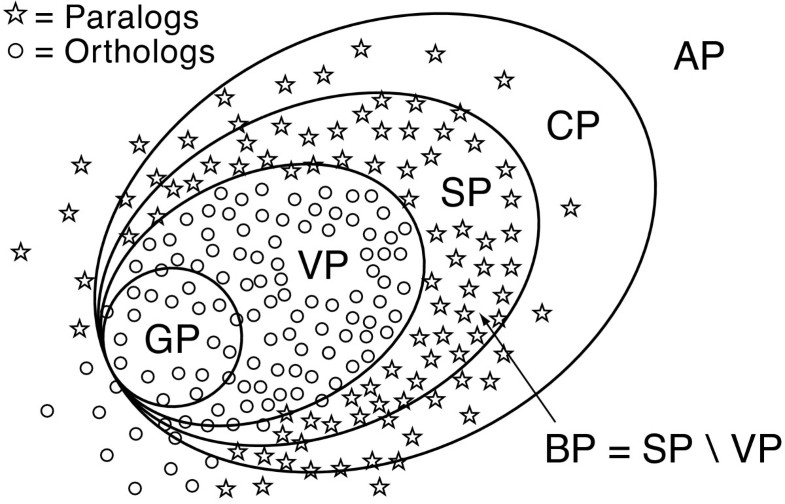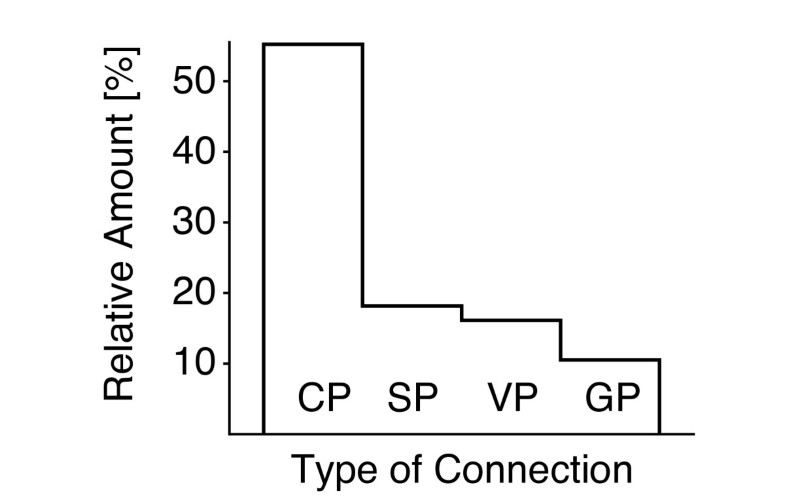 Table 2
Sequence pairs and their corresponding evolutionary relationships
| Pairs | Evolutionary Relation |
| --- | --- |
| All pairs (AP) | Any |
| Candidate pairs (CP) | Homologs |
| Stable pairs (SP) | Orthologs, Pseudo-orthologs |
| Broken pairs (BP) | Paralogs |
| Verified pairs (VP) | Orthologs |
| Group pairs (GP) | Close orthologs |
Verified pairs
Verified pairs represent a useful resource that describe many-to-many orthology while pseudo-orthologs from differential gene loss have been removed. In other words, the most similar sequences may not be orthologous, and for this reason, all stable pairs are verified using a third genome as a witness of non-orthology. A critical assumption in the verification of stable pairs is that in at least some genomes both copies of a duplication event are present. It is possible that no duplicates remain and that paralogy cannot be detected by sequence similarity. However, the increasing number of completed genomes also increases the chance of observing duplicates in a genome. Both paralogs are often present in multiple genomes. For example, when predicting orthologs for the subset of Firmicutes, (the subset is used for computational reasons) 75% of broken pairs had more than one witness of non-orthology.
Lateral gene transfer (LGT) events of homologous sequences (xenologs) are difficult to distinguish from duplication events. Two genes may appear to be duplicates when in fact, they are not. This issue affects most orthology prediction methods. In the case of OMA, the verification step helps reducing the adverse impact of LGT; furthermore, we are investigating reliable ways of excluding the most obvious cases of LGT.
Fusion-fission events
Two genes that in one organism may be truly orthologous to one fused genes in another organism. OMA considers the entire protein, rather than domains, to be the basic evolutionary unit. Users interested in gene fusion-fission events, or in domain evolution, may view this as a limitation. We have chosen to exclude such scenarios, due to the difficulty to separate these events from the cases where the domains in proteins arose form different evolutionary unrelated domains. Although part of the sequence may have diverged through speciation, another part is clearly non-homologous. If orthology is defined at the domain level, a gene could be orthologous to two or more sequences that are completely unrelated. In terms of function, which is often inferred from orthology, genes with different domains are unlikely to be similar. Finally, restricting potential orthology to genes with a majority of homologous positions presents the advantage of not only avoiding these problems, but also reducing computational complexity.
Orthologous groups
In OMA, orthologous groups consist of close orthologs, which are useful to build species trees. The results of grouping close orthologs is represented by an ortholog matrix. In this matrix, rows correspond to groups of orthologous genes, and columns correspond to genomes. A non-empty element in Mi,jindicates that a genome j has a member in an orthologous group i. The members of a group possess at most one close ortholog in each genome.
In cases where duplication events occurred after a speciation event, several orthologous relationships exist and are often referred to as co-orthologs or in-paralogs [2]. We group orthologs such that the most similar protein sequence belong together using maximum edge weight cliques. It should be noted that the most similar sequences do not necessarily have the most similar function [32].
Using cliques to construct groups is a strict requirement, because if an edge is missing (due to weak similarity or misclassification), the group gets split. For applications where this is problematic, users can devise their own grouping strategy from the orthologous pairs, which we also make available.
The distribution of group sizes for different sets of genomes is displayed in Figure
11
. The average size of the orthologous groups (number of genes per group) is relatively small in comparison to other methods (ranging from approximately 4 to 7 genes per group). More small groups exist rather than large groups, which is expected based on the occurrence of duplications throughout evolution. Large groups commonly consist of highly conserved genes, such as ribosomal proteins.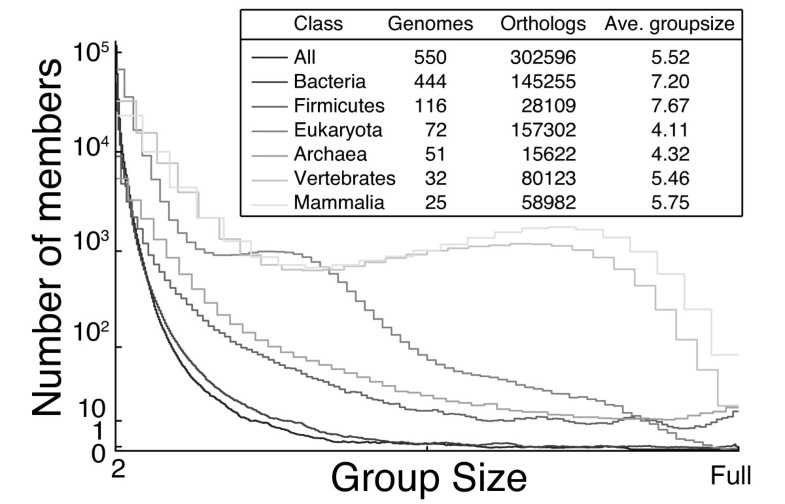 Exhaustive sequence alignments
The all-against-all step is computationally expensive, and the time complexity is O((n1 + n2 + ... + n k )2) where n k represents the number of sequences in the kth genome. As of November 2008, we have computed nearly 6 trillion sequence alignments. A total of approximately 12 Hexaflop or roughly 500 years of CPU time. Of these alignments, 3.2 billion were considered significant (i.e. score > 130). This dataset constitutes a valuable resource for comparative studies and is available upon request. The subsequent steps of the algorithm are comparatively fast.
Comparison to other projects
The performances of OMA are compared to other projects in a separate article [33]. The study includes COG, KOG, EggNOG, InParanoid, OrthoMCL, Ensembl, Homologene, and RoundUp. The study tests ortholog predictions on the basis of phylogeny (through reconstruction of orthologous gene trees and through comparison with phylogenetic analyses from the literature) and on the basis of function conservation (in terms of GO annotation, EC number classification, expression level, and gene neighborhood conservation). The results of OMA are among the best in the phylogenetic tests. In functional tests, it also performs well where high functional specificity is required, at the expense of a lower recall than projects such as OrthoMCL or EggNOG.
In terms of size and with 657 genomes analyzed, OMA is by a wide margin the largest orthologs inference effort (the second largest, EggNOG, includes 373 genomes). Our website is regularly updated as new species get included.
Conclusion
Orthology is interesting for a wide range of bioinformatics analyses, including functional annotation, phylogenetic inference, or genome evolution. This paper describes and motivates the algorithm of OMA for predicting orthologous relationships among complete genomes. The algorithm takes a pairwise approach, thus neither requiring tree reconstruction nor reconciliation, and offers the following improvements over the standard bidirectional best hit approach: i) the use of evolutionary distance instead of score, ii) a tolerance that allows the inclusion of one-to-many and many-to-many orthologs, iii) consideration of uncertainty in distance estimations, iv) detection of potential differential gene losses. The algorithm is characterized by four parameters that are optimized using independent tests. The current status of the project and the project results, including phylogenetic trees derived from the data, are available online [34].
Authors' Affiliations
(1)
ETH Zurich, and Swiss Institute of Bioinformatics, Zurich, Switzerland
Copyright
© Roth et al; licensee BioMed Central Ltd. 2008
This article is published under license to BioMed Central Ltd. This is an Open Access article distributed under the terms of the Creative Commons Attribution License (http://creativecommons.org/licenses/by/2.0), which permits unrestricted use, distribution, and reproduction in any medium, provided the original work is properly cited.