Research article

Open Access
Barcodes for genomes and applications
BMC Bioinformatics
2008
9:546
Received: 16 June 2008
Accepted: 17 December 2008
Published: 17 December 2008
Abstract
Background
Each genome has a stable distribution of the combined frequency for each k-mer and its reverse complement measured in sequence fragments as short as 1000 bps across the whole genome, for 1<k<6. The collection of these k-mer frequency distributions is unique to each genome and termed the genome's barcode.
Results
We found that for each genome, the majority of its short sequence fragments have highly similar barcodes while sequence fragments with different barcodes typically correspond to genes that are horizontally transferred or highly expressed. This observation has led to new and more effective ways for addressing two challenging problems: metagenome binning problem and identification of horizontally transferred genes. Our barcode-based metagenome binning algorithm substantially improves the state of the art in terms of both binning accuracies and the scope of applicability. Other attractive properties of genomes barcodes include (a) the barcodes have different and identifiable characteristics for different classes of genomes like prokaryotes, eukaryotes, mitochondria and plastids, and (b) barcodes similarities are generally proportional to the genomes' phylogenetic closeness.
Conclusion
These and other properties of genomes barcodes make them a new and effective tool for studying numerous genome and metagenome analysis problems.
Keywords
Sequence Fragment
Prokaryotic Genome
Metagenome Data
Generate Nucleotide Sequence
Metagenomic Fragment
Background
The challenges being faced in sorting out short genomic fragments generated by metagenome sequencing projects [1] pose a fundamental question: "does each genome have a unique signature imprinted on its short sequence fragments so that fragments from the same genomes in a metagenome can be identified accurately?" A positive answer to this question could have significant implications to many important genome and metagenome analysis problems such as identification of genetic material transferred from other organisms [2] or through virus invasions [3, 4], separation of short sequence fragments generated by metagenome sequencing into individual genomes [5] and phylogenetic analyses of genomes [6].
Understanding the intrinsic properties of genome sequences, either general to all or specific to some classes of genomes, has been the focus of many studies in the past two decades. Earlier work includes the discovery of the periodicity property of DNA sequences across both prokaryotic and eukaryotic genomes [7] and the realization that coding sequences follow Markov chain properties [8–10]. Karlin and colleagues have studied various genome properties based on analyses of k-mer frequency distributions, and have observed that the di-nucleotide relative abundance, a normalized di-mer frequency with respect to the mono-mer frequencies, is generally stable across a genome measured on 50 K base-pair (bp) fragments [11–13]. They even suggested that such normalized di-mer frequency distributions can possibly serve as signatures of genomes.
In this paper, we present a barcoding scheme for all sequenced genomes, and illustrate a number of interesting and useful properties of the barcodes, which we can take advantage to solve challenging genome analysis problems. We highlight the power of this barcoding scheme through addressing two application problems: metagenome binning problem and identification of horizontally transferred genes.
Discussion and Conclusion
A natural question is "do all nucleotide sequences have the barcode property like genome sequences have?" The answer is no, based on the large number of randomly generated sequences that we have examined. Figure
1(e)
shows a typical barcode of a random sequence generated using a zero
th
order Markov chain model. We found that none of the so generated nucleotide sequences has the vertical band structures as in genomes barcodes. More generally, barcodes for genomes and the randomly generated nucleotide sequences have different characteristics as shown in Figure
5
.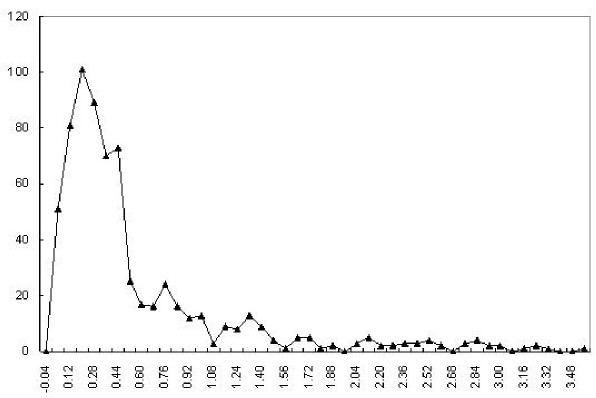 The barcode analyses in this paper are mainly based on data from prokaryotes. Though we have applied the same barcode model to eukaryotes and made interesting observations, we suspect that the current barcoding scheme is rich enough to capture all the complexity of eukaryotes. Further studies along this direction are clearly needed.
We believe that for many genome analysis problems, particularly for prokaryotic genomes, the barcodes provide a natural, intuitive, information-rich and unified framework for studying them. Further applications of this capability to numerous genome analysis problems can be envisioned, such as phylogeny studies, particularly for genomes without obvious marker genes such as viruses, more thorough examination of different types of genomic regions in eukaryotes, their structures and organization, further studies of horizontal gene transfers, assisting in genome assembly of higher-order organisms (e.g., populus which we are currently working on) and possibly many more. We believe that we have only begun exploring the true power of this new capability for genome studies.
Declarations
Acknowledgements
This work was supported by National Science Foundation (DBI-0354771, ITR-IIS-0407204, DBI-0542119, CCF0621700), a U.S. Department of Energy "BioEnergy Research Center" grant from the Office of Biological and Environmental Research in the DOE Office of Science, and a Distinguished Scholar grant from the Georgia Cancer Coalition. We would like to thank the two anonymous reviewers for their helpful comments on our work. We would also like to thank Ms Joan Yantko for preparing the manuscript.
Authors' Affiliations
(1)
Department of Biochemistry and Molecular Biology and Institute of Bioinformatics, and BioEnergy Science Center (BESC), University of Georgia, Athens, USA
Copyright
© Zhou et al; licensee BioMed Central Ltd. 2008
This article is published under license to BioMed Central Ltd. This is an Open Access article distributed under the terms of the Creative Commons Attribution License (http://creativecommons.org/licenses/by/2.0), which permits unrestricted use, distribution, and reproduction in any medium, provided the original work is properly cited.