SCOWLP classification: Structural comparison and analysis of protein binding regions
BMC Bioinformatics
2008
9:9
Received: 09 May 2007
Accepted: 08 January 2008
Published: 08 January 2008
Abstract
Background
Detailed information about protein interactions is critical for our understanding of the principles governing protein recognition mechanisms. The structures of many proteins have been experimentally determined in complex with different ligands bound either in the same or different binding regions. Thus, the structural interactome requires the development of tools to classify protein binding regions. A proper classification may provide a general view of the regions that a protein uses to bind others and also facilitate a detailed comparative analysis of the interacting information for specific protein binding regions at atomic level. Such classification might be of potential use for deciphering protein interaction networks, understanding protein function, rational engineering and design.
Description
Protein binding regions (PBRs) might be ideally described as well-defined separated regions that share no interacting residues one another. However, PBRs are often irregular, discontinuous and can share a wide range of interacting residues among them. The criteria to define an individual binding region can be often arbitrary and may differ from other binding regions within a protein family. Therefore, the rational behind protein interface classification should aim to fulfil the requirements of the analysis to be performed.
We extract detailed interaction information of protein domains, peptides and interfacial solvent from the SCOWLP database and we classify the PBRs of each domain family. For this purpose, we define a similarity index based on the overlapping of interacting residues mapped in pair-wise structural alignments. We perform our classification with agglomerative hierarchical clustering using the complete-linkage method. Our classification is calculated at different similarity cut-offs to allow flexibility in the analysis of PBRs, feature especially interesting for those protein families with conflictive binding regions.
The hierarchical classification of PBRs is implemented into the SCOWLP database and extends the SCOP classification with three additional family sub-levels: Binding Region, Interface and Contacting Domains. SCOWLP contains 9,334 binding regions distributed within 2,561 families. In 65% of the cases we observe families containing more than one binding region. Besides, 22% of the regions are forming complex with more than one different protein family.
Conclusion
The current SCOWLP classification and its web application represent a framework for the study of protein interfaces and comparative analysis of protein family binding regions. This comparison can be performed at atomic level and allows the user to study interactome conservation and variability. The new SCOWLP classification may be of great utility for reconstruction of protein complexes, understanding protein networks and ligand design. SCOWLP will be updated with every SCOP release. The web application is available at http://www.scowlp.org.
Keywords
Binding Region
Interact Residue
Protein Interface
Protein Binding Region
Interface Definition
Background
Protein interactions are essential for intra-cellular communication in biological processes. Proteins are composed of small units or domains that can physically interact together forming multi-domain protein complexes. A single protein can have several binding regions, and each region can engage distinct ligands, either simultaneously or at successive stages of signalling [1].
In our previous work we developed the SCOWLP database [2], which contains detailed interfacial information of structurally known protein complexes, peptide complexes and water molecules as mediators of interactions. SCOWLP and other existing protein interaction databases [3–5] contain lists of interfaces for SCOP protein families and, therefore, they are only able to perform individual interface analysis. A classification of protein binding regions (PBRs) is essential in order to characterize all protein regions participating in the binding and to be able to compare protein complexes sharing the same binding region. At the same time, such a classification should provide some insights into the interacting properties preserved by members of a protein family. However, the criteria to delineate PBRs can be difficult to assess, and often arbitrary and conflictive.
Binding regions in protein domains can form separated patches, but also some protein families bind through multiple binding regions with different ranges of residue overlapping. Furthermore, some observed protein interfaces are the result of non-biological artefacts (i.e. crystal packing) and are often difficult to distinguish from the biological ones, creating discrepancy among the current resources [6, 7]. Some of these interfaces can connect binding regions or can be included into existing ones, introducing noise quite difficult to handle for clustering algorithms. As different clustering algorithms can vary the grouping completely, an advantageous classification of PBRs should contain a proper measurement of similarity and a flexible clustering algorithm to cover the requirements of the analysis to be performed.
Hierarchical clustering comprises a whole family of clustering methods differing only on the manner inter-cluster distance is defined (the linkage function). The more common aggregation methods are single-, complete- and average-linkage. Complete and single-linkage are extreme procedures with completely different properties. Complete-linkage uses the similarity between the furthest pair of objects from two clusters. In contrast to these requirements, single-linkage only uses the nearest pair of objects from each cluster. Both methods have an extreme conception of homogeneity of a cluster. Single-linkage leads to grouping and may result in a few large and heterogeneous clusters [8]. Complete-linkage results in dilatation and may produce many clusters, being more suitable for isolating poorly separated clusters [9]. Average-linkage tries to avoid these effects by computing the average. This method is used by two different computational approaches for protein interface classification described so far. Nussinov and colleagues pioneered interface classification based on common structural features shared among the interfaces from various folds and considering full interfaces at chain level [10–12]. More recently Kim and colleagues [13, 14], instead of classifying interfaces as a whole, classified the domain faces forming an interface by SCOP families. Their classification uses interfaces defined as biological in the PQS database [6] and does not include peptidic and solvent interaction data.
We present a classification of PBRs from all existing contacting domains from the SCOWLP database, which includes detailed information about proteins, peptides and solvent interaction. Peptide and solvent interactions are highly represented in the PDB and are highly informative in protein interactions [15]. For our classification we use hierarchical clustering with the complete-linkage method. The similarity measure used is obtained based on the overlapping of interacting residues mapped in pair-wise structural alignments and exclusion of gap regions. We explain and discuss the methodology used to classify PBRs and the rational behind applying flexible similarity cut-offs. Our PBRs classification is implemented in SCOWLP and extends its usage from individual analysis of protein interfaces to comparative structural analysis of specific family binding regions. We describe the SCOWLP web application and its utilities for PBRs analysis.
Construction and content
The PBRs classification extends the SCOWLP relational database by four additional tables describing the hierarchical classification at binding region, interface and contacting domain level. The content of the classification is given at similarity zero, which offers a general view of the regions that protein families use for recognition. In addition, our classification offers different similarity cut-offs to allow flexibility in the analysis of the PBRs. The classification of PBRs was performed as follows (Fig.
1A
):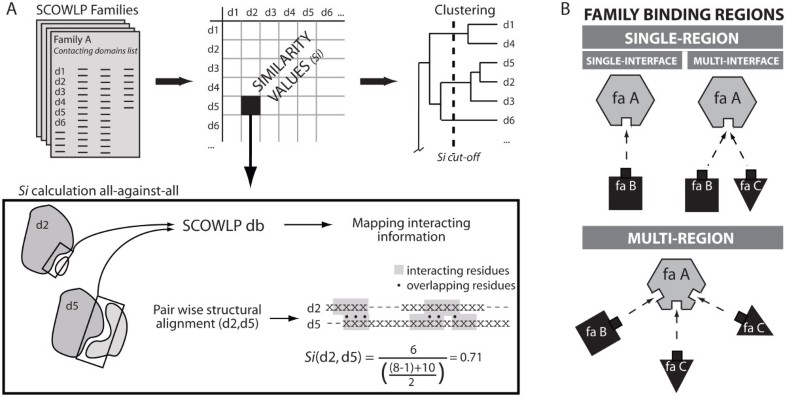 1 Extraction of interfaces and contacting domains
An accurate definition of the interacting residues is crucial to have a proper clustering of a family PBR. We extracted all protein interfaces from the SCOWLP database, in which the interactions are defined at atomic level and based on their physiochemical properties [2, 15]. Protein domains interacting with peptidic ligands and residues interacting through a water molecule (wet spots) are also taken into account. We consider "interface" all domain-domain interactions; that means those belonging to the same protein and also to different proteins. SCOWLP contains 79,803 interfaces contained in 2,561 SCOP families. We grouped the domains participating in each interface by SCOP families, obtaining for each family a list of contacting domains with the residues forming part of the binding region.
2 Pair-wise structural alignments (PSAs)
A reliable alignment is indispensable to calculate the similarities among binding regions. For this purpose we used MAMMOTH, which has shown proven accuracy to structurally align protein families [16]. We performed all-against-all PSAs of the contacting domains for each family to be able to measure the similarity among binding regions. SCOWLP contains about 160,000 contacting domains uneven distributed by families. This represents 276 million PSAs performed in a cluster of five Pentium IV 2.6 GHz. The alignments were performed taking the Cα atoms into account and using a gap penalty function for opening and extension [17]. The root-mean-squared deviation (RMSD) was not considered for measuring the similarity between two interfaces, as the superimposed members of the same family share a common structure.
3 Similarity Index (Si)
The residues described in SCOWLP to be forming and interface were mapped onto the domain-pair structural alignment. We calculated a similarity index (
Si
) based on the number of interacting residues that overlap and the length of both interacting regions by (Fig.
1
):
where a and b represent the two domain structures aligned. The number of interacting residues that match in the PSA is represented by IRoverlap(a, b). This value is divided by the average number of the interacting residues in both domains excluding the interacting residues located in gap regions in the structural alignment (IR gaps ).
4 Clustering binding regions
Based on the calculated
Si
, we clustered the binding regions of each SCOP family using the agglomerative hierarchical algorithm [
8
] following several steps (Fig.
1
):
1)

Define as a cluster each contacting domain.

2)

Find the closest pair of clusters and merge them into a single cluster.

3)

Re-compute the distances between the new cluster and each of the remaining clusters.

4)

Repeat steps 2 and 3 until all contacting domains are clustered into a single cluster.
To re-compute the distances we used the complete-linkage method [9], which considers the distance between two clusters to be equal to the minimum similarity of the two members.
5 Binding region definition by Si cut-offs
The result of the clustering can be represented in an intuitive tree or dendrogram, which shows how the individual contacting domains are successively merged at greater distances into larger and fewer clusters. The final PBRs depend on the
Si
cut-off that is set up. We can observe in Fig.
2A
that the total number of binding regions for all the SCOP families grows exponentially as the
Si
cut-off increases. Based on our observations of a representative group of families we set up an empirical maximum similarity cut-off value of 0.4. We pre-calculated the results for
Si
cut-offs at 0, 0.1, 0.2, 0.3 and 0.4 to offer a range of values that allow flexibility in the final analysis of PBRs. The SCOWLP web application offers the possibility to display the classification at any of these cut-off values.

Our classification clustered 160,000 contacting domains from 2,561 families in 9,334 binding regions. About 65% of the families contain more than one binding region (Fig. 2B). These values are obtained for similarity zero and may vary depending on the similarity cut-off applied.
6 Interface definitions
In order to differentiate binding regions having single-interfaces from multi-interfaces (Fig. 1B), we identified in each binding region the partner for each contacting domain. Each binding region was divided in sub-clusters when there were different domain families interacting in the same binding region. This resulted in a total of 10,300 interfaces. The classification shows a 78% of the binding regions having a single-interface and the rest having mainly 2 or 3 interfaces per region (Fig. 2C). These numbers have to be carefully interpreted by taking into account the limitation of the structural information contained in the PDB (i.e. 1,715 binding regions contain a unique member in the PDB and therefore only one known interface per binding region).
Implementation
We used MySQL and Java programming language to generate the classification of PBRs. Calculations were performed on a cluster of five Pentium IV 2.6 GHz. The PBRs classification has been included into the SCOWLP database. SCOWLP will be updated with every SCOP release.
Utility and Discussion
In this section we first discuss the methodology used for the classification of PBRs. Besides, we describe the utility of the SCOWLP web application.
Conclusion
Classification of the regions that a protein family uses to recognize binding partners is important for understanding the interactome. Protein binding regions are often irregular, discontinuous and can share interacting residues among them, making their clustering difficult, and arbitrary. A suitable classification requires proper measurements of similarity between protein binding regions and an appropriate clustering approach. Our approach consists on hierarchical clustering of the PBRs included in the SCOWLP database, which contains detailed interfacial information of proteins, peptides and solvent. We use the complete-linkage method and a similarity index obtained by mapping interacting residues in non-gap regions of pair-wise structural alignments. This approach provides a dilatation of the differences among clusters, making it suitable to isolate poorly separated clusters. In addition, we introduce flexibility in the usage of different similarity cut-offs for PBRs analysis. Our results show that, from 2,561 families containing binding regions, 65% use more than one binding region to interact. Furthermore, from all existing binding regions in SCOWLP, 22% are interacting with more than one protein family. In order to be able to analyze all family binding regions of the PDB in a detailed and comparative fashion we have implemented our PBR classification into the SCOWLP web application.
The current SCOWLP classification and its web application represent a complete framework for the study of protein interfaces and comparative analysis of protein family binding regions. Mining of this information may be of great utility for understanding energetic and evolutionary aspects of protein interactions, reconstruction of protein complexes, understanding protein networks and rational ligand design.
Availability and requirements
Declarations
Acknowledgements
We are grateful to Dr. Angel R. Ortiz and Dr. D. Lupyan for assistance with MAMMOTH. Our group is funded by the Klaus Tschira Stiftung GmbH. The authors would like to thank the comments of the anonymous reviewers, which have improved the quality of this manuscript. We thank one of the anonymous reviewers for motivating suggestions on a comparison of our methodology with the PRISM approach.
Authors' Affiliations
(1)
Structural Bioinformatics, BIOTEC TU-Dresden, Dresden, Germany
(2)
Max Planck Institute for Molecular Cell Biology and Genetics, Dresden, Germany
Copyright
© Teyra et al; licensee BioMed Central Ltd. 2008
This article is published under license to BioMed Central Ltd. This is an Open Access article distributed under the terms of the Creative Commons Attribution License (http://creativecommons.org/licenses/by/2.0), which permits unrestricted use, distribution, and reproduction in any medium, provided the original work is properly cited.