Facilitating the development of controlled vocabularies for metabolomics technologies with text mining
BMC Bioinformatics
2008
9(Suppl 5):S5
Abstract
Background
Many bioinformatics applications rely on controlled vocabularies or ontologies to consistently interpret and seamlessly integrate information scattered across public resources. Experimental data sets from metabolomics studies need to be integrated with one another, but also with data produced by other types of omics studies in the spirit of systems biology, hence the pressing need for vocabularies and ontologies in metabolomics. However, it is time-consuming and non trivial to construct these resources manually.
Results
We describe a methodology for rapid development of controlled vocabularies, a study originally motivated by the needs for vocabularies describing metabolomics technologies. We present case studies involving two controlled vocabularies (for nuclear magnetic resonance spectroscopy and gas chromatography) whose development is currently underway as part of the Metabolomics Standards Initiative. The initial vocabularies were compiled manually, providing a total of 243 and 152 terms. A total of 5,699 and 2,612 new terms were acquired automatically from the literature. The analysis of the results showed that full-text articles (especially the Materials and Methods sections) are the major source of technology-specific terms as opposed to paper abstracts.
Conclusions
We suggest a text mining method for efficient corpus-based term acquisition as a way of rapidly expanding a set of controlled vocabularies with the terms used in the scientific literature. We adopted an integrative approach, combining relatively generic software and data resources for time- and cost-effective development of a text mining tool for expansion of controlled vocabularies across various domains, as a practical alternative to both manual term collection and tailor-made named entity recognition methods.
Keywords
Nuclear Magnetic ResonanceInformation RetrievalNoun PhraseMeSHControl Vocabulary
Background
The lack of a suitable means for formally describing the semantic aspects of omics investigations presents challenges to effective information exchange between biologists [1–3]. The inherent imprecision of free-text descriptions of experimental procedures hinders computational approaches to the interpretation of experimental results. Controlled vocabularies and/or ontologies can be used as a means of adding an interpretative annotation layer to the textual information [4–6]. A controlled vocabulary (CV) is a structured set of terms (i.e. linguistic representations of domain-specific concepts [7], and as such a means of conveying scientific and technical information [8]) and definitions agreed by an authority or a community. An ontology includes CV terms to refer to concepts at the linguistic level, but also utilises a richer semantic representation to characterise the ways in which these concepts are related [9]. Many scientific communities, including those operating in the metabolomics domain [10], have started developing ontologies for data annotation [11]. The Metabolomics Standards Initiative (MSI) [12, 13] Ontology Working Group (OWG) [14] has been appointed to establish a common semantic framework (i.e. a set of ontologies and their CVs) for metabolomics studies to be used to describe the experimental process consistently, and to ensure meaningful and unambiguous data exchange [15]. While providing a mechanism for coherent and rigorous structuring of domain-specific knowledge, it is necessary for ontologies and CVs in an expanding domain such as metabolomics to be easily extensible. The new knowledge, largely generated by high-throughput screening, is communicated through the biotechnology literature, which can be exploited by text mining (TM) tools to facilitate the process of keeping ontologies and their CVs up to date [6, 16]. In this article we describe a TM approach for rapidly expanding a set of CVs maintained by the MSI OWG with terms extracted from the scientific literature, following initial term acquisition from sources such as domain specialists, literature, databases, existing ontologies, etc.
The MSI OWG [17] aims to develop a set of ontologies and CVs in metabolomics as a direct support to the activities of other MSI WGs [15], which are responsible for: Biological Context Metadata, Chemical Analysis, Data Processing and Exchange Formats. The coverage of the domain has been divided in accordance with the typical structure of metabolomics investigations:
general components (investigation design; sample source, characteristics, treatments and collection; computational analysis), and

technology-specific components (sample preparation; instrumental analysis; data pre-processing).
The ongoing standardisation endeavours in other omics domains, such as the Human Proteome Organization (HUPO) Proteomics Standards Initiatives (PSI) [18, 19], the Microarray Gene Expression Data Society (MGED) [20, 21] and other ontology communities under the Open Biomedical Ontologies (OBO) Foundry [22–24] umbrella can largely be re-used to describe the general aspects of metabolomics investigations. Therefore, the MSI OWG has focused initially on the technology-specific components. Further, development activities in this sub-domain have been prioritised according to the pervasiveness of the analytical platforms used.
A range of analytical technologies have been employed in metabolomics studies [25]. Mass spectrometry (MS) is the most widely used analytical technology in metabolomics, as it enables rapid, sensitive and selective qualitative and quantitative analyses with the ability to identify individual metabolites. In particular, the combined chromatography-MS technologies have proven to be highly effective in this respect. Gas chromatography-mass spectrometry (GC-MS) uses GC to separate volatile and thermally stable compounds prior to detection via MS. Similarly, liquid chromatography-mass spectrometry (LC-MS) provides the separation of compounds by LC, which is again followed by MS. On the other hand, nuclear magnetic resonance (NMR) spectroscopy does not require any separation of the compounds prior to analysis, thus providing a non-destructive, high-throughput detection method with minimal sample preparation, which has made it highly popular in metabolomics investigations despite being relatively insensitive in comparison to the MS-based methods.
For MS, the MSI OWG will leverage previous work by the PSI MS Standards WG [26]. For chromatography, which is used in both proteomics and metabolomics, the MSI OWG is closely collaborating with the PSI Sample Processing Ontology WG. Consequently, the technologies the MSI OWG is currently focusing on are NMR and GC. These two technologies are used in this paper to illustrate the effectiveness of the proposed TM approach.
The MSI OWG efforts are divided into two key stages: (1) reaching a consensus on the CVs, and (2) developing the corresponding ontology as part of the Ontology for Biomedical Investigations (OBI, previously FuGO) [
27
,
28
]. In this paper, we focus on the first stage. Each CV is compiled in the following three steps:
1.

Compilation: An initial CV is created by re-using the existing terminologies from database models (e.g. [29, 30]), glossaries, etc. and normalising the terms according to some common naming conventions [31]. The result of this phase is a draft CV encompassing terms of different types: methods, instruments, parameters that can be measured, etc.

2.

Expansion: In the highly dynamic metabolomics domain, experts often use non-standardised terms. Therefore, in order to reduce the time and cost of compiling a CV and to strive for its completeness, we use a TM approach to automatically identify additional technology-related terms frequently occurring in the scientific literature.

3.

Curation: The CV is discussed within the MSI OWG and is passed on to the practitioners in the relevant metabolomics area for validation in order to ensure the quality and completeness of the proposed CV.
We expect the CVs to evolve in time by reflecting the changes in the domain and the availability of new literature, and therefore steps 2 and 3 should be iterated over in certain time intervals.
Implementation
A set of relevant tasks regarding CV term acquisition has been identified, including information retrieval, term recognition and term filtering. Figure
1
summarises the main steps taken in our TM approach to CV expansion. First, the information retrieval module is used to gather documents relevant for a given CV from the literature databases. Once a domain-specific corpus of documents has been assembled, it is searched for potential terms unaccounted for in the initial CV. Automatic term recognition is performed to extract terms as domain-specific lexical units, i.e. the ones that frequently occur in the corpus and bear special meaning in the domain. In order to reduce the number of terms not directly related to a given technology, and therefore not relevant for the given CV, we filter out typically co-occurring types of terms denoting substances, organisms, organs, diseases, etc. In contrast to the considered analytical techniques, these sub-domains have more established CVs, which can be exploited to recognise these terms using a dictionary-based approach [
32
]. Each of the TM steps is described in more detail in the forthcoming sub-sections.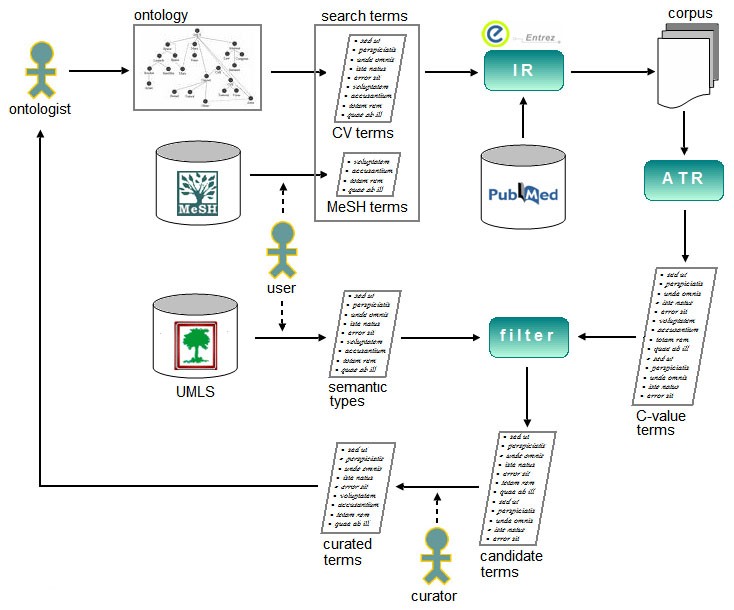 Results and discussion
We performed two case studies to evaluate the effectiveness of the proposed CV expansion approach using the two CVs for NMR and GC, which are currently under development as part of the MSI OWG activities. The initial CVs were compiled manually by the MSI OWG members, providing a total of 243 and 152 terms for NMR and GC respectively. In addition to these terms, we hand-picked the MeSH terms (Magnetic Resonance Spectroscopy and Chromatography, Gas) relevant for the techniques of interest by using the web-based MeSH browser. We used the given MeSH terms to retrieve documents from PubMed that have been manually annotated with these terms. A complementary IR approach was based on the search queries combining the CV terms: at least 3 and 7 matching terms for abstracts and full papers respectively.
Tables
1
and
2
provide the IR and ATR results. The top two rows refer to the IR approach used for collecting a corpus of relevant documents. The use of MeSH and CV terms to conduct searches over abstracts and full-text documents results in a total of four corpora, whose numerical properties are described in separate columns. The size of each corpus is given as the number of documents retrieved and its size in KBs (rows three and four). Although freely available for browsing, for most articles in PMC the publisher does not allow downloading of the text in XML format; neither does PMC allow bulk downloading in HTML format. Hence, we were able to process only a small number of full-text documents (the numbers in brackets refer to these papers). Total numbers of C-value terms extracted from each corpus are given in the bottom two rows, one referring to the total number of terms recognised by the C-value method and the other referring to the number of these terms remaining after applying the filtering approach based on the available knowledge about their semantic types.
Table 1
Term acquisition results for NMR
IR

search terms

MeSH

CV

document type

abstracts

full papers

abstracts

full papers

corpus size

documents

122,867

6,125 (141)

1,613

758 (29)

KBs

113,191

663

2,047

270

C-value terms

before filtering

5,602

6,215

124

2,601

after filtering

2,298

3,257

61

1,385
Table 2
Term acquisition results for GC
IR

search terms

MeSH

CV

document type

abstracts

full papers

abstracts

full papers

corpus size

documents

60,338

1,351 (79)

3,948

1,383 (58)

KBs

42,418

68

3,012

97

C-value terms

before filtering

2,708

811

2,442

1,114

after filtering

567

348

1,323

526
By amalgamating all filtered terms, a total of 5,699 and 2,612 new terms were acquired for NMR and GC respectively. The bottom rows in Tables 1 and 2 show their distribution across the four corpora. Note that the total number of new terms does not correspond to the sum of these numbers due to duplication of terms extracted from different corpora. Given a type of search terms (i.e. MeSH or CV terms), we compared the ATR results acquired from abstracts and those obtained from Materials and Methods sections of full-text articles. We determined that the overlap between the terms extracted from abstracts and those from the body of full-text articles was 2% on average. By further contrasting the results acquired from abstracts and full-text articles, we determined the average ratio between the number of acquired technology-specific terms and the corpus size was 16.25 for full-text articles and only 0.13 for abstracts. This comparison confirms that the Materials and Methods sections represent a significant source of technology-specific terms and also emphasises the benefits that can result from making full-text articles available to TM applications for the benefits of the overall biomedical community.
The preliminary results are available at [
14
], where the potential CV terms are accessible to the metabolomics community for comments and curation. The official version of the NMR CV has been made publicly available at [
22
] as part of the NMR ontology. We have to note that the integration of new terms into the MSI CVs has only just started and a full evaluation can only be published later on the web pages. Nevertheless, we performed a preliminary evaluation using the following setup. For each case study, we selected a test set of 100 terms chosen randomly from the resulting set of candidate CV terms. Each test set was evaluated independently by two domain experts. Each term from the test sets was scored from 1 to 5 reflecting an expert opinion about the degree to which the term in question is related to the technology described by the CV: 1 – no, definitely; 2 – no, probably; 3 – don't know / not sure; 4 – yes, probably; 5 – yes, definitely. The detailed evaluation results are given in Additional File
1
, where a reader can find the score given to each term by each of the curators. We also provide a mean score for each evaluated term and we measure the agreement between the curators by giving the score difference for each of the terms. The mean and median values for all scores are summarised in Tables
3
and
4
. In both cases, the mean value of the average score was around 3.5 with the average difference in scores given by two curators not being greater than one. The distribution of the scores is shown in Figures
8
and
9
. From these results we extract the fact that in the case of NMR 51 terms were deemed relevant (having an average score greater than 3), 22 terms were undecided (having an average score of 3) and 27 terms were deemed irrelevant (having an average score less than 3). Similarly, in the case of GC we obtained 61 positive examples, 35 negative ones and 4 undecided. By projecting these numbers to the total of 5,699 candidate NMR terms extracted, we estimate the numbers of relevant, undecided and irrelevant terms to be 2,906, 1254 and 1539 respectively. For the total of 2,612 candidate GC terms, it is projected that 1,593 will be relevant, 104 undecided and 914 irrelevant. By including ≈2,900 positive examples into the NMR CV (initially containing 243 terms) and ≈1,600 new terms into the GC CV (initially containing 152 terms), both CVs can be effectively expanded by more than ten times the original size simply by curating terms as opposed to the process of CV term collection using interviewing techniques and reading the relevant literature.
Table 3
Evaluation of term acquisition results for NMR
| score | by curator #1 | by curator #2 | mean between #1 & #2 | difference between #1 & #2 |
| --- | --- | --- | --- | --- |
| mean | 3.81 | 3.19 | 3.5 | 0.88 |
| median | 4 | 3 | 3.5 | 1 |
Table 4
Evaluation of term acquisition results for GC
| score | by curator #1 | by curator #2 | mean between #1 & #2 | difference between #1 & #2 |
| --- | --- | --- | --- | --- |
| mean | 3.06 | 3.79 | 3.425 | 0.93 |
| median | 4 | 4 | 4 | 1 |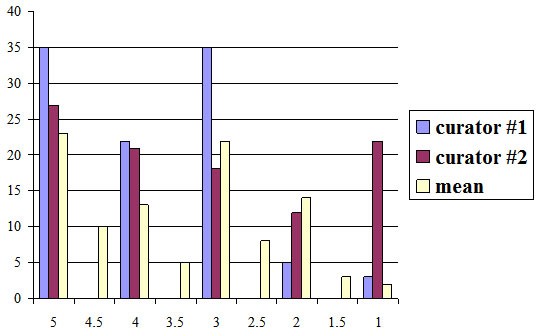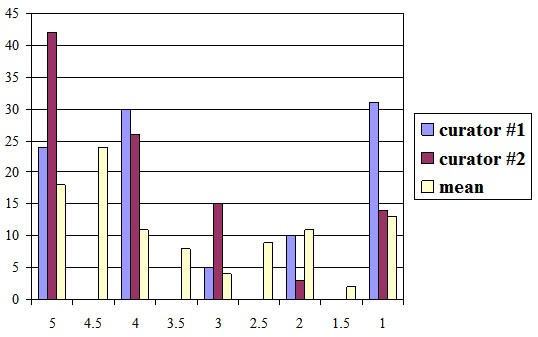 In addition to the preliminary quantitative evaluation, we also provide some qualitative remarks about our approach TM approach to CV expansion, which will be taken into account in order to improve the functionality of the tool. Some of the extracted terms were "incomplete". For example, the term comparative NMR as found in the result list lacks the headword to be of sufficient understandability and to get inserted into a CV, e.g. as its concordance (http://www.ebi.ac.uk/tc-test/textmining/medevi/results.jsp?query=%22comparative%20nmr%22&submitbutton=Submit) reveals this term should be comparative NMR analysis or comparative NMR study. This is due to the term variation phenomenon when the same concept is designated by more than one term. When such term candidates are processed separately, their C-values are distributed across different variants providing separate frequencies for individual variants instead of a single frequency unifying all of the variants. Hence, in order to make the most of the statistical part of the C-value method, term candidates need to be normalised prior to statistical analysis [69].
Further, the CV expansion process can be helped by a different way of presenting the resulting terms. Having the candidate terms clustered according to their head noun phrases (e.g. experiment, assay, spectrum, chemical shift) would facilitate term integration and hierarchical structuring of the CV.
Conclusions
We described an integrative approach combining relatively generic, public software and data resources for time- and cost-effective development of a TM tool to aid the expansion of CVs across various domains. This should serve as a practical alternative to both manual term collection and tailor-made named entity recognition methods. The software makes use of web services to access three key resources:
Entrez for IR,

C-value for ATR, and

UMLS as a semantic network of biomedical terms.
It is disseminated under an open-source licence. Originally developed to the specification of the MSI OWG, it is still generic enough to be applied for the expansion of other CVs in biomedicine simply by changing the input parameters:
the initially compiled CV,

the MeSH terms that reflect the domain of the CV, and

the UMLS semantic types of terms indirectly related to those covered by the CV.
The output terms are presented to the user in HTML format so they can be inspected through a web browser, in which the context of each term as used in the scientific literature can be explored through the hyperlinked MedEvi service (a web-based search tool for the MEDLINE corpus) in an effort to aid the curation of the potential CV terms.
Availability and requirements
Project name: CVexpand
Project home page: http://mcisb.org/resources/CVexpand/
Operating system(s): Platform independent
Programming language: Java (version 1.6)
Other requirements: Access to SQL database
License: Academic Free License v3.0
Any restrictions to use by non-academics: None
List of abbreviations used
ATR:

automatic term recognition
CV:

controlled vocabulary
DB:

database
GC:

gas chromatography
GC-MS:

gas chromatography – mass spectrometry
HUPO:

human proteome organization
HTML:

hypertext markup language
IR:

information retrieval
JDBC:

Java database connectivity
MEDLINE:

medical literature analysis and retrieval system online
MeSH:

medical subject headings
MGED:

microarray gene expression data society
MS:

mass spectrometry
MSI:

metabolomics standards initiative
NMR:

nuclear magnetic resonance
OBI:

ontology for biomedical investigations
OBO:

open biomedical ontologies
OWG:

ontology working group
PSI:

proteomics standards initiative
PMC:

PubMed Central
SQL:

structured query language
TM:

text mining
UMLS:

unified medical language system
XML:

extended markup language
Declarations
Acknowledgements
We kindly acknowledge other members of the MSI Ontology WG, the MSI Oversight Committee, other MSI WGs, National Centre for Text Mining, the OBI WG, the OBO Foundry leaders and the Ontogenesis Networks members for their contributions in fruitful discussions. We also owe thanks to our colleagues for their assistance in the evaluation of the results. Their names are (in alphabetical order): Warwick Dunn, Farid Khan and Denis V. Rubtsov. We gratefully acknowledge the support of the BBSRC/EPSRC via "The Manchester Centre for Integrative Systems Biology" grant (BB/C008219/1: DBK, NP and IS), the BBSRC e-Science Development Fund (BB/D524283/1: SAS and DS) and the EU Network of Excellence Semantic Interoperability and Data Mining in Biomedicine (NoE 507505: IS and DS).
This article has been published as part of BMC Bioinformatics Volume 9 Supplement 5, 2008: Proceedings of the 10th Bio-Ontologies Special Interest Group Workshop 2007. Ten years past and looking to the future. The full contents of the supplement are available online at http://www.biomedcentral.com/1471-2105/9?issue=S5.
Authors' Affiliations
(1)
Manchester Centre for Integrative Systems Biology, The University of Manchester, Manchester, UK
(2)
School of Computer Science, The University of Manchester, Manchester, UK
(3)
The European Bioinformatics Institute, EMBL Outstation - Hinxton, Cambridge, UK
(4)
School of Chemistry, The University of Manchester, Manchester, UK
Copyright
© Spasić et al.; licensee BioMed Central Ltd. 2008
This article is published under license to BioMed Central Ltd. This is an open access article distributed under the terms of the Creative Commons Attribution License (http://creativecommons.org/licenses/by/2.0), which permits unrestricted use, distribution, and reproduction in any medium, provided the original work is properly cited.