ProtDCal: A program to compute general-purpose-numerical descriptors for sequences and 3D-structures of proteins
BMC Bioinformatics
2015
16:162
Received: 15 January 2015
Accepted: 22 April 2015
Published: 16 May 2015
Abstract
Background
The exponential growth of protein structural and sequence databases is enabling multifaceted approaches to understanding the long sought sequence-structure-function relationship. Advances in computation now make it possible to apply well-established data mining and pattern recognition techniques to these data to learn models that effectively relate structure and function. However, extracting meaningful numerical descriptors of protein sequence and structure is a key issue that requires an efficient and widely available solution.
Results
We here introduce ProtDCal, a new computational software suite capable of generating tens of thousands of features considering both sequence-based and 3D-structural descriptors. We demonstrate, by means of principle component analysis and Shannon entropy tests, how ProtDCal's sequence-based descriptors provide new and more relevant information not encoded by currently available servers for sequence-based protein feature generation. The wide diversity of the 3D-structure-based features generated by ProtDCal is shown to provide additional complementary information and effectively completes its general protein encoding capability. As demonstration of the utility of ProtDCal's features, prediction models of N-linked glycosylation sites are trained and evaluated. Classification performance compares favourably with that of contemporary predictors of N-linked glycosylation sites, in spite of not using domain-specific features as input information.
Conclusions
ProtDCal provides a friendly and cross-platform graphical user interface, developed in the Java programming language and is freely available at: http://bioinf.sce.carleton.ca/ProtDCal/. ProtDCal introduces local and group-based encoding which enhances the diversity of the information captured by the computed features. Furthermore, we have shown that adding structure-based descriptors contributes non-redundant additional information to the features-based characterization of polypeptide systems. This software is intended to provide a useful tool for general-purpose encoding of protein sequences and structures for applications is protein classification, similarity analyses and function prediction.
Keywords
ProtDCal
Protein feature generation
Protein descriptors
Data mining
Protein function modelling
Background
The enormous growth of protein sequence databases has become a powerful driving force for data mining studies of protein function prediction or protein classification. Databases such as UniProt (http://www.uniprot.org/) [1] and GenBank (http://www.ncbi.nlm.nih.gov/genbank/) [2] count the number of available protein sequences in the tens of millions, providing a large reservoir of information for such studies. Furthermore, the Worldwide Protein Data Bank (www.wwpdb.org) [3] now holds nearly 100 000 3D structures, while many more can be inferred using homology modeling and ab initio prediction, even at genome-wide scale [4]. Pattern classification and data mining techniques require numerical feature data summarizing aspects of protein sequence and structure. Given appropriate feature selection methods, we expect to achieve greater predictive accuracy if the methods are provided with more and diverse input features. Such numerical features which describe aspects of molecular structure are widely known as descriptors in fields outside of proteomics. In the field of cheminformatics, millions of molecular descriptors (MDs) for small-to-mid sized compounds [5] are currently implemented in software packages such as: DRAGON, TOMOCOMD-CARDD, PADEL, CDK descriptor calculator, ADRIANA CODE, CODESSA-PRO and CERIUS [6-17]. Rather than developing different features for each application, these MDs instead provide a rich application-independent general numerical representation of the molecule, with each MD relating to a different aspect of the molecule. By applying appropriate feature selection, relevant subsets of the same overarching set of MDs may be extracted to develop analytical approaches to solve many diverse problems.
A number of groups have proposed developing such sets application-independent descriptors for the field of proteomics [18], however, we remain limited to the order of a few thousand descriptors to encode protein sequences [19,20] and even fewer for protein 3D-structures [21-24]. Currently PROFEAT [19,25] (http://bidd.cz3.nus.edu.sg/cgi-bin/prof/protein/profnew.cgi), PROTEIN RECON [26] (http://reccr.chem.rpi.edu/Software/Protein-Recon/Protein-Recon-index.html) and PseAAC (http://www.csbio.sjtu.edu.cn/bioinf/PseAA/) [27] are the most widely used publicly available servers for computing large numbers of sequence-based protein physicochemical features. However, these tools lack: i) large capacity for descriptor generation (as compared with programs for MD generation); ii) portability and cross-platform code (many are limited to a webserver interface), iii) generalization, in the sense of including not just their own descriptors (particularly PROTEIN RECON and PseAAC), and iv) the possibility to also generate descriptors relating to protein 3D structure, when such structure is known.
We have recently developed a model intended to describe protein folding stability and its contributing factors, i.e. configurational entropy, close packing interactions, and the hydrophobic effect [28]. Additionally, we have introduced a physics-based formalism to score protein structural models [29]. We here introduce a new feature generation program called ProtDCal (PROTein Descriptors CALculation program), which implements these new approaches together with several physicochemical properties of amino acids, and structural descriptors with proven capability to predict protein folding kinetic properties [21-24]. This program is freely available, supports multiple computing platforms, and provides a graphical user interface. ProtDCal is capable of generating tens of thousands of descriptors for a single protein structure (considering both, sequence-based and structure-based descriptors), thereby helping to close the gap between the diversity of descriptors available for the study of small molecules (cheminformatics) and proteins (proteomics).
In the present study, the resulting features are assessed in terms of relevancy and redundancy in three different studies: 1) variability analysis along the protein dataset (relevancy), based on Shannon's entropy [30,31]; 2) linear-independence (redundancy) of the codified information by using Principal Component Analysis (PCA) [32] within ProtDCal descriptors, and 3) redundancy of descriptors among all three software packages. In order to carry out the analyses presented in this report, the default configurations of PROFEAT [19] and PROTEIN RECON were used as a source of the state-of-the-art in sequence-based features. PseAAC was not included in this comparative analysis because a representative module for computing pseudo amino acid composition features is already implemented within PROFEAT. Lastly, we demonstrate that ProtDCal is highly computationally efficient and is able to calculate thousands of features within 1 s for a typical protein sequence or structure.
In the following sections the term index refers to a property or value which has been calculated or measured for a single residue, while feature or descriptor refers to the final result of a procedure which generates a value associated with a specific group (subset) of amino acids using an optional aggregation function and weighting operator.
Implementation
ProtDCal provides a friendly graphical user interface (GUI), see Figure
1
, which generates descriptors for groups of residues (including the whole protein as the largest possible group). The program accepts two input file formats: PDB and FASTA/multi-FASTA. In the former case, the full descriptor generation capability of the program is enabled, while inputting FASTA files will only enable the sequence-based subset of indices. The program calculates the requested features and creates two tab-delimited files (*_AA.txt and *_Prot.txt). These files contain the compendium of all the residue-level indices and the group-level descriptors, respectively, for each input protein.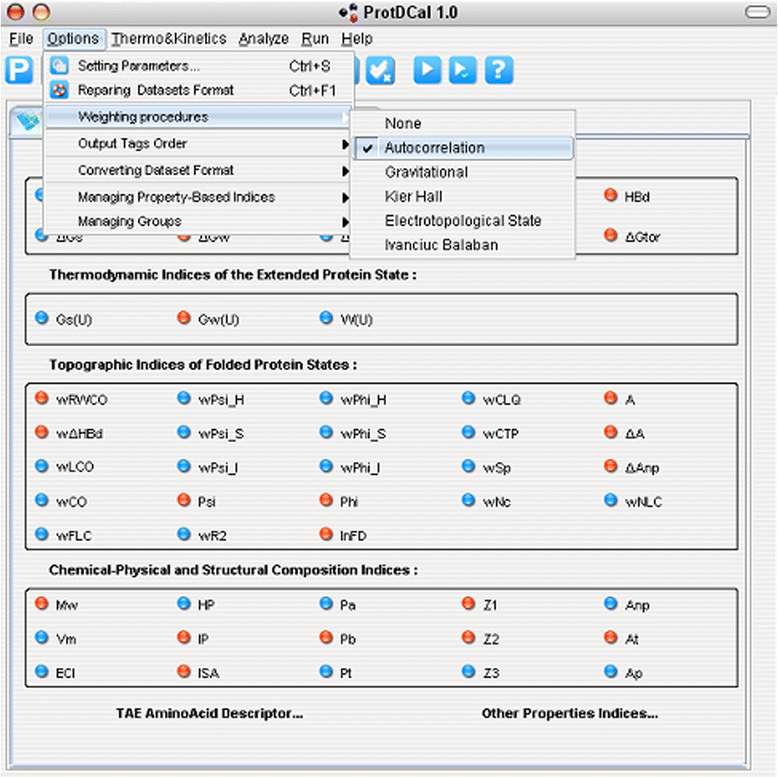 The software is implemented in Java (JDK version 1.7) as it provides cross-platform support for any system where a Java Virtual Machine (JVM) is available. The Chemical Development Kit (CDK) library [33] (version 1.4.19) was employed within ProtDCal, mainly for the manipulation of protein input data.
Most of the 3D-structural descriptors published to date typically capture information relating to the entire protein structure. These features have been largely used to show their correlation with folding properties such as the folding rate constant [34-36]. However, restricting oneself to descriptors of the entire protein structure limits the possibility of generating meaningful numbers to encode different structural characteristics of a single protein. The use of groups (subsets – see below) of amino acids to generate protein descriptors permits a combinatorial strategy to achieve a wide spectrum of features for each input protein.
The strategy for calculating indices and descriptors is divided into four hierarchical levels i) choice of index, ii) choice of weighting procedure, iii) choice of residue group, and iv) choice of aggregation function:
Results and discussion
In order to evaluate the descriptors generated by our software, as well as to perform comparison tests with PROFEAT and PROTEIN RECON servers, a dataset of 874 proteins was obtained from the RCSB PDB [51] on February 24th, 2014 by searching for single-chain monomer proteins, without DNA, RNA or other non-protein chemical entities, with sequence length between [50,500] and resolution of at most 2.0 Å. Homologues were removed at 30% sequence identity, resulting in a clean and non-redundant set of protein structures covering a wide range of protein lengths and forming a representative sample of proteins known to date. These data provides a suitable scaffold to evaluate properties such as variability and redundancy of ProtDCal's descriptors. A complete list of proteins can be found in Additional file 1: Table SM-12.
First, we validate the lack of redundancy between our sequence-based and structure-based features using principal component analysis (PCA) for factor extraction and the varimax normalized method to rotate the matrix of components, as implemented in the software package SPSS 21. Next, to measure the relevancy of our descriptors and those of other servers, a variability test was carried out using the information-theoretic approach proposed by Godden [52,53]. This test was used to measure the potential of descriptors to differentiate among proteins in the dataset described above. Lastly, we assess the diversity among our features and also with those generated by other programs. We here leverage the orthogonality of factors generated by PCA to assert that descriptors populating different factors (with absolute loading values greater than 0.70) are considered to contain significantly different information.
Three studies were carried out in order to assess the quality of descriptors generated by our application and to compare our features with existing available servers with similar purpose.
Conclusions
The summary of the analyses presented in this manuscript validates the capabilities of ProtDCal to generate valuable sequence- and structure-based protein descriptors. ProtDCal may provide to the protein data mining community a free, portable, and computationally efficient tool to generate a wide variety of meaningful descriptors for protein sequences and structures. We have demonstrated that ProtDCal sequence-based descriptors provide more relevant and low redundant information than what is currently available through sequence-based feature generation servers. In addition, we have shown that structure-based descriptors contribute significant additional information to that encoded by sequence-based ones. These latter descriptors are expected to enhance the quality of protein structure-function studies based on the ever-increasing availability of structural models from experimental and computational predictions [4]. The use of different metrics of distance, central tendency, and dispersion over groups of residues, constitute a modern and successful approach to encode relevant structural information as discussed by some of the authors previously. Ultimately, as a demonstration of the utility of ProtDCal feature data, N-glycosylation site prediction models were trained using these data. Classification performance of the obtained models, compare favourably with contemporary predictors, which leverage domain-specific knowledge. Considering its significant protein encoding capacity, ProtDCal enriches the feature-based representation of proteins, becoming a potentially valuable contribution the state of art of a wide range of applications in proteomics.
Future outlook
We expect that ProtDCal will become an alignment-free protein-modelling platform to generate relevant features for protein sequences and/or structures. Future developments will allow ProtDCal to compute, select, and assess features within an integrated analysis pipeline, by combining the feature generation with attribute selection strategies as implemented in libraries of the Weka software package.
Availability and requirements
Project name: ProtDCal, see Additional file 9 for a tutorial guide.
Project home page: http://bioinf.sce.carleton.ca/ProtDCal
Operating system(s): Platform independent
Programming language: Java
Other requirements: JDK-7 or higher
License: GNU GPL
Declarations
Acknowledgements
Yovani Marrero-Ponce thanks the San Buenaventura 'International Professor' program for a fellowship to work at Universidad de San Buenaventura in 2015.
This work was supported by the Canadian Department of Foreign Affairs, Trade and Development [Emerging Leaders in the Americas Program scholarship to Y.R-B.]; the Natural Sciences and Engineering Research Council of Canada [RGPIN/327498-2009 to J.G.].
Authors' Affiliations
(1)
Unit of Computer-Aided Molecular "Biosilico" Discovery and Bioinformatic Research (CAMD-BIR Unit), Facultad de Química y Farmacia, Universidad Central "Marta Abreu" de Las Villas, Santa Clara, Cuba
(2)
Department of Systems and Computer Engineering, Carleton University, Ottawa, Canada
(3)
Centre of Informatics Studies (CEI), Universidad Central "Marta Abreu" de Las Villas, Santa Clara, Cuba
(4)
Grupo de Investigación Microbiología y Ambiente (GIMA). Programa de Bacteriología, Facultad Ciencias de la Salud, Universidad de San Buenaventura, Calle Real de Ternera, Cartagena (Bolivar), Colombia
Copyright
© Ruiz-Blanco et al.; licensee BioMed Central. 2015
This is an Open Access article distributed under the terms of the Creative Commons Attribution License (http://creativecommons.org/licenses/by/4.0), which permits unrestricted use, distribution, and reproduction in any medium, provided the original work is properly credited. The Creative Commons Public Domain Dedication waiver (http://creativecommons.org/publicdomain/zero/1.0/) applies to the data made available in this article, unless otherwise stated.