Methodology Article

Open Access
AlloPred: prediction of allosteric pockets on proteins using normal mode perturbation analysis
BMC Bioinformatics
2015
16:335
Received: 20 June 2015
Accepted: 13 October 2015
Published: 23 October 2015
Abstract
Background
Despite being hugely important in biological processes, allostery is poorly understood and no universal mechanism has been discovered. Allosteric drugs are a largely unexplored prospect with many potential advantages over orthosteric drugs. Computational methods to predict allosteric sites on proteins are needed to aid the discovery of allosteric drugs, as well as to advance our fundamental understanding of allostery.
Results
AlloPred, a novel method to predict allosteric pockets on proteins, was developed. AlloPred uses perturbation of normal modes alongside pocket descriptors in a machine learning approach that ranks the pockets on a protein. AlloPred ranked an allosteric pocket top for 23 out of 40 known allosteric proteins, showing comparable and complementary performance to two existing methods. In 28 of 40 cases an allosteric pocket was ranked first or second. The AlloPred web server, freely available at http://www.sbg.bio.ic.ac.uk/allopred/home, allows visualisation and analysis of predictions. The source code and dataset information are also available from this site.
Conclusions
Perturbation of normal modes can enhance our ability to predict allosteric sites on proteins. Computational methods such as AlloPred assist drug discovery efforts by suggesting sites on proteins for further experimental study.
Keywords
Allostery
Normal modes
Pocket prediction
Machine learning
Web server
Background
Allostery is a process where one site on a molecule is perturbed by an effector, causing a functional change at another site: it is regulation at a distance [1]. Allostery can arise from non-covalent interactions (e.g. drug binding), covalent interactions (e.g. phosphorylation) and light absorption. This intrinsic and widespread property of proteins [2] is important in processes such as cellular signalling and disease, yet most allosteric mechanisms remain an enigma and a universal mechanism has proved elusive [3, 4].
Allosteric drugs have hardly been explored and are a major avenue of research for the pharmaceutical industry [5–7]. They hold many potential benefits over orthosteric (non-allosteric) drugs: they do not bind to active sites that are often conserved in protein families, and are hence highly specific; they can activate as well as inhibit a protein; they can have a ceiling to their effect; and they can be used effectively in combination with orthosteric drugs. However, discovery of allosteric drugs presents challenges beyond those encountered in orthosteric drug discovery. Whether the drug will activate or inhibit the protein is difficult to predict and in many cases the location of allosteric sites is unknown.
Allosteric drug discovery by virtual screening is an exciting prospect furthered by the elucidation of previously-unknown allosteric sites found on solved protein structures [8]. Development of allosteric prediction methods is therefore of pressing concern and has been approached using various methods: changes in flexibility on ligand binding [9, 10]; machine-learning using pocket features [11]; structural conservation [8]; two-state Gō models [12]; and molecular dynamics [13]. Methods investigating the allosteric mechanism have also been developed [14–17], giving insight into which residues propagate the allosteric signal and how it is transmitted. Many of the above approaches have been made available to the community as web servers [11, 18–20].
Several studies have used normal mode analysis (NMA) to model allosteric regulation [9, 10, 16, 21, 22]. In NMA, the structural fluctuations of a protein around an equilibrium conformation are decomposed into harmonic orthogonal modes [23]. NMA is effective at describing protein dynamics, despite ignoring the complex nature of the protein energy landscape [24]. Even considering the C-alpha atoms alone can be sufficient. The long-range nature of allosteric communication is often well-described by low-frequency modes that involve the motion of many atoms, though allostery does involve local effects so higher-frequency modes should also be taken into account [25].
We developed a novel procedure, AlloPred, which uses NMA to predict the allosteric pockets on a protein. AlloPred models how the dynamics of a protein would be altered in the presence of a modulator at a specific pocket. Pockets on the protein were first predicted using the Fpocket algorithm [26], which locates pockets using Voronoi tessellation and alpha spheres. The normal modes of the protein were then calculated using the elastic network model, except the spring constant of any atom pair including a residue in a chosen pocket was set to be a higher value. The effect of this perturbation was measured at the active site. These results were combined with output from Fpocket in a support vector machine (SVM) to predict allosteric pockets on proteins.
Results
AlloPred was tested on a test set of 40 known allosteric proteins (see the
Methods
section for selection criteria). For each protein AlloPred ranked the pockets and the top ranked pocket was examined. For 23 of 40 proteins AlloPred ranked top a pocket containing an allosteric binding residue (an
allosteric pocket
), when 18 % of pockets were allosteric pockets. For 28 of 40 proteins an allosteric pocket was ranked first or second. The results were compared to two existing methods for allosteric site prediction. The AlloSite server uses the Fpocket algorithm and a machine learning approach [
11
], whereas the PARS server combines changes in protein flexibility and a structural conservation score [
18
]. The correct predictions made by each method, and the overlap between the methods, are shown in Fig.
3
. AlloSite ranked an allosteric pocket top in 21 of 40 cases and is suitable for direct comparison to AlloPred as both methods rank pockets from Fpocket. PARS, however, makes predictions of single points; a point was considered allosteric for our purposes if it was within 10 Å of an allosteric modulator atom in the protein-modulator crystal structure. It is important to note the different criteria for a correct prediction when considering the results. PARS ranked an allosteric pocket top in 10 of 40 cases. Figure
3
shows that AlloPred compares well to other methods and makes 4 correct predictions that neither of the other methods do. This suggests that users of other allosteric prediction methods would benefit from the additional use of AlloPred.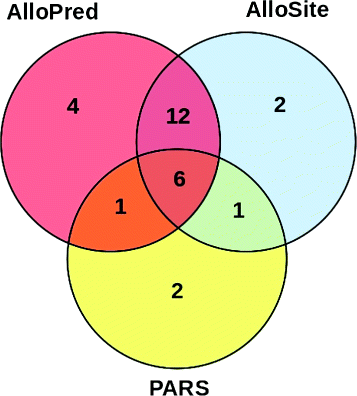 In order to reduce the effects of bias during the split of the dataset into training and test sets, the dataset of 119 proteins was additionally split randomly 20 times into training and tests sets of 79 and 40 proteins respectively. The SVM was then trained on the training set, using the previous parameters, and tested on the test set. The average number of correct predictions across the 20 runs was 23.6 out of 40. This shows that the above results used for comparison to other methods are indicative of the performance of the method.
Web server
The AlloPred web server allows users to analyse the prediction results via an intuitive interface. Users can either input a PDB ID and chain(s) or upload a PDB file. The active site residues of the protein must be given but there is an option to retrieve this data, if it is available, from the Catalytic Site Atlas [
29
]. The results page is shown in Fig.
4
. All pockets are displayed in a table with their AlloPred rankings and Fpocket output. The table can be sorted and filtered by any one or more of the 29 AlloPred and Fpocket features. The page also allows users to visualise each pocket on the protein in a JSmol window that lets the user explore the protein and its predicted allosteric sites. Features include highlighting the active site residues, selecting one of three visualisation options and a JSmol terminal to insert custom commands. The results, including full details of each pocket, can be downloaded for further analysis as a tab-delimited text file. The calculation time is fast, with a 400 residue protein (
∼
15 predicted pockets) analysed within 5 min.

Discussion
Over the last few years a renewed interest in allostery, perhaps due to the potential benefits of allosteric drugs, has led to the development of a number of computational approaches to understanding allostery [25]. Some of these are directly associated with predicting allosteric sites on proteins from structure alone.
The AlloSite server is similar to the method presented here in that it uses the Fpocket algorithm and attempts to elucidate allosteric pockets [11]. Whereas AlloSite solely uses the Fpocket output, our method uses an approach that combines flexibility with the Fpocket output. A combination of methods may give better predictions than either method individually, as indicated by the unique predictions made by both methods during testing. In fact the AlloSite predictions were found in every case to correspond to the pocket ranked top by Fpocket. The complete ranking of pockets provided by AlloPred may also be useful, as pockets ranked second were often found to be allosteric in the test set.
An approach that combines flexibility analysis using normal modes and structural conservation scores [10] is also similar to the method presented here and was recently turned into a web server, PARS [18]. Although direct comparison is difficult due to the differences in site calculation, definition of allosteric sites and datasets used, the method presented here again may be used well in combination as shown by Fig. 3.
The lack of input about the shape of the ligand and the large coverage of the protein in terms of pockets (average 18.5 pockets per protein) used by our method mean that it may be able to predict novel or unusual sites that methods which explicitly model the modulator might not. This is important, for example when searching for allosteric sites on proteins believed to be non-allosteric. The lack of conservation-based approaches in our method also facilitates discovery of sites not currently preserved by evolution. This is useful due to the large variety of allosteric modulators [34] and mechanisms [3], suggesting potential novel modulators for proteins with known allosteric pathways.
Other promising approaches [15, 17, 19] investigate the allosteric pathway and are not directly comparable with this method, which is only concerned with how the pathways transmit the effects of perturbations to the normal modes and does not directly reveal any information about the pathways themselves. Again, a combination of our method with these approaches may be useful, as pockets predicted using our or other methods can be further investigated to reveal information about the underlying allosteric communication.
The main limitation of our method is related to the diversity found in allosteric systems. Rigid-body motions of oligomers, side-chain dynamics, backbone motions and local unfolding are all mechanisms of allostery, with allosteric effects even present in intrinsically-disordered proteins [3]. A method based around the changes in dynamics on ligand binding is likely to miss many allosteric effects, and this can go some way to explaining the predictions of our method that were incorrect. In particular, classic examples of allostery such as haemoglobin that involve oligomeric re-organisation to affect ligand cooperativity are not suitable for use with this method. However, the results shown here and in other studies are encouraging and indicate a future where we can pick modulating sites on proteins with reasonable confidence. Our method, for example, successfully predicts allosteric sites on proteins with a variety of sizes and functions.
Conclusions
A machine learning approach that utilises normal mode analysis and pocket descriptors to predict allosteric pockets on proteins was developed and tested on a set of known allosteric proteins. The method was able to pick out pockets containing one or more allosteric residues. The new approach presented here is comparable in performance to existing methods and has the potential to find novel allosteric sites due to its high coverage of the protein surface and lack of information about the ligand shape. It also exhibits complementarity with existing methods. The web server provides features for visualisation and analysis that allow exploration of the results in a manner that other servers do not.
The generalisation of allosteric site prediction methods from individual proteins to the whole of protein space has only begun in earnest in recent years but is the first step on the path to effective virtual screening for allosteric drugs. Without such site prediction methods, the vast potential of allosteric drugs as therapeutics will remain untapped.
Declarations
Acknowledgements
We would like to thank Dr Suhail Islam for his invaluable help with deploying the web server and Dr Ioannis Filippis for useful discussions. This work was supported by the Biotechnology and Biological Sciences Research Council.
Open Access This article is distributed under the terms of the Creative Commons Attribution 4.0 International License (http://creativecommons.org/licenses/by/4.0/), which permits unrestricted use, distribution, and reproduction in any medium, provided you give appropriate credit to the original author(s) and the source, provide a link to the Creative Commons license, and indicate if changes were made. The Creative Commons Public Domain Dedication waiver(http://creativecommons.org/publicdomain/zero/1.0/) applies to the data made available in this article, unless otherwise stated.
Authors' Affiliations
(1)
Centre for Integrative Systems Biology and Bioinformatics, Department of Life Sciences, Imperial College London, London, UK
Copyright
© Greener and Sternberg. 2015