TRAPLINE: a standardized and automated pipeline for RNA sequencing data analysis, evaluation and annotation
BMC Bioinformatics
2016
17:21
Received: 5 September 2015
Accepted: 22 December 2015
Published: 6 January 2016
Abstract
Background
Technical advances in Next Generation Sequencing (NGS) provide a means to acquire deeper insights into cellular functions. The lack of standardized and automated methodologies poses a challenge for the analysis and interpretation of RNA sequencing data. We critically compare and evaluate state-of-the-art bioinformatics approaches and present a workflow that integrates the best performing data analysis, data evaluation and annotation methods in a Transparent, Reproducible and Automated PipeLINE (TRAPLINE) for RNA sequencing data processing (suitable for Illumina, SOLiD and Solexa).
Results
Comparative transcriptomics analyses with TRAPLINE result in a set of differentially expressed genes, their corresponding protein-protein interactions, splice variants, promoter activity, predicted miRNA-target interactions and files for single nucleotide polymorphism (SNP) calling. The obtained results are combined into a single file for downstream analysis such as network construction. We demonstrate the value of the proposed pipeline by characterizing the transcriptome of our recently described stem cell derived antibiotic selected cardiac bodies ('aCaBs').
Keywords
RNA sequencing
NGS data processing
Data evaluation
Bioinformatics workflow
Galaxy
TRAPLINE
Stem cells
Background
In comparison to other high-throughput methods, Next Generation Sequencing (NGS) technologies enable genome-wide investigations of various phenomena, including single-nucleotide polymorphisms, epigenetic events, copy number variants, differential expression, and alternative splicing [1]. RNA sequencing (RNAseq) uses the NGS technology for discovering novel RNA sequences, and quantifying all transcripts in a cell [2, 3]. Like genome tiling arrays, an RNAseq experiment can capture evidence for yet unannotated genes and isoforms. The utility of RNAseq to uncover new transcripts is well documented [3–8]. Several laboratories have provided evidence that cDNA library preparation and RNA sequencing sets are technically well reproducible and in contrast to microarrays RNAseq offers a broader dynamic range, which makes this platform more sensitive in the detection of transcripts with low abundance [9].
The steady increase of publications involving RNAseq experiments generated a need for statistical and computational tools to analyze the data. Basically, all RNAseq analyses involve the following tasks: pre-processing, quality control, read mapping and further analyses like differential expression (DE) analysis, single nucleotide polymorphism (SNP) analysis or gene isoform and splicing variant detection. However, the availability of tools following a standardized analysis protocol are limited [10].
A number of software packages and pipelines have already been introduced to deal with these tasks. These software packages are mainly based on programming languages like
C
,
Python
or
R
and require advanced expertise in programming or computer science for proper implementation and use or they do not provide advanced analytical tools like gene network inference methods, miRNA-target predictions and/or the integration of protein-protein interactions [
11
–
16
]. Additionally, the possibility of discovering alternatively spliced genes or promoter activity would be desirable. Furthermore, there is no common RNAseq data analysis strategy, despite the obvious need for such a standardized pipeline [
17
]. The increased dependence on computational approaches in life sciences has revealed grave concerns about the accessibility and reproducibility of the computed results [
5
]. Galaxy is a free web-based platform for omics research that addresses the following needs [
18
,
19
]:
Accessibility: Galaxy enables users to perform integrative omics analyses by providing a unified, web-based interface for obtaining omics data and applying computational tools to analyze these data. Learning a programming language or the implementation details is not necessary.

Reproducibility: Galaxy produces metadata about every possible analysis step and automatically tracks descriptive information about datasets, tools, and parameter values to ensure reproducibility. User annotations and tagging is possible at each step of the pipeline.

Transparency: Galaxy includes a web based framework for sharing models including datasets, histories, workflows and repositories. It also allows users to communicate and discuss their experimental results in an online forum.
Implementation
Using Galaxy, we developed a comprehensive, Transparent, Reproducible and Automated analysis PipeLINE, named TRAPLINE, for RNAseq data processing (optimized for Illumina FASTQ reads, but also suitable for other sequencing platforms like SOLiD or Solexa), evaluation and prediction. The predictions are based on modules which are able to identify protein-protein interactions, miRNA targets and alternatively splicing variants or promoter enriched sites. A schematic representation of the analysis pipeline is illustrated in Fig.
1
. TRAPLINE can be accessed via the published Galaxy page of TRAPLINE (
https://usegalaxy.org/u/mwolfien/p/trapline---manual
) or via
www.sbi.uni-rostock.de/RNAseqTRAPLINE
.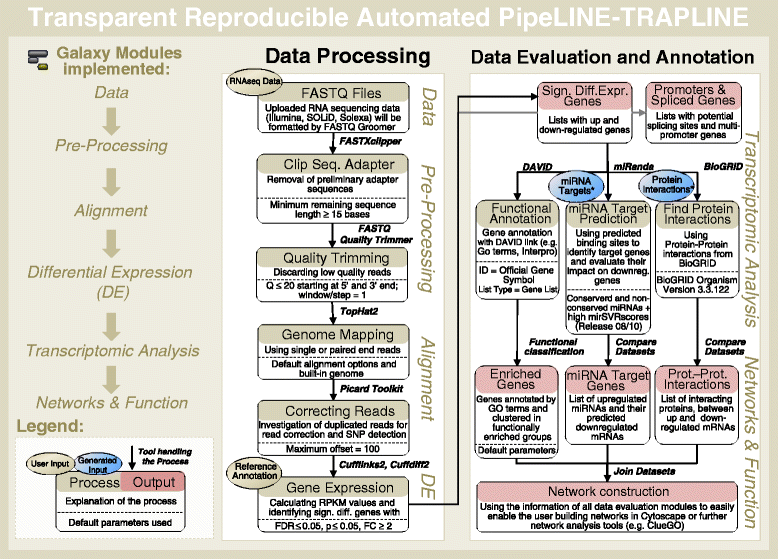 TRAPLINE implements the following tools and resources: (i) FASTQ quality trimmer, FASTXclipper and FastQC for pre-processing and quality control, (ii) TopHat2 for read mapping, (iii) Picard Toolkit for read correction and SNP identification, (iv) Cufflinks2/Cuffdiff2 for DE analysis, splicing and promoter testing (v) the Database for Annotation, Visualization and Integrated Discovery (DAVID) for gene annotation and functional classification, (vi) miRanda for miRNA target prediction, (vii) BioGRID for protein-protein interactions and, finally, a compiling module for ready to use network construction files. For detailed instructions regarding the usage of TRAPLINE please see the manual in the Additional file 1.
Results
To show the effectiveness of our automated pipeline, we exemplarily applied TRAPLINE to RNAseq data generated from our recently described antibiotic selected cardiac bodies ("aCaBs"), which are highly pure clusters of mouse embryonic stem cell (mESC) derived cardiomyocytes generated via Myh6 promoter based antibiotic selection plus a standardized differentiation protocol (Additional file 2: Figure S1) [20, 21]. Their RNA expression profiles were compared to control embryoid bodies (EBs) derived from the same cell line without administration of the antibiotic.
Discussion
We developed TRAPLINE for RNAseq data analysis to link differentially expressed transcripts to the corresponding phenotypic changes and biological phenomena. There exist other tools such as the Bioconductor packages edgeR and DEseq [49], that are with no doubt valuable resources to support the analysis of NGS data. Our pipeline, however, includes pre-processing and genome mapping modules and, is furthermore, easily applicable. TRAPLINE mainly addresses researchers with limited or no programming skills e.g. in R or Python. We are confident that the graphical user interface of TRAPLINE, which is implemented in the Galaxy platform, greatly supports the accessibility of our RNAseq data analysis pipeline to users with no computational background. Furthermore, we have carefully selected a set of best performing interconnected modules that evade compatibility or file formatting issues. The entire RNAseq data analysis workflow can thus be performed in one go without losing the flexibility that experienced users appreciate when being enabled to adjust module parameters to their own needs. Different to other automated workflows like MeV, Chipster, RobiNA or Grape our pipeline is additionally predicting spliced variants, enriched promoter sites, miRNA targets and protein-protein interactions to enable users getting a comprehensive insight to the analyzed samples [11–14]. There are several other Galaxy pipelines available online, for example the widely used Oqtans workbench [15]. Oqtans is a collection of tools without a pre-defined pipeline. In contrast, our work for the first time introduces an automated Galaxy workflow that includes detailed data analysis and data annotation on a public Galaxy server. TRAPLINE is using all benefits of Galaxy and is independent of computational resources (i.e. no need for high performance computers). Researchers can access and share their data and the results worldwide via the internet, however Galaxy also offers private accounts and the possibility to install a local Galaxy instance on a private machine, which is beneficial in case of limited internet connectivity. Moreover, Galaxy enables a synchronous work, e.g. four read mapping tasks at a time are possible. In our case study the time for the analysis was reduced to 10 h in comparison to a desktop PC requiring 24 h (Additional file 9: Table S5). Additionally, to accomplish a transparent computing speed analysis, we performed a comparison between a standard TRAPLINE run at the public Galaxy instance and a local desktop PC based on a randomly selected publicly available SRA dataset (BioProject:PRJNA292442; SRA study: SRP062238) [50].
The implementation of Cuffdiff2 for detecting differentially expressed genes enhances the comparability between various RNAseq experiments, because the method is accompanied by RPKM normalization [37]. Nevertheless, it has to be considered that the RPKM value for a gene from a deep library may have more statistical meaning than an equivalent value from a more shallow library [51].
It is known that spatial biases along the genome exist, resulting in a non-uniform coverage of expressed transcripts [3]. Especially when using Cufflinks, it has been shown that DE analysis attempting to correct for differences in gene length have the tendency of introducing a bias in the per gene variances, in particular for lowly expressed genes [52]. These spatial biases hinder comparisons between genomic regions and will therefore adversely affect any analysis where such a comparison is integrated. To overcome this problem the current version of Cufflinks2 has an integrated bias correction algorithm [53]. In our investigated datasets there was no need for a bias correction, therefore, we turned this feature off (Additional file 10: Figure S4). It can be re-imported manually by setting the respective Cufflinks parameter.
With respect to the biological reliability of the results, the number of our above described 550 significantly differentially expressed genes could be further reduced based on p-value and fold change adjustments. Please be aware that the performance of our pipeline was evaluated based on the Illumina sequencing platform that was used to generate the experimental data. Additionally, it is possible to apply different multiple testing correction method like Bonferroni or Benjamini-Hochberg [54]. Using the same parameters, all three applied methods deliver similar results for differentially expressed genes. With the default parameter values, the pipeline also considers genes which are only slightly up or downregulated (|FC| ≥ 2). The gene annotation clustering approach enables enrichment in information and a pointer to the biological relevance of the apparently large number of differentially expressed genes. Gene Ontology terms and especially the gene set enrichment analysis performed by DAVID are established methods for gaining first insights into phenotype variations between the tested experimental conditions [43]. Interestingly, the first three enriched GO term clusters in our case study relate to biological processes concerning the cytoskeleton and actin regulation which are two core factors of cardiomyocytes and thus provide a proof of principle for our pipeline (Additional file 5: Table S2).
After successful DE analysis, there are several possibilities for further data evaluation and characterization of the transcripts. As we already showed, the GO terms and differentially expressed mRNAs can be visualized as interaction networks using Cytoscape. miRanda predictions have the largest relative overlap with other miRNA prediction algorithms/tools [55], which is why we chose to include miRanda predictions into TRAPLINE in the first place. A SNP analysis with respective tools can also be done by simply using the SNP output of TRAPLINE. Additionally, a co-expression network analysis could be performed to identify co-expressed mRNAs that are simultaneously dis-regulated [56].
Conclusion
Taken together, our proposed pipeline includes all relevant RNA sequencing data processing modules, is easily applicable, and needs no time consuming installation processes. TRAPLINE guides researchers through the NGS data analysis process in a transparent and automated state-of-the-art pipeline. Experimentalists will be able to analyze their data on their own without learning programming skills or advanced computational knowledge. The data can be accessed worldwide and can optionally be shared among researchers. Gaining quickly in-depth insights into the biology underlying the investigated data, our work for the first time introduces an automated Galaxy workflow including detailed data processing, data evaluation and annotation modules (www.sbi.uni-rostock.de/RNAseqTRAPLINE).
Availability and requirements
Materials and methods
Cell culture and aCaB-Generation
Murine ES cell lines described previously [57] were grown in high glucose DMEM with stable glutamine (GIBCO) containing 10 % FBS Superior (Biochrom), 100 μM non-essential amino acids (GIBCO), 1 % Penicillin/Streptamycin (GIBCO) and 100 μM β-Mercaptoethanol (Sigma) in presence of 1000 U/mL of Leukemia inhibitory factor (LIF, Milllipore). Differentiation of aCaBs was performed in hanging drop culture for two days using 1000 cells as starting material for one EB in Iscove's basal medium (Biochrom) containing 10 % FBS (Biochrom), 100 μM non-essential amino acids (GIBCO), 1 % Penicillin/Streptamycin (GIBCO) and 450 μM 1-Thioglycerol. For additional 4 days, the cells were differentiated in suspension culture, and at day 6 of differentiation consistently 15 EBs were seeded on one well of a 24-well-plate. Antibiotic selection with 400 μg/mL G418 (Biochrom) was initiated at day 8 post seeding. 4 days thereafter, aCaBs were isolated via treatment with 6000 U/mL Collagenase IV (GIBCO) for 30 min. To obtain single cells for subsequent experiments, the bodies were further dissociated with 100 % Accutase (Affimetrix) for 15 min. To ensure successful generation of aCaBs, potential mycoplasma contamination was routinely controlled twice a week using the PCR based MycoSPY kit system (Biontex).
RNA-Sequencing
For library generation and sequencing, cultured adherent cells were drained from the culture medium, washed and directly lysed by addition of lysis buffer. 1 ul of this lysate was used for cDNA Synthesis and amplification with the SMARTer kit (Clontech, Mountain View CA, USA) according to the manufacturer's instructions. In brief, cDNA synthesis was initiated by annealing a polyA-specific primer and adding a reverse transcriptase with terminal transferase activity. The newly synthesized first strand cDNA is then tailed first with a homopolymer stretch by terminal transferase and then with a specific amplification tag by template switching. The resulting double-tagged cDNA was amplified by PCR, fragmented by sonication (Bioruptor, Diagenode, Liege Belgium; 25 cycles 30 s on/30 s off) and converted to barcoded Illumina sequencing libraries using the NEBnext Ultra DNA library preparation kit (New England Biolabs, Ipswich MA, USA). After PCR enrichment the libraries were purified with AmpureXP magnetic beads (Beckman-Coulter, Brea CA, USA) and quantified on a Bioanalyzer 2100 (Agilent, Santa Clara CA, USA). Libraries were pooled at equimolar amounts and sequenced on an Illumina GenomeAnalyzer IIx in single-read mode with a read-length of 78 nucleotides and a depth of 21 million to 32 million raw reads per replicate.
Declarations
Acknowledgements
This work has been funded by the Federal Ministry of Education and Research Germany (FKZ 0312138A, FKZ 316159 and FKZ 02NUK043C) and the State Mecklenburg-Western Pomerania with EU Structural Funds (ESF/IV-WM-B34-0030/10 and ESF/IV-BM-B35-0010/12), by the DFG (DA 1296–1), the German Heart Foundation (F/01/12), by the FORUN Program of Rostock University Medical Centre (889001) and the EU funded CaSyM project (grant agreement #305033).
Open AccessThis article is distributed under the terms of the Creative Commons Attribution 4.0 International License (http://creativecommons.org/licenses/by/4.0/), which permits unrestricted use, distribution, and reproduction in any medium, provided you give appropriate credit to the original author(s) and the source, provide a link to the Creative Commons license, and indicate if changes were made. The Creative Commons Public Domain Dedication waiver (http://creativecommons.org/publicdomain/zero/1.0/) applies to the data made available in this article, unless otherwise stated.
Authors' Affiliations
(1)
Department of Systems Biology and Bioinformatics, University of Rostock, Rostock, Germany
(2)
Reference und Translation Center for Cardiac Stem Cell Therapy (RTC), University of Rostock, Rostock, Germany
(3)
Gene & Stem Cell Therapy Program, Centenary Institute, Camperdown, Australia
(4)
Gene Center Munich, LMU Munich, Munich, Germany
(5)
Stellenbosch Institute of Advanced Study (STIAS), Wallenberg Research Centre at Stellenbosch University, Stellenbosch, South Africa
(6)
Sydney Medical School, University of Sydney, Sydney, Australia