Methodology article
Open Access
MetICA: independent component analysis for high-resolution mass-spectrometry based non-targeted metabolomics
BMC Bioinformatics
BMC series – open, inclusive and trusted
2016
17:114
Received: 2 June 2015
Accepted: 24 February 2016
Published: 2 March 2016
Abstract
Background
Interpreting non-targeted metabolomics data remains a challenging task. Signals from non-targeted metabolomics studies stem from a combination of biological causes, complex interactions between them and experimental bias/noise. The resulting data matrix usually contain huge number of variables and only few samples, and classical techniques using nonlinear mapping could result in computational complexity and overfitting. Independent Component Analysis (ICA) as a linear method could potentially bring more meaningful results than Principal Component Analysis (PCA). However, a major problem with most ICA algorithms is the output variations between different runs and the result of a single ICA run should be interpreted with reserve.
Results
ICA was applied to simulated and experimental mass spectrometry (MS)-based non-targeted metabolomics data, under the hypothesis that underlying sources are mutually independent. Inspired from the Icasso algorithm, a new ICA method, MetICA was developed to handle the instability of ICA on complex datasets. Like the original Icasso algorithm, MetICA evaluated the algorithmic and statistical reliability of ICA runs. In addition, MetICA suggests two ways to select the optimal number of model components and gives an order of interpretation for the components obtained.
Conclusions
Correlating the components obtained with prior biological knowledge allows understanding how non-targeted metabolomics data reflect biological nature and technical phenomena. We could also extract mass signals related to this information. This novel approach provides meaningful components due to their independent nature. Furthermore, it provides an innovative concept on which to base model selection: that of optimizing the number of reliable components instead of trying to fit the data. The current version of MetICA is available at https://github.com/daniellyz/MetICA.
Keywords
Independent Component AnalysisIndependent Component Analysis AlgorithmAlgorithm InputIndependent Component Analysis MethodFastICA Algorithm
Background
Metabolomics is a newly established Omics-discipline widely used in systems biology. By targeting metabolites as substrates, intermediates and products of metabolic pathways, it has been successfully applied to explain observed phenotypes [1–3] and to monitor changes in cells in response to stimuli [4, 5]. While targeted metabolomics focuses on a chosen set of metabolites [6, 7], non-targeted studies aim at the simultaneous and relative quantification of a wide breadth of metabolites in the system investigated [2, 8–11]. The latter approach demands multi-parallel analytical technology, including ultrahigh resolution mass spectrometry (MS) in direct infusion (DI) and/or linked to chromatography or electrophoresis, as well as nuclear magnetic resonance (NMR), in order to achieve complete experimental coverage [12, 13]. The spectra obtained from the different samples generated from each of these platforms are usually aligned in an intensity matrix whose rows correspond to samples and columns of overlapping chemical signals. This matrix allows the simultaneous study of mass spectra.
Previous studies have used various statistical learning methods on such data matrices to reveal differences between classes of samples and to isolate chemical signals specific to a certain class or trend [9, 13, 14]. In the context of non-targeted metabolomics, the reliability of these multivariate methods might suffer from the curse of the dimensionality problem [15]. This problem arises when datasets contain too many sparse variables (over 2000, most contain more than 10 % missing values) and very few samples (less than 100). Making a statistical model conform closely to such datasets with a limited number of training samples could result in loss of predictive power (i.e., overfitting). From another angle, since non-targeted techniques capture inegligible chemical noise and experimental bias, it may be difficult for a mathematical model to properly isolate the structure of interest [16]. Therefore applying statistical learning requires intensive method selection and validation work [8, 17–19].
Indeed, it is recommended to apply various learning algorithms in the same study to improve the reliability of the information extracted [13, 20, 21]. One common way of doing this is to use unsupervised learning (e.g., clustering, component analysis) prior to supervised methods (e.g., discriminant analysis, random forest, support vector machine), since basic data structure is revealed through simple dimension reduction, unbiased by the target information. The goal of such a non-hypothesis driven technique is to detect underlying structures relevant to the information expected, or to unnoticed subgroups, bias and noise [22]. It allows better understanding of how the non-targeted approach reflects each link of a biological experiment.
In our study, an unsupervised learning algorithm, i.e. independent component analysis (ICA), is applied to enlarge the feature discovery in comparison to classical principal component analysis (PCA). Currently, the concept of ICA is widely used in high-dimensional data analysis such as signal processing of biomedical imaging [
23
,
24
] and transcriptomics research [
25
,
26
]. Recently several applications in targeted [
27
,
28
] and low-resolution non-targeted metabolomics have achieved the goal of feature extraction [
29
–
31
] and functional investigation [
7
,
32
]. To apply ICA we assume that the data observed
X
(
n
rows,
p
columns) are linear combinations of unknown fundamental factors or sources
S
, independent of each other (Fig.
1
). Matrix
A
describes the linear combination. The sources are estimated by searching statistical components that are as independent as possible. Compared to PCA, ICA as a linear method could provide three potential benefits for non-targeted metabolomics: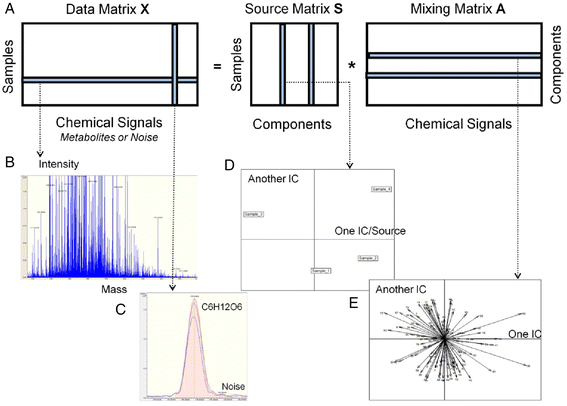 More meaningful components would be extracted by optimizing independence condition instead of variance maximization in PCA [31].

Independence conditions detected by ICA involve both orthogonality (linear independence) and higher-order independence (e.g., exponential, polynomial), while classical PCA only ensures orthogonality between components. Therefore ICA could potentially extract additional information from the dataset.

Since non-targeted metabolomics data usually contain huge numbers of variables and only a few samples, certain techniques using nonlinear mapping could result in computational complexity and overfitting [33]. Another drawback of such techniques is the difficulty of mapping the extracted component back in the data space. As a method based on simple linear hypothesis, ICA not only reduces the risk of overfitting but also allows the reconstruction of data in the original space.
However, major concern with ICA algorithms is stochasticity. Most ICA algorithms try to solve gradient-descent-based optimization problems such as the maximization of the non-Gaussianity of source S (e.g., approximated negentropy maximization in FastICA, [34]), minimization of mutual information [35, 36] and maximum likelihood estimation [37]. The randomness due to the fact that the objective function can only be optimized (maximized or minimized) locally depending on the starting point of the search (algorithm input). Thus, outputs will not be same in different runs of algorithms if the algorithm input is randomized. The curse of dimensionality makes the situation more complicated in the case of high-dimensional signal space as in non-targeted metabolomics data: it is extremely unlikely that the local minima obtained from one algorithm run will be the desired global minima and they should be interpreted with great caution.
A parameter free, Bayesian, noisy ICA algorithm has recently been developed to model the stochasticity in targeted metabolomics [7]. By applying prior distributions to A, S and noise Γ, Bayesian ICA estimates the posterior distribution of S iteratively through a mean-field-based approach [38], then A & Γ using a maximum a posteriori (MAP) estimator. The algorithm also suggests an optimal component selection strategy based on the Bayesian information criterion (BIC). However, tests of this algorithm on non-targeted datasets present several uncertainties: firstly, it is hard to decide on the types of priors for A and Γ in a non-targeted study since the dataset reflects the complexity of the study and has multiple manifolds; besides, the performance of the mean-field-based approach is doubtful if it cannot be compared with a full Monte Carlo sampling (too time-consuming); in addition, BIC maximization is usually impossible for high dimensional datasets with a reasonable amount of components.
Therefore we developed a heuristic method based on the FastICA algorithm and hierarchical clustering. The method, named MetICA is based on the Icasso algorithm used in medical imaging studies [39, 40]. We start with data pre-processing, including centering and dimension reduction, for which a classical PCA was used [22]. The FastICA algorithm is run many times on the PCA score matrix with m different inputs, generating many estimated components. Close estimates give birth to a cluster. The reliability of the FastICA algorithm can be reflected by the quality of clustering. Moreover, as with any statistical method, it is necessary to analyze the statistical reliability (significance) of the components obtained. In fact, a relatively small sample size can easily induce estimation errors [41]. Bootstrapping original datasets and examining the spread of the sources estimated might identify these uncertainties. Both reliability studies would help to decide the optimal number of components. In addition to the adaptation of the Icasso algorithm in non-targeted metabolomics, the novelty in the present study is the dual evaluation of algorithmic and statistical reliability for model validation. Another novelty is the automatic ordering of extracted ICs based on statistical reliability instead of only on kurtosis, as is done in other studies [7, 31]. Finally, our MetICA could be used for routine validation and interpretation of ICA in non-targeted metabolomics.
Methods
Metabolomics data acquisition and pre-treatment
Non-targeted metabolomics data were obtained from a DI-MS platform: a Bruker solariX Ion Cyclotron Resonance Fourier Transform Mass Spectrometer (ICR/FT-MS, Bruker Daltonics GmbH, Germany) equipped with a 12 Tesla superconducting magnet (Magnex Scientific Inc., UK) and an APOLO II ESI source (BrukerDaltonics GmbH, Germany) in negative ionization mode. Mass spectra of each sample were acquired with a time domain of 4 mega words over a mass range of m/z 100 to 1000 (Fig. 1a). The technique has ultrahigh resolution (R = 400 000 at m/z = 400) and high mass accuracy (0.1 ppm). After de-adduction and charge state deconvolution, mass peaks were calibrated internally according to endogenous abundant metabolites in DataAnalysis 4.1 (Bruker Daltonics GmbH, Germany) and extracted at a signal-to-noise ratio (S/N) of 4. The peaks extracted were aligned within a 1 ppm window and generated a data matrix. Each row represents the intensity of one mass signal in each sample (Fig. 1b). Masses found in less than 10 % of samples were not considered during further data analysis and other absent masses were set at zero intensity in the sample concerned. We applied the software Netcalc developed in-house to remove potential spectral noise and isotope peaks. This software also unambiguously annotates the elemental formula assigned to the aligned m/z based on a mass difference network [42]. The annotation process is considered as an unsupervised filtration that reduces data size and reveals an underlying biochemical network structure inside the data set. Our ICA algorithm is applied on this filtered data matrix.
Biological studies
We applied the non-targeted approach followed by the ICA algorithm in a comparative study of metabolic footprinting of randomly-selected yeast strains. The goal is to detect underlying yeast phenotype subgroups based solely on their exo-metabolome in wine [43, 44]. To reach this goal, fifteen commercial Saccharomyces strains (S1 to S15, Lallemand Inc., France) were chosen to perform alcoholic fermentation (AF) triplicates in the same Chardonnay grape must. The strains chosen were different in species (either S. cerevisae or S. bayanus) and in origin (selected in different countries for different styles of wine or obtained by adaptive evolution) to ensure phenotype diversity. We kept the fermentation conditions consistent (e.g., volume, medium composition, temperature, etc…) between strains and replicates. At the end of AF (sugar depleted), methanolic extracts of 45 samples were studied on the ICR/FT-MS platform with the method described in the section "Metabolomics data acquisition and pre-treatment". We randomized the order of strains for the fermentation experiment and for the non-targeted study. The resulting data matrix "Yeast-Experimental.txt" (Additional file 1) had n = 45 rows (samples) and p = 2700 columns (filtered mass signals). Prior knowledge about yeast strains according to the yeast producer, including basic genetic traits, fermentation behaviors and wine characteristics, will be used for component interpretation and method validation.
Application of MetICA Algorithm
We provide a concise overview of
MetICA
for non-targeted metabolomics (Fig.
2
). The algorithm was mainly implemented in R version 3.1.2.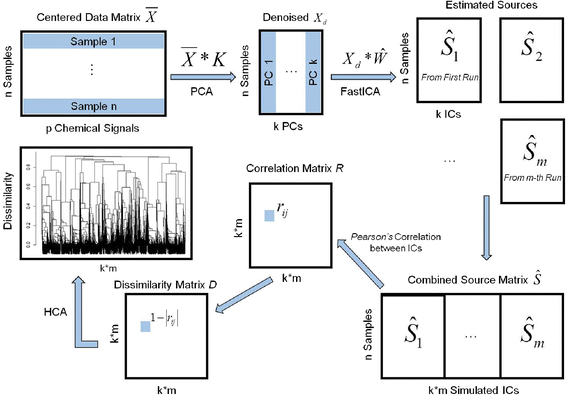 Conclusion
In this paper, we developed the MetICA routine for the application and validation of ICA on non-targeted metabolomics data. We adapted Icasso, an algorithm previously used in medical signal processing, to our MS-based yeast exo-metabolome data. We studied the convergence of FastICA in a way slightly different from that in the original Icasso version [31]: Spearman's correlation was used instead of Pearson's correlation to simplify the relations between estimated sources; the cluster number was selected based on a simple geometric index on projected space, instead of quantitative indices in the original space. These two simplifications improved the efficiency for high-dimensional data, since we tried to keep the maximum variance after PCA-denoising while having enough FastICA runs. As a result, we usually generate a huge amount of estimated components (>5000), but using the original Icasso is too time-consuming to handle this amount. An alternative fast approach for estimated sources clustering was to use the rounded kurtosis value [60]. However, MetICA seems to be much more sensitive to detect non-similarities for non-targeted metabolomics data.
Furthermore, we investigated the statistical reliability of convergence points by comparing them to FastICA estimates for bootstrapped data. Reliable centrotypes revealed strong phenotype separations and pathway differences between phenotypes.
From the modeling viewpoint, Bayesian ICA optimized the model by BIC - a trade-off between likelihood (how much the model fits the data) and the risk of over-fitting. When processing high dimension data became difficult, our method provided an alternative mean of model optimization: increasing the number of reliable components instead of fitting the data. We suggested two ways of deciding the optimal number of model components, namely the number of clusters: either by using a cluster quality index (algorithmic reliability), or through the bootstrap scores of all the centrotypes (statistical reliability).
The whole MetICA routine was tested on simulated data and several MS-based non-targeted metabolomics data, including low resolution MS datasets (an example is provided in Additional file 3). Compared to other ICA methods, MetICA could efficiently decide a reasonable number of clusters based on algorithmic reliability. The bootstrap scores further validated this decision. For both high and low mass resolution and for any biological matrices, MetICA was able to handle more than 10 000 features and to sensitively select reliable models.
Since our routine was based on a simple linear model, we could easily reconstruct the original dataset and calculate the fitting error. Therefore, our procedure could also be further used for dimension reduction before applying supervised statistical methods, or data denoising to remove undesirable signals (bias and instrumental noise) [61]. All in all, it opens a door for extracting non-Gaussian information and non-linear independence from non-targeted metabolomics data.
Abbreviations
AF:

alcoholic fermentation
AL:

average-link
BIC:

Bayesian information criterion
CCA:

curvilinear component analysis
CV:

cross-validation
DI:

direct infusion
HCA:

hierarchical clustering analysis
ICA:

independent component analysis
ICR/FT-MS:

ion cyclotron resonance Fourier transform mass spectrometer
LOO-CV:

leave-one-out cross-validation
MAP:

maximum a posteriori
MDS:

multidimensional scaling
MS:

mass spectrometry
NMR:

nuclear magnetic resonance
PCA:

principal component analysis
SOM:

self-organizing map
Declarations
Acknowledgments
We thank Lallemand Inc. for providing the grape must and yeast strains. Lallemand Inc. and the Région de Bourgogne are thanked for their financial support.
Open AccessThis article is distributed under the terms of the Creative Commons Attribution 4.0 International License (http://creativecommons.org/licenses/by/4.0/), which permits unrestricted use, distribution, and reproduction in any medium, provided you give appropriate credit to the original author(s) and the source, provide a link to the Creative Commons license, and indicate if changes were made. The Creative Commons Public Domain Dedication waiver (http://creativecommons.org/publicdomain/zero/1.0/) applies to the data made available in this article, unless otherwise stated.
Authors' Affiliations
(1)
Research Unit Analytical BioGeoChemistry, Department of Environmental Sciences, Helmholtz Zentrum München, Neuherberg, Germany
(2)
UMR PAM Université de Bourgogne/Agrosup Dijon, Institut Universitaire de la Vigne et du Vin, Jules Guyot, Rue Claude Ladrey, Dijon, France
(3)
Technische Universität München, Chair of Analytical Food Chemistry, Freising-Weihenstephan, Germany