Inferring active regulatory networks from gene expression data using a combination of prior knowledge and enrichment analysis
BMC Bioinformatics
BMC series – open, inclusive and trusted
2016
17(Suppl 5):181
Abstract
Background
Under both physiological and pathological conditions gene expression programs are shaped through the interplay of regulatory proteins and their gene targets, interactions between which form intricate gene regulatory networks (GRN). While the assessment of genome-wide expression for the complete set of genes at a given condition has become rather straight-forward and is performed routinely, we are still far from being able to infer the topology of gene regulation simply by analyzing its "descendant" expression profile. In this work we are trying to overcome the existing limitations for the inference and study of such regulatory networks. We are combining our approach with state-of-the-art gene set enrichment analyses in order to create a tool, called Regulatory Network Enrichment Analysis (RNEA) that will prioritize regulatory and functional characteristics of a genome-wide expression experiment.
Results
RNEA combines prior knowledge, originating from manual literature curation and small-scale experimental data, to construct a reference network of interactions and then uses enrichment analysis coupled with a two-level hierarchical parsing of the network, to infer the most relevant subnetwork for a given experimental setting. It is implemented as an R package, currently supporting human and mouse datasets and was herein tested on one test case for each of the two organisms. In both cases, RNEA's gene set enrichment analysis was comparable to state-of-the-art methodologies. Moreover, through its distinguishing feature of regulatory subnetwork reconstruction, RNEA was able to define the key transcriptional regulators for the studied systems as supported from the literature.
Conclusions
RNEA constitutes a novel computational approach to obtain regulatory interactions directly from a genome-wide expression profile. Its simple implementation, with minimal requirements from the user is coupled with easy-to-parse enrichment lists and a subnetwork file that may be readily visualized to reveal the most important components of the regulatory hierarchy. The combination of prior information and novel concept of a hierarchical reconstruction of regulatory interactions makes RNEA a very useful tool for a first-level interpretation of gene expression profiles.
Keywords
Transcriptional regulation
Gene regulatory network
Gene set enrichment analysis
Background
The advent of high-throughput genomics that started with DNA microarrays and is now rapidly shifting to next-generation-sequencing, has been producing a vast amount of information regarding a variety of cellular functions. In the context of gene expression measurements, genome-wide profiling approaches through RNASeq have made possible the monitoring of gene expression at unprecedented resolution, allowing not only the detection of genes present in the cell in only a few mRNA copies, but also revealing the transcriptional complexity reflected in the use of alternative transcript isoforms [1–3]. In this sense, the output of all genome-wide expression profiling approaches, summarized in lists of differentially expressed genes, may be seen as an accurate reflection of the intricate regulatory dynamics that reshape the expression programs of a cell even, under the most subtle perturbations. Such differentially expressed (DE) gene lists are often quite extended, including a great number of genes, for which there is little if any knowledge related to the system under study. In this regard, considerable effort has been directed towards methods for the efficient analysis and interpretation of whole transcriptome read-outs [4–6]. Such analyses focus mostly on the testing of DE genes for enrichment in various functional groupings, such as Gene Ontology (GO) terms [7], or molecular pathways such as those compiled by the Kyoto Encyclopedia of Genes and Genomes (KEGG) [8]. Biologists have thus to choose from a variety of existing tools for data analysis and interpretation.
Over the years, the accumulation of genome-wide data has increased the possible gene groupings and categorizations, for which enrichment analyses may be conducted. These may now include protein families, molecular signatures defined under certain pathological conditions, chromosomal territories or co-expressed gene clusters obtained through meta-analyses of publicly available datasets [9, 10]. Among the various available gene categorizations, those referring to gene regulation are of particular interest, not only because of their wealth, encompassing predicted and experimental transcription factor binding sites and miRNA targets, but mainly because of their potential in inferring the gene regulatory program responsible for the observed expression profile.
Gene regulation takes place in various stages among which, transcription is the one most readily analyzed and easy to quantify. Given a certain stimulus or under specific conditions, the relative abundance of a great number of mRNA species may vary due to both orchestrated changes resulting from the activation of a particular gene expression program and random noise. The main goal of a functional analysis at the regulatory level will thus be to distinguish between the two and, moreover, to propose a hierarchy for the gene regulators involved in the system under examination. The concept of hierarchical regulatory interactions between genes is not new. Master regulators are important drivers of gene expression [11] and defining them is of primary interest at both experimental [12] and theoretical levels [13, 14].
In spite of the increase of available information, the problem of determining the hierarchy of transcriptional regulators involved in given conditions remains an open question. The definition of regulatory networks of interaction is a complex difficult task that may only be achieved through the integration of multiple datasets from various sources (TF binding, miRNA expression, gene expression etc.). Currently, the reconstruction of such global networks has been limited in the context of large genomic consortia (e.g. the ENCODE Project Consortium) [15, 16], or small unicellular organisms [17, 18], but even in these cases the resulting networks are extensive and difficult to interpret. At the same time, gene expression profiles are rapidly accumulating, exploring a vast amount of possible regulatory patterns and pressing for more efficient analysis. In this sense, it becomes plausible to seek ways to predict the regulatory network using only gene expression data, in attempts to treat whole genome expression profiles as a detailed reflection of the underlying regulatory program.
Accumulating genome-wide data, coupled with detailed studies has led to the creation of large compendia of well-defined regulatory interactions for a number of model species, compendia that are now being compiled in specialized databases. The use, however, of the reported resources requires filtering of noisy or trivial information. HTRIdb [14] contains a large number of interactions (>50000), the largest part of which are inferred from ChIP experiments that are known to be extremely noisy. ORegAnno [19] contains a more moderate number of regulatory interactions but in many cases these are reported as based on "unknown evidence" or refer to unknown genes. Smaller databases such as TRED [20], or TFactS [15], on the other hand, are built through a more thorough process that involves manual curation of literature and public datasets. Finally, there are databases employing intermediate approaches such as TRRUST [16], which makes use of a text-mining algorithm coupled with manual curation of the results to populate a database of ~8000 interactions.
In this work we propose an enrichment analysis tool that uses high-quality, curated, prior knowledge on regulatory interactions to infer the hierarchy of gene regulation from a gene expression profile. The main goal is to draw significant information and prioritize important regulators and functional categories from a genome-wide expression experiment. This is done through a combination of a) manually curated prior knowledge, b) a novel approach for the inference of regulatory networks that takes into account their assumed hierarchical organization. We compiled interactions for the human and mouse regulomes from four different databases through a semi-automatic curation process in order to construct two reference networks. We then employ a novel algorithm that reconstructs a relevant regulatory subnetwork based on a combination of enriched regulators and gene target deregulation, given a genome-wide expression profile. In addition, our method, reports enriched transcriptional regulators, miRNAs, KEGG pathways and GO terms in a manner similar to standard over-representation analysis tools such as DAVID [
17
], or Enrichr [
9
]. Both processes are integrated in an over-representation analysis tool, called RNEA (Regulatory Network Enrichment Analysis), which provides highly informative outputs for the understanding of the biological system studied (Fig.
1
).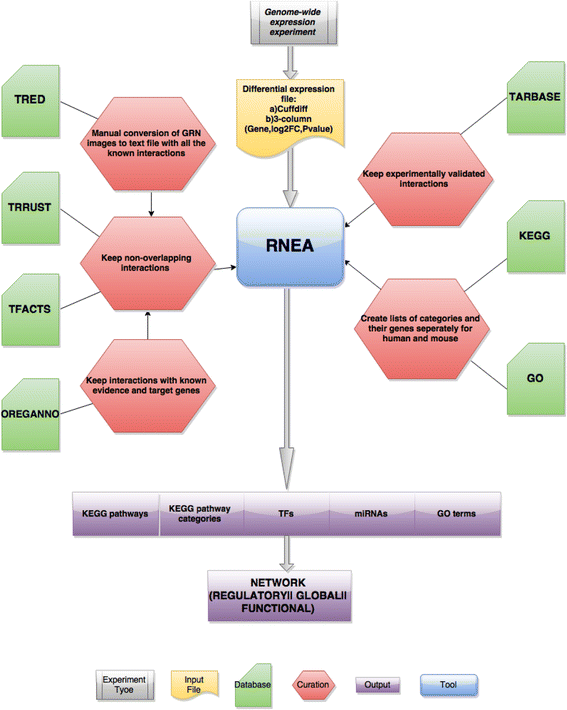 We use the proposed methodology to infer regulatory networks for two test cases, one for each organism for which we have compiled information (human, mouse). We show RNEA able to reconstruct networks that are in agreement with existing knowledge of the systems under study, while at the same time they provide lists of additional candidate genes being involved in key processes. Our implementation shows RNEA to be a very useful resource for a first-level analysis of gene expression datasets in order to gain insight in the system of study and to obtain leads for genes and proteins of primary importance.
Results
Inferring important regulators from genome-wide expression experiments is a complex problem. There are only a couple of available tools which may help in the definition of master regulators mostly by finding over-represented binding motifs in deregulated genes. TFactS is the only tool using a similar enrichment approach to ours, but it has significant limitations in terms of the number of studied regulators. TRRUST [16] represents a recent attempt to provide a golden standard, against which regulatory networks may be tested. Nevertheless, the variability of expression programs is immense and the underlying complexity of gene regulation suggests that very different networks may be produced with even mild changes in cellular conditions. In this sense, already available networks can only serve as providing the "reference" interactions, among which each condition may choose combinatorially. RNEA's aim is providing a framework for revealing such combinations of known interactions. Its distinguishing features are that a) it focuses on well-documented regulatory interactions b) it aims at capturing the hierarchical structure of the network by the two-level scanning of regulator profiles and c) that it incorporates miRNA and protein regulators in a common regulatory network (see Methods). From the application's point of view, RNEA is rather straightforward and in principle can be run with only a small list of prerequisites.
RNEA is able to infer, in a single run, both regulatory and functional enrichments from raw differential expression data. To date there are only a couple of similar methodologies whose scope however differs from RNEA. SPIA [27] implements a perturbation analysis to infer the significance of a given pathway based on the differential expression of its genes, while taking into account the topology of the pathway network. In this sense, it aims at a better and more accurate assessment of pathway deregulation based on the reported interactions and its final output is a list of deregulated pathways. PARADIGM [28] employs a similar approach through the additional incorporation of multiple omics and genetic data. Finally GGEA [29] is similar to our approach in terms that it combines gene expression and regulatory interactions aiming at an initial refinement of differentially expressed genes list, which it then uses for a gene set enrichment analysis. Compared to the above, our method's distinguishing characteristic is that it projects DE gene lists on a reference map of regulatory interactions to infer a subnetwork of relevance to the particular gene expression profile. Providing the subnetwork reconstruction as primary output is thus RNEA's particular feature, but the lack of similar approaches makes its cross-validation quite difficult. In order to assess its predictive power we have here applied it in cases of well-defined systems, for which there is documented knowledge of the underlying regulatory program. This is an approach also undertaken by the aforementioned methods [27, 29]. In this context, we chose to validate our methodology in two publicly available datasets originating from the two species for which RNEA provides information, a genome wide expression profile of cancerous versus normal human colon tissue samples and a gene profile of mouse RAW264.7 macrophage cells, stimulated with LPS.
In the following section, we briefly present the results of the analysis of the 2 test cases conducted with RNEA. As our method focuses primarily on transcriptional regulation we were more interested in assessing the robustness of the regulatory networks. In this sense, we attempted to validate the primary nodes of the deduced networks from the existing literature.
Human test case
Colorectal cancer is the third most common type of cancer and the second most common cause of cancer death in the human population [30]. Despite a considerable amount of evidence delineating biological pathways related to the disease, the characterization of regulatory networks in cancer remains an open problem due to the great number of disease subtypes and the overall variability of the phenotypes.
In an attempt to predict a regulatory subnetwork for colorectal cancer, we obtained genome-wide expression data from 104 patients and 46 healthy individuals, that were normalized with robust multi-array average (RMA) and presented in a form suitable for RNEA analysis (log2(FC) of gene expression alongside the corresponding p-values) from [31] (GEO Accession: GSE21510). Patients with distant metastases were selected in order to assess the metastatic potential conferred to the disease by candidate gene markers. Using standard fold-change and p-value thresholds we obtained 148 DE genes. The functional analysis conducted with RNEA resulted in a number of deregulated GO terms and KEGG pathways that may be accessed in Additional file 1. Below we focus on the regulatory analysis.
The resulting global network, (including transcriptional regulators, miRNA and GO categories) is depicted in Fig.
5a
. A major module of regulators that is central to the network is formed by STAT1, KLF4 and TP53, (node size and color is dependent on the betweenness centrality of each node). This figure is representative of the detail that most existing tools of functional analysis may confer, the degree of which makes the interpretation of the results rather complex difficult. In Fig.
5b
, we present the subnetwork obtained from regulatory interactions alone. In this, we see a positive feedback loop between TP53 and STAT1 being in close connection with KLF4. STAT1 has been shown to stimulate inflammation in tumor cells and to trigger anti-proliferative and pro-apoptotic response [
32
] a role that is compatible with its interaction with TP53 and its well-known anti-oncogenic activity [
33
]. STAT3, another member of our network has also been heavily involved in cancers where STAT1 is upregulated. KLF4 is also particularly interesting as it is known to be an epithelial-specific transcription factor that is mainly active in the gastrointestinal tract [
34
]. The fact that it holds a central position in our network may come as a strong indication of RNEA's ability to infer tissue-specificity from gene expression profiles. At another level, KLF4 upregulation has been shown to correlate with the degree of differentiation of normal cells to cancerous ones [
34
] and has been considered a marker of poor survival in CRC patients [
35
] which makes it even more important in the examined setting, where the majority of the cases involved distant metastases.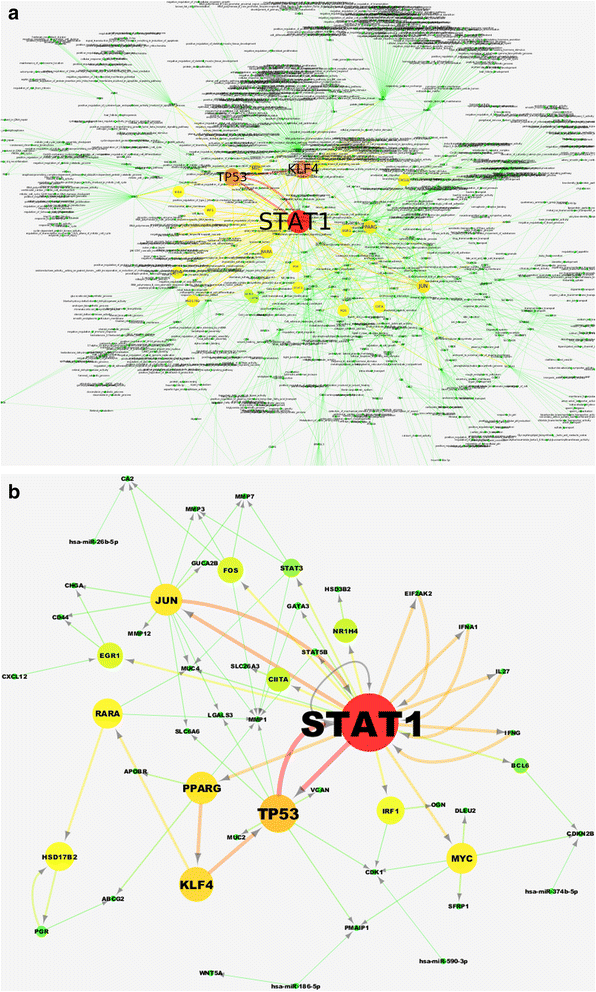 At the periphery of our network, apart from a set of rather expected regulators whose relation to cancer is well known (FOS, JUN, EGR1 and MYC) we find a set of secondary metabolism related genes including HSD17B2, a gene that is involved in lipid biosynthesis that has been shown to have a prognostic role in colorectal cancer [36]. At the same time all of the reported miRNA in the network have been reported to have a role in colorectal cancers. In particular, hsa-miR-26b-5p has been shown to exhibit a tumor suppressive role [37], hsa-miR-590-3p has been also known to have increased expression in colorectal cancers [38] while hsa-miR-374a-5p has been reported to be beneficial for the prognosis [39]. An important aspect of RNEA may be seen here. RNEA by default performs a dual enrichment analysis separately for over- and under-expressed gene targets. As expected, all miRNA-genes with significant enrichments in this setting are enriched primarily towards under-expressed targets. We consider this feature of great importance since a number of existing methods merely report enrichment on the basis of differential expression, regardless of the direction of regulation (activation or suppression). In certain cases however (miRNA regulation being a very clear one) this direction should be taken into account.
Mouse test case
We next analyzed a test case for the mouse genome. We chose a well-described process of an external stimulus that is expected to show an inflammatory response, which we indeed observe through our functional analyses. We examined an experiment that aimed to analyze the differences in gene expression of the inflammatory response in RAW264.7 murine macrophage cells under stimulation by LPS [40] (GEO Accession: GSE63889). Using relatively stringent criteria on differential expression fold-change and p-value (absolute log2FC > =1, p-value < =0.05) we ended up with 121 differentially expressed genes, which were shifted towards over-expression with a ratio close to 2:1. This is to be expected given that LPS stimulation of immune cells is known to bring about an acute generalized response through the activation of a number of pathways. Functional analysis at the level of GO and KEGG pathways showed these pathways to match the expectations. In this way, inflammatory pathways including the TNF-NFkB signaling axis, cytokine and TLR signaling and a range of various infection-responsive pathways were strongly enriched in upregulated genes (see Additional file 2 for the complete lists).
The resulting regulatory subnetwork for this experiment may be seen in Fig.
6
. As in Fig.
5b
, it only contains transcriptional regulators and miRNAs. The network is smaller than the one obtained in the human case for two reasons. Firstly because the mouse reference network, from which interactions are selected, is smaller than the human one (almost 3.5 times smaller). Secondly, it is reasonable to expect that the stimulation of macrophages by LPS brings about a much more concentrated response than the overall changes taking place in a complex disease such as cancer. The central role of Tnf is obvious in this network, as is a strong feed-forward loop between Tnf and Egr1. Such an interaction has been reported [
41
] for the same sort of LPS activation we are analyzing here. After Tnf, another important node (of high degree) in the network corresponds to Jun which has been known to mediate the effect of Nfkb in the activation of the inflammatory response [
42
]. More peripheral nodes in the network include Nfkb itself, Rel and Lif all of which are related to the cytokine-related response. miRNA genes with enriched targets in this network include mmu-miR-17-5p and mmu-miR-9-5p. Both of these miR species have been shown to be implicated in the mediation of inflammatory signaling although their role appears to be contradictory [
43
,
44
].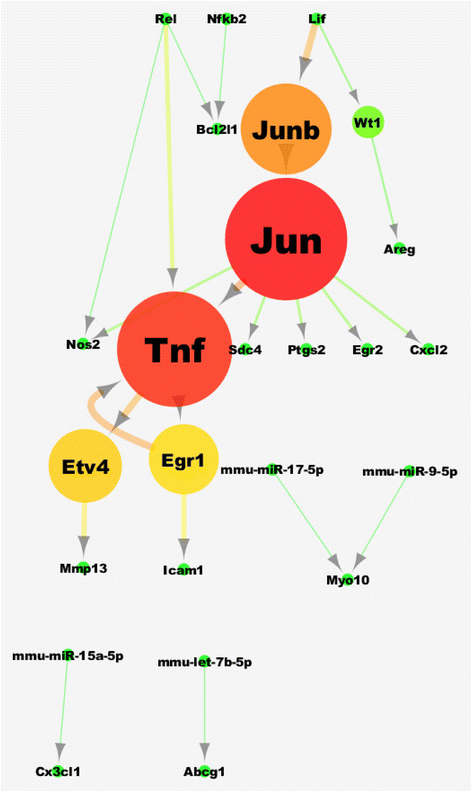 Discussion
Reconstructing the hierarchy of gene regulation is an open question of great importance in modern molecular biology, one that has not been effectively answered by the advent of next-generation sequencing technologies and genome-wide interrogation of gene expression. The main reasons for this, besides the inherent complexity of this dynamic process have been a) the scarcity of high-quality data (or -in contrast- the considerable amount of noisy information) connecting transcription factors and their gene targets and b) the lack of user-friendly methods summarizing the output of genome-wide expression experiments in a way that will allow for a fast and meaningful, first-level inspection of the data. The main goal of the presented work lies on these two axes: On one hand it aims to produce a compendium of transcription factor–target genes interactions that would be as reliable as possible, on the other, to implement these relationships, alongside other meaningful, functional information in a simple approach that would allow biologists to perform a quick overview of a gene expression experiment, prioritizing their results and putting the spotlight on highly significant regulatory interactions.
A major limitation of genome-scale experiments has, since very early, been a lack of summarization in their analysis. The production of enormous lists of genes, enriched processes and functions often results in complicating, rather than assisting in, their interpretation. Key aspects in the process of extracting knowledge from a large-scale experiment are related to a) efficient summarization, i.e. compiling the useful and significant information from a functional point of view and b) prioritization, the ranking, that is, of the relevant pieces of information in a way that will help focus on the most important facets of the results. RNEA addresses the problem of extensive lists by producing regulatory networks that combine prioritization and summarization of the observed enriched relationships. In this way, it reveals the genes that are important in the process of transcriptional regulation in the particular experimental setting. This may be done either through the assessment of the statistical enrichment of TF targets' profiles or by evaluating network characteristics of the extracted regulatory subnetwork. Our work's distinguishing feature is the output of an "active regulatory subnetwork", which constitutes the most probable network of transcription factors being active in the studied condition, based on the gene expression values of their target genes. This also represents the major advantage of our pipeline, whose main goals are to detect and report regulatory information in the shape of regulatory networks that are of modest sizes, therefore allowing the user to easily interpret results and plan follow-up experiments.
When compared to other similar approaches (such as TFactS or Enrichr) our method's main differences are related with the way it infers the regulatory hierarchy. RNEA does this by employing a two-level hierarchical approach, by adding at each TF profile the targets of its targets, if available. In this way TFs which are "higher" in the known hierarchy will have more targets in their profile and if an enrichment is found, it will add significance to the TF lying higher in the hierarchy. In addition, by checking for enrichment in both up-regulated and down-regulated genes in two different calculations, RNEA enables the investigation of possible dual roles for given TF, while at the same time to safeguard against contradictory annotation evidence that often assign inconsistent roles for a TF based on the literature.
Currently RNEA only supports human and mouse datasets. Given their relevance from the biomedical perspective these two organisms (human for obvious reasons and mouse due to the fact of being the most widely-used mammalian model organism) represent more than 90 % of the public repositories of gene interaction data. Their share of mammalian genome-wide expression profiles in gene expression databases is probably even higher. It was therefore reasonable to aim at the construction of reference networks for these two at a first level. Nevertheless, the incorporation of information on other organisms within the RNEA framework is expected to be quite straight-forward, given that a sufficient number of experimentally verified regulatory interactions are reported.
As a final comment, we should point out that RNEA deduces gene regulatory interactions directly from their noisy, highly complex end-product which is the relative abundance of mRNA molecules. In this regard, it is expected that the predicted networks will also be partly noisy and contain a reasonable amount of false positives. We, nonetheless believe, that being able to visualize a relevant network of interactions in a single step from your differential expression experiment makes up for a positive trade-off.
Conclusions
RNEA is a framework for functional analysis of gene expression experiments, with a primary focus on gene regulatory relationships. It is easy to apply on standard gene expression read-outs, readily producing ranked lists of various functional groupings. Its key idea, though, is the derivation of a network of regulatory interactions. By creating regulatory subnetworks, RNEA enables a better overview of the regulatory process through direct visualization. RNEA benefits from (and also depends on) the accuracy of the prior knowledge used and the originality of network reconstruction. Most of the existing functional analysis tools mainly rely on computational predictions (through PWM) for the calculation of transcription factor target enrichments, while very few also employ experimental data from ChIP that are, however, still limited.
The main advantage of RNEA is the originality of the network approach. To our knowledge this is one of the few functional analysis tools that aims at the extraction of a regulatory subnetwork. Most of the existing approaches in this regard have been implemented in a sort of 'personalized' way, aiming at the interpretation of specific experiments, instead of proposing a generalized approach. Further validation of RNEA can mostly take place with extended use by the community, while refinements in the original reference networks are bound to increase its potential.
Declarations
Acknowledgements
Τhis work has been supported by IMI-funded project BeTheCure (BTCure, 115142–2), GSRT project INNATE FIBLROBLAST (ERC06, co-financed by the ESF and NSRF 2007–2013) and Advanced ERC grant MCs-inTEST (340217) to GK. The authors would like to thank the organizers of the SMODIA 2014 (Statistical Methods for Omics Data Integration and Analysis) Workshop for giving them the opportunity to present this work to a broader audience. The authors would like to thank three anonymous reviewers for their fruitful comments and recommendations for additional resources to be used in the formation of the reference networks.
Declarations
Publication charges for this article have been funded by IMI project BeTheCure (BTCure, 115142-2).This article has been published as part of BMC Bioinformatics Volume 17 Supplement 5, 2016: Selected articles from Statistical Methods for Omics Data Integration and Analysis 2014. The full contents of the supplement are available online at http://bmcbioinformatics.biomedcentral.com/articles/supplements/volume-17-supplement-5.
Open AccessThis article is distributed under the terms of the Creative Commons Attribution 4.0 International License (http://creativecommons.org/licenses/by/4.0/), which permits unrestricted use, distribution, and reproduction in any medium, provided you give appropriate credit to the original author(s) and the source, provide a link to the Creative Commons license, and indicate if changes were made. The Creative Commons Public Domain Dedication waiver (http://creativecommons.org/publicdomain/zero/1.0/) applies to the data made available in this article, unless otherwise stated.
Authors' Affiliations
(1)
Biomedical Sciences Research Center "Alexander Fleming", Vari, Greece
(2)
Department of Physiology, Medical School, University of Athens, Athens, Greece
(3)
Computational Genomics Group, Department of Biology, University of Crete, Voutes Campus, Heraklion, Greece
(4)
Division of Immunology, Biomedical Sciences Research Center "Alexander Fleming", Vari, Greece
(5)
Department of Physiology, School of Medicine, National and Kapodistrian University of Athens, Athens, Greece