GeneSCF: a real-time based functional enrichment tool with support for multiple organisms
BMC Bioinformatics
BMC series – open, inclusive and trusted
2016
17:365
Received: 14 April 2016
Accepted: 8 September 2016
Published: 13 September 2016
Abstract
Background
High-throughput technologies such as ChIP-sequencing, RNA-sequencing, DNA sequencing and quantitative metabolomics generate a huge volume of data. Researchers often rely on functional enrichment tools to interpret the biological significance of the affected genes from these high-throughput studies. However, currently available functional enrichment tools need to be updated frequently to adapt to new entries from the functional database repositories. Hence there is a need for a simplified tool that can perform functional enrichment analysis by using updated information directly from the source databases such as KEGG, Reactome or Gene Ontology etc.
Results
In this study, we focused on designing a command-line tool called GeneSCF (Gene Set Clustering based on Functional annotations), that can predict the functionally relevant biological information for a set of genes in a real-time updated manner. It is designed to handle information from more than 4000 organisms from freely available prominent functional databases like KEGG, Reactome and Gene Ontology. We successfully employed our tool on two of published datasets to predict the biologically relevant functional information. The core features of this tool were tested on Linux machines without the need for installation of more dependencies.
Conclusions
GeneSCF is more reliable compared to other enrichment tools because of its ability to use reference functional databases in real-time to perform enrichment analysis. It is an easy-to-integrate tool with other pipelines available for downstream analysis of high-throughput data. More importantly, GeneSCF can run multiple gene lists simultaneously on different organisms thereby saving time for the users. Since the tool is designed to be ready-to-use, there is no need for any complex compilation and installation procedures.
Keywords
Gene enrichment toolReal-time analysisKEGGGene OntologyCancer enrichmentPathway enrichmentsFunctional enrichments
Background
Functional interpretation of large-scale data from high-throughput sequencing and microarray experiments is a crucial part of biological research to gain mechanistic insights of affected genes in a particular biological context. To this end, researchers often use a huge volume of functional information stored and organized in different databases like KEGG [
1
], Gene Ontology (GO) [
2
] and Reactome [
3
]. These dedicated databases, which provide gene level functional information collected from previous studies, are used as a source for the majority of the functional enrichment tools. The functional information in the databases used by the enrichment analysis tools is increasing drastically and it is difficult for those tools to incorporate the updated information frequently (Fig.
1a
). Therefore there is a need for an automated functional enrichment tool that can directly use functional information in real-time from the source databases such as KEGG, Reactome or Gene Ontology (GO) to perform enrichment analysis. Keeping in mind the problems of using updated databases associated with currently available functional enrichment tools, we have designed a Unix based command line tool called GeneSCF (Gene Set Clustering based on Functional annotations). GeneSCF accepts a simple gene list as an input and searches the genes in user-preferred databases in a real-time-up-to-date manner and ranks them using standard statistical methods (Fig.
1b
).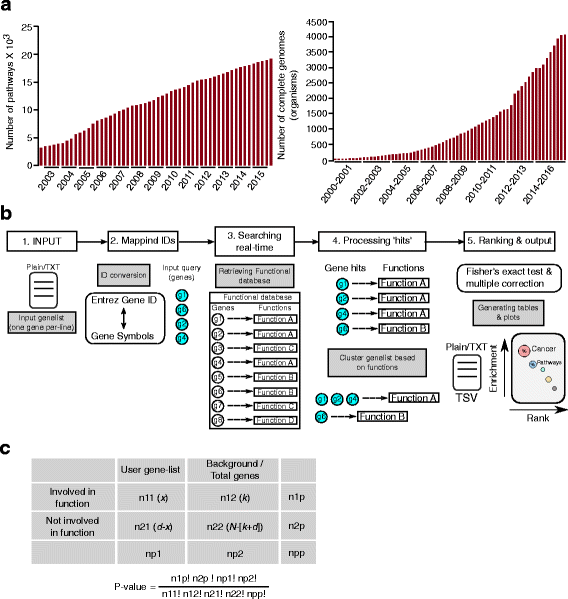 Implementation and usage
GeneSCF uses PERL modules to query input genes and ranks the enriched functions using the overlapping gene hits. It can provide enrichment results using optional bubble plots that require R package and ggplot2 to be pre-installed in the system. The modules for updating the databases were also written using PERL and bash scripting with basic Unix commands. GeneSCF is an installation and compilation free tool, which runs on pre-installed programs from Linux such as PERL and with some basic Unix commands. All the features of this tool have been extensively tested on prominent Linux distributions within bioinformatics communities such as, Ubuntu, CentOS and Mint.
Results and discussion
The methodology used in GeneSCF has been already implemented in Mondal et.al, 2015 [9] using GeneSCF v1.0 (supports only human database and no update mode) for finding MEG3 and EZH2 regulated pathways using microarray and RNA sequencing (RNA-seq) techniques. Most of the affected pathways predicted by GeneSCF were consistent between the deregulated genes from the microarray and RNA-seq experiments. The functional role of genes from well-studied pathways like TGF-β signaling was revalidated based on the predictions from GeneSCF. To further validate the performance and prediction level, the GeneSCF v1.1 was tested on previously published datasets from two studies based on different techniques. In the first study, we have used transcriptome sequencing data from chronic lymphocytic leukemia (CLL) patients and healthy individuals, and in the second study, chromatin immunoprecipitation (ChIP) sequencing data to identify p53 bound regions on genome-wide scale (Additional file 3). Later GeneSCF v1.1 was also compared with different enrichment tools to show the importance of updated information in performing enrichment analysis. The enrichment analysis by GeneSCF on update or normal mode in this study was performed using KEGG release 77.1 and Gene Ontology release 3/16/2016.
Conclusions
A crucial part of functional enrichment analysis is using an updated reference functional database. Very few enrichment tools update their database on a regular basis and some of them require manual intervention. GeneSCF overcomes the problems associated with the coverage of updated information from functional database repositories. It is more flexible in selecting the appropriate database for multiple organisms and fetches up-to-date information from remote repositories in real-time. GeneSCF users do not have to prepare their own reference database for functional enrichment analysis. Since this tool is not a web-based tool, it does not have limitations on the number of input genes. This tool can be easily integrated into other available pipelines for transcriptome, genome-wide or other studies without need for coding or installation procedures. This reduces the time and effort for computational biologists to follow the instructions in formatting and preparing the reference database according to tool specifications. However, the major limitation of GeneSCF is that the current version works only in a Linux environment and supports two formats of input gene lists (Entrez Geneid, gid and Gene symbols, sym). Currently this tool has been tested on Linux systems and can be further extended to other Unix based operating systems like OSX. The future versions of GeneSCF can be improved to accommodate multiple input gene list formats. Since GeneSCF is easily adaptable to new functional databases and organisms, it can be extended to support a greater number of functional and cancer database repositories.
Abbreviations
GeneSCF:

Gene Set Clustering based on Functional annotations
KEGG:

Kyoto Encyclopedia of Genes and Genomes
GO:

Gene Ontology
NCG:

Network of Cancer Genes
HGNC:

HUGO Gene Nomenclature Committee
HUGO:

Human Genome Organisation
API:

Application Programming Interface
HTTP:

Hypertext Transfer Protocol
TCGA:

The Cancer Genome Atlas
CCLE:

Cancer Cell Line Encyclopedia
ENCODE:

Encyclopedia of DNA Elements
Declarations
Acknowledgements
The computations were performed on resources provided by Uppsala Multidisciplinary Center for Advanced Computational Science (UPPMAX) high-performance computing (HPC) which is part of Swedish National Infrastructure for Computing (SNIC). We thank Kankadeb Mishra and Dr. Prasanna Kumar Juvvuna for helping with writing of the manuscript and critical suggestions.
Funding
This work was supported by the grants from the Knut and Alice Wallenberg Foundation (KAW) (Dnr KAW 2014.0057), Swedish Foundation for Strategic Research (RB13-0204), Swedish Cancer Research foundation (Cancerfonden: Kontrakt no. 150796), the Swedish Research Council (VR-M: K2014-67X-20781-07-4), Barncancerfonden (PR2014/0147), Ingabritt Och Arne Lundbergs forskningsstiftelse and LUA/ALF to C.K.
Availability of data and materials
Project name: GeneSCF
Project home page: http://genescf.kandurilab.org
Source code: Additional File 13 or at Project home page
Operating system: Linux
Programming language: PERL
Other requirements: R > 3.0 and ggplot2
License: GNU General Public License version 3.0 (GPL-3.0)
Documentation and tutorials: http://genescf.kandurilab.org/ftp/GeneSCF-Documentation_v1.1.pdf (also enclosed with the tool)
Any restrictions to use by non-academics: No
Authors' contributions
SS designed and implemented the code. SS and CK performed analyses and wrote the manuscript. Both authors read and approved the final manuscript.
Competing interests
The authors declare that they have no competing interests.
Consent for publication
Not applicable.
Ethics approval and consent to participate
Not applicable.
Open AccessThis article is distributed under the terms of the Creative Commons Attribution 4.0 International License (http://creativecommons.org/licenses/by/4.0/), which permits unrestricted use, distribution, and reproduction in any medium, provided you give appropriate credit to the original author(s) and the source, provide a link to the Creative Commons license, and indicate if changes were made. The Creative Commons Public Domain Dedication waiver (http://creativecommons.org/publicdomain/zero/1.0/) applies to the data made available in this article, unless otherwise stated.
Authors' Affiliations
(1)
Department of Medical Genetics, Institute of Biomedicine, The Sahlgrenska Academy, University of Gothenburg, Gothenburg, Sweden