Methodology Article

Open Access
Block network mapping approach to quantitative trait locus analysis
BMC Bioinformatics
BMC series – open, inclusive and trusted
2016
17:544
Received: 11 August 2016
Accepted: 11 November 2016
Published: 22 December 2016
Abstract
Background
Advances in experimental biology have enabled the collection of enormous troves of data on genomic variation in living organisms. The interpretation of this data to extract actionable information is one of the keys to developing novel therapeutic strategies to treat complex diseases. Network organization of biological data overcomes measurement noise in several biological contexts. Does a network approach, combining information about the linear organization of genomic markers with correlative information on these markers in a Bayesian formulation, lead to an analytic method with higher power for detecting quantitative trait loci?
Results
Block Network Mapping, combining Similarity Network Fusion (Wang et al., NM 11:333–337, 2014) with a Bayesian locus likelihood evaluation, leads to large improvements in area under the receiver operating characteristic and power over interval mapping with expectation maximization. The method has a monotonically decreasing false discovery rate as a function of effect size, unlike interval mapping.
Conclusions
Block Network Mapping provides an alternative data-driven approach to mapping quantitative trait loci that leverages correlations in the sampled genotypes. The evaluation methodology can be combined with existing approaches such as Interval Mapping. Python scripts are available at http://lbm.niddk.nih.gov/vipulp/. Genotype data is available at http://churchill-lab.jax.org/website/GattiDOQTL.
Keywords
QTL mapping
Interval mapping
Bayes' theorem
Background
Quantitative variations in living organisms result from environmental factors and multiple segregating genes [1]. The search for genomic markers that are linked to quantitative traits is an important first step towards finding the gene variants responsible for the observed phenotype, and is consequential for commercial breeding purposes and for uncovering the mechanistic underpinnings of pathologies. Linkage between genetic loci and morphological traits was first demonstrated almost a century ago [2] but early efforts [3, 4] were difficult due to the sparsity of known genetic markers across the entire genome.
The mapping problem for quantitative trait loci (QTL) is, briefly stated, to find the genetic markers that correlate with measured quantitative traits. Single marker regression [2, 5] was the traditional approach to mapping quantitative trait loci. This one-by-one analysis has well known drawbacks e.g. effect size is confounded with marker separation [6]. The availability of dense genetic linkage maps ushered in modern quantitative genetics [7–9] and single marker regression has been superseded by interval mapping (IM) [10–13]. IM allows a more accurate determination of the location and effect size of a QTL as the likelihood of a QTL can be placed in the context of its genomic position. It still maps only a single locus at a time, contradicting the known polygenic character of quantitative traits.
This led to the formulation of multiple IM methods and composite IM with the introduction of markers used as covariates [14–19]. The issue of the selection of the appropriate covariates remains an interesting challenge, and the genomic context of a trait is not as clear as with single IM. The present paper is directly comparable only to standard single IM.
The use of linkage maps, obtained using multi-point analysis of marker segregation data, is a major advantage of these IM methods compared to single marker regression, but is considered as a separate preliminary step before IM. In the present work, we report on a method, Block Network Mapping (BNM), that incorporates linkage through an experimental data-driven linkage network found using Similarity Network Fusion (SNF; [20]) combined with a new Bayesian approach to locus selection. Ref. [20] did not suggest this novel application of SNF.
To develop BNM, we used synthetically generated phenotypes paired with real genotypes obtained in a study of white blood cells [21] in a specific strain of mice, Diversity Outbred (DO)[22] mice. These were developed to overcome the low mapping resolution of conventional mouse crosses. As an example, [23] demonstrated that behavioral traits could be mapped with high precision with even a modest number of animals.
We investigated the effect size and population size dependence of the false discovery rate (FDR), the power, and the receiver operating characteristic (ROC) obtained using our method, BNM, compared to the standard expectation maximization (EM) implementation of IM implemented in the R/qtl package [24].
Methods
The BNM algorithm can be divided into three major parts outlined in Fig.
1
. For any finite sample of genotypes, there are correlations between genotype markers due to the finite amount recombination that could have occurred. Our approach is to first find contiguous blocks of markers in a data-driven but phenotype-independent manner, which we term haplotype blocks. The idea of looking for such blocks is inspired by multiple IM [
14
–
19
] though our approach to finding these blocks is based on ideas from [
20
]. They are defined by clustering the SNPs based on similarity matrices constructed from the information obtained from the genotypes of the
N
subjects being studied (Section "
Obtaining the haplotype blocks
"). Second, we compute the likelihood of each block, i.e., the likelihood that there is at least one marker in this block that is contributing to the overall phenotypic effect (Section "
Obtaining the block likelihoods
"). Third, using the similarity matrices and likelihoods obtained in the first two parts, we calculate the empirical likelihood, of each marker via a Bayesian approach (Section "
Obtaining the SNP empirical pseudo-probabilities
"), considering each marker as a possible 'model' of the phenotype data.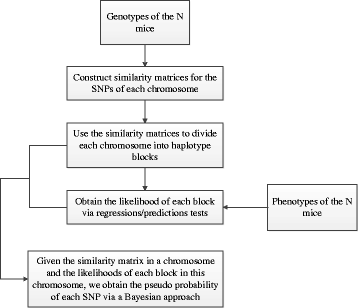 Results
We demonstrate our method by applying it to simulated data with 742 genotypic sequences of Diversity Outbred (DO) Mice and 1000 phenotypes. We simulated phenotypes on the 19 autosomes and did not add a sex effect. We selected 19 genomic locations, one on each autosome, and generated 19 QTL effect sizes from an exponential distribution. Using the genotypes at each location, we created the QTL effects and scaled the variance to be 1. Then we added N(0,1) noise and the QTL effects together.
In all of the above results, the power and FDR calculations are based on the precise location of the true SNP. In other words, even if the method predicts a signal (at a specified threshold) in the neighborhood of the "true signal", it is considered a false positive. This is more stringent than the usual expectation of QTL mapping [29] so we repeated the above analysis after uniformly dividing each autosome into blocks of SNPs within d Mb from each other. For example, if one or more signals are obtained in a particular block, this counts as 1 true positive (if the true signal is in this block) or 1 false positive (if the true signal is not in this block). We did the analysis at three different block sizes, d=2 (Additional file 1: Figures S3, S4 and S5), d=3 (Additional file 1: Figures S6, S7 and S8), and d=4 (Additional file 1: Figures S9, S10 and S11). BNM still shows a higher power than IM at all block sizes and (P-value, R-value) thresholds, despite the fact that adding this freedom improves the IM R/qtl results much more than it does the results from BNM. Even with the use of blocks of varying sizes, IM shows a decreasing and then increasing FDR as effect sizes are increased while the BNM FDR continues to be a monotonically decreasing function of effect size (Additional file 1: Figures S3, S6 and S9).
The effect of population size on QTL detection has been demonstrated [30, 31], so we investigated the performance of BNM with a change in the number of mice. To examine the change and variation in FDR as we decrease the number of mice, we randomly select three samples of 600 mice and three samples of 400 mice out of the total number of 742 mice. For all of the 6 samples we used the 500 phenotypes with the highest average effect size over the 19 autosomes. Choosing the phenotypes in this manner slightly increases the fraction of high effect signals which will allow us to go to slightly higher average effect sizes in the 76 groups of data points.
As the number of mice decreases, we see more variation in the FDR between the three samples (Figs. 6 d–f), particularly for IM at low P-values (Fig. 7 e). As is to be expected, the FDR increases as the number of mice decreases for both IM (Fig. 7 e) and BNM (Fig. 7 d). For each of the 742 (all mice), 600 and 400 mice samples, we match the IM P-values to R-values of comparable average FDRs and compare the powers at P-value = 0.05 (Fig. 6). In all cases, BNM shows higher power and less variation in FDR than IM. Applying the block analysis with d=2,3,4 improves the IM FDR and removes the effect of the lower number of mice but this is not as much the case for the BNM FDR (Additional file 1: Figures S13, S15 and S17). In fact, for the block analysis, BNM's FDR increases with smaller numbers of mice while IM's FDR is relatively insensitive, making the matching BNM R-value much lower at the chosen IM P-value. Now when we lower the number of mice to 400, BNM shows less power (Additional file 1: Figures S12, S14 and S16). Overall, however, BNM shows better ROC curves in all cases with and without the block analysis (see Additional file 1: Figures S18, S19, S20 and S21).
Discussion
We formulated an integrated data-driven approach, Block Network Mapping (BNM), to linkage mapping and phenotype regression using Similarity Network Fusion [20] to define haplotype blocks of SNPs that were then used for phenotype regression. The importance of using SNF or similar network methods is that multiple similarity measures with disparate underpinnings (in our case, genetic distance and empirical mutual information) can be combined using a common graph-theoretic framework which is noise-tolerant. We chose SNF [20] because it is very recent and has proven efficacy. We combined the results obtained from this block-by-block regression with the known inter-block correlations between SNPs using Bayes' theorem to obtain a final measure of the association of a SNP with the phenotype. Changing S min to higher values, i.e., using bigger smallest possible clusters did not materially affect our results. However, uniformly segmenting the chromosome into clusters of equal size gave worse results.
QTL locations and effects are specific to populations, and can only be detected when the population is polymorphic at the relevant loci. In light of this, BNM uses no information beyond the genotypes and phenotypes measured in the sample, besides the genetic distance. We did not find much difference between using the genetic distance and the distance measured in base pairs between markers.
We found that the area under the receiver operating characteristic curve (AUROC) exceeded that of IM for all effect sizes, all allowed genome interval sizes (0, 2, 3, 4Mb) and all chosen numbers of mice (742, 600 or 400 total mice). The power of our approach was considerably higher than that of IM in all circumstances, except when we allowed for some genomic distance between the true and predicted SNPs and simultaneously decreased the number of mice to 400. It is known [30, 31] that for QTLs common to two populations, the IM estimate of effect size was reduced in the larger population, supporting the notion that IM overestimates the magnitude of QTL effects in small populations, which may also explain the increase in FDR for IM as sample size is decreased. Power graphs do not directly exhibit the FDR, but the ROC curves show that the predictions made using BNM are more likely to be correct in all circumstances compared to IM. We note that the False Discovery Rates are quite high for this simulated dataset, both for IM and for BNM. As we are presenting our methodology here, it is the relative performance that is of interest.
As our approach works block-by-block, it is somewhat similar to composite IM [14–19] but with a definite prescription for the selection of covariates in the form of SNF clusters. As such, the genomic position of the trait locus is interpretable. Note that accounting for inter-block correlations was crucial for suppressing spurious SNP-phenotype correlations in our approach. However, we have compared our results to IM alone in this paper because composite IM also addresses the presence of multiple loci by partial regression with selected covariate SNPs. A standard approach to composite IM is to add known QTL to the model iteratively, and we can carry this out iteratively as well in BNM, with the QTL uncovered in a first pass with simple IM. However, we are investigating whether a more natural extension of BNM can be developed using the SNF framework.
Our work does not improve on simple IM with respect to effects of opposing sign associated with linked SNPs. It is not clear that our method could be modified to overcome this limitation, though our approach can detect nonlinear dependence on allele dosage. In its present form, we also made the assumption that only one block in a chromosome contributes to the phenotype. This is, of course, an external assumption from the viewpoint of the underlying mathematics. It can be relaxed by using only contiguous parts of chromosomes in the analysis, but these parts will have smaller numbers of blocks, which in turn will lead to lower power. In other words, multiple effects on a chromosome could be detected with BNM albeit with a worse AUROC. It would be more appropriate to investigate better approaches to solving the multiple locus problem [18] within a network paradigm. We are working on extending BNM to account for multiple related phenotypes.
Conclusions
In this study, we have presented a network approach to QTL analysis that uses sample genotype data to define covariates in a systematic and interpretable manner. Using the network of correlations between SNPs through SNF for finding covariate blocks was a central feature of our approach, along with a Bayesian approach to finding the likely SNPs within blocks using inter-block correlations. Network approaches may be more noise-tolerant and may scale well to larger sets of measured markers.
Abbreviations
AUROC:

Area under receiver operating characteristic
BNM:

Block network mapping
CIM:

Composite interval mapping
cM:

centiMorgan
DO:

Diversity outbred
EM:

Expectation maximization
FDR:

False discovery rate
IM:

Interval mapping
Mb:

Megabase
QTL:

Quantitative trait locus
ROC:

Receiver operating characteristic
SNF:

Symmetric network fusion
SNP:

Single nucleotide polymorphism
TPR:

True positive rate
Declarations
Acknowledgements
We used R/qtl (http://rqtl.org/) and the Matlab implementation of SNF. (http://compbio.cs.toronto.edu/SNF/SNF/Software.html). This work utilized the computational resources of the NIH HPC Biowulf cluster. (http://hpc.nih.gov).
Funding
This work was supported by the Intramural Research Program of the National Institutes of Health, NIDDK. DMG was funded by R01 GM070683-10 awarded to Gary Churchill.
Authors' contributions
ZS, DG, VP conceived of the project. DG simulated the phenotypes. ZS carried out the computations. ZS and VP wrote the manuscript. DG provided the simulation description. All authors read and approved the final manuscript.
Competing interests
The authors declare that they have no competing interests.
Consent for publication
Not applicable.
Ethics approval and consent to participate
Not applicable.
The article is a work of the United States Government; Title 17 U.S.C 105 provides that copyright protection is not available for any work of the United States government in the United States. Additionally, this is an open access article distributed under the terms of the Creative Commons Public Domain Dedication waiver (http://creativecommons.org/publicdomain/zero/1.0), which permits worldwide unrestricted use, distribution, and reproduction in any medium for any lawful purpose.
Authors' Affiliations
(1)
Laboratory of Biological Modeling, NIDDK, National Institutes of Health, Bethesda, USA
(2)
The Jackson Laboratory, Bar Harbor, USA