ARA-PEPs: a repository of putative sORF-encoded peptides in Arabidopsis thaliana
BMC Bioinformatics
BMC series – open, inclusive and trusted
2017
18:37
Received: 14 September 2016
Accepted: 31 December 2016
Published: 17 January 2017
Abstract
Background
Many eukaryotic RNAs have been considered non-coding as they only contain short open reading frames (sORFs). However, there is increasing evidence for the translation of these sORFs into bioactive peptides with potent signaling, antimicrobial, developmental, antioxidant roles etc. Yet only a few peptides encoded by sORFs are annotated in the model organism Arabidopsis thaliana.
Results
To aid the functional annotation of these peptides, we have developed ARA-PEPs (available at http://www.biw.kuleuven.be/CSB/ARA-PEPs), a repository of putative peptides encoded by sORFs in the A. thaliana genome starting from in-house Tiling arrays, RNA-seq data and other publicly available datasets. ARA-PEPs currently lists 13,748 sORF-encoded peptides with transcriptional evidence. In addition to existing data, we have identified 100 novel transcriptionally active regions (TARs) that might encode 341 novel stress-induced peptides (SIPs). To aid in identification of bioactivity, we add functional annotation and sequence conservation to predicted peptides.
Conclusion
To our knowledge, this is the largest repository of plant peptides encoded by sORFs with transcript evidence, publicly available and this resource will help scientists to effortlessly navigate the list of experimentally studied peptides, the experimental and computational evidence supporting the activity of these peptides and gain new perspectives for peptide discovery.
Keywords
RNA-seqTiling arrayssORFsDatabasePeptides Arabidopsis thaliana
Background
Recent advances in transcriptomics and proteomics have revealed a more complex transcriptome and proteome than formerly understood. In the past few years it has become increasingly clear that the short open reading frames (sORFs) embedded in intergenic regions, pseudogenes or non-coding RNAs (ncRNAs) can be directly translated into bioactive peptides [1]. These peptides may partake in an array of functions such as cellular signaling, as antibiotics, regulators of morphology, toxins/anti-toxins, chaperones, may stabilize protein complexes or serve as structural proteins [2–4]. However, genomic and functional annotation of novel sORFs in Arabidopsis thaliana is far from complete. To aid in annotation of peptide-encoding genes and deciphering their functions, dedicated resources to browse and access sORF-encoded peptides in A. thaliana would be very valuable. Several efforts have gone in this direction including Araport, a comprehensive information portal for plant biology research harbouring A. thaliana-related annotations and gene information [5], the Arabidopsis Unannotated Secreted Peptide Database, containing information on putative secreted peptides [6], and HanaDB-AT, providing transcriptome information in A. thaliana for annotated coding genes, ncRNA genes and sORFs [7, 8]. However, a comprehensive resource with all-inclusive information on peptides encoded by sORFs from A. thaliana is currently lacking. Therefore, we have developed a webserver named ARA-PEPs to provide the research community with up-to-date information on putative peptides in A. thaliana, collected from publicly available datasets and predicted based on novel expression data.
Proper annotation of genes and other functionally relevant features is a major challenge in converting previously unknown genome sequences into resources that can be used by the research community. Recently, several tools such as CIPHER [
9
], GeneMarkS-T [
10
] and TransDecoder [
11
] from the Trinity package [
12
] have been developed to predict protein coding regions in RNA transcripts of eukaryotes. TransDecoder is a tool that identifies RNA transcripts generated by
de novo
transcriptome reconstruction methods such as Trinity or constructed based on RNA-seq alignments using TopHat-Cufflinks [
13
,
14
] method. CIPHER uses a coding score metric to compute the coding potential of ORFs in sequences. GeneMarkS-T is used for ab initio gene finding and identification of translation initiation sites in eukaryotic genomes. These tools require a minimal ORF length to obtain a significant signal and are thus not very well suited for finding sORFs. In our study we have used an assortment of bioinformatics tools and in-house scripts to screen stress-induced peptides (SIPs) encoded by transcriptionally active regions (TARs) and to map these peptides to other publicly available peptide annotations. Homology to sequences in other plant genomes further supports the functionality of these peptides. The whole study aimed at enriching the existing pool of novel peptides encoded by sORFs in
A. thaliana
. The relationship between TARs, SIPs and other annotated sORFs listed in ARA-PEPs database is illustrated in Fig.
1a and b
. The data is freely available online through the URL:
http://www.biw.kuleuven.be/CSB/ARA-PEPs
. The interface is easy to use and allows the user to query peptides by name, peptide sequence, Tiling array expression level and chromosomal regions including chromosome number and position, presence of certain features such as signal sequences, transmembrane (TM) domains and the rates of synonymous (
dS
) and nonsynonymous (
dN
) substitutions per site (
dN/dS
) ratio of the entire ARA-PEPs dataset as well as Tiling array- and RNA-seq-identified expression levels of the SIPs. Sequence searches are also possible through a Basic Local Alignment Search Tool (BLAST) [
15
] interface against all the sequences stored in the ARA-PEPs database while it is also possible to browse the peptides alongside genome annotations through the embedded JBrowse application [
16
]. By integrating other publicly available information together with in-house expression data on one centralized webserver, we aim to provide a user-friendly, simple yet, resourceful platform for accessing sORF-encoded plant peptides.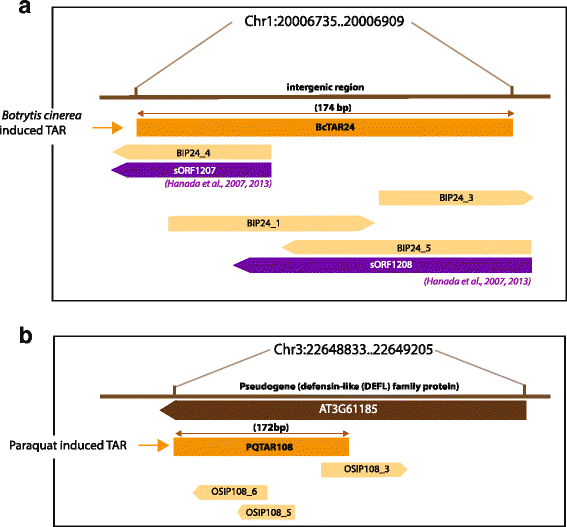 Utility and discussion
We have generated ARA-PEPs, a repository of peptides encoded by sORFs of A. thaliana with transcript evidence.
Data content
ARA-PEPs currently contains 5240 'SecretedPeptides', 7901 'sORFs' and 607 'SIPs' of which 341 are novel. No peptides were commonly identified in all three datasets, and only a small number of peptides were predicted in at least two out of three datasets, showing that the approaches are largely complementary (Additional file
10
: Figure S3). Functional analysis was carried out using an assortment of bioinformatics tools and the results provide information that these peptides might have specific features, functional roles or may be grouped together as specific peptide families (Additional file
5
: Figure S2). The novel SIPs dataset has been generated based on both Tiling array and RNA-seq analysis as detailed in Additional file
1
: Figure S1 leading to 607 putative SIPs encoded by 189 TARs of which 100 are novel. From TARs identified by Tiling arrays, 91 out of 144 were also induced in RNA-seq dataset thus confirming that these regions are indeed transcribed (Additional file
6
: Figure S7). We identified 45 new intergenic TARs from the RNA-seq data (Additional file
7
: Figure S8). The median length of the SIPs is 35 amino acids (Fig.
2a
). Sequence analysis identified 279 peptides with sequence similarity with other plant species and 159 peptides with
dN/dS
 < 1 (Fig.
2b
, Additional file
1
: Figure S1, Additional file
8
: Figure S4). Mapping TARs to different annotations in PLncDB revealed that some peptides lie within annotated ncRNAs (Fig.
3b
). Clustering of peptides across the three datasets in ARA-PEPs based on sequence similarity resulted in several large clusters (>50 peptides), suggesting the existence of some peptide groups with common molecular functionalities (Additional file
9
: Figure S5). We also found 5430 peptides with secretion signals and 2510 peptides with TM domains across the three datasets (Additional file
5
: Figure S2).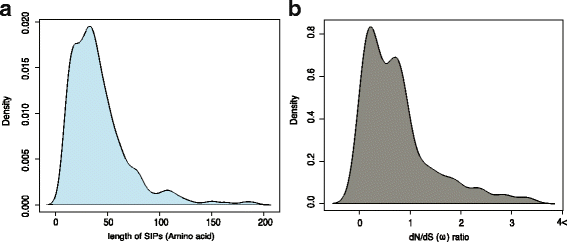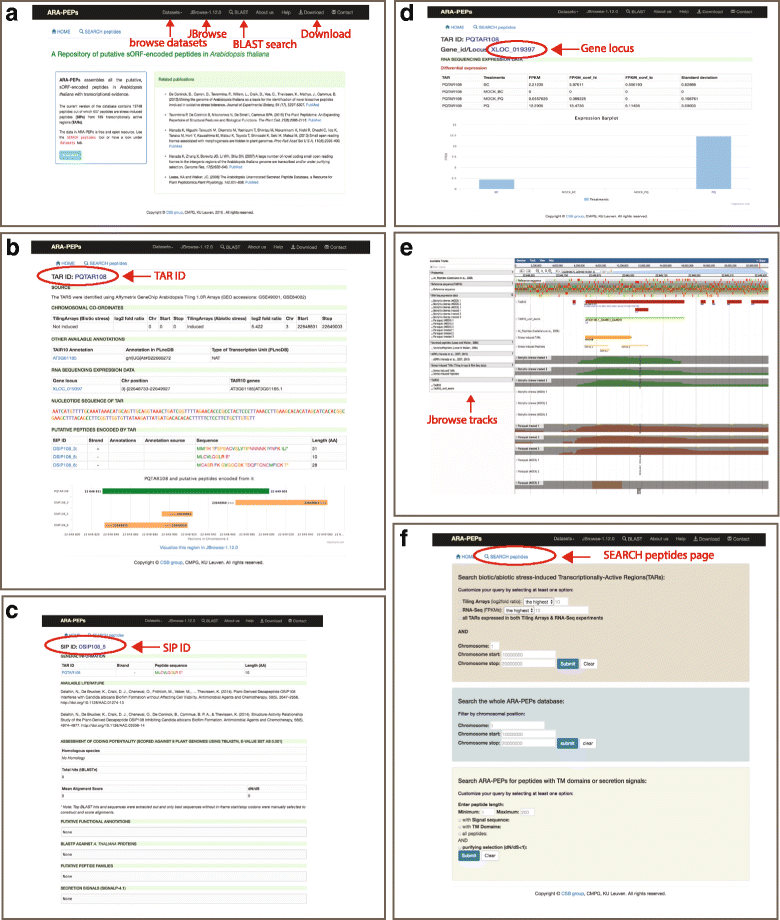 Search and download features
ARA-PEPs is a comprehensive webserver for searching, browsing, visualizing and downloading sORF-encoded peptides. In the ARA-PEPs webserver, the 'SEARCH peptides' tool enables queries on several criteria, including presence of signal sequences, TM domains and dN/dS ratio of the entire ARA-PEPs dataset, chromosome number and position as well as Tiling array- and RNA-seq-identified expression levels of the SIPs (Fig. 3f). It is also possible to browse just through the list of SIPs, sORFs (Hanada et al., [7, 8]) or SecretedPeptides (Lease and Walker, [6]) by clicking on the 'Datasets' tab on the toolbar and selecting any of the above the peptide datasets (Fig. 3a). Clicking on a TAR (TAR ID) from the 'SIPs' dataset for example PQTAR108 will open up a page with detailed information about the TAR such as data source, chromosomal co-ordinates, nucleotide sequence of the TAR, other available annotations in TAIR10 and PLncDB, RNA-seq expression data etc. (Fig. 3b). From the TAR page the user can browse the RNA-seq expression levels of the TAR by clicking on the gene locus (XLOC_019397) (Fig. 3d). Clicking on any putative peptide (SIP ID) encoded by the TAR for example OSIP108_5 on the TAR page will yield information about the peptide such as any available literature, coding potentiality, functional annotations, putative peptide families, secretion signals, TM domains if any (Fig. 3c). We have provided a bulk download functionality to download all the peptide sequences in FASTA format or the genomic positions in BED format in the ARA-PEPs database (Fig. 3a). It is also possible to export all tabular data displayed in ARA-PEPs database as a csv file.
Integrated tools for visualization
ARA-PEPs offers an interface to do a BLAST [15] search against the whole ARA-PEPs database using any user-uploaded sequence. The BLAST interface is accessible from the toolbar on the home page (Fig. 3a). ARA-PEPs also uses JBrowse-1.12-0 [16] to visualize genomic locations of peptides collected across different sources along the TAIR10 annotation (Fig. 3a and e). Below the reference sequence axis, the browser presents a stack of 'tracks' representing the TAIR 10 gene models. We have currently embedded several tracks, including the stress-induced TARs, SIPs, peptides determined by mass spectrometry [39], sORFs [7, 8], SecretedPeptides [6], TAIR10 unconfirmed exons and BAM data from the in-house RNA-seq analysis. The user can view these tracks via the hierarchical track selector on the left hand panel of the browser. JBrowse-1.12.0 also offers bulk download of interval-specific track data in common file formats (FASTA, GFF3, BED). JavaScript visualization tools such as pVIz.js, and JavaScript Sequence Alignment Viewer (JSAV) have been integrated to provide visualization of TM domains and raw alignments from our bioinformatics analysis respectively.
Conclusions
We have constructed a comprehensive repository for browsing and visualizing sORF-encoded peptides in A. thaliana by combining publicly available and newly generated Tiling arrays and RNA-seq data in response to biotic/abiotic stress. ARA-PEPs is by far the largest repository of putative sORF-encoded putative peptide database with transcript evidence. The database provides external links to other databases thus facilitating the user to view other existing details about these peptide sequences. Integration of JBrowse and BLAST search will help biologists to comparatively access all available annotations pertaining to the sequences. The entire set of analyzed peptides in the current study can be downloaded from the download page of the webserver. Moreover, in future we intend to add more data from transcriptome analysis. In conclusion, the repository we generated here provides the basis of future studies on bioactive plant peptides, as part of the booming research on the plant peptidome, thereby aided by the accessibility and user-friendliness of the corresponding webserver.
Availability and requirements
ARA-PEPs is available from http://www.biw.kuleuven.be/CSB/ARA-PEPs. The web server was built in a Linux, Apache2, PHP5 and MySQL5 environment. The ARA-PEPs front-end layer uses HTML5, Bootstrap CSS library (http://getbootstrap.com/), JavaScript and jQuery (https://jquery.com/). These tools are compatible with any browser without the need of any external plugins. The web application has been successfully tested on Chrome 49, Firefox 41.0.2, Opera 28, Safari 9.1, Internet Explorer 11. Copyright 2016 KU Leuven Computational Systems Biology, distributed under MIT license.
Abbreviations
BIPs:

Botrytis cinerea-induced peptides
BLAST:

Basic local alignment search tool
CRPs:

Cysteine-rich peptides
DEFL:

Defensin-like genes
dN/dS :

The ratio of nonsynonymous and synonymous substitutions per site
ncRNAs:

non-coding RNAs
OSIPs:

Oxidative stress-induced peptides
SIPs:

Stress-induced peptides
sORFs:

small open reading frames
TARs:

Transcriptionally active regions
Declarations
Acknowledgements
Not applicable.
Funding
This work has been supported by the KU Leuven Research Fund and a research grant for B.D.C. from the Fonds Wetenschappelijk Onderzoek (FWO)-Vlaanderen (1522614 N). B.D.C. also acknowledges the receipt of a personal grant from the VIB department of Plant Systems Biology.
Availability of data and materials
The database is freely available at http://www.biw.kuleuven.be/CSB/ARA-PEPs. All analyzed sequences in the ARA-PEPs database are available for download from the link (http://www.biw.kuleuven.be/CSB/ARA-PEPs/Downloads). The raw Tiling array data based on biotic stress induced by B. cinerea have been submitted to GEO with accession number (GSE84002). The raw RNA-seq reads based on stress induced by Paraquat and by B. cinerea have been submitted to SRA with study accession number (SRP080911).
Authors' contributions
RRH performed analysis, carried out data integration. RRH, LRY and LRM implemented the database and web interface. VvN, BDC and BPC guided the work. All others contributed to writing the manuscript. All authors read and approved the final manuscript.
Competing interests
The authors declare that they have no competing interests.
Consent for publication
Not applicable.
Ethics approval and consent to participate
Not applicable.
Open AccessThis article is distributed under the terms of the Creative Commons Attribution 4.0 International License (http://creativecommons.org/licenses/by/4.0/), which permits unrestricted use, distribution, and reproduction in any medium, provided you give appropriate credit to the original author(s) and the source, provide a link to the Creative Commons license, and indicate if changes were made. The Creative Commons Public Domain Dedication waiver (http://creativecommons.org/publicdomain/zero/1.0/) applies to the data made available in this article, unless otherwise stated.
Authors' Affiliations
(1)
KU Leuven, Centre of Microbial and Plant Genetics, Leuven, Belgium
(2)
Department of Plant Systems Biology, VIB, Ghent, Belgium