Tissue-aware RNA-Seq processing and normalization for heterogeneous and sparse data
BMC Bioinformatics
BMC series – open, inclusive and trusted
2017
18:437
Received: 19 April 2017
Accepted: 21 September 2017
Published: 3 October 2017
Abstract
Background
Although ultrahigh-throughput RNA-Sequencing has become the dominant technology for genome-wide transcriptional profiling, the vast majority of RNA-Seq studies typically profile only tens of samples, and most analytical pipelines are optimized for these smaller studies. However, projects are generating ever-larger data sets comprising RNA-Seq data from hundreds or thousands of samples, often collected at multiple centers and from diverse tissues. These complex data sets present significant analytical challenges due to batch and tissue effects, but provide the opportunity to revisit the assumptions and methods that we use to preprocess, normalize, and filter RNA-Seq data – critical first steps for any subsequent analysis.
Results
We find that analysis of large RNA-Seq data sets requires both careful quality control and the need to account for sparsity due to the heterogeneity intrinsic in multi-group studies. We developed Yet Another RNA Normalization software pipeline (YARN), that includes quality control and preprocessing, gene filtering, and normalization steps designed to facilitate downstream analysis of large, heterogeneous RNA-Seq data sets and we demonstrate its use with data from the Genotype-Tissue Expression (GTEx) project.
Keywords
GTExRNA-SeqQuality controlFilteringPreprocessingNormalization
Background
RNA-Seq experiments using ultrahigh-throughput sequencing-by-synthesis technologies were first performed in 2008 and have since been used for large-scale transcriptome analysis and transcript discovery in mammalian genomes [1–3]. Although hundreds of published studies have used this technology to assay gene expression, the majority of studies consist of relatively small numbers of samples. There are many widely used methods for normalization and analysis of expression data from modest numbers of relatively homogeneous samples [4–6]. The workflow for RNA-Seq typically includes basic quality control on the raw reads and alignment of those reads to a particular reference database to extract sequence read counts for each feature—gene, exon, or transcript—being assayed [7]. The resulting features-by-samples matrix is then filtered, normalized and analyzed to identify features that are differentially expressed between phenotypes or conditions. Functional enrichment analysis is then performed on these features [7].
There are now many large cohort studies, including the Genotype-Tissue Expression project (GTEx) and The Cancer Genome Atlas (TCGA) that have generated transcriptomic data on large populations and across multiple tissues or conditions to study patterns of gene expression [8, 9]. The GTEx project is collecting genome-wide germline SNP data and gene expression data from an array of different tissues on a large cohort of research subjects. GTEx release version 6.0 sampled over 550 donors with phenotypic information representing 9590 RNA-Seq assays performed on 54 conditions (51 tissues and three derived cell lines). We excluded K562 from our analyses since this leukemia cell line does not represent a healthy tissue and is only a reference cell line unrelated to any GTEx participants. GTEx assayed expression in 30 tissue types, which were further divided into tissue subregions [8]. After removing tissues with very few samples (fewer than 15), we were left with 27 tissue types from 49 subregions. This included 13 different brain regions and three types of skin tissue. While GTEx broadly targeted body regions, the sampling is uneven across these subregions, with some sampled in nearly every donor and others sampled in only a small subset. For example, there are some tissues, such as the brain, in which many subregions were sampled with the expectation that those samples might exhibit very different patterns of expression.
Established methods for RNA-Seq analysis can be used to make direct comparisons of gene expression profiles between phenotypic groups within a tissue. However, they are not well suited for comparisons across multiple, diverse tissues, of which each exhibit a combination of commonly expressed and tissue-specific genes. This characteristic is a feature that confounds most normalization methods, which generally assume the majority of expressed transcripts are common across samples. Widely-used normalization methods make assumptions that are valid only in fairly consistent samples and assume that most genes are not differentially expressed, that housekeeping genes are expressed at equivalent rates, or that the expression distributions vary only slightly due to technology [4–6]. In large heterogeneous data sets, such as GTEx, these biological assumptions are violated. When looking at diverse tissues, or distinct patterns of expression, the use of the appropriate quality control is necessary in order to make valid comparisons of expression profiles.
Yet Another RNA-Seq normalization pipeline (YARN), illustrated in Fig.
1
, is a data preprocessing and normalization pipeline that includes filtering poorly annotated samples, merging samples from "states" that have indistinguishable expression profiles, filtering genes in a condition specific manner, and normalizing to keep global distributions while controlling for within group-variability. While every step in the gene-by-sample feature matrix generation process can bias downstream results, our focus in this analysis, and in the YARN package, is on the downstream effects of methods used to filter and normalize data that has already been aligned to a reference genome.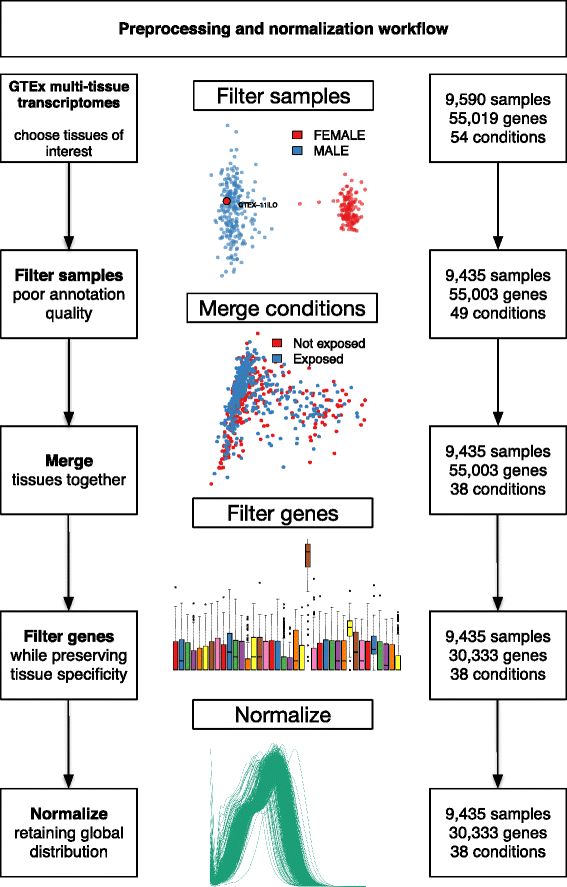 Implementation
YARN, shown in Fig. 1, is instantiated as a Bioconductor (BioC version 3.4+) R package. YARN is built on top of the Biobase Bioconductor package that defines the ExpressionSet class, a S4 object class structure. Using this class structure, multiple helper functions were designed to help 1) filter poor quality samples – (checkMisAnnotation), 2) merge samples derived from similar sources (in our case, different sampling regions of the "same" tissue) for increased power (checkTissuesToMerge), 3) filter genes while preserving tissue or group specificity – (filterLowGenes, filterGenes, filterMissingGenes), 4) normalize while accounting for global differences in tissue distribution (normalizeTissueAware), and 5) visualize the structure of the data (plotDensity, plotHeatmap, plotCMDS). The full details of our pipeline methodology are available in Additional file 1. The object-oriented architecture allows for future expansion of the pipeline and the ExpressionSet class allows for integration with various other Bioconductor packages. Example data sets have been curated and are available within the packages. The R package instantiating YARN is available at http://bioconductor.org/packages/yarn.
Discussion
Large-scale transcriptional studies, such as GTEx, present unique opportunities to compare expression in a relatively large population and across a large number of tissues. However, as with all analyses of gene expression, it requires careful quality assessment, gene filtering, and normalization if meaningful conclusions are to be drawn from the data. We developed a simple and robust software pipeline, YARN, to allow us to perform quality control assessment of the metadata associated with a large, heterogeneous data sets such as the collection of RNA-Seq assays that are available as part of the GTEx v6 release.
YARN was designed to process RNA-Seq data to allow comparisons between diverse conditions and consists of four basic steps: quality assessment filtering to remove questionable samples, comparison of "related" sample groups to merge them or split them into separate groups, filtering genes that have too few counts while preserving tissue-specific genes, and normalizing the data. For each step, YARN contains multiple options that allow user to adapt the pipeline for their use.
In our analysis of GTEx v6 data, we began by using PCoA to filter samples based on misidentification by sex. We then used PCoA to compare samples from the same general body site so as to merge those that were indistinguishable. Next, we used a tissue-aware filtering method to retain genes that were expressed in one or a small number of tissues, while eliminating those in too few samples to perform a reliable normalization. Finally, we used qsmooth to perform a tissue-aware normalization (Additional file 1).
This pipeline allowed us to identify one individual who was misidentified by sex, to reduce the 53 sampling site conditions to 38 non-overlapping tissues, eliminated 24,670 genes for which there was insufficient data to perform a reasonable normalization or subsequent analysis, and to produce normalized data for 30,333 genes in 9435 samples distributed across 38 tissues. The result of applying YARN is a data set in which general expression levels are comparable between tissues, while still preserving information regarding the tissue-specific expression of genes. This comparability allowed us to use the normalized data in a wide range of analyses that compared processes across tissues [14, 15, 17, 18].
Conclusions
YARN is a flexible software pipeline designed to address a problem that is becoming increasingly challenging—that of normalizing increasingly large, complex, heterogeneous data sets, often consisting of many samples representing many different physical states, perturbations, or phenotype groups. YARN is implemented as a Bioconductor package and is available under the open source GPL v3 license at http://www.bioconductor.org/packages/yarn.
The workflow includes numerous quantitative options for filtering as well as tools for visual inspection of data to allow users to understand the distributional and other characteristics of the data. The Bioconductor vignette includes sample skin data from GTEx that can be used to work through as an example analysis. Example code to reproduce the figures in this manuscript is available through GitHub at: https://github.com/QuackenbushLab/normFigures . We intend to actively maintain YARN, adding additional features and integrating it with differential gene expression and analysis tools in Bioconductor.
Availability and requirements
Project name: Yet Another RNA Normalization software pipeline (YARN).
Project home page: http://bioconductor.org/packages/yarn
Operating system(s): Platform independent.
Programming language: R.
Other requirements: Dependencies: Biobase. Imports: biomaRt, downloader, edgeR, gplots, graphics, limma, matrixStats, preprocessCore, readr, RColorBrewer, stats, quantro. Suggests: knitr, rmarkdown, testthat (> = 0.8).
License: GPLv3.
Any restrictions to use by non-academics: None.
Abbreviations
CPM:

Count per million
eQTL:

Expression quantitative trait loci
GTEx:

Genotype-Tissue Expression project
PCA:

Principal Components Analysis
PCoA:

Principal Coordinate Analysis
PCs:

Principal components
RMSE:

Root mean squared error
TCGA:

The Cancer Genome Atlas
YARN:

Yet Another RNA-seq program
Declarations
Acknowledgements
Not applicable.
Funding
This work was supported by grants from the US National institutes of Health, including grants from the National Heart, Lung, and Blood Institute (5P01HL105339, 5R01HL111759, 5P01HL114501, K25HL133599), the National Cancer Institute (5P50CA127003, 1R35CA197449, 1U01CA190234, 5P30CA006516, P50CA165962), the National Institute of Allergy and Infectious Disease (5R01AI099204), and the Charles A. King Postdoctoral Research Fellowship Program, Sara Elizabeth O'Brien, Bank of America, N.A., Co-Trustees. Additional funding was provided through a grant from the NVIDIA foundation.
Authors' contributions
All authors contributed to the conception and design of the study, participated in the analysis of the data, and to writing and editing of the manuscript. JNP wrote the YARN software package which was reviewed by other members of the team. All authors read and approved the final manuscript.
Ethics approval and consent to participate
This work was conducted under dbGaP approved protocol #9112 (accession phs000424.v6.p1).
Consent for publication
Not applicable.
Competing interests
The authors declare that they have no competing interests.
Publisher's Note
Springer Nature remains neutral with regard to jurisdictional claims in published maps and institutional affiliations.
Open AccessThis article is distributed under the terms of the Creative Commons Attribution 4.0 International License (http://creativecommons.org/licenses/by/4.0/), which permits unrestricted use, distribution, and reproduction in any medium, provided you give appropriate credit to the original author(s) and the source, provide a link to the Creative Commons license, and indicate if changes were made. The Creative Commons Public Domain Dedication waiver (http://creativecommons.org/publicdomain/zero/1.0/) applies to the data made available in this article, unless otherwise stated.
Authors' Affiliations
(1)
Department of Biostatistics and Computational Biology, Dana-Farber Cancer Institute, Boston, USA
(2)
Department of Biostatistics, Harvard School of Public Health, Boston, USA
(3)
Channing Division of Network Medicine, Brigham and Women's Hospital and Harvard Medical School, Boston, USA
(4)
Department of Cancer Biology, Dana-Farber Cancer Institute, Boston, USA
(5)
Present address: Genentech, Department of Biostatistics, Product Development, South San Francisco, USA