Ontological representation, integration, and analysis of LINCS cell line cells and their cellular responses
BMC Bioinformatics
BMC series – open, inclusive and trusted
2017
18(Suppl 17):556
Published: 21 December 2017
Abstract
Background
Aiming to understand cellular responses to different perturbations, the NIH Common Fund Library of Integrated Network-based Cellular Signatures (LINCS) program involves many institutes and laboratories working on over a thousand cell lines. The community-based Cell Line Ontology (CLO) is selected as the default ontology for LINCS cell line representation and integration.
Results
CLO has consistently represented all 1097 LINCS cell lines and included information extracted from the LINCS Data Portal and ChEMBL. Using MCF 10A cell line cells as an example, we demonstrated how to ontologically model LINCS cellular signatures such as their non-tumorigenic epithelial cell type, three-dimensional growth, latrunculin-A-induced actin depolymerization and apoptosis, and cell line transfection. A CLO subset view of LINCS cell lines, named LINCS-CLOview, was generated to support systematic LINCS cell line analysis and queries. In summary, LINCS cell lines are currently associated with 43 cell types, 131 tissues and organs, and 121 cancer types. The LINCS-CLO view information can be queried using SPARQL scripts.
Conclusions
CLO was used to support ontological representation, integration, and analysis of over a thousand LINCS cell line cells and their cellular responses.
Keywords
Cell lineLincsData integrationOntologyCell line ontologyChEMBL
Background
Since immortalized cell lines were developed almost one century ago, various cell lines have been widely used to study various scientific biological and biomedical questions [1]. The NIH Common Fund Library of Integrated Network-based Cellular Signatures (LINCS) program [2] aims to create a network-based biological understanding of gene expression profiles and cellular processes when cells, mostly cell line cells, are exposed to various experimental conditions and perturbing agents (http://www.lincsproject.org/). Diverse, multi-dimensional datasets have been generated by LINCS groups and laboratories and used to generate extensive results and software programs. A major challenge is how to integrate large amounts of LINCS-generated data into a comprehensive integrative understanding of cellular signatures [3]. Given that cell line cells play a critical role in LINCS studies, it is possible to use cell line cells as a hub pointing to semantics link and integrate various molecular and cellular signatures and networks to address various biomedical questions.
Co-developed by many groups and societies, including the Cell Type Ontology (CL) [3], Ontology for Biomedical Investigations (OBI) [4], BioAssay Ontology (BAO) [5], Drug Target Ontology (DTO) [6], Vaccine Ontology (VO) [6, 7], the European Bioinformatics Institute (EBI), and the Japan Riken BioResource Center, the community-based Cell Line Ontology (CLO) [8] aims to comprehensively represent cell line cells, cell lines, and their related entities such as corresponding cell types, tissues, organs, organisms, and possible diseases. CLO is developed by following the principles of the Open Biological and Biomedical Ontologies (OBO) Foundry [9]. Currently, CLO represents nearly 40,000 cell lines from various resources such as the American Type Culture Collection (ATCC) (http://www.atcc.org/), HyperCLDB [10], Coriell Cell lines (https://catalog.coriell.org/), and Japan Riken cell lines (http://cell.brc.riken.jp/en/). CLO has been used in many projects such as BAO development [5], Beta cell genomes [11], Chromosome-Centric Human Proteome Project [12], ChEMBL database [13], and Cellosaurus (http://web.expasy.org/cellosaurus/). Among these resources, the ChEMBL database, a large-scale bioactivity database developed by the EBI [13, 14], is for drug-like compounds and contains many cell lines and their cross-references in different resources including CLO and LINCS.
In this study, we report our work on updating CLO to include all LINCS cell lines and additional information required by LINCS projects. Such a comprehensive and integrative representation makes CLO able to coherently represent and study all LINCS cell lines together. To support LINCS integrated study of cellular features and signatures, we have also updated CLO to include additional design patterns using the cell line model MCF 10A cell line cells.
Methods
The overall workflow of this project (Fig.
1
) includes and integrates different methods of this study. Specific methods of this pipeline are described below.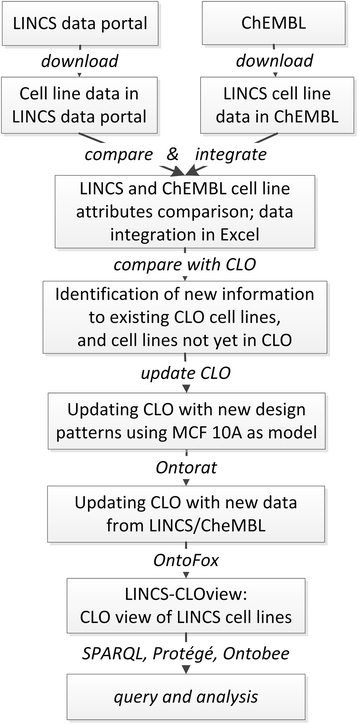 Discussion
The contributions of this study are multiple. First of all, we systematically annotated the LINCS cell lines and integrated the information of the cell lines from different resources to CLO. Second, two more object properties, including 'is disease model for' and 'derives originally from patient with disease', were newly generated in CLO in order to use CLO to represent the information of LINCS cell lines. Third, using MCF 10A, we show how to use CLO to represent cell line cell features and a cellular response to an extracellular agent. Fourth, we generated the LINCS-CLOview, a CLO community view for the LINCS research community, which will serve as a CLO standardized module for LINCS data integration and coordination. Fifth, useful information about the LINCS cell lines was obtained via analyzing LINCS-CLOview. Given well-defined class hierarchy and axiom assertions and OWL reasoning, our analyses showed that ontology SPARQL was also able to query results for different use cases. This study is timely updating and implementation of CLO for enhanced cell line data integration and analysis features.
We have for the first time showed in this study how to use CLO to represent specific cellular responses to agents such as collagen, Latrunculin A, or transfection agents. Such treatments make the cells form 3D growth, apoptosis, or a new cell line cell type. Each cellular process is represented separately based on its own characteristics. More specifically, for each process, we typically use the pattern of 'participates in' some specific process which is either a term obtained from an existing ontology such as GO, or a term generated in CLO if such a process term cannot be found from any existing community-based ontology. After such modeling discussed and agreed by the manuscript reviewers and presentation audience, we plan to extend such design patterns to represent cellular responses of other CLO cell line cells.
To our knowledge, this article is the first report of implementing CLO by developing a CLO community view (or slim) to serve a specific community, in this case, the LINCS research community. Since tens of thousands of cell lines have been represented in CLO, it is not efficient to use the whole CLO for LINCS cell line related research. The generation of LINCS-CLOview in this study allows the standardization and modularization of the LINCS cell lines, which facilitates the better analysis and reuse of the LINCS cell line information. Such a strategy can also be used to represent and study cell lines used by other communities.
One advantage of this CLO-based LINCS cell line representation is to bring together different cell line resources (e.g., LINCS, ChEMBL, and Cellosaurus) with the framework of CLO. Our integration of LINCS cell lines and CLO ensures the consistency and integrity of the cell line data across multiple resources. In many cases, a key challenge of systematically studying diverse systems biology signature data such as LINCS is the difficulty in integration of different data types and information related to various cell lines. LINCS-CLOview provides a cell line-oriented semantic framework and foundation for integrating different cell line study results and supporting systematical analysis of cellular signatures and network studies.
Our future work will include different directions. One major direction is to apply the ontological representation of LINCS cell lines in LINCS-CLOview to systematically study cellular molecular markers. For example, we can study cellular markers based on different criteria such as disease, cell type, tissue, and organ. As illustrated in Figs. 6 and 7, if we want to study cervix carcinoma, we can easily identify 17 related cell lines. The hierarchical structures of different types of entities are useful since you can often find more information. For example, based on the Fig. 6 hierarchy, there are clearly more than 2 cell lines that are related to cervix carcinoma. Another possible future work is to apply LINCS-CLOview to map cell lines to specific experimental LINCS datasets or specific project(s) and identify scientific insights that associate different types of cell line cells with experimental conditions. We also plan to study cell line cell-specific gene/protein interactions and pathways and compare them based on different types of cell line classifications.
As a community-based ontology, the CLO team is also collaborating with other research projects that heavily use cell lines, such as the European Bioinformatics Institute (EBI) that uses many cell lines in their EBI projects. EBI uses the Experimental Factor Ontology (EFO) to represent various experimental factors such as cell line cells. We are now teaming with EBI to synchronize the cell line cells in EFO and CLO. We are also working with the China Cell Line Bank group to add their cell lines and their specific needs to CLO. Such activities will make CLO a more community-based centralized ontology source for cell line cell representation, supporting integrative cellular research to solve different scientific questions.
Conclusions
In summary, we updated CLO by incorporating the information of all identified LINCS cell lines and used CLO to model cellular responses to different cell culture growth conditions and perturbations. LINCS-CLOview, a CLO subset of the LINCS cell line information, was generated and analyzed to better understand LINCS cell line information.
Abbreviations
ATCC:

American Type Culture Collection
BAO:

BioAssay Ontology
CL:

Cell Ontology
CLO:

Cell Line Ontology
EBI:

European Bioinformatics Institute
EFO:

Experimental Factor Ontology
LINCS:

NIH Common Fund Library of Integrated Network-based Cellular Signatures
NIH:

National Institutes of Health
OBI:

Ontology for Biomedical Investigations (OBI)
OBO:

Open Biological and Biomedical Ontologies
Declarations
Acknowledgements
The authors would like to thank the suggestions and comments from LINCS Consortium. The authors also would like to thank the organizers and reviewers of Cell in Experimental Life Sciences (CELLS) workshop and the 2017 International Conference on Biomedical Ontology (ICBO) conference.
Funding
This work was supported by grant U54HL127624 (BD2K LINCS Data Coordination and Integration Center, DCIC) awarded by the National Heart, Lung, and Blood Institute through funds provided by the trans-NIH Library of Integrated Network-based Cellular Signatures (LINCS) Program (http://www.lincsproject.org/) and the trans-NIH Big Data to Knowledge (BD2K) initiative (https://commonfund.nih.gov/bd2k). LINCS is an NIH Common Fund projects. This project was also supported by a BD2K-LINCS DCIC external data science research award. The publication charge was paid by the BD2K-LINCS DCIC external data science research award.
Authors' contributions
EO contributed to resource mapping, programming, and data analysis; JX, ZZ, QL, and YH provided manual verification and ontology editing. SS and YL supported insightful CLO discussion; VS, DC, CC, and SS provided LINCS cell line data, discussion, and analysis. SS and YH provided project design, data analysis, and discussion. YH prepared the first manuscript draft, and all authors contributed to the manuscript writing and reviews. All authors read and approved the final manuscript.
Competing interests
The authors declare that they have no competing interests.
Consent for publication
Not applicable.
Ethics approval and consent to participate
Not applicable.
Publisher's Note
Springer Nature remains neutral with regard to jurisdictional claims in published maps and institutional affiliations.
Open AccessThis article is distributed under the terms of the Creative Commons Attribution 4.0 International License (http://creativecommons.org/licenses/by/4.0/), which permits unrestricted use, distribution, and reproduction in any medium, provided you give appropriate credit to the original author(s) and the source, provide a link to the Creative Commons license, and indicate if changes were made. The Creative Commons Public Domain Dedication waiver (http://creativecommons.org/publicdomain/zero/1.0/) applies to the data made available in this article, unless otherwise stated.
Authors' Affiliations
(1)
Department of Computational Medicine and Bioinformatics, University of Michigan, Ann Arbor, USA
(2)
Unit of Laboratory Animal Medicine and Department of Micro biology and Immunology, University of Michigan, Ann Arbor, USA
(3)
Samples, Phenotypes and Ontologies Team, European Bioinformatics Institute (EMBL-EBI), European Molecular Biology Laboratory, Cambridge, UK
(4)
Department of Molecular and Cellular Pharmacology, University of Miami, Miami, USA
(5)
BD2K LINCS Data Coordination and Integration Center, University of Miami, Miami, USA
(6)
Center for Computational Science, University of Miami, Miami, USA