Methodology article

Open Access
A statistical approach to identify, monitor, and manage incomplete curated data sets
BMC Bioinformatics
BMC series – open, inclusive and trusted
2018
19:110
Received: 5 July 2017
Accepted: 21 March 2018
Published: 2 April 2018
Abstract
Background
Many biological knowledge bases gather data through expert curation of published literature. High data volume, selective partial curation, delays in access, and publication of data prior to the ability to curate it can result in incomplete curation of published data. Knowing which data sets are incomplete and how incomplete they are remains a challenge. Awareness that a data set may be incomplete is important for proper interpretation, to avoiding flawed hypothesis generation, and can justify further exploration of published literature for additional relevant data. Computational methods to assess data set completeness are needed. One such method is presented here.
Results
In this work, a multivariate linear regression model was used to identify genes in the Zebrafish Information Network (ZFIN) Database having incomplete curated gene expression data sets. Starting with 36,655 gene records from ZFIN, data aggregation, cleansing, and filtering reduced the set to 9870 gene records suitable for training and testing the model to predict the number of expression experiments per gene. Feature engineering and selection identified the following predictive variables: the number of journal publications; the number of journal publications already attributed for gene expression annotation; the percent of journal publications already attributed for expression data; the gene symbol; and the number of transgenic constructs associated with each gene. Twenty-five percent of the gene records (2483 genes) were used to train the model. The remaining 7387 genes were used to test the model. One hundred and twenty-two and 165 of the 7387 tested genes were identified as missing expression annotations based on their residuals being outside the model lower or upper 95% confidence interval respectively. The model had precision of 0.97 and recall of 0.71 at the negative 95% confidence interval and precision of 0.76 and recall of 0.73 at the positive 95% confidence interval.
Conclusions
This method can be used to identify data sets that are incompletely curated, as demonstrated using the gene expression data set from ZFIN. This information can help both database resources and data consumers gauge when it may be useful to look further for published data to augment the existing expertly curated information.
Keywords
Zebrafish Danio rerio Gene expressionMachine learningCuration
Background
In recent years, the biological sciences have benefited immensely from new technologies and methods in both biological research and computer sciences. Together these advances have produced a surge of new data. Biological research now relies heavily upon expertly curated database resources for rapid assessment of current knowledge on many topics. Management, organization, standardization, quality control, and crosslinking of data are among the important tasks these resources provide. It is commonplace today for these data to be widely shared and combined, increasing the impact that incomplete or incorrect data may have on downstream data consumers. Although assessing how complete or correct a large data set may be remains a challenge, examples have been reported. Examples include computational methods for identifying data updates and artifacts that may be of interest to downstream data consumers [1], machine learning methods to identify incorrectly classified G-protein coupled receptors [2], and to improve the quality of large data sets prior to quantitative structure-activity relationship modeling [3]. The completeness and quality of curated nanomaterial data has also been explored [4].
What does it mean for a data set to be "complete" or "incomplete"? Data can be incomplete in two ways: missing values for variables, or missing entire records which could be included in a data set. Handling missing variable values in statistical analyses is a complex topic outside the scope of this article. In the context of this work, "complete" means all currently published data of a specific type is present in the data set with no missing values for any variables. In this study, data from the ZFIN Database has been used to find genes that have an incomplete gene expression data set, genes for which there exist published but not yet curated gene expression data.
There are several reasons data repositories may not include all relevant published data, including high data volume, selective partial curation, delays in data access, and release of data prior to the ability to curate it. High data volume can result in the need for prioritization of the incoming data stream. For example, ZFIN is the central data repository for expertly curated genetic and genomic data generated using the zebrafish (Danio rerio) as a model system [5]. One major data input to ZFIN is the published scientific literature. A search of PubMed for all zebrafish literature shows that this corpus has consistently increased in volume by 10% every year since 1996 resulting in a greater than 10-fold increase in the number of publications processed by ZFIN in 2016 (2865 publications) compared to 1996 . Such increases necessitate prioritization to focus effort on the data deemed most valuable by the research community. As a result, curation of some publications is delayed or prevented all together. ZFIN currently includes curated data from approximately 25% of the incoming literature within 6 months of publication.
Data sets can also be incomplete relative to what has been published if publications are curated for selective data types. Publications that are not fully curated when they initially enter a database may later be partially curated during projects focusing on specific topics. For example, the gene functions were curated from all the publications associated with genes involved in kidney development [6]. In such cases, publications may get functional data, but no other data types, curated.
Delayed data access also contributes to curated data sets being incomplete. There is significant variation in how soon the full text of a publication may be available. Some journals have embargo periods which restrict publication access to those with personal or institutional subscriptions. Delayed access to the full text of publications slows data entry into data repositories, such as ZFIN, which require the full text to curate. ZFIN currently obtains full text for approximately 50%, 80%, and 90% of the zebrafish literature within 6 months, 1 year, and 3 years of publication respectively.
Incompletely curated data sets also result when new data types are published prior to database resources having the ability to curate those data. Curation of gene expression data commenced at ZFIN in 2005 [7]. Curating papers from earlier years, known as "back curation", is something that many curation teams don't have resources to support. Gene expression data published earlier than 2005 may only be curated at ZFIN if they were brought forward as part of an ongoing project or topic focused curation effort in subsequent years.
Why is it important to know if a data set includes all relevant published data? This knowledge can help database resources focus expert curation effort where it is needed. Likewise, if a researcher is aware that a data set may be missing records, they may look further for additional relevant published data to complete the data set. Having knowledge of all the published data helps to avoid wasted time, money, and effort repeating work already done by others, and also helps to avoid flawed hypothesis generation based on incomplete data.
In recent years, natural language processing (NLP) and machine learning methods have been widely used in the field of genetics and genomics on tasks such as prediction of intron/exon structure, protein binding sites, gene expression, gene interactions, and gene function [8]. In addition, model organism databases have used NLP and machine learning methods for over a decade to manage and automate processing of the increasing volume of publications that must be identified, prioritized, indexed, and curated [9–13]. These methods are applied to the incoming literature stream, prior to curation. Machine learning methods can also have utility after curation in maintaining the quality and completeness of curated data sets. The aim of this study was to provide a statistical approach to identify curated data sets that may be incomplete relative to what has been published. The ZFIN gene expression data set was the use case for this study. Researchers and data management teams alike can use the output of this method to guide resource allocation, decision making, and interpretation of data sets with insight into whether additional data may be available to augment an expertly curated data set.
Discussion
Expertly curated biological database resources contain highly accurate data [15]. Sometimes accuracy comes at the expense of being comprehensive due to prioritization of resource utilization, delayed data access, or publication of data that pre-dates its ability to be stored in a knowledge base. Efficient methods for identifying areas where data have been published but not yet curated are important for curators of data resources and users of those data resources alike. In this manuscript, the ZFIN gene expression data set was used as a test case to develop such a method. This method should be broadly applicable to any data set of sufficient size, as long as the proper predictive features can be identified. In the case of the ZFIN gene expression data, which has been captured from published literature by expert curators since 2005, the number of journal publications associated with a gene was an extremely good predictor of how many gene expression experiments a gene should have. This resulted in a simple linear model comprised of five variables. When the model was initially tested, genes associated with transgenic constructs were being reported with high significance as missing gene expression data, when in fact they were not. In some cases, genes associated with transgenic constructs had many dozens of publications associated with them which had no gene expression data for that gene. Perhaps the promoter of the gene was used in the construct for example, as is the case for the hsp70l gene. If that transgenic line was widely published, many publications ended up being associated with the gene because of the construct, even if there were no gene expression data for that gene in those publications. This led to the identification of the number of transgenic constructs per gene as an important variable in the model for those specific genes that were associated with constructs.
The process used here to identify incomplete curated gene expression data sets at ZFIN should be generalizable to other data sets, as summarized in Fig.
6
. One key to extending this method to other data types is feature engineering, the use of domain knowledge to identify and craft variables having predictive value towards the desired variable. To find those predictive variables, data exploration and domain knowledge must first be applied to create a list of variables that may have predictive power. It is good to be inclusive at this point as it is not always possible to know which variables, variable derivatives, or variable interactions may be useful. In some cases data transformation, normalization, or computed values, such as the number of days since a record was last edited, may hold predictive value. There are many feature engineering techniques outside the scope of this paper which may be helpful in preparing data from other data sets. Once the data are assembled, the model training and testing process provides measures of model accuracy and predictive power of each variable. The best model will typically be the simplest model that still accurately represents the data. Variables that exhibit low predictive power should be dropped and the model re-trained and tested. This feature engineering, training and testing process is repeated iteraitively until model performance is acceptable and further removal of variables degrades model performance. A linear model was a good fit for the data examined in this work, but other data sets may be better fit using other types of models. The residual histogram provides one way to evaluate whether significant variables remain unaccounted for. Models with adequate variable representation have a bell shaped residual histogram centered around zero. If the histogram shape has "shoulders" or appears multi-modal, this is an indication that one or more variables are yet to be accounted for in the model, suggesting that the further feature selection and engineering could improve the model.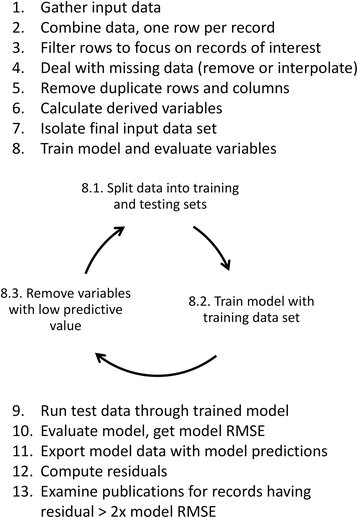 At ZFIN, every incoming zebrafish publication is associated with the genes discussed, even though not all the publications are fully curated. Hence, in ZFIN, the complete available literature across all genes is well represented, and thus the volume of published literature about a gene has a positive correlation with the amount of published data which exists for a gene. However, not all biological knowledgebases gather data using the same strategies. The method described here may not work as well for datasets that have more heterogenous representation of the published literature or other key variable. For example, a database which is populated with data by searching the literature for information about a specific record (gene, protein, etc.) may have deep representation of existing literature on the subset of records which have been researched and shallow representation of existing literature on other records. Heterogeneity of literature coverage of this type would detract from the predictive value of pure literature counts as were used for the ZFIN example. In such cases, other types of predictive variables would need to be identified through data exploration and feature engineering. These may include things such as the number of days since the last record update, number of data types associated, the presence of publications in specific journals, and presence of other potentially correlated data types. In some cases, it may be helpful to bring in additional data from external sources that can be linked to the data being examined. For example, UniProt records may not be associated with the complete literature about a protein or the associated gene. UniProt data for zebrafish proteins could be combined with the literature set from ZFIN for each related gene. This may increase the predictive value of the count of publications for identifying protein records in UniProt that are missing a piece of data of interest. Creative variable engineering will always be a critical step in successful application of this method.
The method described here produces a binary classification of genes that are predicted to be or not to be missing expression data based on the residual values being inside or outside the 95% CI of the model. A binary classification model makes sense for this problem. Unlike a binary classification, regression models result in a real number prediction of the label, in this case the number of gene expression experiments per gene. The regression model has the added possibility of providing a quantitative metric whose magnitude may correlate with the level of incompleteness of the data set. Confirmation of that possibility will require significant effort which should be the subject of future work.
This method can provide curators with a list of genes having published gene expression data that is yet to be curated. Therefore, the high precision outcome is important as it ensures that curators spend time reviewing publications for genes that are missing data. The model resulted in a recall/sensitivity of 0.71 and 0.73 at the lower and upper 95% CI, meaning 71% and 73% of the genes that were confirmed to be missing gene expression data were identified. From the perspective of a data curator, modest recall is acceptable for this method because subsequent rounds of model training and testing could be executed to iteratively refine and complete the data set. Genes that were not identified as missing data in the initial round of training and testing would eventually be identified in subsequent cycles of training, testing, and data updating. From the perspective of a data consumer, it would be beneficial to correctly identify as many genes as possible which have incomplete gene expression data sets. If future work finds that the magnitude of the residuals correlates well with the amount of missing expression data, then the residual itself could be provided to downstream data consumers as a metric of data set completeness for every gene included in the test set.
Machine learning methods are having significant impact upon many areas of our experience as scientists. As the field of data science has matured, these methods have become powerful tools for analysis, interpretation, and utilization of the increasingly large and interrelated data sets available today including numeric, free text, and image data. This work provides a machine learning approach to monitor data set completeness. It is concluded that this method could be used to identify incomplete data sets of any type curated from published literature, assuming proper predictive variables can be identified to build an accurate model.
Declarations
Acknowledgements
I would like to thank Monte Westerfield for his support of this work, Sierra Taylor Moxon for generating the MachineLearningReport.txt file, and the rest of the ZFIN team for their consistent dedication to producing and maintaining a high-quality resource at ZFIN.
Funding
This work was supported by grant U41 HG002659 from the National Human Genome Research Institute of the National Institutes of Health (https://www.nih.gov). The funders had no role in study design, data collection and analysis, decision to publish, or preparation of the manuscript.
Availability of data and materials
The datasets supporting the conclusions of this article are included within the article and its additional files.
Authors' contributions
DH created the study design, and conducted the data collection, analysis, validation, and writing of the manuscript. The author read and approved the final manuscript.
Ethics approval and consent to participate
Not applicable.
Consent for publication
Not applicable.
Competing interests
The author declares that he has no competing interests.
Open AccessThis article is distributed under the terms of the Creative Commons Attribution 4.0 International License (http://creativecommons.org/licenses/by/4.0/), which permits unrestricted use, distribution, and reproduction in any medium, provided you give appropriate credit to the original author(s) and the source, provide a link to the Creative Commons license, and indicate if changes were made. The Creative Commons Public Domain Dedication waiver (http://creativecommons.org/publicdomain/zero/1.0/) applies to the data made available in this article, unless otherwise stated.
Authors' Affiliations
(1)
The Institute of Neuroscience, University of Oregon, Eugene, USA