Methodology article
Open Access
Incorporating functional inter-relationships into protein function prediction algorithms
BMC Bioinformatics
2009
10:142
Received: 15 October 2008
Accepted: 12 May 2009
Published: 12 May 2009
Abstract
Background
Functional classification schemes (e.g. the Gene Ontology) that serve as the basis for annotation efforts in several organisms are often the source of gold standard information for computational efforts at supervised protein function prediction. While successful function prediction algorithms have been developed, few previous efforts have utilized more than the protein-to-functional class label information provided by such knowledge bases. For instance, the Gene Ontology not only captures protein annotations to a set of functional classes, but it also arranges these classes in a DAG-based hierarchy that captures rich inter-relationships between different classes. These inter-relationships present both opportunities, such as the potential for additional training examples for small classes from larger related classes, and challenges, such as a harder to learn distinction between similar GO terms, for standard classification-based approaches.
Results
We propose a method to enhance the performance of classification-based protein function prediction algorithms by addressing the issue of using these interrelationships between functional classes constituting functional classification schemes. Using a standard measure for evaluating the semantic similarity between nodes in an ontology, we quantify and incorporate these inter-relationships into the k-nearest neighbor classifier. We present experiments on several large genomic data sets, each of which is used for the modeling and prediction of over hundred classes from the GO Biological Process ontology. The results show that this incorporation produces more accurate predictions for a large number of the functional classes considered, and also that the classes benefitted most by this approach are those containing the fewest members. In addition, we show how our proposed framework can be used for integrating information from the entire GO hierarchy for improving the accuracy of predictions made over a set of base classes. Finally, we provide qualitative and quantitative evidence that this incorporation of functional inter-relationships enables the discovery of interesting biology in the form of novel functional annotations for several yeast proteins, such as Sna4, Rtn1 and Lin1.
Conclusion
We implemented and evaluated a methodology for incorporating interrelationships between functional classes into a standard classification-based protein function prediction algorithm. Our results show that this incorporation can help improve the accuracy of such algorithms, and help uncover novel biology in the form of previously unknown functional annotations. The complete source code, a sample data set and the additional files for this paper are available free of charge for non-commercial use at http://www.cs.umn.edu/vk/gaurav/functionalsimilarity/.
Keywords
Gene OntologySemantic SimilarityTarget ClassProtein Function PredictionSemantic Similarity Measure
Background
A variety of recently available high throughput data sets, such as protein-protein interaction networks, microarray data and genome sequences, offer important insights into the mechanisms leading to the accomplishment of a protein's function. However, the complexity of analyzing these data sets manually has motivated the development of numerous computational approaches for predicting protein function [1, 2]. For a recent comprehensive survey on this topic, see Pandey et al (2006) [3].
One of the most popular methods used for predicting protein function from biological data is classification [4–6]. Under the traditional classification framework, each protein is represented by a set of features, such as the expression profile of its corresponding gene or the set of proteins it interacts with. Now, for each functional class, a model is constructed using the feature sets of the proteins annotated with this class. This model is then used to decide if an unannotated query protein should be annotated with this class. The key premise underlying this methodology for predicting protein function is that proteins belonging to the same functional class have "similar" biological attributes.
Standard classification or predictive modeling techniques for function prediction rely on positive and negative examples from functional classification schemes, such as the Gene Ontology [7] or FunCat [8], and typically treat each functional class separately. However, this standard approach fails to capture one of the key properties of such classification schemes: most schemes not only provide annotations to functional classes, but also capture inter-relations between the functional classes. For example, the Gene Ontology (GO) is arranged as a directed acyclic graph in which the GO terms form a hierarchy capturing everything from relatively general functions (e.g. metabolism) to specific biological roles (e.g. nucleotide excision repair). Such an organization of classes, particularly in the case of GO, poses two important challenges for predictive modeling techniques for function prediction. First, several studies [9–11] have concluded that proteins in inter-related, or similar GO functional classes tend to have similar biological attributes. This limits the applicability of the key premise of classification-based function prediction discussed above, since distinguishing between such similar GO classes becomes hard.
The second important issue that arises is that it is often hard to construct reliable classification models for several functional classes from a given data set due to complex issues including noise in the data, low relevance of the data set for some functional classes, and an insufficient number of training examples for building accurate classification models [
12
]. These issues, particularly the last one, are expected to most severely affect functional classes having few members, which also include classes located deep in a functional hierarchy. This difficulty of constructing reliable classification models is illustrated in Figure
1
for two classes from the GO biological process ontology, which have 383 and 54 member proteins in Mnaimneh
et al
's gene expression data set [
13
], representing a large class (GO:0051252) and a class of median size (GO:0006352) respectively. The histograms in this figure show, for each protein in these classes, how many proteins in its neighborhood belong to the same class. Neighborhood is restricted to the twenty proteins with the most similar expression profiles to the query protein, using correlation as the similarity measure. These plots show that for most of the proteins in both the large, as well as the much smaller class, only a limited number of similar proteins in the same class are available. For instance, in the large class, 243 of the 383 member proteins have less than three similar proteins in the same class, while two is the maximum number of neighboring proteins of the same class for proteins in the smaller class. In fact, 40 of the 54 proteins in the smaller class have no proteins of the same class in their neighborhood. This lack of enough training examples having characteristics similar to the query protein, which occurs due to the issues discussed above, illustrates the difficulty of building classification models for functional classes, particularly for the small ones.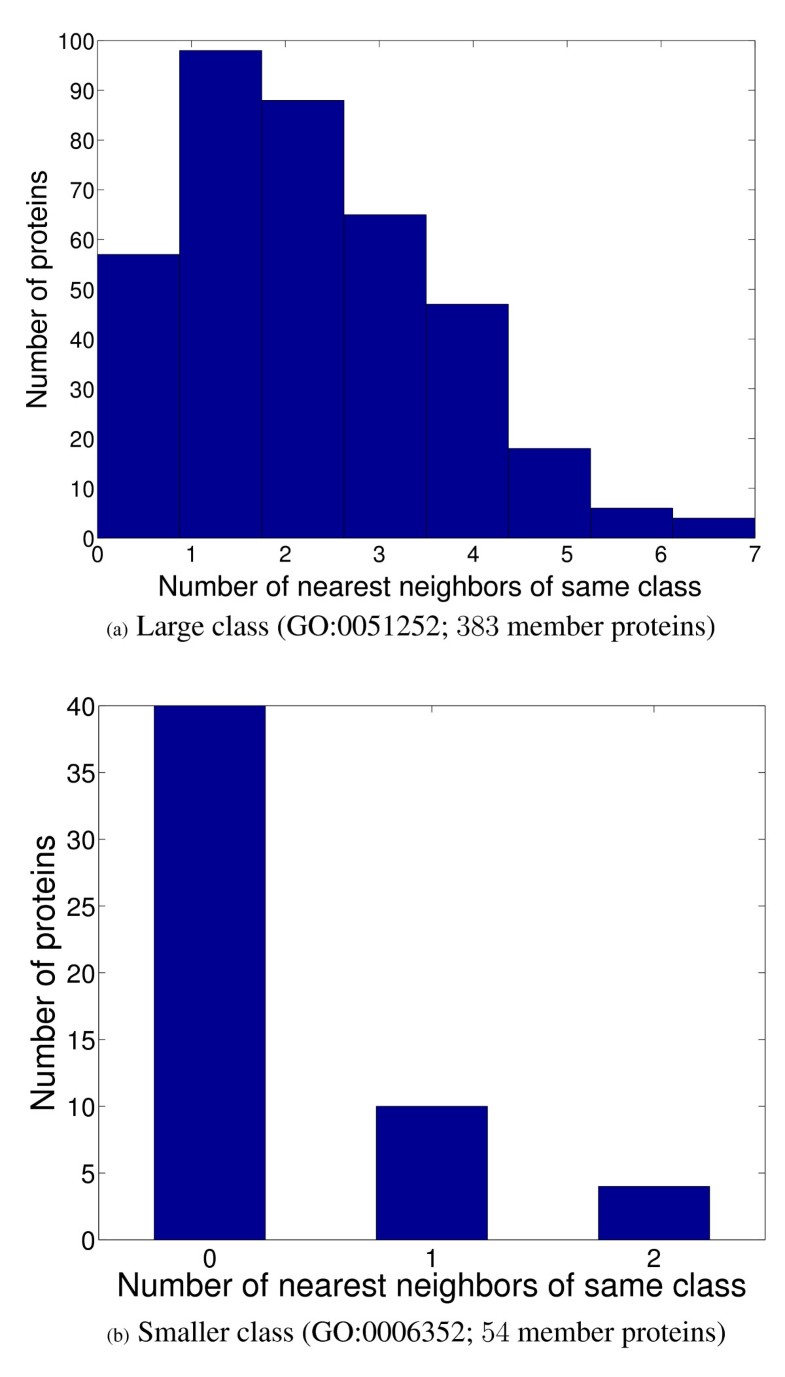 However, the availability of the same well-defined structure of relationships between functional classes in the form of Gene Ontology raises the following key question: "Can the performance of standard classification algorithms for function prediction be improved by incorporating these inter-relationships into them?". In this paper, we address this question using an approach shown visually in Figure
2(a)
. As illustrated by this figure, our approach uses evidence in neighboring proteins belonging to similar classes to bolster the evidence for annotation of the query protein with the target class. Evidence for the abundance of proteins belonging to classes similar to the target class in the neighborhood of a query protein, and hence the applicability of such an approach is presented in Figure
2(b)
for the target class of median size (GO:0006352) discussed in Figure
1(b)
. Here, the semantic similarity of all the classes with the target class, calculated using Lin's measure [
14
], is plotted against the average number of nearest neighbors of the corresponding class in the nearest neighborhood of a protein belonging to the target class. As can be seen from this scatter plot, even though the average frequency of the target class (similarity = 1) is very small (less than 0.5), there are several classes, such as GO:0006366, GO:0051252 and GO:0016072, that are more abundant, and have a substantial semantic similarity with the target class (over 0.4). This similarity can be used to enrich the information available in the neighborhood of proteins being tested for a target class. Our approach is based on this principle.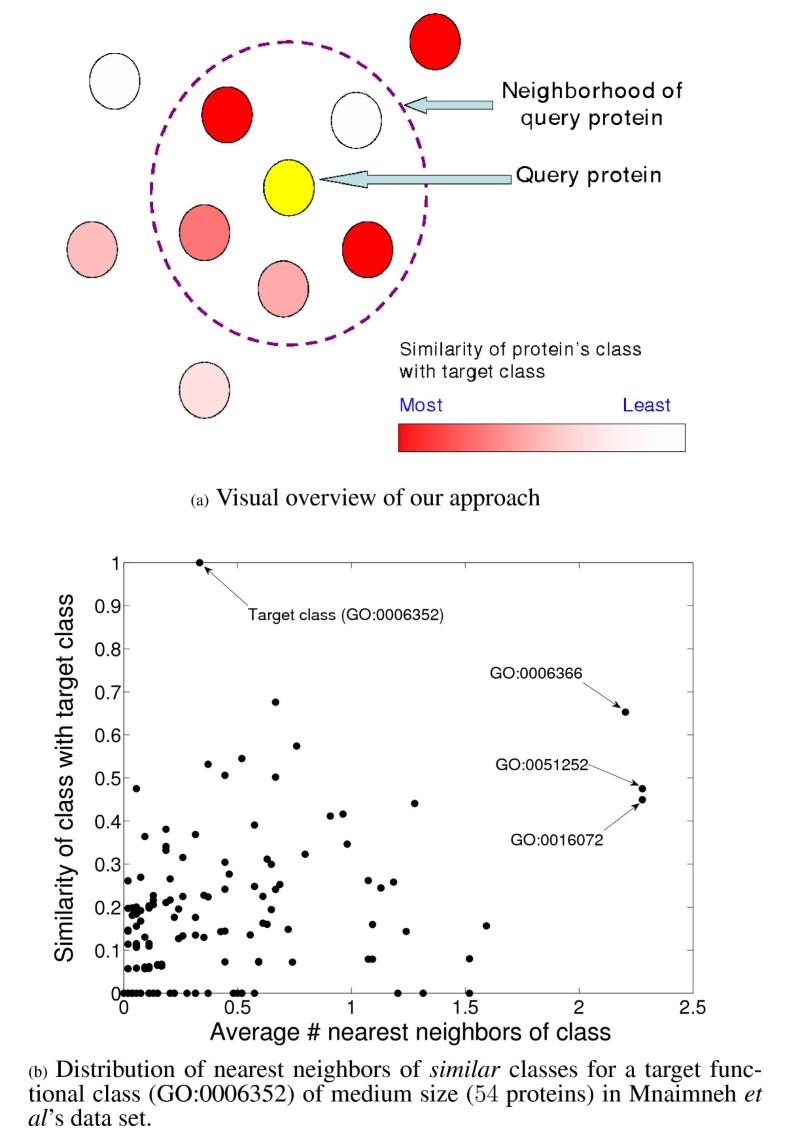 More specifically, using Lin's measure [14] for evaluating the semantic similarity between classes in an ontology, we incorporate such functional interrelationships into the k-nearest neighbor classifier [4]. We evaluate our algorithm on two large microarray data sets [13, 15], a recent protein interaction data set [16] and a combination of interaction and microarray data sets, each of which is used for the modeling and prediction of over hundred classes from the GO Biological Process ontology. The results show that, compared to the base k-NN classifier, this incorporation produces more accurate predictions for many of the functional classes considered, and also that the classes benefitted most by this approach are those containing the fewest members. We also illustrate how the proposed framework can be used for integrating information in the entire GO Biological Process ontology to improve the accuracy of prediction over a set of target classes. Finally, we provide qualitative and quantitative evidence that this incorporation of functional inter-relationships enables the discovery of interesting biology in the form of novel functional annotations for several yeast proteins, such as Sna4, Rtn1 and Lin1.
Note that since the rest of the discussion in this paper will be concerned with classification within the context of GO, the terms (functional) class, (GO) term, node (in an ontology) and label will be used interchangeably in the rest of the text.
Related Work
Recently, some approaches have been proposed to address the problem of incorporating inter-relationships between functional classes in GO into function prediction algorithms. These approaches can be categorized using the following two types of relationships between classes constituting the DAG-based functional hierarchies in GO:
Parent-child relationships
The basic structure of the ontologies in GO is constructed from edges between parent and children terms. Some approaches have recently been proposed for enforcing the consistency required by these relationships, namely a protein annotated with a child node must be annotated with the parent node, into function prediction algorithms. Barutcuoglu et al [17] proposed a Bayesian network-based approach for this incorporation. In this work, they trained individual SVM classifiers on all the nodes of the hierarchy. Then, by constructing a Bayesian network using the structure of the ontology, the predictions of all the nodes were corrected iteratively in order to ensure consistency between parent-child annotations throughout the hierarchy, obtaining significant improvements over the individual classifiers. Carroll and Pavlovic [18] proposed a similar approach using probabilistic chain graphs for this problem. However, due to the limited evaluation experiments on small hierarchies, it is unclear how the performance of this approach would scale for a large set of classes from GO. Some other researchers, such as Shahbaba and Neal (2006) [19], have also studied this problem, although their techniques are limited to tree-structured hierarchies.
Sibling and other distant relationships
An effect of the structure of the ontologies in GO is the formation of sibling relationships between nodes that are children of the same parent. These relationships can be further generalized to extended family relationships, such as cousin and other more distant relationships. King et al [20] approached the problem of incorporating these distant relationships into function prediction algorithms by predicting the functions of a protein using the decision tree and Bayesian network models trained on the patterns of annotations of other proteins. Tao et al [21] extended King et al's approach further by augmenting the prediction model with the semantic similarity between different classes. Here, they used Lin's similarity measure [14], also used in our study but using a different definition, to measure the interrelationships between the functional classes in GO, and thus to measure the similarity between the sets of functional labels of two proteins. This similarity measure is then used within the framework of a k-nearest neighbor classifier for predicting whether an unannotated protein belongs to a certain functional class or not. The results of this study provided important evidence for the utility of semantic similarity between functional classes for enhancing the performance of function prediction algorithms. However, since this technique uses the known annotations of a protein to predict its other potential annotations, it can not make predictions for proteins with no known annotations, since such a protein will have no similarity to the other proteins using this measure. This motivates the need for methods that can incorporate external genomic data into the prediction process, so that similarity can be computed for both characterized and previously unannotated proteins alike. Our work takes this approach of augmenting biological data-based functional classification algorithms with inter-relationships between functional classes measured using standard semantic similarity measures. Notably, Yu et al have recently proposed a similar approach for this problem [22], where they use taxonomic similarity measures between functional classes to modify a simple protein function prediction algorithm. We compare our method with this approach.
The incorporation of both these types of relationships is important for making use of the information available in the entire hierarchy. One of the advantages of the direct incorporation of distant functional relationships, which is the focus of the latter set of studies, is that it is possible to incorporate information from nodes farther away in the hierarchy, as compared to the hierarchical incorporation approaches, which only utilize the subgraph of the hierarchy corresponding to the set of target classes. Our work provides a framework for incorporating these distant functional inter-relationships into standard function prediction algorithms. Notably, this task is more challenging than the hierarchical consistency enforcement problem since there is a much larger number of relationships between nodes to be considered than just the parent-child relationships, which are relatively fewer. This factor makes the incorporation of non-hierarchical relationships more challenging. Furthermore, as discussed above, we perform this augmentation using the biological characteristics of proteins captured in high-throughput genomic data, thus addressing one of the limitations of King et al's [20] and Tao et al's [21] studies. This enables us to make predictions for poorly annotated and unannotated proteins, for which experimental data, such as their interactions and expression profiles, are available. Our experimental results provide both qualitative and quantitative evidence for this advantage of our approach. We also present the results of a comparison between the performance of our and Yu et al's GEST [22] approach.
Our work is also related to the field of hierarchical and multi-label classification in machine learning and data mining [23]. However, most of the work in this field is not directly applicable to the problem of hierarchy-based protein function prediction, since these techniques don't take the hierarchical and multi-label nature of this classification simultaneously into account. Also, they consider limited, if any, relationships between the classes, which is the primary subject of this study.
Methods
Preliminaries
Semantic Similarity in an Ontology
In GO, nodes (classes or labels) are connected to other nodes through parent-child edges, which impose hierarchical inter-relationships between them. Also, the nodes contain member proteins that have been annotated with the corresponding functional class. Thus, it is possible to compute the similarity between two GO nodes, referred to as
semantic similarity
, on the basis of their relative positioning in the hierarchy, their contents, or a combination of both. Several information-theoretic semantic similarity measures have been developed for computing similarity between two concepts in a hierarchy, such as those by Lin [
14
], Resnik [
24
] and Jiang [
25
]. These measures evaluate the similarity of two nodes in terms of their proximity in the ontology, as well as their content. In particular, we use Lin's measure [
14
] as defined in Equation
1
.
Here, l1 and l2 are the labels (or nodes) between which similarity is being calculated, while p(l) denotes the probability of a protein being annotated with label l, and is estimated from the available set of GO annotations for an organism. Also,

, where S(l1, l2) is the set of common ancestors of l1 and l2. Thus, p ms (l1, l2) denotes the probability of the minimum subsumer of l1 and l2. Intuitively, this formulation measures the semantic similarity of l1 and l2 in terms of the contents of their minimum subsumer node in the ontology. Clearly, linsim(l1, l2) = 1 when l1 = l2, and linsim(l1, l2) = 0, when their minimum subsumer is the root of the ontology. An additional advantage of this measure is that it is bounded between [0, 1]. These fixed bounds are very useful for the incorporation of functional inter-relationships into prediction algorithms, as explained in the proposed approach section.
An example of a label similarity matrix computed for the set of functional classes used in this study is shown in Figure
3(a)
.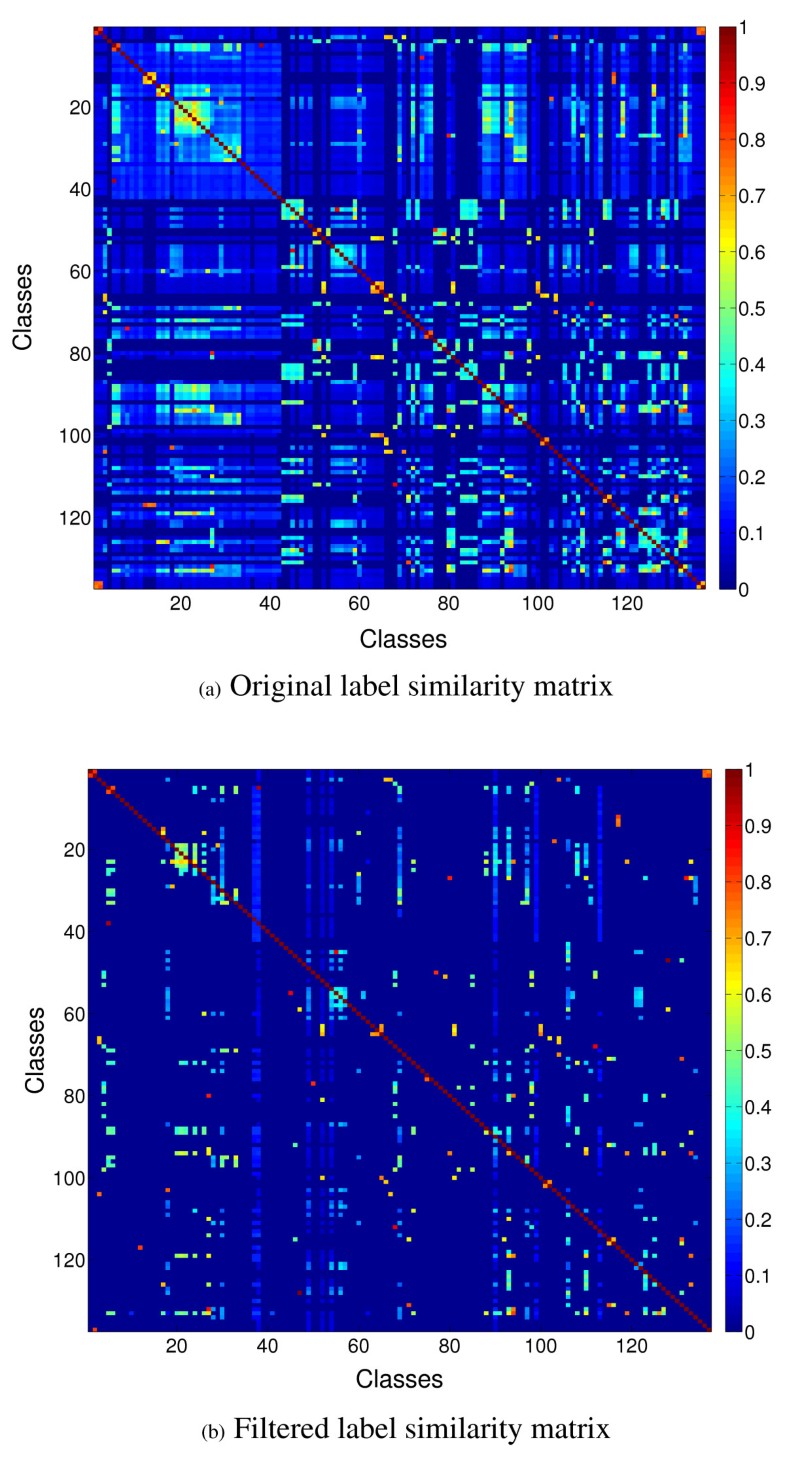 k-Nearest Neighbor Classifier
One of the most intuitive classification algorithms is the
k
-nearest neighbor (
k
-NN) classifier [
4
], which is based on the principle of abundance of the target label in the neighborhood of the query example. We use a weighted variant of this classifier, similar to the direct
k
-NN classifier used by Kuramochi and Karypis [
6
], which counts the abundance of each label in the neighborhood of size
k
of a protein, weighted by the feature similarity of the neighboring proteins having the corresponding label. Thus, if the feature set of a protein
p
is denoted by
feature
(
p
), then the likelihood score of a label
l
for a protein
p
is given by Equation
2
.
Here sim(feature(p), feature(p')) denotes the similarity between the feature vectors describing proteins p and p', and I is an indicator function that returns 1 if l belongs to the set of labels p' is annotated with, 0 for the other labels. Applying this formula for p for each label, and then repeating the calculation for all the proteins, produces a |proteins| × |labels| matrix, named LL basic , of likelihood scores. The performance of this algorithm for each label can then be evaluated using any threshold-free evaluation measure, which was chosen to be the area under the ROC curve (AUC score) [4] in our study.
We chose k-NN as the base classifier in our study since it is much simpler than other classification methods, such as SVM [4], and hence it is easier to incorporate additional factors into the model. Also, for the problem of protein function prediction, some authors have reported that with suitable parameter settings, k-NN produces comparable performance to SVM [6, 26, 27].
Proposed Approach
Modified classification algorithm
It can be observed from Equation
2
that
k
-NN is an additive model,
i.e.
, the likelihood scores are obtained by adding the contributions of all the examples in the neighborhood of the test example. Thus, it is intuitively easy to incorporate contributions from examples annotated with
similar
labels. This is implemented in our approach using Equation
3
.
Equation 3 represents a direct extension of the model described in Equation
2
, where, in addition to the label being tested (
l
), contributions are also taken from labels similar to
l
. The latter factor is incorporated into the model using the second term

, which denotes the sum of Lin's similarities between the target label
l
and all the other labels
l
' assigned to a neighboring protein
p
'. In fact, if
LL
basic
represents the |
proteins
| × |
labels
| like-lihood matrix derived using the direct
k
-NN model (Equation 2), and
LinSim
is the matrix of pairwise label similarities computed using Lin's similarity measure (Equation 1), then the above equation can be written conveniently as follows, where
LL
labelsim
contains the final likelihood scores.
Equation 4 makes the implementation of our approach much easier.
Filtering of label similarities
The label similarity matrix contains a value (however small or large) for each pair of labels. Many of these similarities, especially the smaller ones, are likely to be uninformative, since all the labels (functional classes here) are not expected to interact with all the others, particularly in a large diverse set of labels. Indeed, we observed a significant deterioration in the performance of the label similarity-incorporated classifiers when the raw label similarity matrix is used for incorporating inter-class relationships. In order to handle this issue, we used the following heuristic approach for filtering or sparsifying the label similarity matrix. For each label, we determined a filtering threshold using a cross-validation procedure. This threshold was determined by running a grid search over the interval [0, 1] in steps of 0.05. For each such threshold t, all the label similarities for this label that are less than t are converted to 0, and a leave-one-out cross-validation procedure is run over the training set to determine the AUC score of the resulting label similarity-incorporated classifier for this label. The threshold that results in the highest AUC score for the resultant label similarity-incorporated classifier is chosen as the filtering threshold for this label. Repeating this process for each label produces a set of thresholds, which is used to generate a filtered version of the original label similarity matrix. A filtered version of the label similarity matrix shown in Figure 3(a) is shown in Figure 3(b).
Note that such a cross-validation-based filtering procedure is expected to produce a more informative version of the original label similarity matrix that is expected to perform well for the unseen test set. However, one issue to consider for this filtering approach is that of consistency between the thresholds computed for the different labels using different training sets. We observed that this issue did not affect our results significantly, but should be considered when applying this approach to other data sets or problems.
Results and discussion
In this section, we compare the functional relationship-incorporated kNN classifiers with the base kNN classifiers for protein function prediction. This evaluation is conducted using both a cross-validation methodology, as well as a quantitative and qualitative evaluation of the predictions made by these classifiers for independent sets of test proteins. However, before presenting these results, we detail the data sets and the experimental methodology used for these evaluations.
Conclusion
In this paper, we demonstrated the utility of incorporating functional interrelationships into protein function prediction algorithms, in order to improve the predictions made by them. We modeled these relationships using Lin's semantic similarity measure [14] and modified the commonly used k-nearest neighbor classification algorithm in order to seek contributions from other classes, weighted by their semantic similarity with the target class. Cross-validation results on several large genomic data sets showed that this approach is able to improve the results for a large majority of the classes considered. In particular, a bigger improvement was seen for smaller classes, which are otherwise harder to model and predict. In addition, we also provided qualitative and quantitative evidence that this incorporation of functional inter-relationships enables the discovery of interesting biology in the form of novel functional annotations for several yeast proteins, such as Sna4, Rtn1 and Lin1.
Our work can be extended in several directions. It will be useful to incorporate the concept of functional similarity into SVMs, which do not have the additive characteristic like k-nearest neighbor, and other function prediction algorithms, such as FunctionalFlow [45] for protein interaction networks. Another important direction will be to carefully analyze the relationships between a set of target classes with all the other classes in the hierarchy, in order to incorporate more information into the classifiers, while reducing the effect of spurious relationships. As noted in the related work section, incorporating both parent-child and more distant relationships between classes into function prediction algorithms will be required for making optimal use of relationships constituting GO. For this, it will be useful to integrate our framework with the Bayesian network-based approach of Barutcuoglu et al [17] for enforcing parent-child consistency between the results of standard prediction algorithms. As an example of a possible methodology of integrating these approaches, distant functional relationships could be incorporated first using our technique, and then the resulting likelihood scores could be propagated hierarchically using the Bayesian network approach. Investigation of such schemes will be a topic of our future research.
Availability and requirements
Project Home Page: http://www.cs.umn.edu/vk/gaurav/functionalsimilarity/

Operating System(s): Platform independent.

Programming language: Matlab (Tested for version 7.4 and above, but expected to work with earlier versions also).

License: None.

Any restrictions to use by non-academics: This paper must be cited.
Declarations
Acknowledgements
We are thankful to Zafer Barutcuoglu, Yves Lussier and Jianrong Li for several fruitful discussions, and for providing us with useful information and data for the project. This work was supported by NSF grant CNS-0551551 and UMR BICB seed grants. Access to computing facilities was provided by the Minnesota Supercomputing Institute.
Authors' Affiliations
(1)
Department of Computer Science & Engineering, University of Minnesota, Minneapolis, USA
Copyright
© Pandey et al; licensee BioMed Central Ltd. 2009
This article is published under license to BioMed Central Ltd. This is an Open Access article distributed under the terms of the Creative Commons Attribution License (http://creativecommons.org/licenses/by/2.0), which permits unrestricted use, distribution, and reproduction in any medium, provided the original work is properly cited.