Hydra: software for tailored processing of H/D exchange data from MS or tandem MS analyses
BMC Bioinformatics
2009
10:162
Received: 02 February 2009
Accepted: 27 May 2009
Published: 27 May 2009
Abstract
Background
Hydrogen/deuterium exchange mass spectrometry (H/DX-MS) experiments implemented to characterize protein interaction and protein folding generate large quantities of data. Organizing, processing and visualizing data requires an automated solution, particularly when accommodating new tandem mass spectrometry modes for H/DX measurement. We sought to develop software that offers flexibility in defining workflows so as to support exploratory treatments of H/DX-MS data, with a particular focus on the analysis of very large protein systems and the mining of tandem mass spectrometry data.
Results
We present a software package ("Hydra") that supports both traditional and exploratory treatments of H/DX-MS data. Hydra's software architecture tolerates flexible data analysis procedures by allowing the addition of new algorithms without significant change to the underlying code base. Convenient user interfaces ease the organization of raw data files and input of peptide data. After executing a user-defined workflow, extracted deuterium incorporation values can be visualized in tabular and graphical formats. Hydra also automates the extraction and visualization of deuterium distribution values. Manual validation and assessment of results is aided by an interface that aligns extracted ion chromatograms and mass spectra, while providing a means of rapidly reprocessing the data following manual adjustment. A unique feature of Hydra is the automated processing of tandem mass spectrometry data, demonstrated on a large test data set in which 40,000 deuterium incorporation values were extracted from replicate analysis of approximately 1000 fragment ions in one hour using a typical PC.
Conclusion
The customizable workflows and user-friendly interfaces of Hydra removes a significant bottleneck in processing and visualizing H/DX-MS data and helps the researcher spend more time executing new experiments and interpreting results. This increased efficiency will encourage the analysis of larger protein systems. The ability to accommodate the tandem MS dimension supports alternative data collection and analysis strategies, as well as higher resolution localization of deuteration where permitted by the fragmentation mechanism.
Keywords
DeuteriumIsotopic ProfileDeuterium IncorporationIsotopic EnvelopeExchange Mass Spectrometry
Background
Hydrogen-deuterium exchange mass spectrometry (H/DX-MS) is a powerful method for relaying information on protein dynamics and protein-ligand interactions. In H/DX-MS, proteins are deuterium-labeled by simple incubation of the protein or protein mixture with D2O, which exchanges labile hydrogen with deuterium. The degree of labeling is determined by the rate of exchange, which in turn is determined by the structure and dynamics of the protein. These exchange rates are influenced by the binding interactions of the protein. If exchangeable hydrogens are involved in the ligand binding site, these will be 'less available' for exchange and will exchange at a lower rate than in the absence of the ligand [1]. While N-terminal and most side-chain hydrogens exchange very quickly and escape detection, amide hydrogens exchange in a time scale supporting measurement at a temporal resolution approaching a few milliseconds [2]. The overall workflow for typical bottom-up H/DX-MS experiments has been reviewed ([3] and [4]).
The readout for H/DX-MS is the mass spectrum. In a bottom-up H/DX-MS approach, H/D exchange is monitored at the peptide level and the deuterium-labeled peptide generates an isotopic envelope which is well modeled by binomial expansion(s) of the underlying unlabeled counterpart [5, 6]. Extraction of deuterium levels typically requires extraction of the envelope for each peptide of each raw data file. H/DX-MS studies can consist of a set of experiments that monitor tens to hundreds of peptides. Often two or more states of a protein require comparison (for example, free vs. bound or phosphorylated vs. unphosphorylated). Proteins may be labeled for durations of msec's to days in order to generate kinetic data [7]. Varying the concentration of D2O used in the labeling reaction may also be required [8]. Thus, while individual H/DX-MS experiments can be completed rather quickly, thorough protein analysis usually involves numerous runs with the attendant requirement for replicates for each run. This creates a burden in data analysis, where tens to hundreds of LC-MS files require inspection. A set of experiments for small proteins can take several weeks to analyze, if processed manually.
Several tools have been developed to address MS-level data processing needs. HX-Express is a semi-automated Excel-based application that extracts average deuterium incorporation levels from the user-supplied experimental and theoretical isotopic distributions. CalcDeut [9] and DEX [10] are software packages that extract deuterium incorporation distributions from user-provided mass spectra, through a command-line approach. These tools require manual processing of extracted ion chromatograms (XIC's) and mass spectra and do not attempt to provide a means of grouping raw data inputs or organizing and aggregating data outputs on a project-wide scale. This is also the case for AutoHD, an earlier approach to deuterium incorporation measurement [6].
Two packages are available that operate on a project-wide scale. The Deuterator [
11
], is a freely available web-based tool that organizes the raw data files according to experimental conditions, and effectively completes all the tasks in the MS-based workflow shown in Fig.
1
. As with AutoHD, It uses a 'theoretical fit method' to measure deuterium incorporation, in which the theoretical isotopic profile for varying degrees of deuterium labeling is fit to the experimental isotopic profile. Deuterium incorporation values can be outputted and further data handling is left to the researcher. A newer version, 'HD Desktop' [
12
], provides additional data handling capabilities. 'TOF2H' is a second package [
13
]. This is a recently published Excel-based application geared toward processing and viewing MS-level MALDI-TOF data from the AB 4700 TOF-TOF instrument. TOF2H organizes raw files, and iterates through the typical processing workflow shown on the left-hand side of Fig.
1
. Other packages have been described in the literature, but are not as readily available [
14
,
15
].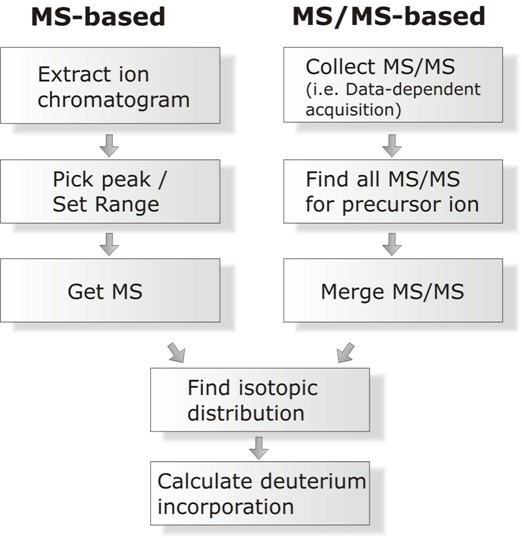 Though the Deuterator and TOF2H greatly advance an automated approach to H/DX-MS data processing, they do not meet several of our data analysis requirements. We required a customizable data analysis workflow in order to evaluate novel H/DX-MS procedures such as the one we recently reported, involving restraints on the peak envelope width [8]. This demanded an architecture supporting easy adaptation. We were also interested in automating deuterium distribution calculations, methods that were described by several groups including ours [6, 9, 10, 16, 17] but not incorporated into a project-wide scale with a convenient graphical interface. Further, as our group conducts large scale studies on large multiprotein systems, retaining file size efficiency was an important operational requirement. Most of our experiments are conducted on QSTAR instruments thus we needed a utility for processing Analyst QS .wiff files. Avoiding a file conversion process has advantages in time savings. While .wiff files could be converted to mzXML for use in the Deuterator, the conversion greatly increases file sizes and these projects would require uploading to the Deuterator FTP site, which could be cumbersome for large projects. We recognize that retaining platform independence is a useful attribute, thus the software also required a means of processing mzXML files efficiently.
Most importantly, we required an automated approach to the extraction of deuteration data from MS/MS spectra on a large scale, such as might be generated in a proteomics-style approach to H/DX experiments. Although extracting deuteration data from MS/MS spectra is not yet common, two recent observations argue for its routine implementation. First, we have demonstrated that deuterium scrambling, common in collisionally-induced dissociation (CID) of peptides, enables robust measurements of deuteration reflective of the precursor ion (manuscript in preparation). Second, recent studies have highlighted that alternative fragmentation processes such as electron capture dissociation may suppress scrambling and support higher resolution localization of deuteration [18]. Both will require new software for automated processing of data. The right-side of Fig. 1 highlights the additional considerations that such a software package needs to address, for data collected in a conventional proteomics fashion (i.e., data-dependent acquisition with possible "include ion" lists). This article will describe how Hydra meets each of these new requirements, in addition to providing features available in other H/DX-MS data processing packages.
Implementation
Hydra was written in C# (.NET Framework 3.5). A stand-alone executable setup file facilitates installation on the target computer. Hydra allows processing of AB/Sciex QSTAR data (.wiff files) directly, which requires a local installation of Analyst QS 1.1 (AB/Sciex, Foster City, CA). An alternative version processes mzXML files after a file conversion step, and does not require Analyst QS.
Generation of extracted ion chromatograms (XIC's) and MS spectra from Analyst QS files uses libraries available within this software package. Hydra leverages several additional publicly available class libraries. All graphing controls are from Zedgraph version 5.1.4 [19]. For platform independent mzXML files, XIC's and MS spectra were generated using class libraries from ProteoWizard [20] and Decon2LS [21] was used for peak detection and Savitzky-Golay smoothing. For both versions of Hydra, Lutz Roeder's C# library 'Mapack' [22] was used for performing linear least squares operations for the extraction of deuterium incorporation distributions. Numbers generated by this library were tested for agreement with values generated from the command-line program 'CalcDist.py,' as described in Chik et. al[9]. Molecular weight calculations and theoretical isotopic distributions were calculated using the class library 'MwtWinDll.dll' (version 3.1) provided as part of source code for Pacific Northwest National Laboratory's Molecular Weight Calculator [23]. Calculation of Student's t-values and P-values were carried out using C# source code from the ALGLIB project [24]. All the class libraries listed above are included in the setup file for Hydra.
Unit testing using NUnit [25, 26] was performed throughout Hydra to ensure well-functioning source code and algorithms that return appropriate values.
Results and discussion
An overview of Hydra is provided in Fig.
2
. The main outputs include 1) deuteration values at both the MS and MS/MS level 2) data visualization for manual assessment and validation and 3) distributions of deuterium incorporation. These are described in detail below. One of the key design features of Hydra relates to the configurability of the workflow. This will be described in conjunction with the automated processing capabilities of Hydra.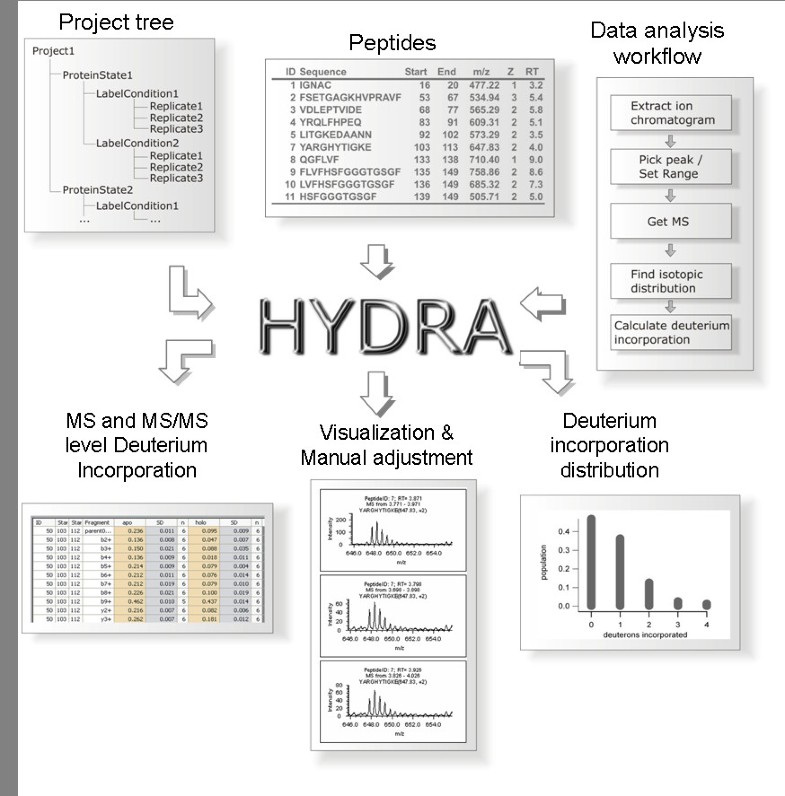 Conclusion
Hydra accommodates an efficient yet tailored approach to automation of deuteration data from complex sets of bottom-up H/DX-MS experiments. Such automated extraction permits a high success rate when applied to larger protein systems, where a streamlined manual validation utility supports rapid identification and correction of instances where accurate data extraction fails. This automation extends to the deconvolution of the underlying distribution of deuteration states, a powerful tool for studying the underlying exchange process on a global level and supporting a semi-automated error-checking capacity. The design strategy applied to the development of Hydra promotes easy incorporation of additional algorithms to improve facets of the workflow (e.g., peak detection) or to simply adopt alternative strategies. Finally, enabling the extraction of deuteration data from MS/MS spectra collected in a conventional data-dependent fashion will open up a proteomics-style approach to the collection of such data, which is expected to increase the range of application for this technique.
Availability and requirements
Project name: Hydra
Project home page: http://www.ucalgary.ca/~dschriem
Operating system(s): Windows XP with SP2 or SP3; Vista is not supported by Analyst™ QS 1.1. The Analyst-free version is functional on Vista.
Programming language: Microsoft C#.NET
Other requirements: Microsoft .NET Framework 3.5;
License: free software
Any restrictions to use by non-academics: none
Abbreviations
MS:

Mass spectrometry
MS/MS:

Tandem mass spectrometry
m/z :

mass-to-charge ratio
H/DX-MS:

Hydrogen/deuterium exchange mass spectrometry
XIC:

Extracted ion chromatogram
CID:

Collisionally-induced dissociation
csv:

Comma separated values
Declarations
Acknowledgements
Financial support for this study was provided by grants from the Natural Sciences and Engineering Research Council (NSERC) of Canada. DCS gratefully acknowledges the support of the Canada Research Chair program and the Alberta Heritage Foundation for Medical Research (AHFMR).
Authors' Affiliations
(1)
Department of Biochemistry and Molecular Biology, University of Calgary, Calgary, Canada
Copyright
© Slysz et al; licensee BioMed Central Ltd. 2009
This article is published under license to BioMed Central Ltd. This is an Open Access article distributed under the terms of the Creative Commons Attribution License (http://creativecommons.org/licenses/by/2.0), which permits unrestricted use, distribution, and reproduction in any medium, provided the original work is properly cited.