Research article
Open Access
Adaptable data management for systems biology investigations
BMC Bioinformatics
2009
10:79
Received: 31 October 2008
Accepted: 06 March 2009
Published: 06 March 2009
Abstract
Background
Within research each experiment is different, the focus changes and the data is generated from a continually evolving barrage of technologies. There is a continual introduction of new techniques whose usage ranges from in-house protocols through to high-throughput instrumentation. To support these requirements data management systems are needed that can be rapidly built and readily adapted for new usage.
Results
The adaptable data management system discussed is designed to support the seamless mining and analysis of biological experiment data that is commonly used in systems biology (e.g. ChIP-chip, gene expression, proteomics, imaging, flow cytometry). We use different content graphs to represent different views upon the data. These views are designed for different roles: equipment specific views are used to gather instrumentation information; data processing oriented views are provided to enable the rapid development of analysis applications; and research project specific views are used to organize information for individual research experiments. This management system allows for both the rapid introduction of new types of information and the evolution of the knowledge it represents.
Conclusion
Data management is an important aspect of any research enterprise. It is the foundation on which most applications are built, and must be easily extended to serve new functionality for new scientific areas. We have found that adopting a three-tier architecture for data management, built around distributed standardized content repositories, allows us to rapidly develop new applications to support a diverse user community.
Keywords
Data Management SystemAggregation SystemContent Management SystemRich FunctionalityXPATH Query
Background
To enable the adaptive behaviour that is required when developing software for research an "informal" data management strategy is often needed. By informal we mean there is a need to rapidly develop and adapt software infrastructures to unforeseen and (typically) unspecified requirements. We have found that the use of a distributed data management system (consisting of remote interlinked content repositories) gives us the required flexibility, while still allowing for the development of the level of formalization that is required for robust software development.
Advances in computer science have pushed what can be achieved with data management systems, and conversely these advancements have driven the increase in demands for richer functionality. The computer science research advancements have involved both hardware and software, with faster processor speeds enabling other innovations to become feasible. The way in which data management systems are built, and extended, has also changed. These changes in software engineering and design include: the methodology through which software is constructed (e.g. components leading to frameworks, and frameworks leading to aspects [1]); the technology used to allow for distributed computing (e.g. object brokers evolving pass-by-value mechanisms, and these being replaced by stateless Web Services); and the ideology that is used to define the process through which software is built (e.g. the "rational" processes being replaced by agile programming). These advances are continuing to occur, and will have an effect on the next generation of data management and distribution tools (e.g. cloud computing becoming mainstream through the use of Google App Engine or similar).
A number of companies, and academic institutions, have marketed integration and data management solutions for the life sciences. These enterprise data integration (and distributed process) management systems have evolved over the last 10 years. This evolution has been from single database based solutions to open, distributed, interoperable data management solutions (see Figure
1
). This change has been driven by demands for rapid development, high levels of interoperability and increases in data volume and complexity. There has been a natural progression with these integration systems, as they generally follow the traditional approaches to software designs and technologies that are prevalent at the time. There are numerous examples of the application of technical innovations being the focus of a specific integration product, for example: in
1996
SRS [
2
] (from Lion Bioscience) advocated external indexing to link between numerous gene and protein data sources; in
1997
the Discovery Center (from Netgenics) used CORBA [
3
] based distributed components to provide bespoke integration products; in
1998
the Alliance framework (from Synomics) promoted an n-tier application server distributed system, which used linked domain specific modules; in
1999
the MetaLayer (from Tripos) utilized XML message passing; in
2000
DiscoveryLink [
4
] (from IBM) provided a federated database solution which linked across different databases and flat files; in
2001
the Genomics Knowledge Platform (from Incyte) marketed an object integration solution based solely on EJBs; in
2002
the I3C (a consortium led by Sun and Oracle) specified the use of an identity driven approach to integration; in
2003
the LSP (from Oracle) advocated the use of Web Services; in
2004
IPA (from Ingenuity) and MetaCore (from GeneGO) used a knowledge base to provide a solution for the mining of networks of integrated data; in
2005
caBIG [
5
] (from NCI) adopted a MDA (model driven architecture) approach, built using a J2EE and Web Service based solution, to standardize their community integration efforts; in
2006
CancerGRID (from MRC) delivered a resource framework based Web Service system to bridge between diverse data sources; and in
2007
caGRID [
6
] (from NCI) provided a stateful Web Service and registry system for loosely coupled data and analysis services.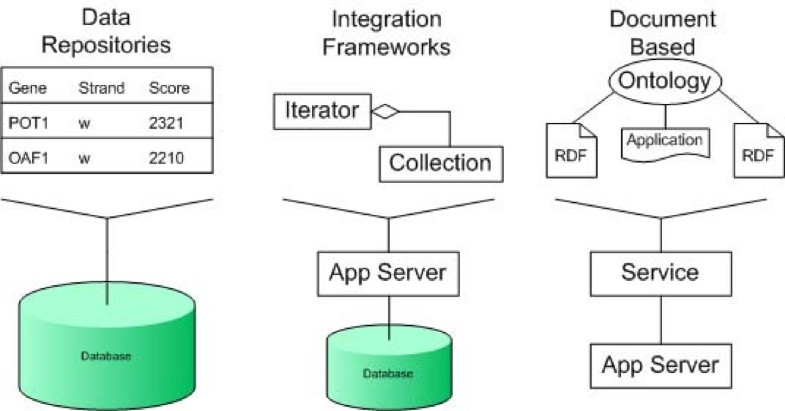 One common characteristic of these "technology first" efforts is that they developed solutions that were designed to work with static "finished" data, not research information. This style of system works well within publishing scenarios, where information is to be made available throughout an enterprise as a static resource. When actually working within a research institution (or life science company), where new technologies and ideas are continually being developed, such static publishing approaches are not appropriate. Instead, a flexible analysis and access system is required that allows for the rapid introduction and integration of many types of data. With the advent of systems biology, the recognized need for integration solutions has reached a high level of urgency.
This article is principally focused on the design of software to support systems biology investigations, rather than a discussion of a specific application. The software that has been developed, and made available to the community, is discussed to illustrate the advantages of the advocated designs. The importance of design can be over looked in scientific computing [7], due to the complexities with the development of software for research which arise due to the constantly changing requirements and individual project-centric approaches. In this article we discuss how we designed a flexible and maintainable data management solution which can be readily adapted to meet the requirements of a complex research environment. The reasoning behind this non-traditional design is that a research software infrastructure must be highly adaptable to change. The required change could arise from new technologies being introduced, a change of research focus, or a change in resourcing (project funding). How we integrate the data management system with other tools and data sources has been discussed previously [8].
Results
There are two major requirements on software design within a rapidly changing research environment: the ability to develop and integrate software rapidly, and the assurance that the resulting systems are adaptable to new and unpredictable needs. The methodologies and technologies used within research environments must be able to satisfy these requirements. Methodologies that depend on formalized specifications for processes and data structures are not appropriate for research software infrastructure. An understanding of current informatics technologies, and their suitability, is essential to ensure that research driven software projects can be delivered on schedule. Over the last few years there have been many advances in enterprise computing which means that data management technologies can now effectively be used in rapidly evolving research environments. These advances mean that, through an appropriate choice of technologies, it is now possible to deliver, within a minimal timeframe, a distributed system which is robust, standardized, loosely coupled and interoperable. Enterprise components can now be rapidly configured to deliver a range of rich functionality (e.g. content management, messaging, state based processing, dynamic discovery, high level orchestration). However, inappropriate technology choices can result in an architecture which is not adaptable and difficult to maintain.
Technologies that require a static structure (e.g. schema definitions) are constrained in their usage as they require "top-down" design. This means that the usage of traditional application server based technologies may not be appropriate for many aspects of research, as they are largely designed for tasks where: there exists reasonably stable information which can be structured in a DBMS or similar; business logic is required to operate closely on the data; or integration logic or data transformation is required. Alternatively, less structured data management, such as content repositories, can be suitable within research environments. Content repositories serve a different purpose to application servers, but can be used to serve out similar types of information using the same protocols. Content repository technologies can be more appropriate (than an application server) as they provide a high level of flexibility when dealing with unstructured content (e.g. experiment information).
We are not suggesting that more formalized representations of data do not have their place in research environments. Many data sources can be represented as static snapshots, and when it comes to presenting the research results, the use of more standard software development practices and tools is essential. These static approaches become unsuitable in situations where software is being developed to directly support on-going research projects, with unpredictable life cycles and unforeseen requirements.
Discussion and conclusion
The adaptive data management system we have discussed has been designed to meet the competing requirements for data management that arise within a research organization. As with many aspects of research informatics, flexibility and rapid development are key issues as requirements change unexpectedly and frequently. We advocate the view that, to be of lasting use to research, any data management system must be able to:
Support the evolution of ideas
The development of integration strategies for systems biology is problematic due to both the nature of science and the organization of scientists. It is typical that the means to which a specific experimental technology will be used, and the methods used to analyze the resulting data, is unknown at software design time. This is because scientific understanding continually evolves. Any scientific data management system has to support such evolution, meaning that traditional approaches to development and design are frequently inappropriate. As neither the data usage nor analysis is known a priori an easily adaptable solution is needed.
Allows for flexible working
There is a fundamental requirement for scientists to easily access, query and manipulate data to suit their needs. Science led investigations require an infrastructure to support ongoing data driven discovery processes. This means that: the data should be accessible through a variety of mechanisms, including multiple computer languages and applications; the data should be detached from the system, so that scientists are not "tied down" to any specific object model or way of working; and flexible navigation through the data using a variety of approaches should be supported.
Delivers the salient information
Many aspects of biomedical research can be thought of as an information centered science [16]. Information must be established in the context in which it has been requested, that is to say, the view on the information changes depending upon the question that was asked. Therefore, the structure of the data management system must change depending upon the requirements. In a research environment, the views on the data typically involve: high throughput instrumentation, where information must be pushed from machines quickly and reliably; computational informatics processing applications, which require auditing and annotations; and research projects, which require domain oriented and flexible views upon the data. This requirement for adaptable data management is encountered in many avenues of research across all of the biomedical sciences.
Rather than build a de novo system, we have extended standardized open source systems. By extending community standards we are able to deliver production systems quickly and are able to overcome boundaries due to resource limitations. We have found that the standardized systems we have adopted are generally not directly suitable for research informatics, and therefore had to be extended to allow for the required flexibility. These extensions are designed to: ensure that the system integrates well within a research enterprise; allow for customization of the system to ensure it has a richer semantics; and provide workflows to ensure the system can work robustly with high throughput instrumentation.
We have found that the three-tier distributed data management system provides the flexibility and adaptability that we required. As we adopted and extended standards, the system was put together with a minimal of FTE effort, while still providing a robust and scalable architecture. Most importantly, as science moves along at a rapid pace, and opinions are always multi-faceted and divided, this system allows us to evolve the structure of the data management to meet new requirements without having to continually rewrite or wrap out of date or inappropriate legacy code.
Availability and requirements
We have made a number of tools available to the community. These tools are built upon the Web Services we have developed that allows for the interoperability and distribution of content across a number of JCR instances. For these tools to function one or more JCR compatible instances must first be installed, and then the REST services must be deployed within tomcat. Further instructions are given below, and more details (including the relevant template files) are given on the main download site.
Project information
Project home page: http://www.systemsbiology.org/informatics;
Operating system(s): Platform independent;
Programming language: Java; Other requirements: Java 1.5 or higher, Tomcat 6.0 or higher, working JCR instance 1.4.0 or higher.
Licence: Apache;
Any restrictions to use by non-academics: no restrictions.
Installation instructions
Detailed instructions on how to install the main data management system, which consists of the REST services and the project explorer web application are given with the downloads section of the project web site. To install the main software the following steps must be undertaken:
1)

Ensure you have Java 1.5 installed and a working Tomcat (6.×) instance

2)

Download the main services file (the addama distribution) from the downloads site.

3)

Install a JCR instance to create a repository (Jackrabbit from Apache is the recommendation). To install Jackrabbit: download the jcr-instance-jar-with-dependencies.jar into an execution working directory (JCR_HOME); edit the jcr-instance.properties file and copy the file into the JCR_HOME.

4)

Start the repository by executing the jar using "java – jar jcr-instance-jar-with-dependencies.jar jcr-instance.xml".

5)

Copy the addama-rest.war file into your tomcat/webapps directory and then fill in the addama-rest.properties file and copy it to your tomcat/libs directory.

6)

Copy the addama-html.war file into your tomcat/webapps directory, make sure the addama-rest war file started up properly first.

7)

In your browser go to http://[host name]/addama-html
Available tools
The following tools are available from the main download site.
REST/URI Extensions. This is the main set of services that must be installed before any of the additional tools. The services allow for the retrieval of content using a URI.

JCR Browsing System. A javascript/json/ajax based web application for browsing and editing the contents of a JCR instance. This is included as part of the main distribution.

Access Components: Components are provided to support the development of applications that require JCR retrieving, searching and publishing functionality. This are provided as a separate download and code is provided for R, Matlab, Perl, Python, Java and Ruby.

Data Feeder. A utility for loading a JCR from a sample tracking system. This utility demonstrates how annotations and data items can be mapped into a repository; and how simple monitoring can be used to mirror the contents of an existing sample tracking system in the JCR. This is built against the freely available SlimArray sample tracking software [12].

File Loader. A utility for loading file data directly into a JCR instance using XPATH information to define the position. This runs as an executable Java jar.
Declarations
Acknowledgements
The project described was supported by grant number P50GMO76547 from the National Institute of General Medical Sciences, grant number 1R011CA1374422 from the National Cancer Institute and as part of contract HHSN272200700038C from the National Institute for Allergy and Infectious Diseases. The content is solely the responsibility of the authors and does not necessarily represent the official views of the NIMGS, NCI, NIAID or the NIH.
Authors' Affiliations
(1)
Institute for Systems Biology, Seattle, USA
Copyright
© Boyle et al; licensee BioMed Central Ltd. 2009
This article is published under license to BioMed Central Ltd. This is an Open Access article distributed under the terms of the Creative Commons Attribution License (http://creativecommons.org/licenses/by/2.0), which permits unrestricted use, distribution, and reproduction in any medium, provided the original work is properly cited.