Towards a data publishing framework for primary biodiversity data: challenges and potentials for the biodiversity informatics community
BMC Bioinformatics
2009
10(Suppl 14):S2
Published: 10 November 2009
Abstract
Background
Currently primary scientific data, especially that dealing with biodiversity, is neither easily discoverable nor accessible. Amongst several impediments, one is a lack of professional recognition of scientific data publishing efforts. A possible solution is establishment of a 'Data Publishing Framework' which would encourage and recognise investments and efforts by institutions and individuals towards management, and publishing of primary scientific data potentially on a par with recognitions received for scholarly publications.
Discussion
This paper reviews the state-of-the-art of primary biodiversity data publishing, and conceptualises a 'Data Publishing Framework' that would help incentivise efforts and investments by institutions and individuals in facilitating free and open access to biodiversity data. It further postulates the institutionalisation of a 'Data Usage Index (DUI)', that would attribute due recognition to multiple players in the data collection/creation, management and publishing cycle.
Conclusion
We believe that institutionalisation of such a 'Data Publishing Framework' that offers socio-cultural, legal, technical, economic and policy environment conducive for data publishing will facilitate expedited discovery and mobilisation of an exponential increase in quantity of 'fit-for-use' primary biodiversity data, much of which is currently invisible.
Keywords
Access PointData CitationScholarly PublicationBiodiversity DataGlobal Biodiversity Information Facility
Background
Open access to primary biodiversity data is essential both to enable effective decision-making and to empower those concerned with the conservation of biodiversity and the natural world [1]. However, much of the existing primary biodiversity data is neither accessible nor discoverable. The majority of the legacy primary biodiversity data within the mega-biodiversity world is not even digitised [2]. For instance, of the 190 million primary biodiversity data records accessible through the data portal [3] of the Global Biodiversity Information Facility(GBIF), merely 8.1% data is about species distribution of 17 Like-Minded Megadiverse Countries (LMMC) [4]. Over 64% of these LMMC data records are hosted by other countries and international networks [5]. Such a lack of up-to-date, easy, fast, reliable and affordable discovery and access to a wide spectrum of primary biodiversity data leads to an unnecessary duplication of efforts. Verification of results becomes difficult, and investment in research data creation/collection remains underutilised as these data are currently trapped invisibly in institutional and individual cupboards, computers and disks. Furthermore, such a lack of access to primary scientific data is an obstacle to interdisciplinary and international research [6].
Thus, an urgent need exists for the discovery and mobilisation of primary biodiversity data from the developed, developing and under-developed countries, into the public domain. To address this issue, we propose a conceptual framework of 'Data Publishing Framework' together with its phased implementation plan. We put forth the compelling argument that, if implemented, such a framework could bring in much required cultural and attitude changes towards the management and publishing of primary biodiversity data.
Open access to primary scientific data: the state-of-the-art
Calls for open access to data have been growing since the United States policy statements on data management for global change research or Bromley Principles in 1991 [7]. There are now a number of statements, policies, and guidelines on open access to primary scientific data [8–29]. The Berlin Declaration of 2003 on access to knowledge in the sciences and humanities that calls to promote the Internet as a functional instrument for a global scientific knowledge base has been signed by 266 scientific bodies worldwide [24]. In 2004, the Organisation for Economic Co-operation and Development (OECD) also recognised the importance of open access to primary scientific knowledge [29].
Several national and multilateral agencies, mostly from developed nations have commissioned programmes which aim to facilitate open access to primary scientific data. For instance, Canada has 'Data Canada', the dedicated national infrastructure that has been proposed to assume overall leadership in the development and execution of a strategic plan to encourage access to scientific data [30]. The Chinese Ministry of Science and Technology launched its 'scientific data sharing programme' (SDSP), which has the participation of 24 government agencies. It aspires to facilitate access to 80% of Chinese scientific data to its public by 2020 [31]. The Global Earth Observation System of Systems (GEOSS) 10 Year Implementation Plan [32] explicitly acknowledges the importance of data sharing in achieving the GEOSS vision and anticipated social benefits. It calls for the full, free and open exchange of data, metadata and products.
The majority of the scholarly publishers (e.g. Nature, Science etc.) have joined in implementing the common principle that scientists must make their data available for independent use, without restrictions, once it has been used in publications [33–40]. In the early days of the open access, movement sequence data provided a compelling early example of the power of journal editors to promote the public deposit of scientific data, and of research funders to ensure that biomedical research information is available in public databases [41]. However, these efforts are still to yield any significant results as already existing data remain unpublished and under-utilised [42]. The majority of the initiatives to make scientific data accessible is mostly discipline specific, and has focused on 'big science' rather than 'smaller science' [43]. We do not yet have a good model for coordinating the large proportion of small-scale data originator(s) who produce a huge quantity of primary biodiversity data and thus form the 'long-tail' of science data [44, 45].
Further, one should not underestimate the power of data mining for hypothesis generation and discovery of novel hitherto unknown conceptual associations and taxonomic insights in such rich environments as biodiversity data collections. In medical and biological scientific full text databases there have been strong indications of the advantages of applying specific text mining techniques for new drug discoveries, originated by Swanson [46, 47] and e.g. further developed in [48].
Publishing primary scientific data: current impediments
Primary scientific data are the lifeblood of science [49]. However, a host of factors act as an impediment to facilitate seamless discovery and access to primary scientific data. The lack of an infrastructural-technical, socio-cultural, policy-political, legal, and economic 'Data Publishing Framework' that would encourage scientists to publish primary scientific data is often cited as the major constraint. Some of the impediments to open access to research data include (a) concerns about inadvertent misuse of data, (b) lack of ownership agreements, (c) competition for academic position and funding, (d) usability, (e) lack of informed consent and confidentiality [50]. Data are essential both to enable effective decision-making and to empower those concerned with the conservation of biodiversity and the natural world.
While we believe that technical and infrastructural bottlenecks can be easily overcome, more serious impediments consist of socio-cultural and policy-political aspects of the existing 'data publishing mechanism'. The problem at present is a lack of incentive for data originator(s) and manager(s) to go through the work necessary to prepare their data for publication [51]. This ghost of 'what is in it for me?' syndrome seems to be the root cause, which prevents scientists and research institutions to make concerted efforts in the management, archiving, and publishing of primary scientific data.
Open access and primary biodiversity data: challenges
At the lower end of the requirement spectrum, the discovery of primary biodiversity data sets is essential. This should be applicable, even if the data are sometimes proprietary, require licensing agreements to be signed prior to access, are confidential, demand security clearance, are under temporary embargo until the authors execute their rights of first publication, or for other reasons [52].
With the establishment of the GBIF in 2001, an attempt is being made to develop a global infrastructure to facilitate the discovery, inventory and access to the world's primary biodiversity data. GBIF's mission is to facilitate free and open access to the world's biodiversity data to anyone, anytime, anywhere. Currently, GBIF facilitates access to over 190 million data records through its data portal, http://data.gbif.org. However, these primary biodiversity data records are just a minuscule component of the estimated voluminous amounts of data out there.
For example, over 6500 natural history collections globally are believed to house in the range of 3 billion specimens[53, 54], which many experts believe is an under-estimate. Most of the time such calculation is based on the random sampling of major museums in the northern hemisphere, leaving out medium and small sized institutional and individual collections in developed and under-developed regions of the world. Furthermore, a large quantity of primary biodiversity data is collected by a long tail of biodiversity researchers and amateurs [45] that neither have the encouragement nor the infrastructural support (technical, economic, as well as human resources) to manage and disseminate the data generated as a result of trillions of dollars worth of investment. Whilst infrastructure support is increasingly being made available, the lack of a professional recognition mechanism for institutions and individual investment in data management and dissemination still remains. This is becoming one of the major barriers to free and open access to biodiversity data.
The data publishing framework
Discussion
An early implementation of three basic components of the 'data publishing framework' viz., Persistent Identifiers, DUI, and Data Citation mechanisms would impact the present data and information cycle. However, more importantly it would provide much called for recognition for individual efforts in management and publishing of primary scientific data, in our case primary biodiversity data. In addition to traditional 'Impact Factor' efforts of data management and publishing managers ranging from originator(s), data manager(s), aggregator(s) and publishers at all levels would be recognised through the DUI (Figure
4
).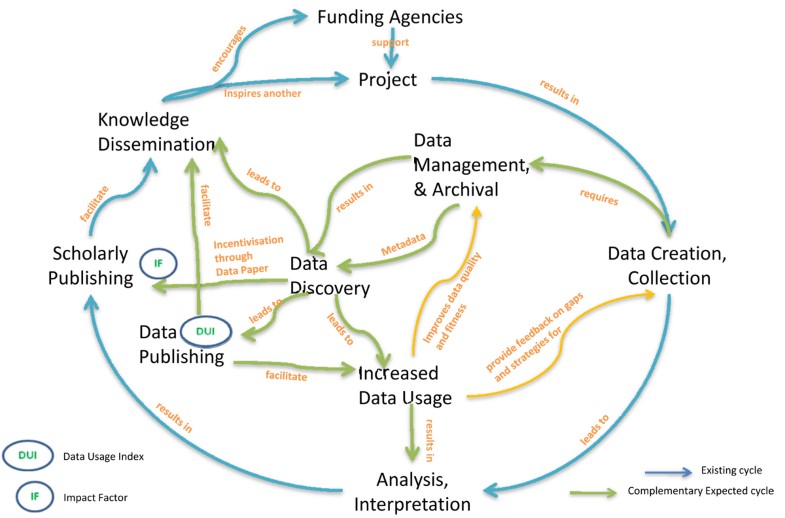 If implemented the proposed 'data publishing framework' would open the flood gates to an increased volume of primary biodiversity data, justifying public investment in biodiversity science and conservation of biotic resources. We believe that a DUI will bring a the long tail of invisible primary biodiversity data into the public domain as scientists and data originators efforts would be recognised on a par with scholarly publications. As shown in Figure 4, datasets could also then be applied for multiple uses other than the single intended cause of creation. This would result in improving 'fitness-for-use' of data, as users are expected to offer the feedback on both optimum quantity and quality of the data. We also believe that both the traditional 'Impact Factor' indicators for scholarly publication and the 'Data Usage Index' for data publishing would act complementarily to each other, the improving their relevance, credibility and robustness synergistically.
For attaining the envisaged outcomes through implementation of a 'Data Publishing Framework' the following priority actions are needed;
(a)

roles and responsibilities of researchers (originators), institutions, funders and users must be clearly defined and articulated,

(b)

data should be created, collected and managed in accordance with established guidelines and best practices,

(c)

models and mechanisms of data management and publishing of data must be both efficient and cost-effective, and

(d)

assurance of long term preservation of data [75].
In addition to achieve the rank of an article publication, a data publication needs to meet the two main criteria of consistence and quality [51].
Conclusion
The implementation of a 'Data Publishing Framework' would, we believe, expedite the process of the archival and curation of an increased volume of primary biodiversity data, as scientists and originators of data would realise the value and recognition of doing so. We believe that the decentralised implementation of 'Data Publishing Framework' on a local-thematic-global scale would indeed build a foundation towards a 'global research infrastructure' for an open access regime in biodiversity and conservation science. We further believe that it would progress the building of a data and information aided 'virtual research space' for future studies in biodiversity [76]. However, to implement the 'Data Publishing Framework' there is a need to bring about a cultural and attitude change on the part of scientific publishers, scientific societies, authors, institutions and funding agencies towards its proactive uptake.
Declarations
Acknowledgements
VC is grateful to the Global Biodiversity Information Facility. PI is grateful to the Royal School of Library and Information Science, Denmark. The authors acknowledge the assistance of Louise Schraff in improving the literary quality of the manuscript, and Nicholas King for comments on an earlier draft.
This article has been published as part of BMC Bioinformatics Volume 10 Supplement 14, 2009: Biodiversity Informatics. The full contents of the supplement are available online at http://www.biomedcentral.com/1471-2105/10?issue=S14.
Authors' Affiliations
(1)
Global Biodiversity Information Facility Secretariat, Copenhagen, Denmark
(2)
Department of Information Studies, Royal School of Library and Information Sciences, Copenhagen, Denmark
Copyright
© Chavan and Ingwersen; licensee BioMed Central Ltd. 2009
This article is published under license to BioMed Central Ltd. This is an open access article distributed under the terms of the Creative Commons Attribution License (http://creativecommons.org/licenses/by/2.0), which permits unrestricted use, distribution, and reproduction in any medium, provided th original work is properly cited.