Methodology article
Open Access
A fast and robust hepatocyte quantification algorithm including vein processing
BMC Bioinformatics
2010
11:124
Received: 8 July 2009
Accepted: 10 March 2010
Published: 10 March 2010
Abstract
Background
Quantification of different types of cells is often needed for analysis of histological images. In our project, we compute the relative number of proliferating hepatocytes for the evaluation of the regeneration process after partial hepatectomy in normal rat livers.
Results
Our presented automatic approach for hepatocyte (HC) quantification is suitable for the analysis of an entire digitized histological section given in form of a series of images. It is the main part of an automatic hepatocyte quantification tool that allows for the computation of the ratio between the number of proliferating HC-nuclei and the total number of all HC-nuclei for a series of images in one processing run. The processing pipeline allows us to obtain desired and valuable results for a wide range of images with different properties without additional parameter adjustment. Comparing the obtained segmentation results with a manually retrieved segmentation mask which is considered to be the ground truth, we achieve results with sensitivity above 90% and false positive fraction below 15%.
Conclusions
The proposed automatic procedure gives results with high sensitivity and low false positive fraction and can be applied to process entire stained sections.
Keywords
Bilateral FilterProliferate HepatocyteHough TransformationFalse Positive FractionAutomatic Thresholding
Background
Quantification of different cell types in histology is important. For example, quantification of a defined cell type is necessary for determination of the hepatocyte proliferation index to describe the kinetics of a liver regeneration process. Traditionally, observers count cells manually in small regions of interest (ROIs) during microscopical observation. This procedure is very time-consuming and requires an experienced observer, who must be trained to discriminate the target cells from the other cell types. In our case, we are interested in discriminating hepatocytes, the functional parenchymal cells in the liver, from non-parenchymal cells of the liver.
Recently, with the availability of digital photography the computer-assisted cell counting has gained popularity. The observer marks each cell to be included using image analysis tools, e. g., GIMP http://www.gimp.org/ or Image Tool http://ddsdx.uthscsa.edu/dig/itdesc.html, and the marked events are enumerated. The image overlaid with marked target cells is saved for documentation. There exist also semi-automatic and automatic solutions based on image analysis systems used in clinical routine. For example, our project group recently presented a macro based on a commercially available software http://industrial-microscope.olympus-global.com/en/ga/product/analysisfive/[1].
Such solutions based on the analysis of small 2D samples from a large 3D object suffer from the sampling bias problem. The analysis of small 2D samples is only valid, if target events are distributed homogeneously in the whole 3D object. This assumption does not hold generally for liver regeneration, as this process is subject to local regulation. Spatial distribution of proliferating hepatocytes within the smallest functional liver unit, the lobules, depends on the hepatic zone and can vary substantially throughout the liver. Hence, the entire 3D object needs to be looked at, which is, again, a tedious and time-consuming effort when keeping the user in the loop.
The ultimate solution to this problem and our overall project goal is to subject serial sections of the whole sample to an automatic quantitative assessment. The first step towards this full automatization is to detect the proliferation index, i. e., the ratio of the number of proliferating cells and the overall number of cells, in whole sections of the rat liver; an example image is shown in Figure
1
. To accomplish this goal a series of tasks needs to be tackled. First, the zones of interest containing hepatocyte information must be defined. Second, due to the sample size it has to be divided into smaller parts. Third, the parts containing hepatocyte information has to be processed, i. e., the nuclei must be detected in each image. Fourth, the nuclei quantification information must be accumulated for the whole section.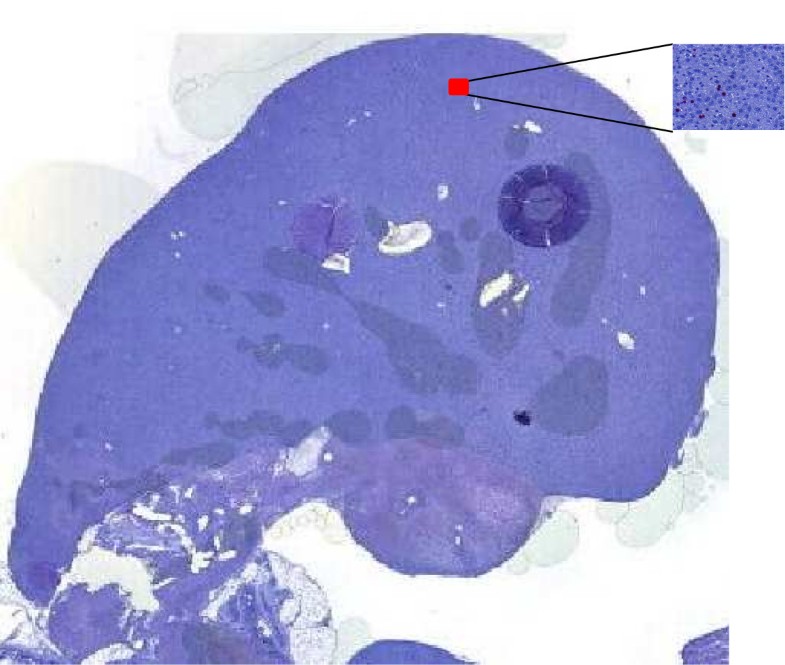 In this paper, we address the hepatocyte quantification task. The specific aim of this task was to develop an automatic approach, that is fast, robust to different image appearances, and allows to analyze batches of images without additional user interaction.
In recent years, a number of sophisticated automatic image processing approaches for histological sections have been proposed [2]. However, it is difficult to compare them to each other due to the difference of staining methods applied to the data and the related image analysis problems. There exist several popular directions in segmentation of microscopic structures. They include fuzzy clustering [3], parametric and geometric deformable models [4, 5], morphological watershed-based approaches [6, 7]. Though the variety of the proposed methods is huge, most of them are aimed to detect the boundaries of the nuclei cells as precisely as possible, which is actually not needed for our purposes. The complexity and computational costs of these methods are not necessary and not justified in our case. In addition, the methods have either problems with overlapping nuclei or are strongly dependent on the data staining. Our task was to develop an approach that is fast, robust to different data appearances within the staining specific to our project, and whose aim is not to detect cell boundaries but rather to evaluate the number of cells, in particular, that it can deal with overlapping cells appropriately.
We recently presented a preliminary automatic approach for quantifying hepatocytes in normally regenerating rat livers [8]. The proposed processing pipeline consists of four main steps. First, the data is smoothed. We tested and compared different smoothing filters to find the most appropriate for the given task. Here, we make use of this investigation by incorporating the most suitable one in the pipeline presented in this paper. Second, we applied an automatic thresholding method similar to the one described by Petushi et al. [9]. The applied method was suitable for the data we had used. However, to build a method that is robust against unavoidable variations in staining intensities and that can handle the occurrence of vein structures, we had to develop a new thresholding strategy, which is presented in this paper. Third, a detection step of structures of certain size and shape is applied. And finally, we applied a Hough transformation step, which showed to be effective when dealing with overlapping nuclei and computationally reasonable when the search space is reduced. This final step is similar to the compact Hough transformation-based approach [10].
The main limitation of our algorithm [8] was that it was not able to handle the presence of the vein structures in the images. In this paper, we now propose an improved automatic pipeline that includes an appropriate vein structure handling.
Methods
Liver samples of about 0.5-1 cm3 in size from rats subjected to 70% liver resection were formalinfixed, paraffin-embedded, and used for cutting histological sections of 4-6 μm thickness. Thereafter, a special immunohistochemical procedure [1, 11], namely BrdU-staining, was applied to them. As a result, nuclei of dividing (proliferating) cells, hepatocytes, and other non-parenchymal stromal cells are marked in red, whereas the nuclei of the non-dividing cells are marked in blue.
Digitized images of the stained sections are taken at a 200-fold magnification. An example of such an image is shown in Figure 1. The rat liver consists of parenchchymal cells (hepatocytes) and non-parenchymal cells (for instance, bile duct cells, Kupffer cells, sinusoidal endothelial cells, lymphocytes). According to the portal blood flow, the hepatic parenchyma is divided into 3 zones. Zone 1, also called portal zone, is surrounding the portal tract (PT), a complex histological structure consisting of several vascular components such as a portal vein, a hepatic artery and several bile ducts embedded in histiocytic cells and connective tissue. Zone 2 is surrounding the central vein (CV), which is draining the smallest functional unit of the liver, the hepatic lobule. Zone 3 is the midzonal area between zone 1 and zone 2. Despite their anatomical and functional differences, for excluding areas with non-parenchymal structures from further proliferation analysis portal tract and central vein are considered to be similar structures and are referred to as "venous (vessel) structures" throughout the text. ROIs with a resolution of 2576 × 1932 pixels are selected from these three liver zones.
We have made a series of tests on images from eight different datasets. Each dataset represents ROIs from the liver samples of one animal. These datasets belong to two groups that had different contact time of the section with staining solutions, which resulted in variations in image contrast. The datasets within each group are also subject to variations in color properties, which occur due to some differences in the histological processing of the tissue sample and may also occur during image acquisition (camera settings).
We keep the following naming convention: each image name has a number that denotes the dataset. For example, D1 denotes the image from liver zone 3 of dataset 1. PT and CV in the names belong to the images that were taken from the liver zones 1 and 2. Liver zones 1 and 2 contain vessel structures.
Results
Algorithm
To solve the task of automatic processing of the ROIs of histological sections, we have developed an algorithm and created a tool which can assess the total number of events (total hepatocyte nuclei) as well as the number of positive events (proliferating red-stained hepatocyte nuclei). It calculates the relative proportion of the positive events, namely the ratio between proliferating and total hepatocytes (BrdU-LI) automatically in one "processing run". To do so, it eliminates morphological structures impairing the analysis (central vein or portal tracts). It creates a batch calculation allowing to analyze several images without user interaction, which forms the basis for evaluating a whole section. Moreover, it facilitate the validation by creating a tool for determining statistical measures of quantification quality, namely sensitivity and false positive fraction.
The processing pipeline extends the one described in our previous work [
8
]. The main contributions of the extended pipeline include the processing of images containing vein structures, an improved thresholding step, and an extended connected-components analysis for the detection of the number of total and proliferating hepatocytes. In Figure
2
, the flowchart for automatic detection of the proliferation index is depicted on the left-hand side. The result for each processing step is shown next to the correspondent flowchart box on the right-hand side.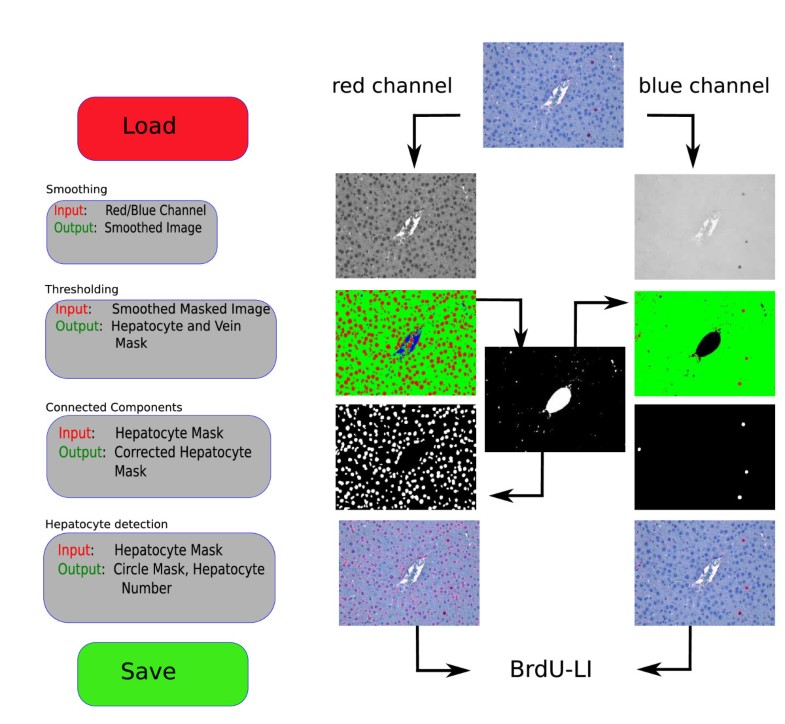 Testing
Inter-observer performance
As the groundtruth which is considered to be the golden standard is manually defined by experts, we have carried out the inter-observer agreement analysis. We asked four experts to mark total and proliferating HC on one batch of data (D5-8). Moreover, the experts were also supposed to mark all events that could be "non-hepatocytes" and "non-proliferating-hepatocytes". The results are presented in Table
1
. Relative standard deviation (which is computed as

) has been calculated for each image and then its mean has been found. The results have shown that the relative standard deviation is 15% for the total number of hepatocytes. Its value is higher for the number of proliferating hepatocytes (20%), which is due to the fact, that, for instance, dataset D5 has very low proliferation rates, hence, the results are very sensitive to expert decisions. We have compared our results to the sets of expert groundtruths and the resulting mean sensitivity is close to 90%. In Tables
2
,
3
, we show the results obtained with comparison to one of the expert groundtruths.
Table 1
Inter-observer variability results.
Inter-observer variability

Total HC

Total Non-HC

Proliferating HC

Proliferating Non-HC

D5

219

162

4

399

198

150

4

357

189

257

2

188

D5-PT1

266

164

2

473

213

170

3

442

314

150

4

453

225

272

2

188

D5-CV1

265

167

2

444

227

137

2

415

303

127

1

184

202

214

1

371

D6-PT1

215

174

90

319

207

165

103

295

276

135

107

292

197

178

77

99

D6-CV1

232

163

81

348

213

127

78

276

291

139

92

345

200

208

62

127

D7

243

134

39

347

230

153

42

280

264

103

49

326

202

191

39

168

D7-PT1

249

146

33

383

214

113

34

317

282

116

37

359

193

251

24

151

D7-CV1

264

153

28

421

195

124

27

355

289

122

33

398

212

214

21

188

D8

237

189

147

284

216

117

143

200

254

142

158

242

203

181

122

242

D8-PT1

242

255

102

402

200

195

109

321

274

197

134

348

187

319

75

388

D8-CV1

230

116

61

315

185

69

53

235

253

78

65

273

190

207

51

398

Mean Relative StdDev

15.02

27.96

20.92

29.42
Table 2
Total hepatocyte quantification results for eight different data sets.
Total hepatocytes

Image

Detected

TP

FP

FN

Sensitivity

FPF

User P

D1

230

221

9

22

0.91

0.039

243

D1-PT1

210

188

22

20

0.90

0.1

208

D1-CV1

302

269

33

38

0.88

0.1

307

D2

223

201

22

14

0.93

0.09

215

D2-PT1

212

166

46

9

0.95

0.21

175

D2-CV1

230

200

30

17

0.92

0.13

217

D3

299

230

69

10

0.96

0.23

240

D3-PT1

268

206

62

13

0.94

0.23

219

D3-CV1

269

216

53

13

0.94

0.19

229

D4

229

212

17

33

0.87

0.07

245

D4-PT1

216

198

18

15

0.93

0.08

213

D4-CV1

237

218

19

10

0.95

0.08

228

D5

226

189

49

12

0.94

0.21

201

D5-PT1

217

210

7

15

0.93

0.03

225

D5-CV1

237

197

40

5

0.97

0.16

202

D6-PT1

216

186

30

11

0.94

0.13

197

D6-CV1

224

186

38

14

0.93

0.16

200

D7

230

191

39

11

0.94

0.17

202

D7-PT1

236

190

46

3

0.98

0.19

193

D7-CV1

218

204

14

8

0.96

0.06

212

D8

229

197

32

6

0.97

0.13

203

D8-PT1

214

177

37

10

0.95

0.17

187

D8-CV1

208

174

34

16

0.91

0.16

190

Mean

0.93

0.135
Table 3
Proliferating hepatocyte quantification results for eight different data sets.
Proliferating hepatocytes

Image

Detected

TP

FP

FN

Sensitivity

FPF

User P

D1

3

3

0

0

1.00

0.00

3

D1-PT1

3

3

0

1

0.75

0.00

4

D1-CV2

4

4

0

0

1.00

0.00

4

D2

22

18

4

1

0.94

0.18

19

D2-PT1

27

23

4

1

0.96

0.14

24

D2-CV1

11

8

3

0

1.00

0.27

8

D3

27

24

3

1

0.96

0.11

25

D3-PT1

12

11

1

7

0.61

0.08

18

D3-CV1

41

39

2

1

0.97

0.04

40

D4

98

96

2

27

0.78

0.02

123

D4-PT1

105

102

3

14

0.87

0.02

116

D4-CV1

58

57

1

7

0.89

0.01

64

D5

3

2

1

0

1.00

0.33

2

D5-PT1

1

1

0

1

0.5

0.00

2

D5-CV1

1

1

0

0

1.00

0.00

1

D6-PT1

90

77

13

3

0.96

0.14

80

D6-CV1

65

61

4

5

0.92

0.06

66

D7

40

37

3

2

0.94

0.075

39

D7-PT1

26

25

1

0

1.00

0.03

25

D7-CV1

24

20

4

1

0.95

0.16

21

D8

138

120

18

2

0.98

0.13

122

D8-PT1

93

72

21

3

0.96

0.22

75

D8-CV1

55

50

5

1

0.98

0.09

51

Mean

0.91

0.09
However, when the description of the target is rather vague (to mark "non-hepatocytes"), the experts result in much less agreement (around 30%). Therefore, we assume that computation of True Negatives (TN) and, correspondingly, the specificity or the false positive rate brings less value due to such a high inter-observer dispersion. Instead, we propose to evaluate the false positive fraction (FPF) within the total number of detected events, i. e.,

. Intuitively clear, that results where the false positive fraction is approaching to 0 are preferable, and when the FPF is close to 1, the solution is too inexact.
Parameter selection
For selection of the parameters in the most optimal way, such tool as receiver operator characteristic (ROC) [
20
] is very useful. A ROC space is defined by 1-
specificity
and
sensitivity
as
x
and
y
axes respectively, which depicts relative trade-offs between true positive (benefits) and false positive (costs). In Figure
3
, the ROC space is shown. The best possible classification method would yield a point in the upper left corner or coordinate (0, 1) of the ROC space, representing 100% sensitivity (no false negatives) and 100% specificity (no false positives). However, as it is shown above, the number of True negatives (TN) is too rough and does not bring meaningful information, hence, we propose to build a ROC-like curve with FPF (false positive fraction) on abscissa. Its behavior will be the same as of the standard ROC-curve.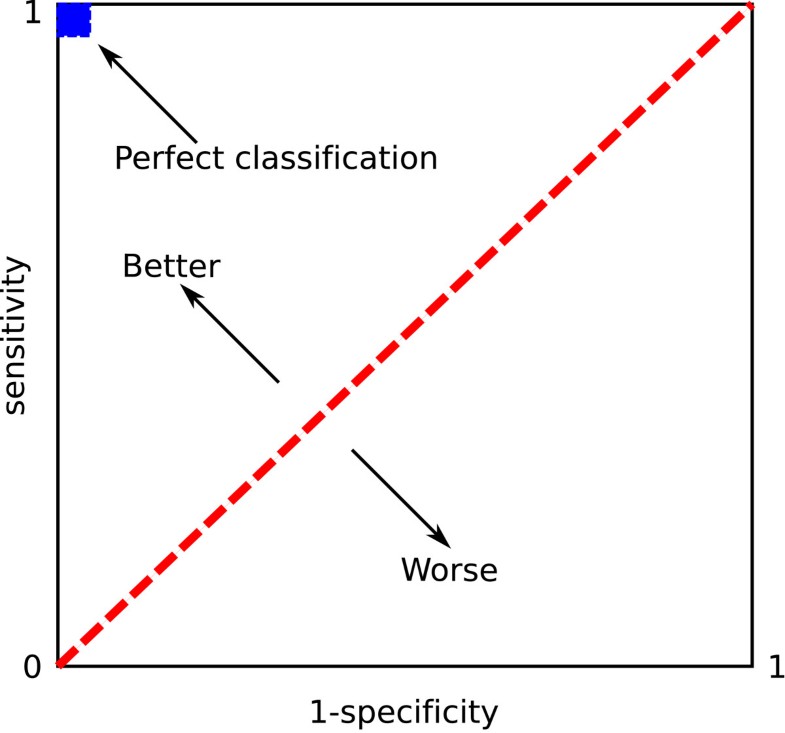 One of the parameters that influences strongly the results is the relevance threshold for Hough transformation. In Figure
4
, we show the ROC-like curves for detection of the total HC for images D4-CV1 and D8-CV1. The threshold values are [0.1, ..., 0.9] with
Step
= 0.1. We have observed, that the best results (sensitivity is ≥ 90%, FPF is ≤ 10%) are achieved with the relevance threshold interval [0.5, 0.6].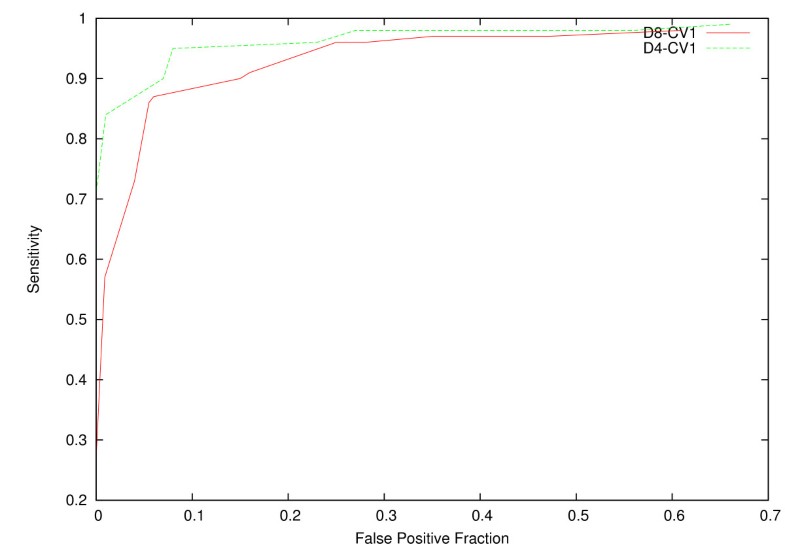 The parameter selection is a trial-and-error process. In general, one should take into account the following data characteristics for the optimal parameter determination: the noise level of images; the size and roundness of the target objects (hepatocytes, in our case); if the target objects can be clumped together, then the size and roundness of the clumped objects; the level of overlap of the single target objects.
Since our smoothing step is followed by an automatic thresholding step, the smoothing must be sufficient, otherwise the thresholding will most likely fail. Otherwise, when the denoising parameters are too high, the cells lying close will be merged together and detected as one connected component, that could be either rejected on the connected component analysis step as a too big or too non-round object (this would cause a number of false negatives) or Hough transformation would detect there a number of false positives. Moreover, to detect the proliferating hepatocytes, i. e., to process the blue image channel, we select a much stronger smoothing. This allows us to leave out non-proliferating hepatocytes, which are much brighter than the proliferating ones, and to separate the image into two classes (hepatocytes and background) in the thresholding step.
While processing the resulting connected components, we empirically measured the size and the roundness of the single HC and the HC that are clumped together. For Hough transformation, we selected the parameters according to the size (HC radii interval), form (relevance threshold and σ for the accumulator array smoothing), and the overlap level (closeness factor) of the single HC. If these parameter values are underestimated, then practically all detected components pass, which will cause a significant number of false positives. Otherwise, the overestimated parameter values will cause many misses in the detection.
Overall, for detection of the total and proliferating number of hepatocytes the following parameters are used: for smoothing σ s = 16, σ r = 0.15 and σ s = 50, σ r = 0.1, respectively; for connected component processing d eq ∈ [35, 200], F = 0.2, and A ∈ [700, 8000]; and for Hough transformation r ∈ [14, 50], σ = 10, relevance = 0.5, and F cl = 0.5 and F cl = 0.75, respectively.
Pipeline results
We tested our processing pipeline on the detection of the number of total HC and the number of proliferating HC. The proliferation index detection takes on an Intel(R) Core(TM)2 CPU T7200 @ 2.00 GHz computer with 2 GB DDR2 for one ROI image with a resolution of 2576 × 1932 on average 135 seconds.
The proposed pipeline has been validated using two sets of samples (D1-4, D5-8), which have variations in staining intensity and contrast due to some differences in the histological processing. The ground truth is determined by manual identification of targeted red and blue labeled hepatocytes. We have taken the groundtruth from one of the observers. The result is compared with the cells detected by the application. In order to allow for a fast comparison of the results, a small "validation tool" has been developed, which allows for creating sets of groundtruth and obtaining sensitivity and false positive fraction values.
Our evaluations are presented in Tables 2 and 3. The following notations for the headings are used: "Detected" means the number of circles found by Hough transformation; "TP" is the number of True Positive hepatocytes, which is the result of the overlay of detected circles and the user expectations; "FN" denotes the number of False Negative hepatocytes, which is the difference between the Ground Truth Positives and the True Positives; "FP" stands for the number of False Positive hepatocytes, which is the difference between "Detected" and "TP"; and User P is the number of Positive hepatocytes manually specified by the expert.
The most important numbers are the computed sensitivities and false positive fractions (FPF). Sensitivity is defined by T P/(T P + F N) and measures the proportion of actual positives, while FPF is defined by F P/(Detected) and measures the proportion of false positives in the number of detected events.
The processed datasets belong to two batches, namely D1-D4 belong to the first batch and D5-D8 belong to the second batch. The second batch of datasets corresponds to the data used in Tables
2
and
3
in previous work [
1
]. In Figure
5
, examples of our results for images from both batches are depicted in an overlaid manner. The red circles are the output of our pipeline. The images visually document the findings in Table
2
.

Conclusions
We have presented an algorithm for automatic hepatocyte detection, applied it to data of different characteristics, and compared the automatically calculated results to the manually detected ground truth. The proposed processing pipeline consists of a smoothing step, an automatic thresholding, a connected-component processing, vein exclusion (when necessary), and a Hough transformation. The default parameter values of the algorithm worked well for the data that we processed. In addition, the parameters can be adjusted in a semi-automatic manner and saved to a file such that they can be used in a fully automated batch processing.
The automatic processing of file series allows to produce the desired results in much shorter time when compared to the manual or semi-automatic single file processing. The proposed automatic pipeline gives results with high sensitivity and low false positive fraction for a wide range of images having different color properties. It can be used for the subsequent hepatocyte quantification not only in the selected ROIs, but also in the series of liver sections.
Declarations
Acknowledgements
We thank Mr. Hai Huang (University Hospital Essen) for generation of surgical samples, Ms. Ines Krimphoff (University Hospital Essen) for immunnohistochemical staining and acquisition of single images, Ms. Antje Kleinbiel (University Hospital Essen) for manual counting of hepatocytes.
This work was partially supported by a grant of the German Research Foundation, KFO 117.
Authors' Affiliations
(1)
Jacobs University, Bremen, Germany
(2)
Fraunhofer MEVIS, Institute for Medical Image Computing, Bremen, Germany
(3)
University Hospital, Essen, Germany
(4)
German Heart Institute, Berlin, Germany
(5)
Institute of Community Medicine, Ernst-Moritz-Arndt University, Greifswald, Germany
Copyright
© Ivanovska et al; licensee BioMed Central Ltd. 2010
This article is published under license to BioMed Central Ltd. This is an Open Access article distributed under the terms of the Creative Commons Attribution License (http://creativecommons.org/licenses/by/2.0), which permits unrestricted use, distribution, and reproduction in any medium, provided the original work is properly cited.