Research article
Open Access
The ancient history of the structure of ribonuclease P and the early origins of Archaea
BMC Bioinformatics
2010
11:153
Received: 26 February 2010
Accepted: 24 March 2010
Published: 24 March 2010
Abstract
Background
Ribonuclease P is an ancient endonuclease that cleaves precursor tRNA and generally consists of a catalytic RNA subunit (RPR) and one or more proteins (RPPs). It represents an important macromolecular complex and model system that is universally distributed in life. Its putative origins have inspired fundamental hypotheses, including the proposal of an ancient RNA world.
Results
To study the evolution of this complex, we constructed rooted phylogenetic trees of RPR molecules and substructures and estimated RPP age using a cladistic method that embeds structure directly into phylogenetic analysis. The general approach was used previously to study the evolution of tRNA, SINE RNA and 5S rRNA, the origins of metabolism, and the evolution and complexity of the protein world, and revealed here remarkable evolutionary patterns. Trees of molecules uncovered the tripartite nature of life and the early origin of archaeal RPRs. Trees of substructures showed molecules originated in stem P12 and were accessorized with a catalytic P1-P4 core structure before the first substructure was lost in Archaea. This core currently interacts with RPPs and ancient segments of the tRNA molecule. Finally, a census of protein domain structure in hundreds of genomes established RPPs appeared after the rise of metabolic enzymes at the onset of the protein world.
Conclusions
The study provides a detailed account of the history and early diversification of a fundamental ribonucleoprotein and offers further evidence in support of the existence of a tripartite organismal world that originated by the segregation of archaeal lineages from an ancient community of primordial organisms.
Keywords
Maximum ParsimonyProtein Data BankSecondary Structure ModelUnpaired RegionProtein World
Background
With few exceptions [1], ribonuclease P (RNase P) is one of two universal ribozymes (the other is the ribosome) that are present in all living organisms. This ribonucleoprotein is generally composed of an RNA subunit, the RNase P RNA (RPR), and one or more protein subunits, the RNase P proteins (RPPs) [2]. RNase P functions as a phosphodiesterase carrying out the 5' endonucleolytic cleavage of transfer RNA (tRNA) precursor transcripts (pre-tRNA) to form mature functional tRNAs [3–5]. Regions of the RPR that contribute to the recognition of the substrate cleavage sites [the tRNA pseudouridine (TΨC) loop and CCA tail] are well studied. Remarkably, the catalytic function can be conducted by the RNA subunit independently of protein subunits, indicating that the biological activity resides in the RPR [6–8].
The ubiquitous distribution of RPR molecules in life suggests that a primordial RPR form was already present before the diversification of the three superkingdoms of life, Archaea, Bacteria, and Eukarya [9]. Furthermore, the RPR is also the catalytic subunit in all three superkingdoms [10]. Bacterial RPRs have been divided into two independently folding domains, the catalytic (C) domain involved in substrate cleavage and the specificity (S) domain involved in substrate binding [11, 12]. The S domain is composed of stem P7 and stems distal to P7 while the rest of the molecule delimits the C domain. The C domain contains the entire active site and binds the acceptor stem/5'-leader and the ACCA sequence at the 3' end (by a Watson-Crick base-pairing mechanism) of pre-tRNA, cleaving the leader sequence in the presence of bacterial RPP cofactors [13, 14]. The S domain binds the TΨC stem-loop region of pre-tRNA and confers substrate specificity. RPR can be divided into five universally distinct conserved regions (CR I to V) that are distal to each other in the primary sequence and define the universally conserved core structure [15]. The S domain comprises CR II and III and the C domain comprises CR I, IV, and V [16]. While components of the tertiary fold are overwhelmingly helical it is interesting that both domains have many nonhelical parts: CR II and III form two interleaving T-loop motifs whereas CR I, IV, and V are part of loops and turns.
Altman and Kirsebom [17] proposed that an earlier RPR form that lacked the S domain might have existed in the RNA world, because this domain was not needed for the binding of the substrate. The C domain was therefore more ancient than the S domain. Remarkably, modification of the S domain of Bacillus subtilis indicates substrate specificity can be altered without changing the basic cleavage reaction [18]. In fact, a "minimal" RPR, the smallest molecule needed to carry out the hydrolysis reaction, has been defined [19]. This minimal RPR contains molecular components from both the S and C domains. Interestingly, consensus RNase P structures show that the C domain is more conserved than the more variable S domain in all three superkingdoms [19–22]. However, the C domain by itself is either non-functional in the absence of cognate RPPs or has greatly decreased catalytic activity compared to the wild type [23–25]. Furthermore, the S domain appears to facilitate substrate recognition and binding in the ribozyme reaction and the S domain alone can bind pre-tRNA directly [26]. All these observations suggest the C domain is indeed ancestral and that the S domain plays an accessory but important role during the cleavage of precursor tRNA. Despite the relevance of these results, the evolutionary history of the molecular components of the two structural folding domains remains elusive.
Here we study the evolution of the RNase P complex with a well-established phylogenetic method that reconstructs evolutionary history directly from structure [
27
]. This cladistic approach produces intrinsically rooted trees that "embed structure and function directly into phylogenetic analysis" [
28
]. The method has been applied widely to study the evolution of structure in rRNA [
27
,
29
], tRNA [
30
–
32
], SINE RNA [
33
], and other molecules [
34
], and has also been extended to the evolutionary study of protein domains at fold and fold superfamily (FSF) levels of structural complexity [
35
–
38
]. Two kinds of trees are generated in studies of RNA evolution, 'trees of molecules' that describe the evolution of molecular lineages, and 'trees of molecular substructures' that describe the evolution of structural components of the molecules. Using this methodology, we here study the history of the structure of the RNA subunit, establishing how the shape of the RPR molecule and its structural domains changed in evolution (Figure
1
). This information was then coupled with an evolutionary analysis of RPP domain structures at FSF level using previously developed methods of phylogenomic reconstruction [
38
]. Finally, the evolutionary tracing of phylogenetic information in crystallographic models (heat maps) help clarify how the history of the ribonucleoprotein relates to the discovery of function and the establishment of RNA-protein interactions.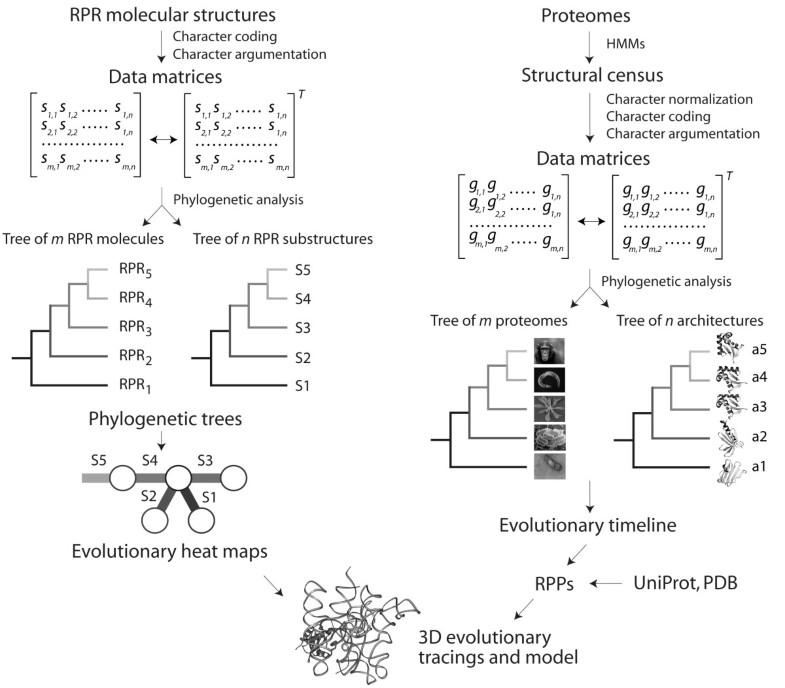 Conclusions
Our study reveals several important evolutionary patterns linked to the structure and function of RNA and protein components of RNase P: (i) the early origin of archaeal RPR molecules, which suggests the lineage leading to superkingdom Archaea is ancestral; (ii) the origin of the RPR molecule in the P12 substructure, closely followed by the catalytic P1-P4 core structure; (iii) the ancient origin of the C domain; (iv) the early appearance of RPP substructures that interact with proteins in this primordial RNase P complex; (v) and the ancestral nature of RPR-associated proteins, which originated at the onset of the protein world. Based on these observations we propose a model for the early evolution of the ribonuclease catalytic complex in a lineage leading to the last universal common ancestor of life (Figure
7
). In this model, the interaction of primordial protein and RNA molecules result in a complex that is stabilized later in evolution by the establishment of a pseudoknotted structure (substructure P4). This catalytic structure is ultimately responsible for the modern make-up of the molecule, as accessory substructures organize around it and enhance the catalytic activities and specificity of the evolving ribonucleoprotein particles.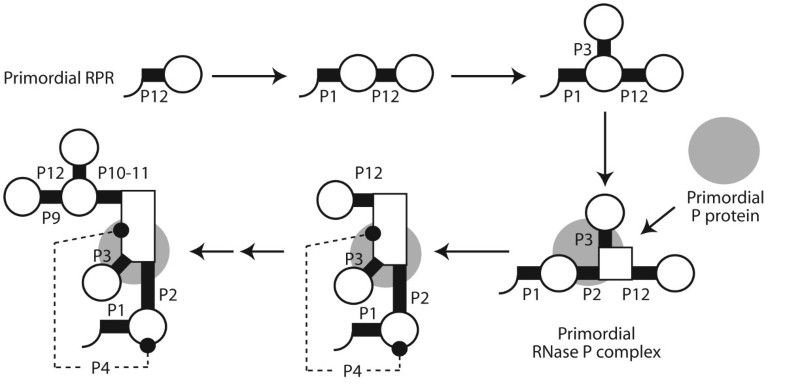 Methods
Data
The secondary structures of 130 RPR sequences were retrieved from the RNase P Database (http://jwbrown.mbio.ncsu.edu/RNaseP/home.html; Release No. 12, 2005 edition, [110]). Partial sequences were excluded in this study. Selected RNA sequences folded into secondary structures that are compatible with RPR phylogeny and known 3-dimensional models of RPR structure [58]. Another three RPRs from Entamoeba histolytica [111], Zea mays [45], and Candidatus Kuenenia stuttgartiensis [112] were also included to increase sampling diversity. Phylogenetic trees showed that one mitochondrial (Reclinomonas americana), two chloroplast (Porphyra purpurea and Zea mays), and one cyanelle (Cyanophora paradoxa) sequences were closely related to bacterial sequences, a result that is consistent with the evolutionary origins of these organelles. These four taxa were subsequently included in Bacteria. Table 1 shows the taxonomic distributions of the sampled RPRs. Note that RPR sequences sampled in this study are the only available that are associated to structure [42] and that their number is limited when compared to sequences available from metagenomic projects [113]. However, the set of RPR molecules selected encompasses all major RPR substructures and all major thematic variations that exist in molecules (Table 3). Consequently, our 133 RPR dataset does not exclude major structural designs and results should be impervious to sampling. The set also encompasses a relatively balanced selection of organisms representing the three superkingdoms. Because our study does not represent a systematic analysis to discriminate species, representative sampling is an appropriate strategy. We believe the species discrimination will likely improve by inclusion of more species, while the conclusions drawn will not change significantly. In fact, a ~50% reduction in the number of RPRs (from 133 to 69, with a RPR set that includes 39 bacterial, 15 archaeal and 15 eukaryal molecules) did not affect the conclusions of the analysis that we here present suggesting molecular sampling is appropriate.
Phylogenetic characters
Overall, we scored a total of 129 structural characters in the 133 RPR molecules analyzed by comparative sequence analysis, comparison with crystallographic models, and other criteria (Additional file 1: Table S1). Character homology was determined by the relative position of substructures in the secondary structures (see below) and coded character states were based on the length (number of bases or base pairs) and number of these substructures. These characters (also referred to as 'geometrical' characters) describe the geometry of the molecules by measuring, for example, the length in nucleotides of each spatial component of secondary structure. These components include double helical stems, hairpin loops, bulges and interior loops, and unpaired segments such as 5' or 3' free ends, connecting joints, and multi-loop sequences separating stems. Character states were defined in alphanumerical format with numbers from 0 to 9, letters from A to Z and a to z, and other symbols (Table 2). Missing substructures were given the minimum state (0). The data matrix of RPR structure is given in Additional file 1: Table S2. Partitioned data matrices were built based on folding domains (S and C domains), types of characters (stabilizing characters such as stems, or de-stabilizing characters such as bulges, hairpins, and other single-stranded regions), or superkingdoms (Archaea, Bacteria, and Eukarya). Sequences were aligned based on the secondary structure models [42]. Eukarya and combined datasets were aligned using Clustal X [114] and adjusted manually. Statistics related to the sequences that were analyzed are described in Table 1.
Character homology
The criterion of primary homology is based on the feature of structure being studied and its associated evolutionary model, and how this feature relates to the substructural taxa analyzed. Features can be descriptions of the geometry (e.g., shape characters) or the branching, stability, and plasticity (e.g., statistical characters) of homologous substructural components. In this study we focus on the former. Homologous substructures represent those that are of the same kind (e.g., domains, stems, base pairs) and respond to the same evolutionary model defining the character transformation sequences. For example, we reconstruct trees of coaxial stems corresponding to the helical regions in RPR, separate from trees of hairpin loops. This is because character change leading to coaxial stem taxa depends on models of character state that are quite different from those governing unpaired segments.
Character argumentation
Structural features were treated as linearly ordered multistate characters that were polarized by invoking an evolutionary tendency towards molecular order. Establishing a preferred directionality of character state change resulted in intrinsically rooted trees, which were then used to define lineages that are either ancient or derived. Operationally, polarization was determined by fixing the direction of character state change using a transformation sequence that distinguishes ancestral states as those thermodynamically more stable. Maximum character states were defined as the ancestral states for stems and G:U base pairs (i.e. structures stabilizing the RPRs). Minimum states (0) were treated as the ancestral states for bulges, hairpin loops, and other unpaired regions (i.e. structures de-stabilizing the RPRs). The validity of character argumentation has been discussed in detail elsewhere [27, 29–32, 34, 41, 115], but is supported by a considerable body of theoretical and experimental evidence:
Phylogenetic analysis
Data matrices were analyzed using equally weighted MP as the optimality criterion in PAUP* [138]. Note that a more realistic weighting scheme should consider for example the evolutionary rates of change in structural features. However, this requires the measurement of evolutionary parameters along individual branches of the tree and the development of an appropriate quantitative model. In the absence of this information, it is most parsimonious and preferable to give equal weight to the relative contribution of each character. The use of MP (the preference of solutions that require the least amount of change) is particularly appropriate and can outperform maximum likelihood (ML) approaches in certain circumstances [139]. MP is precisely ML when character changes occur with equal probability but rates vary freely between characters in each branch. This model is useful when there is limited knowledge about underlying mechanisms linking characters to each other [139]. Furthermore, the use of large multi-step character state spaces decreases the likelihood of revisiting a same character state on the underlying tree, making MP statistically consistent. Phylogenetic analyses of stem characters common to all three superkingdoms (either P1 to P4, P10, and P11, or P1 to P4, P7, and P9-P11) were conducted to investigate the phylogenetic utility of the conserved helical components of RPR. These stem structures are a major subset of the core structures defined by Siegel et al. [19]. Depending on the number of taxa in each matrix, tree reconstructions were sought using either exhaustive, branch-and-bound, or heuristic search strategies. When the heuristic search strategy was used, 1,000 heuristic searches were initiated using random addition starting taxa, with tree bisection reconnection (TBR) branch swapping and the MULTREES option selected. One shortest tree was saved from each search. Hypothetical ancestors were included in the searches for the MP trees using the ANCSTATES command. A "total evidence" approach [140, 141], also called "simultaneous analysis" [142], was applied in phylogenetic analyses to combine both sequence and structure data of the complete and partitioned matrices. The goal of this analysis was to provide stronger support for the phylogenetic groupings recovered from analyses of structural data. For comparison, a distance-based phylogenetic method (i.e., neighboring-joining) was also performed on all matrices. Bootstrap support (BS) values [143] were calculated from 105 replicate analyses using "fast" stepwise addition of taxa in PAUP*. The g1 statistic of skewed tree length distribution calculated from 104 random parsimony trees was used to assess the amount of nonrandom structure in the data [144].
Evolutionary relationships derived from trees of substructures were traced in generic 2-dimensional models of RPR secondary structure that we here call evolutionary heat maps of ancestry. Because reconstructed trees were intrinsically rooted, we established the relative age (ancestry) of each substructure by measuring a distance in nodes from the hypothetical ancestor on a relative 0-1 scale. To do this, we counted the number of nodes in every lineage from the root to the terminals of the tree and divided this number by the maximum number of nodes in a lineage [28]. Ancestry values were divided in classes, giving them individual hues in a color scale that was then used to color substructures in the proposed RPR secondary structure model.
Phylogenomic analysis of protein architecture
A census of the genomic sequence of 584 organisms, including 46 Archaea, 397 Bacteria and 141 Eukarya, assigned protein structural domains corresponding to 1,453 fold superfamilies (FSFs) to protein sequences using advanced linear hidden Markov models (HMMs) of structural recognition in SUPERFAMILY and a probability cutoff E of 10-4. FSFs were defined by the SCOPhttp://scop.mrc-lmb.cam.ac.uk/scop/ version 1.69 [145]. The census was used to build data matrices of genomic abundance of FSFs, which were coded as linearly ordered multistate phylogenetic characters. Data matrices were used to build universal trees of protein architectures with established methodology [146]. The reconstruction of these large trees is computationally hard and their visualization challenging. We used a combined parsimony ratchet (PR) and iterative search approach to facilitate tree reconstruction [36]. A recent review summarizes the general approach and the progression of census data and tree reconstruction in recent years [98]. In order to discover architectures associated with RPPs, we queried the UniProtKB (Protein Knowledgebase) database http://www.uniprot.org/ and downloaded 1,136 protein sequences in Fasta format. HMMs were then used to predict the SCOP identifiers (IDs) describing individual FSFs linked to the sequences. We finally used the "SCOP parseable files" link in SCOP to identify the corresponding IDs in the "dir.des.scop.txt 1.69" file. PROTEIN DATA BANK (PDB) files associated with RPPs were queried and downloaded from the PDB database http://www.rcsb.org/pdb/home/.
Declarations
Acknowledgements
We thank Ajith Harish for help with 3D mappings, Minglei Wang for calculating nd values and HMM analyses, Hee Shin Kim, Ajith Harish, Minglei Wang, Liudmila Yafremava, Kyung Mo Kim, and Jay Mittenthal for helpful discussions, and three anonymous reviewers for constructive comments. This work was supported by National Science Foundation grants MCB-0343126 and MCB-0749836, the Critical Research Initiative of the University of Illinois, and the United Soybean Board (all to GC-A). Any opinions, findings, and conclusions and recommendations expressed in this material are those of the authors and do not necessarily reflect the views of the funding agencies.
Authors' Affiliations
(1)
Evolutionary Bioinformatics Laboratory, Department of Crop Sciences, University of Illinois at Urbana-Champaign, Urbana, USA
(2)
Laboratory of Molecular Epigenetics of the Ministry of Education, School of Life Sciences, Northeast Normal University, Changchun, PR China
(3)
W.M. Keck Center for Comparative and Functional Genomics, Roy J. Carver Biotechnology Center, University of Illinois at Urbana-Champaign, Urbana, USA
Copyright
© Sun and Caetano-Anollés; licensee BioMed Central Ltd. 2010
This article is published under license to BioMed Central Ltd. This is an Open Access article distributed under the terms of the Creative Commons Attribution License (http://creativecommons.org/licenses/by/2.0), which permits unrestricted use, distribution, and reproduction in any medium, provided the original work is properly cited.