Research article
Open Access
Integrating gene expression and GO classification for PCA by preclustering
BMC Bioinformatics
2010
11:158
Received: 20 May 2009
Accepted: 26 March 2010
Published: 26 March 2010
Abstract
Background
Gene expression data can be analyzed by summarizing groups of individual gene expression profiles based on GO annotation information. The mean expression profile per group can then be used to identify interesting GO categories in relation to the experimental settings. However, the expression profiles present in GO classes are often heterogeneous, i.e., there are several different expression profiles within one class. As a result, important experimental findings can be obscured because the summarizing profile does not seem to be of interest. We propose to tackle this problem by finding homogeneous subclasses within GO categories: preclustering.
Results
Two microarray datasets are analyzed. First, a selection of genes from a well-known Saccharomyces cerevisiae dataset is used. The GO class "cell wall organization and biogenesis" is shown as a specific example. After preclustering, this term can be associated with different phases in the cell cycle, where it could not be associated with a specific phase previously. Second, a dataset of differentiation of human Mesenchymal Stem Cells (MSC) into osteoblasts is used. For this dataset results are shown in which the GO term "skeletal development" is a specific example of a heterogeneous GO class for which better associations can be made after preclustering. The Intra Cluster Correlation (ICC), a measure of cluster tightness, is applied to identify relevant clusters.
Conclusions
We show that this method leads to an improved interpretability of results in Principal Component Analysis.
Keywords
Principal Component AnalysisGene OntologyMesenchymal Stem CellBone Morphogenetic ProteinAnnotation Information
Background
With the advent of large gene expression experiments, new methods of analysis have become necessary to extract relevant information from the data. Exploratory data analysis methods like cluster analysis are regularly used to examine the expression profiles [1–3]. Other methods use annotation information and look for overrepresentation in sets of significantly regulated genes [4–6]. A next step would be to associate relevant profiles with annotation information and experimental variables simultaneously. In this paper we will show advances in finding associations between annotation categories and experimental variables in microarray experiments.
One of the most extensive and systematic methods of categorizing information about genes is the Gene Ontology (GO) database [7]. A problem when relating GO classes with expression profiles is the fact that the genes in these functional classes can have diverse expression profiles. This could mean that a class is not responding to the experimental factors and is not related to the specific biological settings. However, a second possibility is that interesting subgroups are silenced by other heterogeneous or anti-correlated expression profiles present within the class. This may obscure interesting relations. To address this problem, we propose to cluster the expression profiles of genes in every category, and select relevant clusters before applying Principal Component Analysis (PCA; [8]).
PCA has been applied frequently to explore the microarray data in a low-dimensional space [9, 10]. Either genes or arrays are described with so called Principal Components, in order to assess relations between arrays or to identify genes with similar expression profiles. The technique is very versatile and can easily cope with large datasets. Work done by Alter et al. [11] is an example of the application of PCA to reduce the dimensionality of microarray data. PCA was applied to the Yeast Cell Cycle dataset of Spellman et al. [12], with each gene as an individual object. We will use the same dataset, but will focus on improvements in the application of PCA to find relations between specified classes of genes and phases in the cell cycle. The work by Goeman et al. [13] is an example of the direct association between annotation information and data analysis. A global test is introduced, determining the relation between a global expression pattern of a group of genes and a clinical outcome of interest. The global expression pattern summarising a group of genes is a method to perform research, based on previous research stored in databases like for instance GO. A second example of summarization of annotation categories is from Chen and Wang [14]. In this paper, gene expression data with prior biological knowledge are integrated by constructing "supergenes" for each gene category by summarizing information from genes related to outcome using a modified principal component analysis (PCA) method. Instead of using genes, these supergenes representing information from each gene category were used in further analysis. Both methods [13, 14] indicate that analysing the data on the level improves the results of predictions.
Here, we show that summarizing a GO category in a single profile or supergene can give problems for certain classes, and can be improved. An example of a heterogeneous GO category is shown in Figure
1
. The expression data are from the
Saccharomyces cerevisiae
dataset [
12
] and all the profiles belonging to the genes annotated with GO:0007047 ("Cell wall organization and biogenesis") are shown in Figure
1A
. At first glance, there are several particular profiles distinguishable, but it would be hard to give a suitable general description for this category. Previously, Busold et al. [
15
] also included GO information in their analysis and touched upon this problem by discarding of the categories like the one described here. Thus with the criteria of Busold et al. [
15
] this category would not be included in the analysis, because the whole category has a low mean correlation over all the genes. The fact that this category is discarded is surprising, because organization of the cell wall is expected to be important in the cell cycle.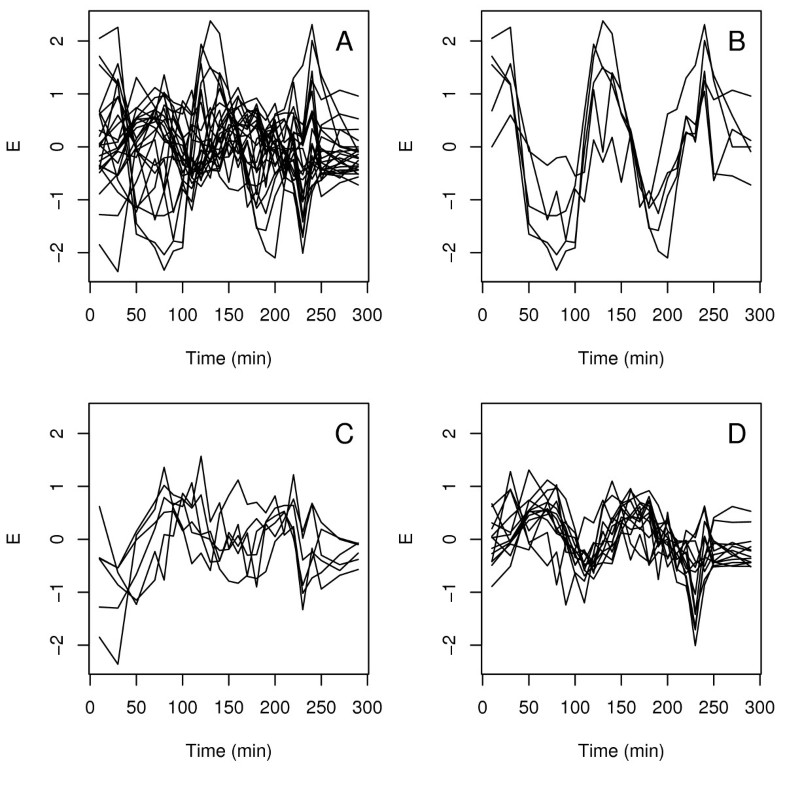 We propose to perform clustering of expression profiles present in individual GO classes before applying PCA. This is a reversal of the order with respect to more common analyses, where clusters of genes with similar expression profiles are mapped to GO terms. An indication of the improvements of GO class descriptions after cluster analysis is given in Figure 1B, C and 1D. After clustering with model-based clustering [16] these three new subgroups with more distinct profiles can be formed for this class. The new subclasses will not be discarded because the mean correlation of each newly formed class is higher and the role of this process will not be obscured any longer.
The advantages of the cluster analysis will be shown by comparing results from PCA performed with and without preclustering. The Saccharomyces cerevisiae dataset and a Mesenchymal Stem Cells (MSC) dataset will be used. The intra-class correlation of clusters will be analyzed to identify better defined subgroups, and two specific examples of GO categories benefiting from the clustering will be given.
Methods
All calculations are performed in R [17]. GO information is obtained from the R data packages "Yeast" and "hgu133a".
Results and Discussion
In this section, we will compare the results of PCA using the original GO categories with the results of PCA on the preclustered GO data. Besides the restrictions mentioned previously in paragraph 3.1, all GO classes are taken into account, no cuts were made to exclude parts of the GO tree. In Table
1
the number of GO terms before and after preclustering is summarized for the datasets. Besides the number of unchanged original GO categories, the number of original GO categories split into new subgroups based on the clustering is shown. Furthermore the number of new subgroups containing more than 4 genes is given - these are used for further analysis.
Table 1
Number of GO categories, before and after preclustering.
| Dataset | # genes | # GO cl. | # split | # new | # > 4 | total |
| --- | --- | --- | --- | --- | --- | --- |
| YCC | 348 | 68 | 12 | 29 | 14 | 70 |
| MSC | 11,974 | 922 | 553 | 1,933 | 1,284 | 1,653 |
| MSC (50 cl.) | 1,252 | 24 | 24 | 100 | 79 | 79 |
Clearly, for the MSC data set and the relevant subset of 50 GO categories, many GO categories are heterogeneous with respect to the expression data. For the subset, for example, all GO categories are split, leading to 100 new categories. Of these 100, 79 contain more than four genes. For the much smaller and simpler YCC data set, there is still a group of 12 GO categories that is split, leading in total to 70 categories each containing more than four genes.
YCC data
To investigate whether the new GO subcategories generated with preclustering show relevant cluster structure, the
ICC
s of the original GO classes and the new subgroups are compared in Figure
2
. For most classes (56, see Table
1
) the
ICC
has not changed. These classes lie on the diagonal, and consist of GO terms for which the optimal number of clusters is determined to be 1: no meaningful subclasses are formed. However, several new subclasses with an increased
ICC
can be observed above the diagonal line. These are examples of groups of genes having a specific profile, which is cancelled out to some extent when the GO category as a whole is taken into account. In some instances, a new subclass with fewer than four genes is found. Such a class will not be taken into account and is not shown in the figure. Note that in this case there is no subclass showing a decrease in
ICC
.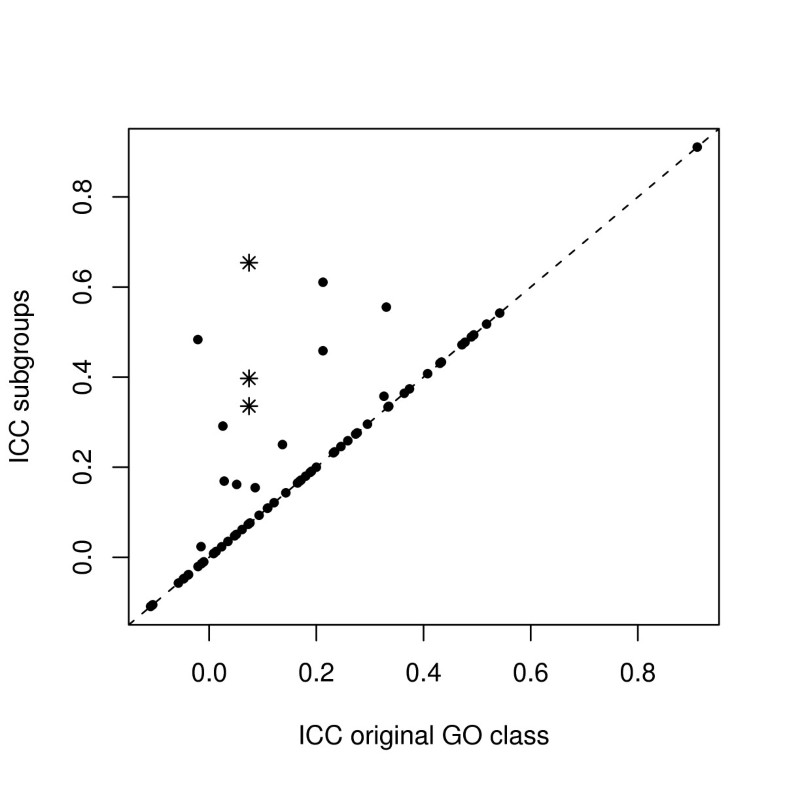 As an example of a heterogeneous GO class benefiting from preclustering the term "cell wall organization and biogenesis" is taken. The three subclasses are shown with asterisks in Figure 2. The expression profiles and clusters for this term can be seen in Figure 1 in the introduction. The term is chosen because it is expected to be involved in the cell cycle, where the cell wall has to be organized and assembled during cell division. The new subclasses generated with clustering have an increased ICC compared to the ICC of the whole class. The profiles are more specific now and will not cancel out in the analysis.
The results of PCA of the YCC dataset with the normal GO classes, and PCA of this dataset after clustering of profiles within GO classes can be seen in Figure
3
. This allows for a comparison of the results and shows the advantages of preclustering GO classes in PCA. The 24 time points of the cdc15 experiment are shown as loadings, and are connected by lines. The fact that the cell cycle is passed through more than once results in a large number of time points associated with the same phase (G1, S, G2, M or G1/M). A separation of phases can be seen in both Figure
3A
and Figure
3B
. The G1 phase is separated from the M and G2 phases on the x-axis and the M phase is separated from the G2 and S phase on the y-axis. The explained variance in the first two Principal Components (PCs) is more than 70 percent.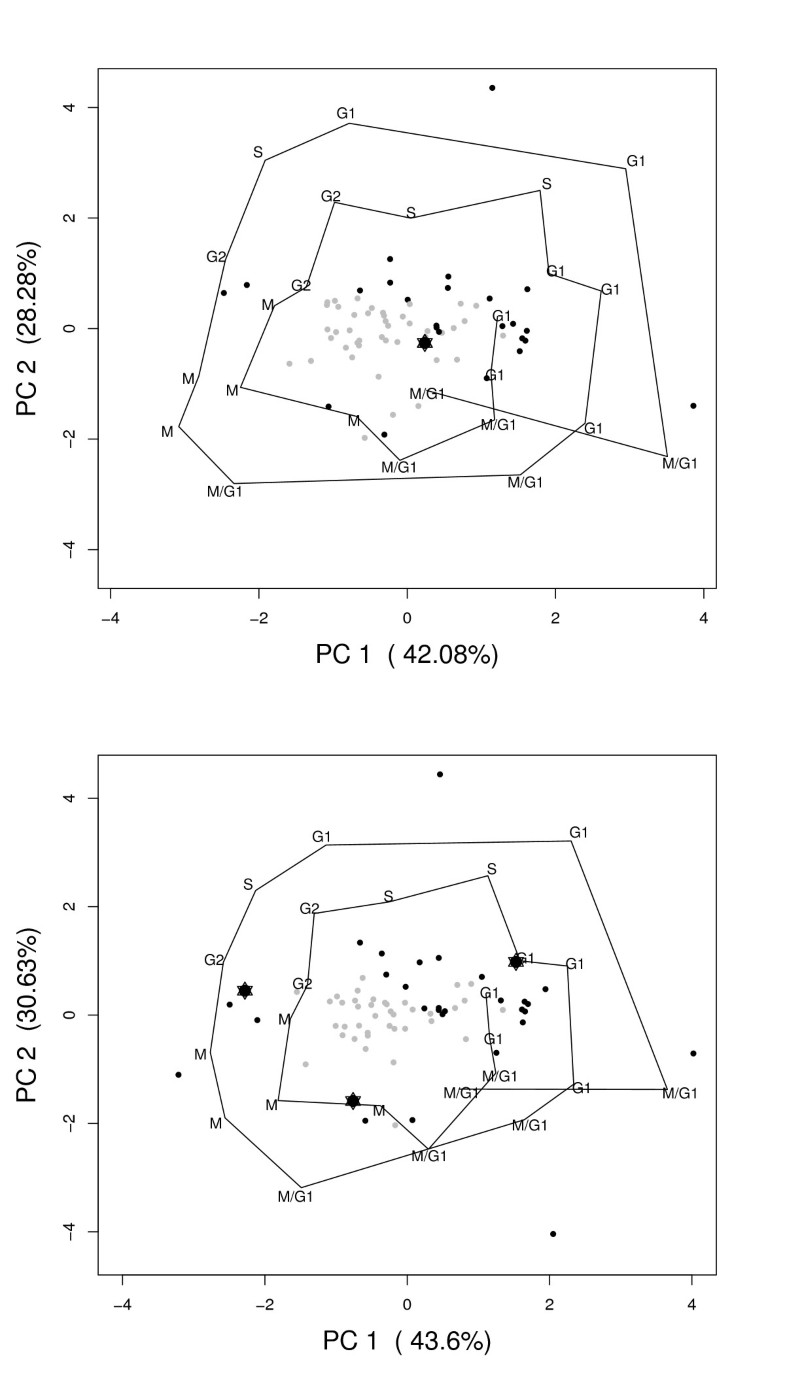 The consequences of preclustering are shown by a number of differences between Figures 3A and 3B. The term "cell wall organization and biogenesis", represented with a star, is used as an example showing interesting changes. When the whole GO class is used (Figure 3A), the term seems uninteresting and is close to the center of the PCA biplot. It is hard to associate it with a specific phase of the cell cycle. When the different profiles are separated by the clustering however, the new subgroups can be associated with phases G1, M, and between M and G2.
MSC data
Because of the large number of GO terms for this dataset we will focus on the terms involved in cell differentiation and osteogenesis. Out of a list of 50 GO terms which could be expected to be responsive to the conditions and the setup of the experiment, 24 terms were present in our dataset 2, taking into account our criteria for the minimum number of genes in a class. For these 24 classes, clustering of the expression profiles in the original GO classes gives rise to 79 classes. These subclasses are marked with black dots in Figure 4. A large number of new subclasses show an increased ICC; they all lie in the vertical band described above. There is also a number of new subclasses which has a decreased ICC.
The number of subclasses associated with cell differentiation and osteogenesis has increased from 24 original GO classes to 79 subclasses, as mentioned before. The GO term "skeletal development" is shown as an example of a category which benefits from preclustering. The group is marked with a star symbol in Figure 5A. After preclustering, six subclasses are identified. As can be seen in Figure 5A, the original term could not be associated with a specific treatment and is present in the center of the plot. This has changed dramatically after clustering, as shown in Figure 5B. One subgroup is still in the center of the plot, but the other subclasses can be associated with individual treatments. Two subgroups can specifically be correlated with osteogenic treatments, one for VIT and one for BMP. These groups are even lying on the corresponding arrows for the loadings. A number of genes within the subgroups corresponds with information known from biological literature. The new subgroup lying on the arrow of the BMP contains the gene MSX1 for instance, which has been proven to be induced by BMP in mice [22]. An example of a gene present in the newly formed subgroup lying on the loading of the VIT treatment is MSX2, which is known to be regulated by vitamin D [23]. Finally, there are two subgroups which lie in the direction of the untreated arrow and one final class which could possibly be correlated with DEX.
Discussion
We have shown a simple and general method to relate expression levels, either directly, or after an ANOVA, to GO categories at all levels in the hierarchy simultaneously. The crucial step is the realization that genes, although they are in the same GO category, may show different profiles. As a result, the application of preclustering leads to more differentiated information. The method is generic; we have opted to use model-based clustering, but in principle any other clustering method can be used, provided that it is possible to automatically generate a reasonable estimate of the number of clusters. The method may be adjusted in a number of ways. The lower limit on the number of genes for a GO category to be considered in the analysis is rather arbitrary. For other problems and datasets this can be adjusted depending on the questions for the specific dataset. The same is true for the cutoff for selecting GO categories. It is possible to inadvertently remove categories which are of interest to your dataset, but are very small.
Other techniques have been proposed for relating measurements to annotation information. An example of relating class information and experimental factors is shown by Jeffery et al. [24], who use transcription factor binding sites information. These are sites in the promoters of genes to which a transcription factor can bind. The transcription factors play an important role in the regulatory networks of gene expression. A method called Correspondence Analysis (CA; [25]) was applied to relate classes and experimental information. CA is similar to PCA; the algorithm can reduce the multidimensional data matrix to a lower dimension containing the important information from the data. In the standard way of applying CA, the dependency of values in the rows on the columns of a contingency table for two sets of conditions is investigated. After scaling of both the rows and columns, PCA is applied to the scaled data.
For the analysis of gene expression data, the first articles which applied CA treated the matrix with expression values as a contingency table. The aim was then to associate genes with variables. Kishino et al. [26] applied CA to show the relationship between genes and tissues of a dataset which was designed to investigate colon cancer [27]. Fellenberg et al. [28] also showed the possibility to investigate the associations between genes and variables. The application of CA to incorporate GO information as class information in the visualization of results was shown by Busold et al. [15]. Datasets investigating glucose metabolism and from human pancreatic adenocarcinomas were used.
For our data, CA and PCA would lead to very similar results, because of the fact that the column means and row means, used for scaling in CA, are very similar, something that is also true for the data used in, e.g., [28]. In Figure 6, the CA curves would completely overlap with the PCA curves and therefore have been left out. Since PCA is more easy to interpret, we prefer it for this case. Preclustering of GO information as presented here could also reveal interesting findings otherwise discarded in methods using class information like CA.
GO information (and other annotation information) is to some extent limited, because not all genes are annotated. This will have a limiting effect on the size of clusters for less well known GO categories; if a certain GO category in the database is not described correctly, or extensively enough, it will obviously be hard to link this GO category with the experimental factors of interest. However, the number of annotations will increase rapidly so that the method will only gain in importance.
With the division of GO classes in clusters with similar profiles, it is possible that one of the new classes gets a high ICC, but remains in the center of the biplot. Such a subgroup will contain relatively flat profiles; nevertheless, it is beneficial that it is clustered separately, to prevent other interesting subgroups to be obscured. One final result of the preclustering is that a category can be found more than once in the same PCA biplot. This can make it more difficult to draw conclusions for a single GO category as a whole. On the other hand, the results will be more indicative of what is really happening within a GO class.
Conclusions
The advantages of clustering heterogeneous GO classes have been shown here for two real gene expression datasets, the well-known YCC dataset and the MSC dataset. The results show that preclustering yields an increased number of interesting groups deviating from the center of the PCA biplot. In this center the less interesting groups with flat profiles are present. In future, more formal selection criteria could be used to identify interesting GO classes and newly formed subclasses, based on statistical significance.
These properties of preclustering allow for a better association of GO categories with phases or treatments, because interesting subgroups which are obscured by different profiles are separated from each other. New meaningful relations are discovered which would not have been found otherwise with PCA. For the GO processes "cell wall organization and biogenesis" (GO:0007047) and "skeletal development" (GO:0001501) this is explicitly shown.
Declarations
Acknowledgements
The first author acknowledges MSD for financial support.
Authors' Affiliations
(1)
Institute for Molecules and Materials, Analytical Chemistry, Radboud University Nijmegen, Nijmegen, The Netherlands
(2)
Department of Applied Biology, Faculty of Science, Radboud University Nijmegen, Nijmegen, The Netherlands
(3)
MSD, Oss, The Netherlands
(4)
Centre for Molecular and Biomolecular Informatics, Nijmegen Centre for Molecular Life Sciences, Radboud University Nijmegen, Nijmegen, The Netherlands
Copyright
© De Haan et al; licensee BioMed Central Ltd. 2010
This article is published under license to BioMed Central Ltd. This is an Open Access article distributed under the terms of the Creative Commons Attribution License (http://creativecommons.org/licenses/by/2.0), which permits unrestricted use, distribution, and reproduction in any medium, provided the original work is properly cited.