Methodology article
Open Access
Ranked retrieval of Computational Biology models
BMC Bioinformatics
2010
11:423
Received: 12 May 2010
Accepted: 11 August 2010
Published: 11 August 2010
Abstract
Background
The study of biological systems demands computational support. If targeting a biological problem, the reuse of existing computational models can save time and effort. Deciding for potentially suitable models, however, becomes more challenging with the increasing number of computational models available, and even more when considering the models' growing complexity. Firstly, among a set of potential model candidates it is difficult to decide for the model that best suits ones needs. Secondly, it is hard to grasp the nature of an unknown model listed in a search result set, and to judge how well it fits for the particular problem one has in mind.
Results
Here we present an improved search approach for computational models of biological processes. It is based on existing retrieval and ranking methods from Information Retrieval. The approach incorporates annotations suggested by MIRIAM, and additional meta-information. It is now part of the search engine of BioModels Database, a standard repository for computational models.
Conclusions
The introduced concept and implementation are, to our knowledge, the first application of Information Retrieval techniques on model search in Computational Systems Biology. Using the example of BioModels Database, it was shown that the approach is feasible and extends the current possibilities to search for relevant models. The advantages of our system over existing solutions are that we incorporate a rich set of meta-information, and that we provide the user with a relevance ranking of the models found for a query. Better search capabilities in model databases are expected to have a positive effect on the reuse of existing models.
Keywords
CaffeineRanking FunctionModel IndexVector Space ModelInformation Retrieval Technique
Background
Importance of model exchange and reuse
The study of a complex biological system now frequently includes the use of modelling and simulation techniques, in order to help understanding the system of interest, and to provide suggestions for promising experimental procedures [
1
]. The rising complexity of
modelled
systems (see Figure
1
, number of encoded species and reactions in BioModels Database [
2
]), and the fact that research activities overlap between different research groups demand for model reuse. Modellers do not want, or cannot build their models of biological systems from scratch, but, on the contrary, need to seek for existing bits and pieces to build their models on, especially when composing complex systems by combining smaller sub-models (see for example [
3
,
4
]).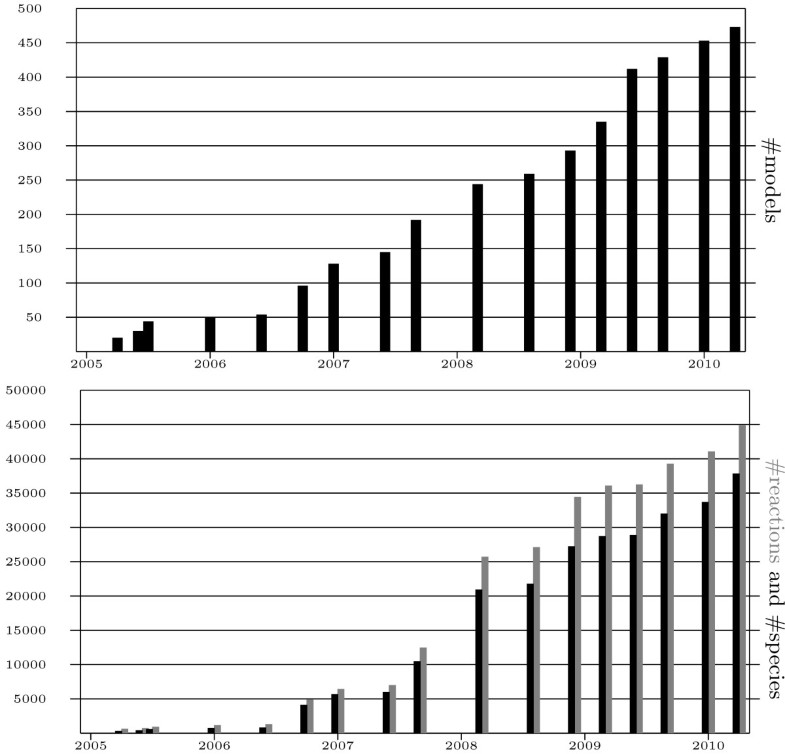 Standard formats for model exchange and open model repositories are crucial tools to make existing models available and accessible to the community as it becomes impossible to actually be aware of all existing models, and research groups involved in the modelling of a system of interest. Some standard formats developed for model representation are widely accepted. Examples include the Systems Biology Markup Language (SBML, [5]), CellML [6], or BioPAX [7]. Computational models of biological systems (bio-models) in standardised representation formats are available from different model repositories, including BioModels Database [2], the JWS Online Model Database [8], or the CellML Model Repository [9].
However, although getting more frequent, model reuse is not yet common-place. The reasons are similar to those hampering code reuse in computer science, where insufficient code documentation and missing modularisation have been the biggest hindrances [10]. Most models are created using computational modelling environments; the constituents' names are often generated automatically and therefore are semantically poor. Models with unspecific species names such as Po 1, Po 2, Pc 1, Pc 2 (for instance, see model BIOMD0000000060 in BioModels Database), or unspecific reaction names re 1 to re 76 (model BIOMD0000000227 in BioModels Database) are common-place. A documentation of the names' meaning, amongst other things, is essential.
Standardised meta-information representation helps grasping models' nature
To countervail the problems experienced in computer science, efforts for the documentation of models' nature were developed. A minimum set of meta-information that is requested to be provided by many journals with each published bio-model is the Minimum Information Required in the Annotation of a Model (MIRIAM, [11]). Such meta-information provides a better understanding of a bio-model's complex and diverse semantics and, if computationally processed, enhances the model reuse.
MIRIAM meta-information encompasses general information about the model itself, e. g. the model's name, authors, or publication reference. But it also includes detailed descriptions of the model constituents, including the identification of encoded species, reactions, and compartments. MIRIAM itself is a textual recommendation, in form of a Minimum Information guideline following the MIBBI idea of coherent reporting guidelines for biological and biomedical investigations [12].
A technical, standardised way of providing the MIRIAM-recommended meta-information is the MIRIAM standard annotation[11, 13]. The proposed format is a triplet referencing a piece of meta-information, also referred to as annotation, in an external resource. The reference to that meta-information is build of (1) the data type, (2) the identifier, and (3) a qualifier from a set of pre-defined qualifiers. Here the data type specifies the namespace within which to interpret the identifier. Some resources encode their knowledge as controlled vocabulary or ontologies. Among existing ontologies that are also used as data types by the MIRIAM standard are the Systems Biology Ontology (SBO, [14]), the Gene Ontology (GO, [15]), or the NCBI Taxonomy http://www.ncbi.nlm.nih.gov/Taxonomy/. One advantage of using ontologies, i. e. "explicit specifications of a conceptualization" [16], over free text information is the standardised encoding of biological knowledge that is then put into relation with other ontology terms. The MIRIAM standard identifier refers to the actual entry within the data type. It corresponds to the identifier (ID) the entry has in the external resource. Finally, the qualifier is used to characterise the relation between the annotated model element and the encoded meta-information. The possible qualifiers are defined at BioModels.net and include relationships such as is, isVersionOf, or hasPart[14].
For example, a species element encoded in a particular SBML model could stand for the compound "phosphosphoenolpyruvate" and in the model simply be called "PEP", offering little valuable information to the user. This compound, on the other hand, is described by the entry CHEBI:18021 in the Chemical Entities of Biological Interest (ChEBI, [17]) ontology. Referring to this particular identifier in that data resource by linking the resource and ID to the species element via the qualifier is, gives software and users access to a wealth of information independent of the elements name, such as synonyms, molecular and structural formulae and cross-links to other databases. Technically, the link is encoded in a standard form using URNs, e. g. urn:miriam:obo.chebi:CHEBI%3A18021 for the given annotation. Another example is the annotation of a reaction element in an SBML document. Given a reaction element in a particular model stands for the "phosphorylation of glucose by hexokinase during glycolysis". This enzymatic reaction is also described by the GeneOntology entry GO:0004396 (hexokinase activity). Attaching the URN urn:miriam:obo.go:GO%3A0004396 to the reaction element using the qualifier isVersionOf, semantically enriches it and again gives access to further information, like alternative terms and enzyme nomenclature codes.
Extending the MIRIAM information
In order to enable a fine-grained retrieval of bio-models, [18] proposes to consider even more information than MIRIAM's required one. Among them are versioning information on both the model and its annotations, but also information on the model encoding format, and information that is only related to the model, such as model behavior under certain conditions, simulation experiments applicable to the model, or simulation results available for the model. A detailed description of different kinds of meta-information considered in this work, even beyond MIRIAM is given in [19].
Finding models in model repositories using Information Retrieval techniques
We argued that a crucial step for a computational system to return relevant models upon a user's query is the availability - and then incorporation - of meta-information on top of a model's structure [18]. With the advent and growth of Computational Systems Biology research, the number of bio-models available rapidly increases. For example, the number of bio-models available from BioModels Database is steadily growing, doubling about every 18 month (see Figure 1, number of models in BioModels Database). As a consequence, searching an existing model base for relevant models can result in a rather big number of models. Therefore, it is very important to support the user in finding relevant models in existing resources. It is common-place to leave the user with an unordered result set of models, without any explanation of why a particular model was found. For complex models the user is typically unable to grasp the model's nature at first sight [18]. Having no information to assess how good a model matched his query, he cannot decide on its relevance. Information Retrieval techniques, which have been widely and successfully used in other areas, offer exactly these benefits for bio-model retrieval.
Information Retrieval is "the process to recover an information stored in a system (i. e. a database) on users demand" [20]. One application for which the successful ranked retrieval of annotated documents has already been shown is Multimedia Information Retrieval (MIR). MIR models describe songs, images or videos annotated with different kinds of information, including meta-information like author or title, but also temporal or spectral information, as well as keywords. Currently, MIR distinguishes three independent classes of similarity measures depending on the kinds of identified features [21]:
Metadata-based similarity measure (MBSM) defines queries by connecting keywords gained from the media object with Boolean operators like ⋀, ⋁. Text retrieval techniques are then used to compare these query keywords with features of the multimedia objects.
Content-based similarity measure (CBSM) utilizes so-called low-level features, i e. automatically extractable items, such as rhythm. Queries make use of these features to search the content of music pieces. Different methods have been developed to retrieve the items represented by low-level features, e. g. humming, tapping or query-by-example.
Semantic-description-based similarity measure (SDSM) evaluates meta-information on multimedia objects that are described with predefined words of different vocabularies.
Motivated by the above observations, we propose a novel retrieval and ranking framework that takes into account different model meta-information to perform similarity-measure-based operations on bio-models. We are aware that data retrieval techniques have already successfully been applied to Life Science data in general [22]. Existing approaches do, however, not consider the retrieval and ranking of models.
Results and discussion
Here we apply an adapted version of the aforementioned solutions for MIR on bio-model retrieval. To re-use MBSM for bio-model retrieval, the MIRIAM required meta-information on the model and its constituents is essential. Furthermore, we use parts of the meta-information suggested by [19] and [18]. When adapting CBSM techniques to bio-model retrieval, low level features (such as the encoded species, reactions, and so on) can be used. Finally, SDSM techniques can be used by tagging the models manually with relevant terms.
Conclusions
This paper presents, to our knowledge for the first time, the application of Information Retrieval techniques on Computational Biology models. The theoretical method relies on knowledge extracted from model annotations, but also incorporates context information. The BioModels Database implementation presents a practical example of this method. It enhances significantly the search possibilities of BioModels Database users. Thorough evaluation, for instance using F-measures, is needed, but currently difficult due to the lack of reference to compare with. The concepts' generality ensures it is easy to apply to other models bases.
Declarations
Acknowledgements
RH and DW were supported by the German Research Association (DFG) research training group dIEM oSiRiS (DFG grant 1387). Implementation work at the EBI was funded by the Leonardo da Vinci - European Commission's Lifelong Learning Programme. AP would like to thank for support through the DFG research training group MUSAMA (DFG grant 1424).
The development of BioModels Database is funded by the European Molecular Biology Laboratory, the Biotechnology and Biological Science (grant BB/F010516/1), and the National Institute of General Medical Sciences (grant R01 GM070923).
Authors are grateful to Camille Laibe and the BioModels.net Team for their help with the implementation in BioModels Database.
Authors' Affiliations
(1)
Database and Information Systems, University of Rostock, Rostock, Germany
(2)
Computational Neurobiology, European Bioinformatics Institute, Hinxton, UK
Copyright
© Henkel et al; licensee BioMed Central Ltd. 2010
This article is published under license to BioMed Central Ltd. This is an Open Access article distributed under the terms of the Creative Commons Attribution License (http://creativecommons.org/licenses/by/2.0), which permits unrestricted use, distribution, and reproduction in any medium, provided the original work is properly cited.