Research article

Open Access
Comparative study of unsupervised dimension reduction techniques for the visualization of microarray gene expression data
BMC Bioinformatics
2010
11:567
Received: 19 January 2010
Accepted: 18 November 2010
Published: 18 November 2010
Abstract
Background
Visualization of DNA microarray data in two or three dimensional spaces is an important exploratory analysis step in order to detect quality issues or to generate new hypotheses. Principal Component Analysis (PCA) is a widely used linear method to define the mapping between the high-dimensional data and its low-dimensional representation. During the last decade, many new nonlinear methods for dimension reduction have been proposed, but it is still unclear how well these methods capture the underlying structure of microarray gene expression data. In this study, we assessed the performance of the PCA approach and of six nonlinear dimension reduction methods, namely Kernel PCA, Locally Linear Embedding, Isomap, Diffusion Maps, Laplacian Eigenmaps and Maximum Variance Unfolding, in terms of visualization of microarray data.
Results
A systematic benchmark, consisting of Support Vector Machine classification, cluster validation and noise evaluations was applied to ten microarray and several simulated datasets. Significant differences between PCA and most of the nonlinear methods were observed in two and three dimensional target spaces. With an increasing number of dimensions and an increasing number of differentially expressed genes, all methods showed similar performance. PCA and Diffusion Maps responded less sensitive to noise than the other nonlinear methods.
Conclusions
Locally Linear Embedding and Isomap showed a superior performance on all datasets. In very low-dimensional representations and with few differentially expressed genes, these two methods preserve more of the underlying structure of the data than PCA, and thus are favorable alternatives for the visualization of microarray data.
Keywords
Principal Component Analysis
Support Vector Machine
Target Space
Microarray Dataset
Target Dimension
Background
DNA microarrays allow the measurement of transcript abundances for thousands of genes in parallel. Applications in quality assessment and interpretation of such high dimensional data by clustering [1, 2] and visualization [3, 4] make use of algorithms that reduce its dimension. Two and three dimensional visualizations are often a good way to get a first impression of properties or the quality of a dataset or of special patterns within the data by showing clusters such as diseased and healthy patients, revealing outliers, a high level of noise or to generate hypotheses for further experimentation [5–8]. In general, there are two different approaches to reduce a datasets' dimension. Feature selection methods [9–11] compute a ranking on all genes by means of some given score and pick a gene subset based on this ranking. Feature extraction methods define a mapping between the high-dimensional input space and a low-dimensional target space of a given dimension. Both methods are used in machine learning concepts. Most classification algorithms use many or all features in a complex (nonlinear) manner whereas approaches like [12, 13] are based on the relative expression of only two or three genes to overcome the "black box" character of the other classifiers. So they allow an easy traceability of the genes leading to the classification result. On the other hand, applications like the visualization of high-dimensional data may profit from extracting information from all features. This results in feature extraction methods usually being more suited for low-dimensional representations of the whole data. In the following, we refer to feature extraction methods when speaking of dimension reduction techniques.
Considering visualization, these kind of mappings are often unsupervised, because they don't use further information of the data like class labels and allow an unbiased view of the structure within the data. Supervised methods are more applicable to improve classification or regression procedures, assuming that less non-differential or noisy features are reduced after the mapping.
All features, that are related to special properties of the data or a separation into classes or clusters, often lie in a subspace of a lower (intrinsic) dimension within the original data. A 'good' dimension reduction technique should preserve most of these features and generate data with similar characteristics like the high-dimensional original. For example, classifications should work at least as well on the low-dimensional representation and clusters within the reduced data should also be found, preferably more distinct. Principal Component Analysis (PCA) is a widely used unsupervised method to define this mapping from high-to low-dimensional space. Availability of large datasets with high-dimensional data, especially in biological research (e.g. microarrays), led to many new approaches in the last years.
Other studies, that deal with the assessment of dimension reduction techniques, either compare them against the background of classification [14–18], and hence mainly discuss supervised methods like Partial Least Squares [19, 20], Sliced Inverse Regression [21] or other Regression models [22], or come from Computer Vision and deal with text, image, video or artificial data like the Swiss Roll [23–28]. This study instead, focuses on microarray data and its two and three dimensional visualization. We compare PCA to six recent unsupervised methods to find out if and under which conditions they are able to outperform PCA. In the following sections, we describe a benchmark, consisting of classifications and cluster validations, to compare the visualization performance of seven dimension reduction techniques on ten real microarray and several simulated datasets. After some technical details in the methods section, we present and discuss all results, based on one representative dataset. Further details of the other nine datasets are available in the supplement.
Methods of Assessment
Benchmark
Our benchmark (Figure
1
) is divided into three parts. First, the studied dimension reduction methods were applied to the complete dataset. The low-dimensional datasets were then assessed by two different approaches, namely classification and cluster validation. To evaluate and compare the performance of each method, the classification accuracies of Support Vector Machines [
40
] (with Gaussian kernel) and the compactness and distance of clusters within the low-dimensional representations were used. In the following, each step of our benchmark is described in detail.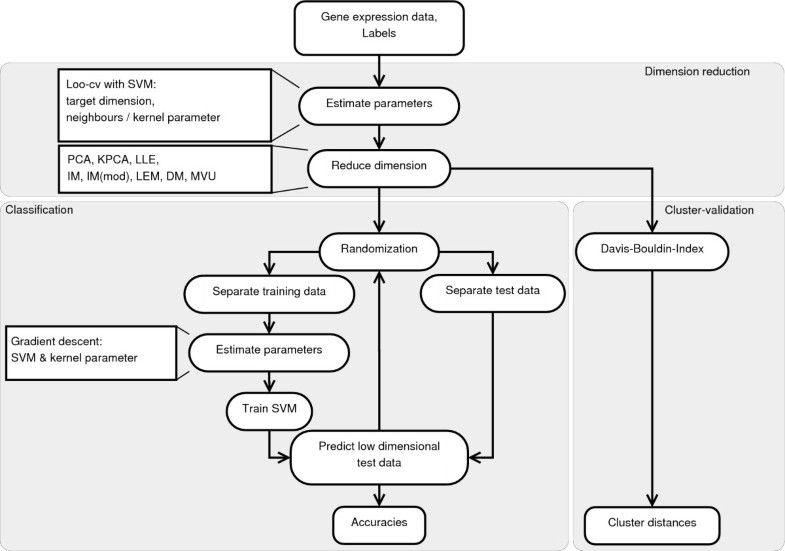 Datasets
The methods were tested on ten published microarray datasets as well as on simulated data. Each published dataset was divided into two classes according to a binary variable corresponding to the samples' disease status, the presence of certain molecular mutations or other sample characteristics as shown in Table
1
. Since microarray data is technically provided with a more or less high level of noise, we reran the benchmark on the microarray datasets combined with normally distributed noise with zero mean and an increasing variance between 0 and 0.1. Before adding noise, all data was scaled to values between 0 and 1 to overcome the varying means and standard deviations of the datasets.
Table 1
Microarray datasets
| Dataset | samples | features | class 1(#samples) | class 2(#samples) |
| --- | --- | --- | --- | --- |
| 1 Wang et al. - Breast cancer [50] | 286 | 22.283 | ER+(209) | ER-(77) |
| 2 Verhaak et al. - Leukemia [51] | 461 | 54.675 | NPM1 pos.(140) | NPM1 neg.(321) |
| 3 Haferlach et al. - Leukemia [52] | 251 | 54.675 | NPM1 pos.(138) | NPM1 neg.(113) |
| 4 Haferlach et al. - Leukemia [52] | 77 | 54.675 | AML with t(8;21)(40) | AML with t(15;17)(37) |
| 5 Golub et al. - Leukemia [53] | 72 | 7.129 | ALL(47) | AML(25) |
| 6 Chiaretti et al. - Leukemia [54] | 22 | 12.625 | CLL stable(8) | CLL progressive(14) |
| 7 Alizadeh et al. - Lymphoma [55] | 38 | 18.432 | Activated B-like DLBCL(17) | GC B-like DLBCL(21) |
| 8 Nutt et al. - High-grade glioma [56] | 50 | 12.625 | Glioblastoma(28) | Anaplastic oligodendroglioma(22) |
| 9 Alon et al. - Colon cancer [57] | 62 | 2.000 | Tumor(42) | Normal(20) |
| 10 Singh et al. - Prostate cancer [58] | 102 | 12.600 | Tumor(52) | Normal(50) |
The simulated data is based on a 50 sample dataset whose 10.000 gene expression values are normally distributed with zero mean and standard deviation one. The covariances of all genes are given by a block diagonal matrix with coefficients ρ = 0.2 within and ρ = 0 outside the blocks of size 50 × 50. To separate the data into two classes, between 10 and 500 genes were randomly chosen to be differentially expressed by adding a constant of 0.6 to the expression values of the first 25 samples. We generated 100 datasets for testing.
In the same manner as for the ten microarray datasets before, normally distributed noise with zero mean and an increasing variance between 0 and 0.2 was added to the simulated data. We repeated the benchmark on 50 of these noisy artificial datasets. The number of differential features was fixed to 300.
Dimension reduction
All dimension reduction techniques discussed here have one or two free parameters, that influence the embedding and the target dimension. Their determination was done by minimizing the error rate of a Support Vector Machine (SVM) within a leave-one-out cross-validation (loo-cv) schema: For N samples, the dataset was divided N times into a training and a test set. One sample was excluded for testing while the rest was taken for training. The average over all prediction accuracies gives an estimate of the SVMs' generalization error.
This procedure was repeated for every set of parameters within the following ranges:
Target dimensionality: 2 ≤ d ≤ 15
Neighbors: 4 ≤ k ≤ 16
Gaussian kernel: 1e − 1 ≤ σ ≤ 5e 5
If the same loo-cv accuracies were achieved by using different parameter values for the target dimension, the lowest value was taken for reasons of a most simple representation. The same applies to the neighbor/kernel parameters.
After the loo-cv, the whole dataset was reduced in its dimension in an unsupervised manner, i.e. without consideration of class labels.
Classification
The first evidence for the quality of the different dimension reduction methods are the accuracies of a Support Vector Machine with Gaussian kernel.
The data was classified repeatedly during several randomization steps:
We randomly split the dataset a hundred times into a set to train the SVM and a test set for classification, and selected the median accuracy of all runs. Within the training set, a loo-cv was performed to determine the SVM parameters. For reasons of performance, a gradient descent procedure as proposed in [41] was used to minimize the loo-cv error. Every time during randomization, the training set consisted of two thirds of the original data and the test set of the remaining samples. The only constraint was to keep the balance between the number of samples in each class. Since SVMs do not restrict the dimension of the input data, the randomization results of the low-dimensional data can be compared to the high-dimensional original data, to see if more or less significant features got lost after the embedding.
Cluster validation
To measure the distances between the labeled clusters, we used the Davis-Bouldin-Index (DB-Index) [
42
]: Given
M
clusters
C
i
(
i
= 1
, . . . , M
) and their centers ,
is the average distance of the samples in cluster
C
i
to its center. While reports the compactness of clusters
C
i
, C
j
related to their distance, the DB-Index
averages the worst cases of the clusters' separations. One might expect well separated clusters to have smaller values close to one. In our case, the DB-Index was computed for fixed target space dimensions 2,3,5, and 10.
Implementation details
The presented benchmark was implemented in Matlab 7.8.0 (R2009a). Furthermore, libsvm (version 2.89) [43] served as Support Vector Machine implementation, in conjunction with Automatic Model Selection for Kernel Methods (Apr 2005) [44]. The Dimensionality Reduction Toolbox (version 0.7 - Nov 2008) [45], Isomap package (Release 1 - Dec 2000) [46], LLE routine [45] and MVU implementation (version 1.3) [47] were used for dimension reduction. Because the Isomap and LLE routines performed best in our benchmark, we converted their Matlab implementations for the statistical programming language R [48]. The R-package 'RDRToolbox', also including a routine to compute the Davis-Bouldin-Index and our microarray gene expression data simulator, can be downloaded from [49] (see also Additional file 1).
Results and Discussion
The following sections present the results for the Wang et al. Breast Cancer dataset, which represents best the results of the whole procedure. For the sake of simplicity, the visualization example in Figure
2
refers to the Haferlach et al. Leukemia dataset, which consists of fewer samples. Further detailed analysis of all other datasets is available in the supplement (see Additional file
2
).

A linear approach like PCA is known to recover the true structure of data lying on or near a linear subspace of the high-dimensional input space. The following results show that the structure of microarray data is often too complex to be captured well in very low dimensional target spaces in a linear manner. Nonlinear methods, in particular LLE and Isomap, preserve more information in the data than the first few principle components of a PCA are able to cover.
Conclusions
Classifications on high and low-dimensional data showed, that the most significant information within microarray data can be captured quite well in very few dimensions compared to the thousands of features of the original data.
Our benchmark further revealed significant shortcomings of PCA in two and three dimensional target spaces and brought out two nonlinear methods, that distinguished most from PCA. Especially the performances of Locally Linear Embedding and Isomap in classification and cluster validation make them well suited alternatives to the classic, linear approach of PCA.
Declarations
Acknowledgements
This study was supported by COST Action BM0801 Translating genomic and epigenetic studies of MDS and AML (EuGESMA) and by the European Leukemia Network of Excellence (ELN).
Authors' Affiliations
(1)
Department of Medical Informatics and Biomathematics, University of Münster, Münster, Germany
(2)
Department of Computer Science, University of Münster, Münster, Germany
Copyright
© Bartenhagen et al; licensee BioMed Central Ltd. 2010
This article is published under license to BioMed Central Ltd. This is an Open Access article distributed under the terms of the Creative Commons Attribution License (http://creativecommons.org/licenses/by/2.0), which permits unrestricted use, distribution, and reproduction in any medium, provided the original work is properly cited.