PeakRanger: A cloud-enabled peak caller for ChIP-seq data
BMC Bioinformatics
2011
12:139
Received: 14 January 2011
Accepted: 9 May 2011
Published: 9 May 2011
Abstract
Background
Chromatin immunoprecipitation (ChIP), coupled with massively parallel short-read sequencing (seq) is used to probe chromatin dynamics. Although there are many algorithms to call peaks from ChIP-seq datasets, most are tuned either to handle punctate sites, such as transcriptional factor binding sites, or broad regions, such as histone modification marks; few can do both. Other algorithms are limited in their configurability, performance on large data sets, and ability to distinguish closely-spaced peaks.
Results
In this paper, we introduce PeakRanger, a peak caller software package that works equally well on punctate and broad sites, can resolve closely-spaced peaks, has excellent performance, and is easily customized. In addition, PeakRanger can be run in a parallel cloud computing environment to obtain extremely high performance on very large data sets. We present a series of benchmarks to evaluate PeakRanger against 10 other peak callers, and demonstrate the performance of PeakRanger on both real and synthetic data sets. We also present real world usages of PeakRanger, including peak-calling in the modENCODE project.
Conclusions
Compared to other peak callers tested, PeakRanger offers improved resolution in distinguishing extremely closely-spaced peaks. PeakRanger has above-average spatial accuracy in terms of identifying the precise location of binding events. PeakRanger also has excellent sensitivity and specificity in all benchmarks evaluated. In addition, PeakRanger offers significant improvements in run time when running on a single processor system, and very marked improvements when allowed to take advantage of the MapReduce parallel environment offered by a cloud computing resource. PeakRanger can be downloaded at the official site of modENCODE project: http://www.modencode.org/software/ranger/
Keywords
Cloud ComputingEnrich RegionPeak CallingTarget Binding SiteHistone Modification Mark
Background
The genome-wide characterization of chromatin protein binding sites and the profiling of patterns of histone modification marks is essential for understanding the dynamics of chromatin, unraveling the transcriptional regulatory code and probing epigenetic inheritance. The main technique for performing this characterization is chromatin immunoprecipitation (ChIP), coupled with massively parallel short-read sequencing (seq)[1–5]. Unlike its predecessor ChIP-chip [6, 7], ChIP-seq provides improved dynamic range and spatial resolution[5].
After mapping sequenced ChIP reads to the reference genome, the first critical task of ChIP-seq data analysis is to accurately identify the target binding sites or regions enriched in histone marks [8]. Since downstream analysis relies heavily on the accurate identification of such binding sites or regions, a large number of algorithms have been proposed for peak calling[2, 9–24].
Despite the availability of such a large set of peak callers, many of these algorithms have disadvantages in real-world settings. Some algorithms have high sensitivity, but call an excessive number of false positive peaks due to low specificity. Others have the opposite problem. Another limitation of the current generation of peak callers is that many are optimized to detect either narrow punctate features, such as those generated by transcription-factor binding site experiments, or else optimized to detect broad peaks, such as those characterized by regions of modified histones. Hence a ChIP-seq production environment may need to install and maintain two different peak calling software packages. Those algorithms that attempt to handle both type of peak typically do so at the sacrifice of inter-peak and spatial resolution. The former is the ability to distinguish two or more closely-spaced peaks, while the latter is the ability to correctly locate the target binding site or histone modification boundaries. Both types of resolution are essential for understanding the underlying biology of chromatin dynamics. An example of how loss of resolution can affect the interpretation of ChIP-seq data is shown in Figure
1
.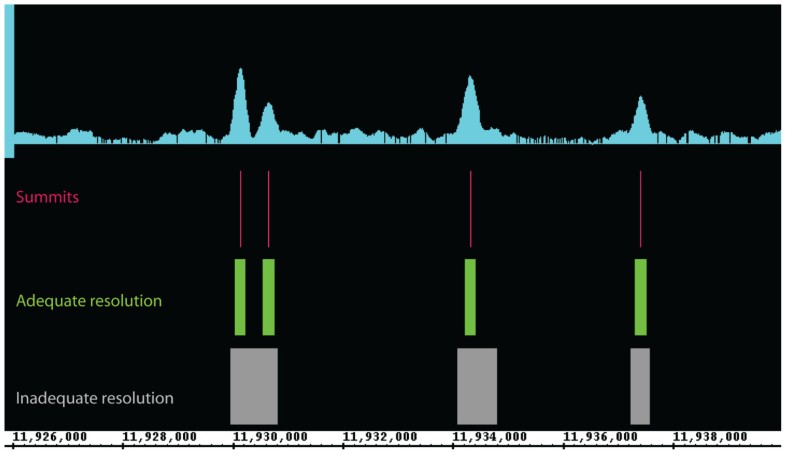 Software usability is also an issue. Some otherwise excellent peak callers are difficult to use because they require unusual data file formats, run slowly on real-world data sets, or do not take advantage of cluster computing. Poor usability can also impede the ability of a researcher to integrate the software with other tools in an analytic pipeline.
Here we present our efforts to address these concerns by creating PeakRanger, a novel peak caller that is both accurate and usable. Across a series of six accuracy benchmarks and three software usability benchmarks, it compares favorably to 10 other peak callers selected from the recent literature. In addition, PeakRanger supports MapReduce based parallel computing in a cloud environment, allowing it to scale well to large data sets in high-volume applications.
Implementation
Building the read coverage profile
The first step of peak calling is to build a read coverage profile using aligned raw reads. A key step in ChIP-seq is to shear the immunoprecipitated chromatin into fragments of 200-500 bp prior to extracting the DNA and sequencing it. Because the shear size is much larger than the small reads produced by early next-generation sequencing machines, many peak calling algorithms make use of the "shift" distance between coverage peaks defined by plus and minus strand read alignments, but this has become less useful as the read length produced by next-generation sequencers approaches the ChIP-seq DNA shear size. PeakRanger uses the same "blind-extension" strategy as PeakSeq[18] in which the shear size is provided by the user and not estimated from aligned raw reads. This choice significantly simplifies the software design and improves performance. (see additional file 1)
Peak Detection
We first identify broad regions of signal enrichment using the same algorithm as PeakSeq, which detects contiguous enrichment regions by thresholding. After that, we use a "summit-valley-alternator" algorithm to scan for summits within regions identified by PeakSeq. This algorithm starts by searching for the first summit within the region, where a summit is defined as the location that has the maximum signal value before subsequent locations drop below a pre-defined cutoff value. The value is calculated by multiplying the current maximum signal value with delta, a tuning factor that should be chosen based on the needs of users. Delta is in the range (0, 1). Since the reads signal of broad regions are usually noisy, we perform additional signal processing before calling summits. (see additional file 1)
Software Engineering
PeakRanger is written in C++, and can be compiled on Linux, MacOS and Windows. It runs as a command-line program.
Discussion
Figure
9
summarizes the accuracy and software engineering benchmarks discussed above, where each of the 11 peak callers examined is ranked from 0 (worst) to 10 (best) for a particular benchmark. The last column of the table is a simple sum of the ranks. No single peak caller ranks as the best on all benchmarks; in particular, algorithms with high sensitivity often have low specificity. However, PeakRanger manages a good compromise among all the performance benchmarks and ranks first in the aggregate ranking.

The algorithm used to find the summits within enriched regions are similar to those used by QuEST and FindPeaks. To make the summit detection more reliable and flexible, we enhanced it based on our experiences of real ChIP-Seq datasets. In QuEST, users can not control the sensitivity of summits detection. In comparison, PeakRanger allows users to specify the sensitivity by using the -r option. We also applied an additional padding algorithm to avoid calling false positive summits. In case a dataset does not have adequate sequencing depth, we pad enriched regions so that the summit detection algorithm will not call summits if two base pairs are separated with regions of zero read counts.
PeakRanger relies on PeakSeq which detects enriched regions before the step of summit detecting. PeakSeq is an effective algorithm but the original implementation gives only limited usage of the algorithm. We thus significantly modified PeakSeq so that it can be integrated as a part of PeakRanger. PeakSeq contains two separate parts: pre-processing and peak-calling. These two parts are now combined into a single module to reduce file I/O cost. We also designed indexing of chromosomes to enable support to other species with different number and names of chromosomes. The original PeakSeq runs in single-thread mode and we modified related data structures to support multi-thread mode.
Although PeakRanger represents a successful compromise among multiple measures of accuracy, researchers should consider one of the other peak calling algorithms if a particular performance characteristic is of the top priority. For example, if identifying the precise center of the peak is critical to an experiment, then researchers should consider GPS, QuEST, MACS, SPP or FindPeaks, all of which have better spatial accuracy than PeakRanger.
The current design for the Hadoop version is based on chromosome-level-independence (CLI), which limits the practical level of parallelization to the number of chromosomes in the genome. This concept can be generalized to region-level-independence (RLI) by breaking the genomes into a set of arbitrary regions and call peaks in each individual region. However, this is dependent on the peak calls for each region being independent of each other, a criterion that is not satisfied when an enriched region crosses the region boundary. Additional manipulation of the regions to allow for overlap between them, and adjustments for the changes in coverage in overlapped regions will be necessary to implement this, and is deferred to future work. However, even with the current design we are able to archive an order-of-magnitude increase in speed, which is sufficient for most practical applications.
Conclusion
In this paper, we introduce PeakRanger, a general purpose ChIP-seq peak calling algorithm that is optimized for accuracy, speed and ease of use. It is suitable for use in small laboratories, as well as in large production centers, and can be used in a cloud environment for very high throughput environments. The software is freely available and open source under the Artistic License 2.0. The primary download site is http://www.modencode.org/software/ranger/.
Availability and requirements
PeakRanger is under the Artistic License 2.0. PeakRanger can be downloaded from: http://www.modencode.org/software/ranger/. We currently provide the full source code, as well as binaries for Linux systems. Binaries for other operating system and an Amazon EC2 image will be available during the first quarter of 2011.
Declarations
Acknowledgements
We thank Michal Sabala for his help on cloud computing environment configurations. We thank Mark Gerstein, Joel S. Rozowsky, Bradley I. Arshinoff, Guanming Wu and Zheng Zha for their comments. We thank Marc Perry, Sonja Althammer and Zheng Zha for their help of datasets. We thank Shamit Soneji, Stephen Taylor, Ian Donaldson and Jasreet Hundal for their feedbacks of beta releases. This project was funded by the iPlant Collaborative and a grant from the National Science Foundation Plant Cyberinfrastructure Program (#DBI-0735191).
Authors' Affiliations
(1)
Department of Biomedical Engineering, Stony Brook University, Stony Brook, USA
(2)
Cold Spring Harbor Laboratory, Cold Spring Harbor, USA
(3)
Ontario Institute for Cancer Research, MaRS Centre, South Tower, Toronto, Canada
(4)
Institute for Genomics & Systems Biology, The University of Chicago, Chicago, USA
Copyright
© Feng et al; licensee BioMed Central Ltd. 2011
This article is published under license to BioMed Central Ltd. This is an Open Access article distributed under the terms of the Creative Commons Attribution License (http://creativecommons.org/licenses/by/2.0), which permits unrestricted use, distribution, and reproduction in any medium, provided the original work is properly cited.