ZFN-Site searches genomes for zinc finger nuclease target sites and off-target sites
BMC Bioinformatics
2011
12:152
Received: 11 September 2010
Accepted: 13 May 2011
Published: 13 May 2011
Abstract
Background
Zinc Finger Nucleases (ZFNs) are man-made restriction enzymes useful for manipulating genomes by cleaving target DNA sequences. ZFNs allow therapeutic gene correction or creation of genetically modified model organisms. ZFN specificity is not absolute; therefore, it is essential to select ZFN target sites without similar genomic off-target sites. It is important to assay for off-target cleavage events at sites similar to the target sequence.
Results
ZFN-Site is a web interface that searches multiple genomes for ZFN off-target sites. Queries can be based on the target sequence or can be expanded using degenerate specificity to account for known ZFN binding preferences. ZFN off-target sites are outputted with links to genome browsers, facilitating off-target cleavage site screening. We verified ZFN-Site using previously published ZFN half-sites and located their target sites and their previously described off-target sites. While we have tailored this tool to ZFNs, ZFN-Site can also be used to find potential off-target sites for other nucleases, such as TALE nucleases.
Conclusions
ZFN-Site facilitates genome searches for possible ZFN cleavage sites based on user-defined stringency limits. ZFN-Site is an improvement over other methods because the FetchGWI search engine uses an indexed search of genome sequences for all ZFN target sites and possible off-target sites matching the half-sites and stringency limits. Therefore, ZFN-Site does not miss potential off-target sites.
Keywords
Zinc Finger NucleaseIndividual FingerGenome SearchPositional Weight MatrixDegenerate Nucleotide
Background
The ability to create double-stranded DNA breaks at specific genomic sequences is important for gene correction therapeutics, targeted gene integration and gene modification for research models as well as gene disruption [1]. Zinc Finger Nucleases (ZFNs) are promising candidates for such specific nucleases. ZFNs consist of the sequence-independent FokI nuclease domain fused to zinc finger proteins (ZFPs). ZFPs can be altered to change their sequence specificity. Cleavage of targeted DNA requires binding of two ZFNs (designated left and right) to adjacent half-sites on opposite strands with correct orientation and spacing, thus forming a FokI dimer [2]. The requirement for dimerization increases ZFN specificity significantly. Three or four finger ZFPs target ~9 or 12 bases per ZFN, or ~18 or 24 bases for the ZFN pair. ZFN pairs have been used for gene targeting at specific genomic loci in insect, plant, animal and human cells [3–10] (and reviewed in [11, 12]). Methods are available to measure general ZFN toxicity or the amount of unrepaired DNA ends resulting from ZFN treatment [13–16]; however, determining all possible off-target cleavage sites may be challenging, as some possible cleavage sites can be missed by BLAST and similar methods. ZFN-Site determines the most probable off-target sites for further analysis or testing. Several ZFN design web tools exist that offer BLAST-based searches for potential ZFN off-target sites [17–22]. BLAST searches, which implement a local alignment search, are not optimal for finding ZFN off-target sites and may miss some sites because they utilize seed-based methods with a non-overlapping word index to search only for perfect matches, rather than longer imperfect matches. BLAST also uses an E-value threshold that does not directly correspond to a "# of mismatches" threshold. ZFN-Site is more thorough because it scans one index entry for each nucleotide in the genome, ensuring that no matches are missed. ZFN-Site was created to provide a simple, easy-to-use interface that does not require the end user to possess specialized bioinformatics or search algorithm expertise. ZFN-Site provides an interface that searches multiple genomes for sites with ambiguities, mismatches, multiple spacings, hetero-dimeric binding sites and homo-dimeric binding sites composed of two left or two right ZFN half-sites. Changing these parameters can expand the number of possible off-target sites returned to match the purpose. A larger list enables thorough screening for potential ZFN off-target sites using new methods, such as high-throughput sequencing or mutation screens.
Implementation
ZFN-Site was developed to quickly locate all possible ZFN target and off-target sites that might be cleaved. Based on the tailoring of search parameters, ZFN-Site generates sets of search strings. To ensure that all sites matching these criteria are found in the requested genomes, ZFN-Site employs the FetchGWI search engine [23]. The input can be either the nucleotide sequence of the intended target site of each ZFN (basic search) or information about each ZFN's binding specificity (relaxed specificity). The number of possible sites is expanded by choice of ZFN spacing, the possibility of ZFN homo-dimerization (see below) and the number of allowed mismatches. The output from ZFN-Site aids in the choice of ZFN pairs that minimize potential off-target sites and allows experimental testing of each ZFN pairs' off-target sites in cells or in mutated animals. Experimentally testing the list of found sites under a series of different conditions may determine the conditions favoring more specific targeting and less off-target cleavage events.
Results
ZFN-Site was validated by comparing our results to a previously published study by Perez
et al.
[
7
]. Perez
et al.
looked for off-target cleavage by a pair of ZFNs specific for the gene coding for human C-C chemokine receptor type 5 (CCR5). This study used an unpublished algorithm to identify potential off-target sites by scanning the human genome using
in vitro
SELEX selection specificity data [
7
]. Their sequencing of the identified off-target sites revealed that a site in the related CCR2 gene was also cleaved at a low frequency. The left and right ZFN half-sites, including ambiguities suggested from their SELEX data, were compiled and entered into ZFN-Site (Figure
3
). ZFN-Site found the CCR5 target site and each of the off-target sites on their list, including the experimentally verified CCR2 off-target cleavage site (Figure
4
). Additional file
1
, Figure S1 contains ZFN-Site output with less than three total mismatches.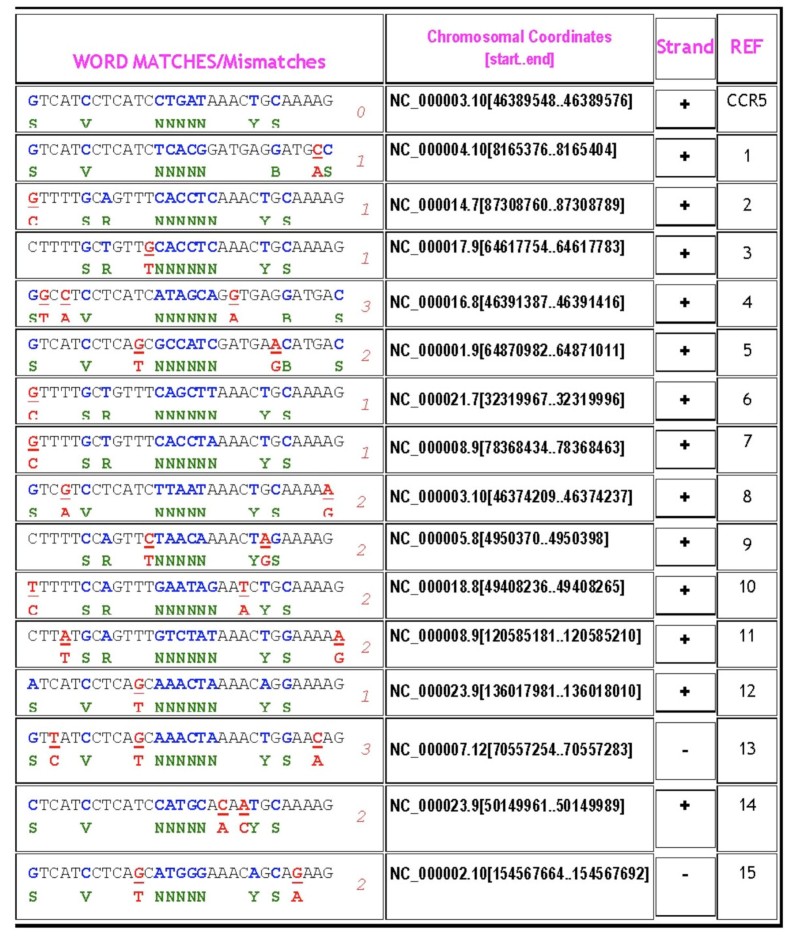 Multiple BLAST searches sometimes accomplish the same function as ZFN-Site if one inputs all possible permutations of homo/heterodimers, spacings and relaxed specificities. This can be labor-intensive. For example, six BLAST queries for permutations of the Perez
et al
. ZFNs could replace one ZFN-Site search without ambiguities (Figure
5
). However, in contrast to ZFN-Site, BLAST does not allow ambiguous bases. While BLAST could return these sites, user intervention would be required to distinguish these from true mismatches. ZFN-Site thus simplifies the process of searching for ZFN off-target sites.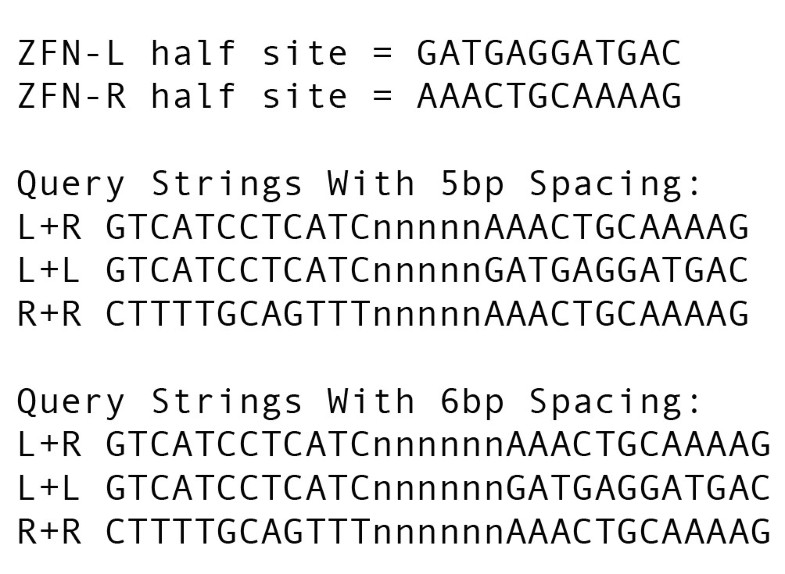 ZFN-Site locates every site matching the specified search criteria. In contrast, it has been noted that the BLAST methodology may not find every ZFN site [20]. Because BLAST searches implement a local alignment search, they are incapable of reproducing the same type of results as ZNF-Site. To compare results to the single ZFN-Site search above, six sets of BLAST searches for the CCR5 ZFN pair were done to include homo- and hetero-dimerization at both 5 bp and 6 bp spacing. Some of the sites found by Perez et al. and by ZFN-Site were not found using BLAST, although the BLAST parameters were optimized to attempt to return all matches (Additional file 2, Figure S2). The BLAST search for the right homo-dimer pair with six base spacing failed to return two sequences found by Perez et al. and ZFN-Site (numbers 10 and 11). This search returned 474 genomic sequences, many of which were too dissimilar to be likely off-target sites. Because BLAST outputs the matching portion of the sequences with the ends truncated, further user intervention was required to verify the total similarity of these sequences.
In some cases, ZFN-Site may return a large number of sequences. The degree to which one may wish to narrow a list of ZFN-Site outputs depends on the experimental means used to search for off-target cleavage and the resources for scanning multiple sites. The use of deep sequencing may require less narrowing of the list because one can quantitatively test hundreds of sites. Until more information is available on the actual prevalence of ZFN off- target cleavage, it would be desirable to test as many potential off-target sites as experimentally feasible.
A post-processing step using positional weight matrices (PWM) can be used to rank the output of ZFN-Site. Additional file 3 is an example of a spreadsheet used to rank ZFN-Site output using PWMs based on the graph of nucleotide frequencies in Perez et al. [7]. The top putative target sites could then be tested experimentally.
Conclusions
ZFN-Site is applicable to genome searches for pairs of half-sites in nucleases or other types of DNA binding proteins. Here, we have presented a user friendly interface allowing a directed search of multiple genomes and have validated its use for finding ZFN sites and off-target sites in the human genome. Experimental testing for ZFN cleavage at the potential sites found by ZFN-Site using large scale sequencing or mutation detection may provide a more thorough understanding of the determinants of ZFN specificity and allow optimization for decreased off-target cleavage events. These results can also be compared with results from other methods for detecting off-target cleavage and toxicity [13–16].
Recently, other nucleases, such as TALE nucleases, have been used for genome alteration [36–39]. While ZFN-Site was tailored to locate ZFN off-target sites, it can also be used to find targets for TALE nucleases. A spreadsheet for creating PWMs and ranking output for TALE nucleases is available upon request.
Availability and requirements
Declarations
Acknowledgements
The authors would like to thank Ramona McCaffrey for editorial assistance. This work was supported by the National Institutes of Health [grant number R01 5R01AI068885-03] (TC & AM). Conflict of Interests: none declared.
Authors' Affiliations
(1)
Department of Internal Medicine, University of Iowa School of Medicine, Iowa City, USA
(2)
Swiss Institute of Bioinformatics (SIB), Bâtiment Génopode, Université de Lausanne, Lausanne, Switzerland
(3)
Ecole Polytechnique Federale de Lausanne (EPFL), Swiss Institute for Experimental Cancer Research (ISREC), Lausanne, Switzerland
(4)
Ludwig Institute for Cancer Research (LICR), Bâtiment Génopode, Université de Lausanne, Lausanne, Switzerland
Copyright
© Cradick et al; licensee BioMed Central Ltd. 2011
This article is published under license to BioMed Central Ltd. This is an Open Access article distributed under the terms of the Creative Commons Attribution License (http://creativecommons.org/licenses/by/2.0), which permits unrestricted use, distribution, and reproduction in any medium, provided the original work is properly cited.