Research article
Open Access
PlantPhos: using maximal dependence decomposition to identify plant phosphorylation sites with substrate site specificity
BMC Bioinformatics
2011
12:261
Received: 14 March 2011
Accepted: 26 June 2011
Published: 26 June 2011
Abstract
Background
Protein phosphorylation catalyzed by kinases plays crucial regulatory roles in intracellular signal transduction. Due to the difficulty in performing high-throughput mass spectrometry-based experiment, there is a desire to predict phosphorylation sites using computational methods. However, previous studies regarding in silico prediction of plant phosphorylation sites lack the consideration of kinase-specific phosphorylation data. Thus, we are motivated to propose a new method that investigates different substrate specificities in plant phosphorylation sites.
Results
Experimentally verified phosphorylation data were extracted from TAIR9-a protein database containing 3006 phosphorylation data from the plant species Arabidopsis thaliana. In an attempt to investigate the various substrate motifs in plant phosphorylation, maximal dependence decomposition (MDD) is employed to cluster a large set of phosphorylation data into subgroups containing significantly conserved motifs. Profile hidden Markov model (HMM) is then applied to learn a predictive model for each subgroup. Cross-validation evaluation on the MDD-clustered HMMs yields an average accuracy of 82.4% for serine, 78.6% for threonine, and 89.0% for tyrosine models. Moreover, independent test results using Arabidopsis thaliana phosphorylation data from UniProtKB/Swiss-Prot show that the proposed models are able to correctly predict 81.4% phosphoserine, 77.1% phosphothreonine, and 83.7% phosphotyrosine sites. Interestingly, several MDD-clustered subgroups are observed to have similar amino acid conservation with the substrate motifs of well-known kinases from Phospho.ELM-a database containing kinase-specific phosphorylation data from multiple organisms.
Conclusions
This work presents a novel method for identifying plant phosphorylation sites with various substrate motifs. Based on cross-validation and independent testing, results show that the MDD-clustered models outperform models trained without using MDD. The proposed method has been implemented as a web-based plant phosphorylation prediction tool, PlantPhos http://csb.cse.yzu.edu.tw/PlantPhos/. Additionally, two case studies have been demonstrated to further evaluate the effectiveness of PlantPhos.
Keywords
Hide Markov ModelPhosphorylation SiteSubstrate MotifPhosphorylation DataKinase Group
Background
Protein phosphorylation is the most widespread and well-studied post-translational modification in eukaryotic cells. It is one of the most prevalent intracellular protein modifications that influence numerous cellular processes [1]. It has been estimated that one-third to one-half of all proteins in a eukaryotic cell are phosphorylated [2]. Furthermore, protein phosphorylation, catalyzed by specific kinases, plays crucial regulatory roles in intracellular signal transduction. Networks composed of proteins and small molecules that transmit information from the cell surface to the nucleus are ultimately affected by transcriptional changes [3]. An estimated 1% to 3% of functional eukaryotic genes encode protein kinases; this suggests that they are involved in many aspects of cellular regulation and metabolism [4]. However, a full understanding on the mechanism of intracellular signal transduction remains a major challenge in cellular biology.
Protein phosphorylation regulates various cellular processes not only in mammals but also in plants. It is reported that the regulation of carbon and nitrogen metabolism in plants is driven by phosphorylation [5]. Phosphorylation is also involved in modulating a sucrose phosphate synthase enzyme which controls the signaling pathway for the process of sucrose synthesis in plants [6]. Phosphorylation also aids in modulating the plant process of synthesizing Ammonia, an organic compound which is required to give energy to certain organs which are not able to photosynthesize [6]. Furthermore, protein phosphorylation is involved in the process of plant growth and plant response to stress [6, 7]. Stone et al. have identified a number of plant kinases; however, the precise functional roles of specific protein kinases were not widely elucidated [4].
Due to the interest of the scientific community in further understanding the process of phosphorylation, mass spectrometry-based proteomics have been used to enable the large-scale mapping of in vivo phosphorylation sites [8]. With this, several databases have been proposed to store experimentally verified phosphorylation sites with catalytic kinases, such as Phospho.ELM [9], PhosphoSite [10], UniProtKB/Swiss-Prot [11], PHOSIDA [12], and dbPTM [13, 14]. While most resources focus on phosphorylation sites in mammalian organisms, there are some databases which store phosphorylation sites in plants such as PhosPhAt [15], P3DB [16] and TAIR [17]. PhosPhAt consolidates knowledge of mass spectrometry-based identified phosphorylation sites in Arabidopsis thaliana and offers a phosphorylation site prediction tool specifically trained on experimentally identified Arabidopsis thaliana phosphorylation motifs [15]. P3DB provides a resource of protein phosphorylation data from multiple plants. Moreover, a phosphopeptide BLAST browser was implemented to allow users to query the database for phosphopeptides similar to protein sequences of their interest [16]. TAIR maintains a database of genetic and molecular data for Arabidopsis thaliana[17]. Protein data stored in TAIR includes the complete protein sequence along with phosphorylation site annotations.
Due to the high complexity and difficulty of phosphorylation site identification using mass spectrometry, a number of mammalian protein phosphorylation prediction tools have been developed using different methods and yielding various predictive performance. KinasePhos 1.0 [18, 19], incorporated profile HMM for identifying kinase-specific phosphorylation site prediction, whose overall predictive accuracy is about 87%. Version 2.0 of KinasePhos [20] incorporated support vector machine (SVM) with the protein coupling pattern to identify phosphorylation sites for 58 kinase groups. NetPhosK [21] applied an artificial neural network algorithm to predict 17 PK groups-specific phosphorylation sites. Scansite 2.0 [22] identified short protein sequence motifs that are recognized by modular signaling domains, phosphorylated by serine/threonine, tyrosine kinases or those that mediate specific interactions with protein or phospholipid ligands. GPS [23, 24] is a group-based phosphorylation site prediction and scoring platform which clusters 216 unique protein kinases in 71 groups. PPSP [25] developed an approach based on Bayesian decision theory for predicting the potential phosphorylation sites accurately for around 70 protein kinase groups. PHOSIDA [12], incorporated SVM with surface accessibility and evolutionary conservation, made 91.75%, 81.06%, and 76.19% accuracies in serine, threonine, and tyrosine, respectively.
With regard to plant phosphorylation prediction, PhosPhAt [15] has utilized a set of 802 experimentally validated phosphoserine sites to develop a classifier of SVM for identifying pSer sites in Arabidopsis thaliana. This yielded an area under curve rate of around 0.81 on a redundant TAIR7 [17] protein dataset. More recently, Gao et al.[26] incorporated protein sequence information and protein disordered regions, and integrated k-nearest neighbor and SVM for predicting phosphorylation sites. Their method utilized the PhosPhAt dataset of pSer in Arabidopsis thaliana and the TAIR7 non-redundant protein database. However, these works do not predict phosphorylation sites according to plant substrate site specificity [26]. Therefore, there is a need to investigate the various substrate site specificities in plants and utilize this information for predicting kinase-specific plant protein phosphorylation sites.
Information regarding protein kinases that phosphorylate substrates in plants is very limited. Based on the collection of experimentally verified plant phosphorylation sites from TAIR9 and UniProtKB/Swiss-Prot, phosphorylation sites are not annotated with its corresponding kinase. Due to this limitation, majority of the published methods for computationally identifying kinase-specific phosphorylation sites are trained mainly by using data from non-plant organisms. This study aims to analyze plant phosphorylation sites, investigate substrate site specificity in plants, and most importantly, present a novel method for identifying potential phosphorylation sites in plant proteins using the available substrate site specificity information. This work applies maximal dependence decomposition (MDD) [27] to cluster all phosphorylated fragments into subgroups presenting meaningful and statistically significant site specificity. MDD was firstly used to group the splice sites during the identification process of splice site prediction [28]. A large group of aligned sequences can be moderated into subgroups that capture the most significant dependencies between positions. Huang et al.[19] have applied MDD to improve the prediction performance of PKA, PKC, and CK2 kinase groups. In this study, MDD is adopted to investigate various substrate specificities of plant phosphorylation sites. Additionally, the motif of each MDD-clustered subgroup is compared to the substrate motifs of known kinases in Phospho.ELM [9]-a database for integrating comprehensive information of kinase-specific phosphorylation sites from multiple organisms. According to a five-fold cross-validation evaluation, models trained with MDD-clustered subgroups could improve predictive accuracy as compared to models trained without the application of MDD clustering. Furthermore, an independent data set is used to further evaluate the effectiveness of the models that achieve the best accuracy during cross-validation. Finally, the MDD-clustered models are adopted to implement an effective web-based tool, namely PlantPhos, for identifying plant phosphorylation sites with substrate motifs that may potentially be recognized by plant kinases. The prediction tool and the data used in this study can be available at http://csb.cse.yzu.edu.tw/PlantPhos/.
Materials and methods
Figure
1
depicts the system flow of this study. The method consists of the following processes: data collection, redundancy removal, data clustering by MDD, model learning and cross-validation, and independent testing. The details of each process are described as follows.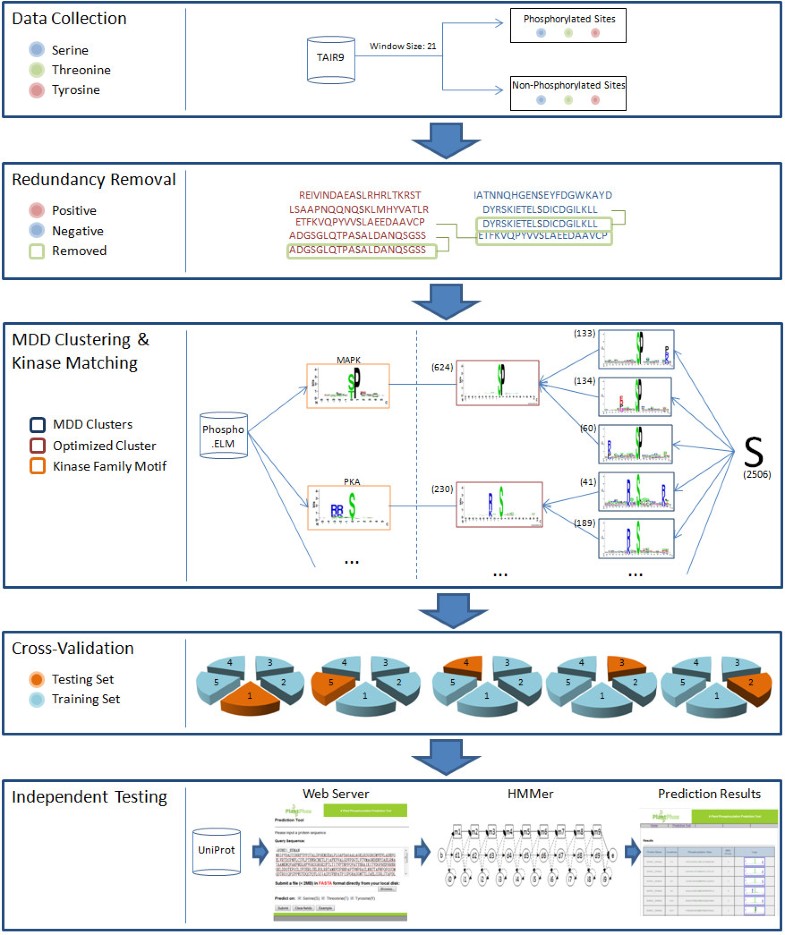 Conclusions
The importance of phosphorylation has been indicated in the regulation of protein functions and cell signaling, but the state of research in this field is hindered by experimental difficulties especially for the investigation of substrate site specificity in various organisms. In this work, we have analyzed plant phosphorylation sites by applying MDD clustering; using this method, the available plant phosphorylation data were grouped into several subgroups-each showing a significant conserved motif. Then, we developed a novel method for predicting protein phosphylation sites in plants by training HMMs for each MDD-clustered subgroup which are then used to predict potential phosphorylation sites by HMMsearch. Our method is evaluated by means of 5-fold cross-validation which yields an average accuracy of 82.4% for predicting pSer, 78.6% for predicting pThr, and 89.0% for predicting pTyr. Moreover, our method is further evaluated by testing it on an independent data set which shows that our method can predict novel phosphorylation sites by using the experimental phosphorylation data in plant proteins from UniProtKB/SwissProt. Additionally, we were able to further investigate the MDD-clustered motifs in plants by referencing to the motifs of known kinases from Phospho.ELM [9]. Through this method, we were able to observe similar kinase motifs between plants and other organisms. Lastly, the method has been implemented as a web tool named PlantPhos in order for the research community to be able to facilitate phosphorylation site prediction on plant protein data using the proposed method.
Future development for PlantPhos involves (i) the extension of the system to include other plant species other than Arabidopsis thaliana; (ii) the acquisition of additional experimentally verified plant protein data to re-calibrate more robust MDD clusters; (iii) and a more comprehensive investigation of substrate site specificities in plants with additional plant phosphorylation data.
Availability
PlantPhos can be accessed via a web interface, and is freely available to all interested users at http://csb.cse.yzu.edu.tw/PlantPhos/. All of the data set used in this work is also available for download in the website.
Declarations
Acknowledgements
The authors sincerely appreciate the National Science Council of the Republic of China for financially supporting this research under Contract Numbers of NSC 99-2320-B-155-001.
Authors' Affiliations
(1)
Department of Computer Science and Engineering, Yuan Ze University, Chungli, Taiwan
Copyright
© Lee et al; licensee BioMed Central Ltd. 2011
This article is published under license to BioMed Central Ltd. This is an Open Access article distributed under the terms of the Creative Commons Attribution License (http://creativecommons.org/licenses/by/2.0), which permits unrestricted use, distribution, and reproduction in any medium, provided the original work is properly cited.