Methodology article

Open Access
Strategies for aggregating gene expression data: The collapseRows R function
BMC Bioinformatics
2011
12:322
Received: 23 May 2011
Accepted: 4 August 2011
Published: 4 August 2011
Abstract
Background
Genomic and other high dimensional analyses often require one to summarize multiple related variables by a single representative. This task is also variously referred to as collapsing, combining, reducing, or aggregating variables. Examples include summarizing several probe measurements corresponding to a single gene, representing the expression profiles of a co-expression module by a single expression profile, and aggregating cell-type marker information to de-convolute expression data. Several standard statistical summary techniques can be used, but network methods also provide useful alternative methods to find representatives. Currently few collapsing functions are developed and widely applied.
Results
We introduce the R function collapseRows that implements several collapsing methods and evaluate its performance in three applications. First, we study a crucial step of the meta-analysis of microarray data: the merging of independent gene expression data sets, which may have been measured on different platforms. Toward this end, we collapse multiple microarray probes for a single gene and then merge the data by gene identifier. We find that choosing the probe with the highest average expression leads to best between-study consistency. Second, we study methods for summarizing the gene expression profiles of a co-expression module. Several gene co-expression network analysis applications show that the optimal collapsing strategy depends on the analysis goal. Third, we study aggregating the information of cell type marker genes when the aim is to predict the abundance of cell types in a tissue sample based on gene expression data ("expression deconvolution"). We apply different collapsing methods to predict cell type abundances in peripheral human blood and in mixtures of blood cell lines. Interestingly, the most accurate prediction method involves choosing the most highly connected "hub" marker gene. Finally, to facilitate biological interpretation of collapsed gene lists, we introduce the function userListEnrichment, which assesses the enrichment of gene lists for known brain and blood cell type markers, and for other published biological pathways.
Conclusions
The R function collapseRows implements several standard and network-based collapsing methods. In various genomic applications we provide evidence that both types of methods are robust and biologically relevant tools.
Keywords
Cell Type Abundance
Module Eigengene
Maximum Connectivity
Cell Type Marker
Collapse Variable
Background
Genomic and other high dimensional data analyses often face the challenge to collapse multiple variables. Such collapsing of data can be advantageous for several reasons: 1) to allow direct comparison of similar data from unique sources, 2) to amplify the signal by removing noisy information, or 3) to reduce the computational burden. As a first example, consider the task of combining or contrasting gene expression data measured on different microarray platforms. Most array platforms measure multiple probes per gene, and different platforms typically include different probes for the same gene. To compare such expression data sets at the level of a gene identifier (e.g. Entrez ID or gene symbol) requires that the multiple probe measurements of a given gene be collapsed into a single gene measurement. An important, yet relatively unexplored, empirical question is how to choose the best representative probe. As a second example, consider the task of representing co-expression modules (clusters of genes) by a single value (referred to as a module centroid). Several approaches for finding a module centroid have been proposed in the literature (e.g. forming the mean, choosing the first principal component, etc), but it is unclear in which situation each method should be used. As a third example, consider the task of estimating cell type abundances based on data for lineage and cell-specific markers such as selectively expressed genes or proteins. Often, microarray analyses are performed using heterogeneous tissue (e.g., brain sections, whole blood); thus, gene expression changes occurring between two groups of samples could either be due to changes in transcriptional levels in one or more cell types, or they could be due to changes in cell type proportion variation. By accurately estimating cell type abundances including data from independent measurements using complementary technologies (e.g. flow cytometry, histology), more accurate measures of transcriptional changes could be established.
Statistically speaking, all of these tasks involve summarizing several closely related variables into one collapsed variable. Collapsing approaches fall into one of two categories: 1) composite values, which involve forming an average (often weighted) of multiple variables in a group; and 2) representatives, where a single variable is chosen from those in the group. Two examples of composite values include the mean and the first principal component (PC). The first PC explains the maximum amount of variation underlying the variables. For example, when summarizing the gene expression profiles of a co-expression module, the first PC is known as the module eigengene (ME; e.g. [1]). Several strategies can be used for choosing a representative; for example, one could choose the variable with the least number of missing data or the maximum mean expression value or the maximum variance. Apart from these statistical approaches, network methods are increasingly used to collapse data. For example, one can first construct a network between the variables and then choose the one that has the highest connectivity (or degree; see the Methods section for more details). Toward this end, signed correlation networks are particularly relevant since often one wants to keep track of the direction of the relationship between variables. For example, in the case of transcriptional networks, genes showing positive correlation are more likely than uncorrelated or negatively correlated genes to have known protein-protein interactions [2–4].
In the present work, we have created an R function, collapseRows, that implements a host of widely used collapsing methods. We will describe this function in more detail and present several motivating examples involving gene expression data (mRNA abundances). We explore this function in the context of the several distinct gene expression-related situations presented above, describing situations when certain collapsing methods are advantageous. For example, we find that in most microarray experiments performed on brain tissue it is best to choose the probe with the maximum mean expression per gene, whereas when choosing a single gene to represent a co-expression module, the optimal collapsing method depends on the goal of the analysis. For predicting the true proportion of cell types within a tissue homogenate, on the other hand, network-based collapsing approaches perform best. Finally, we provide R code for both the collapseRows function as well as for performing all of the analyses discussed in the text. Overall, we find that the collapseRows function is useful in many situations in which data aggregation is required.
Results
Robust methods for summarizing large quantities of genomics data can be critical to advancing biological understanding. To address this issue we created collapseRows, which takes a numeric matrix of data as input, in which rows correspond to the variables, as well as a grouping variable that assigns each row to a group. This function implements standard collapsing methods (such as forming the average), as well as alternative network based methods (such as connectivity based collapsing) as possible strategies for data aggregation, then outputs one representative or composite value per group of rows. Thus, the resulting matrix has the same number of columns as the input matrix but typically has far fewer rows, potentially alleviating computational bottlenecks and often increasing between-study comparability. For example, in Figure
1
we present a hypothetical pipeline for using microarrays from multiple data sets to predict clinical outcome, in which collapseRows is used twice: first to collapse probes to genes, and then to collapse genes to modules.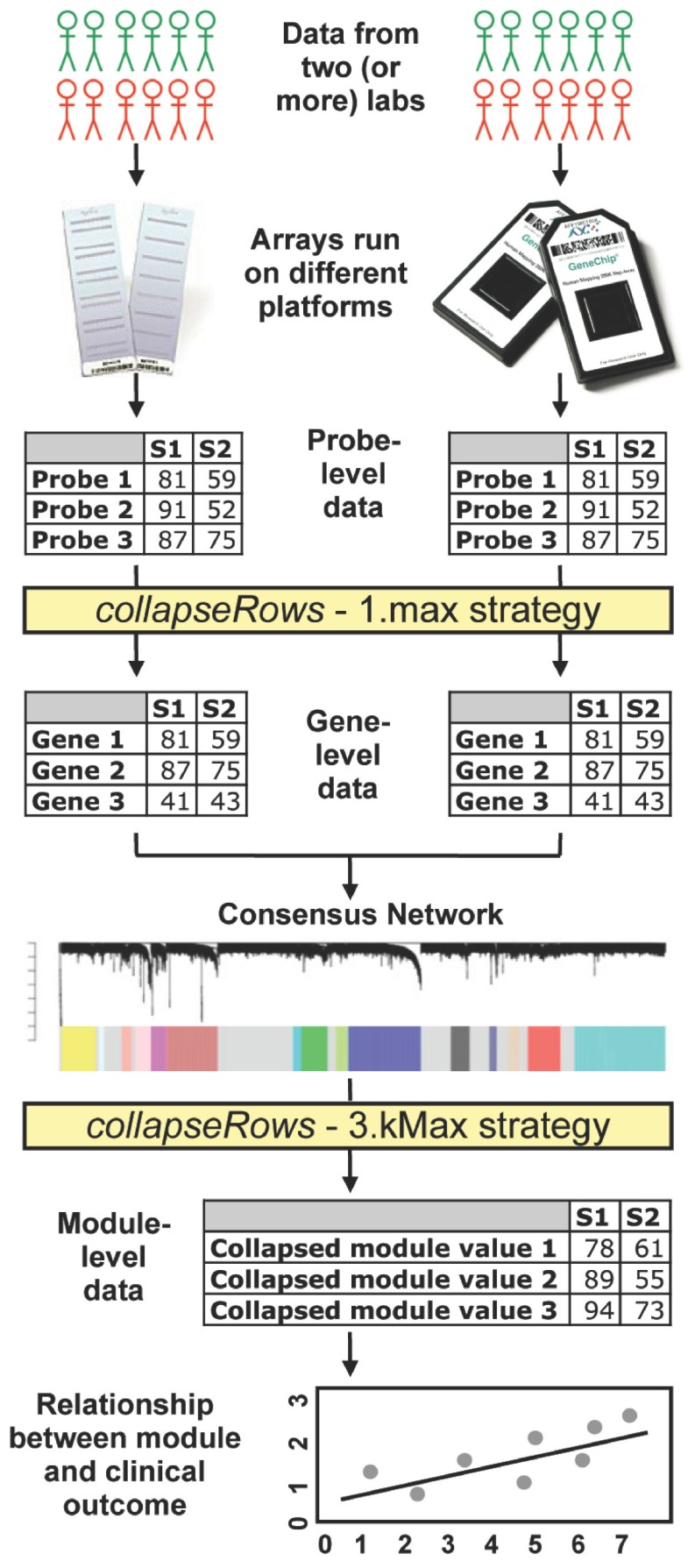 In the following, we describe the R implementation of collapseRows and present examples from several empirical studies of high dimensional genomics data. In particular, for each of our examples, we run a subset of the following six collapsing strategies: maximum mean (1.max), maximum variance (2.var), maximum mean + maximum connectivity (3.kMax), maximum variance + maximum connectivity (4.kVar), module eigengene (5.ME), and the average (6.Avg; see Methods for details). Table
1
provides an overview of our empirical studies and the types of employed collapsing strategies.
Table 1
Summary of data sets and corresponding collapsing strategies
| Fig | Analysis | Data sets used | 1. max | 2. var | 3. kMax | 4. kVar | 5. ME | 6. Avg |
| --- | --- | --- | --- | --- | --- | --- | --- | --- |
| 1 | Summary | Hypothetical data | X | - | X | - | - | - |
| 2 | Collapsing probes to genes | 18 Human Brain # 20 Mouse Brain % 5 Human Blood $ | X | X | X | X | - | - |
| 3 | Choosing module centroids | 7 Human Brain # 8 Mouse Brain % 5 Human Blood $ | X | - | X | - | X | - |
| 4 | Predicting cell type proportions | Abbas et al 2009 (cell lines) | X | - | X | - | X | X |
| 5 | Predicting cell type proportions | Grigoryev et al 2010 (whole blood) | X | - | X | - | X | X |
Discussion
The collapseRows function implements widely used collapsing methods and lesser known ones based on correlation network methodology. For example, we describe situations when it can be useful to collapse a group of numeric variables by determining the most highly connected hub variable. The main contributions of this article are: i) to describe important uses of this function, ii) to empirically compare different collapsing methods, and iii) to make recommendations regarding when to use various collapsing methods. Overall, our empirical studies show that collapseRows is a useful function in many situations when comparing data from separate high-throughput gene expression sources, with a set of default parameters that are often, but not always, the best parameters to use. In the case of collapsing probes to their respective gene symbols, for example, we find that the 1.max strategy (implemented by setting method = "MaxMean" and connectivityBasedCollapsing = FALSE) produces the most robust results. On the other hand, when using the collapseRows function to predict cell type abundances, we find that the 3.kmax strategy (implemented by setting connectivityBasedCollapsing = TRUE) leads to the most accurate results. In the more general case of choosing a single value as representative for all genes in a co-expression module, we would suggest trying multiple parameter options to see which work best for that particular set of data. Although originally designed and tested for expression data, in principle collapseRows could be used in any situation requiring data aggregation (e.g., fMRI data, methylation data, etc.). In this case, one should try several collapsing strategies to determine the most robust one for the task at hand.
For the special setting of expression data, alternative methods have been developed to aid in the annotation and comparison of data sets between studies. First, several sequence-based strategies for reannotating microarray probe identifiers based on updated genomic sequences have been proposed [24–27]. The most extensive such endeavour is the Array Information Library Universal Navigator (AILUN), which provides an up-to-date mapping between probe identifiers and Entrez gene IDs for microarray platforms in 79 species [25]. While very useful, these studies address a slightly different issue than the collapseRows function, improving probe annotations rather than combining similarly annotated probes. In fact, we expect that first downloading the appropriate data from AILUN and then running collapseRows would lead to an improvement in the robustness of one's results. Other software packages have sought to combine these steps to some degree. GeneCruiser, for example, allows users to find gene annotation, as well as display heat maps of data, view the location of probes in the genome using the UCSC Genome Browser, and perform keyword searches for probes [28], but it only includes Affymetrix data sets. Integrative Array Analyzer (iArray) allows the user to perform several between- and within-study analyses, including data processing, co-expression analyses, differential expression analyses, and graphical visualization [29], but requires genes from different array platforms to already be linked (i.e., collapsed) by gene name. In short, while all of these studies provide useful resources for gene expression analysis, the collapseRows function is involved in an important processing step for between-study analysis that, to the best of our knowledge, has not been systematically addressed elsewhere.
Although our study provides a key step in the comparison of multiple numeric matrices, particularly with regards to gene expression analysis, it also has several limitations. First, our empirical studies only involve the use of a weighted correlation networks for finding a representative hub gene, when in fact other association networks (e.g. based on mutual information) could be used. Fortunately, close relationships exist between the seemingly countless statistical and network based approaches for constructing networks. Along the same lines, we choose intramodular hub genes using the connectivity (sum of adjacencies), while in principle other centrality measures could be used. Third, our strategy 6.Avg only uses a straight average, whereas an equally valid approach would be to form a weighted average based on other statistical or biological information. Fortunately, through the use of the methodFunction parameter, these or any other collapsing functions could be used with collapseRows as required. Finally, it is important to note that group assignments should be carefully checked (for example, by using AILUN [24]) before running collapseRows, as this function does not test whether annotations are correct.
Conclusions
The collapseRows functions implements powerful and widely used methods for combining related variables. For example, collapseRows can be used to collapse probes to genes, to collapse genes to modules, or both. It can be used to choose an optimal cell marker gene. It can be used to aggregate dependent variables in such a way that computational memory requirements are greatly diminished. Our applications illustrate that the proposed collapsing strategies lead to robust, reliable results.
Methods
Abstractly speaking, we study methods for collapsing the rows of a numeric matrix. The word "collapse" reflects the fact that the method yields a new matrix whose rows correspond to a subset of rows from the original input data. The function collapseRows implements several biostatistical and network-based methods for finding a representative row or composite value for each group specified in rowGroup, which are described in detail below. One of the advantages of this function is that it implements the following default settings, which have worked well in numerous applications: first, each group is represented by the corresponding row with the fewest number of missing data. Often several rows have the same minimum number of missing values (for example, if there is no missing data) and a representative must be chosen among those rows; in this case, the function chooses the remaining row with the highest sample mean. In the rare case when multiple rows have the same mean, then the function randomly chooses a representative row.
Using human and mouse brain data sets to assess reproducibility
All samples from the 18 human and 20 mouse brain data sets were taken from brain tissue and were all run on Affymetrix platforms. Given that we explore the same tissue (albeit from different species) we hypothesized that a subset of genes would show reproducible mean expression levels and network connectivity levels. For example, regardless of the experimental paradigm, there will be a subset of marker genes in neurons and glial cells that will be present, and this subset of genes should be reproducible. In a prior publication we confirmed that both mean expression and connectivity showed a significant amount of reproducibility in all of these data sets, even when comparing across species [3]. For example, the mean expression (Spearman correlation of R = 0.60, p < E-400) and connectivity (R = 0.27, p < E-70) was highly correlated between human and mouse brains. We and others have used the (Spearman) correlation to assess reproducibility of means and connectivities in pairs of data sets but we should point out that other measures are possible.
Biostatistical methods for collapsing rows
The collapseRows function implements several standard methods for collapsing rows into their respective groups. First, the row with the highest mean value ("MaxMean") can be selected for each group (the default). Similarly, the representative row with the lowest mean value ("MinMean"), or the one with the highest or lowest mean absolute value ("absMaxMean" and "absMinMean," respectively) can also be chosen. Further, one can also select rows according to their variance across observations ("maxRowVariance"). In addition, the function implements two composite value methods: 1) the group value can be summarized as the average value ("average") across rows in a group for each column, and 2) the group value can be summarized as the first principal component of the rows in each group (referred to as the "ME" method since, for co-expression module applications, this amounts to calculating the module eigengene). Finally, collapseRows allows the user to input their own user-defined aggregation function (by setting method = "function" and passing the desired function using methodFunction), which affords maximum flexibility.
Network methods for collapsing rows
Correlation network methods for collapsing variables are only meaningful when dealing with at least 3 variables (that have the same minimum number of missing values)--for groups with exactly two rows one of the above biostatistical methods is used for data aggregation ("MaxMean" by default). For groups of three or more rows, the collapseRows function constructs a signed weighted correlation network between the variables. A network is specified by the connection strengths, or adjacencies, defined for each pair of variables x i and x j and denoted by a ij . A mathematical constraint on a ij is that its values must lie between 0 and 1.
Weighted gene co-expression network analysis (WGCNA) [
5
,
14
] defines the signed weighted correlation network between
x
i
and
x
j
as:
where the power β is used as a soft threshold [14]. The advantage of using a signed network is that it preserves the sign of the underlying correlation coefficient. Note that a correlation of -1 leads to an adjacency of 0, while a correlation of 1 leads to an adjacency of 1. Soft thresholding (using the power β) preserves the continuous nature of the correlation information; alternative approaches based on hard thresholding the correlation coefficient may lead to information loss. While any power β could be used, the default power of the collapseRows function is β = 1 since in many applications relatively few rows correspond to one group. In this case, there is less of a need to threshold the correlation measure.
In weighted networks, the connectivity equals the sum of connection weights between node i and all other nodes in the network. Variables with high connectivity tend to be highly positively correlated with other variables. Connectivity based collapsing chooses the most highly connected row (highest k) as representative, and can be implemented with collapseRows by setting connectivityBasedCollapsing = TRUE. In this case, if several probes have the same maximum connectivity, the first such row is chosen.
Collapsing methods used in the empirical studies
For each of our examples, we ran a subset of the following six collapsing methods and studied how often each method leads to the most reproducible results. First, we choose the row with the highest mean expression (1.max) by setting method = "MaxMean" and connectivityBasedCollapsing = FALSE. Second, we choose the row with the highest between-column variability (2.var) by setting method = "maxRowVariance" and connectivityBasedCollapsing = FALSE. Third, we choose the row with the highest connectivity in cases with three or more rows per group or highest mean expression in cases with two rows per group (3.kMax) by setting method = "MaxMean" and connectivityBasedCollapsing = TRUE. Fourth, we choose the row with the highest connectivity in cases with three or more rows per group or maximum variability in cases with two rows per group (4.kVar) by setting method = "maxRowVariance" and connectivityBasedCollapsing = TRUE. Fifth, as a sort of control, we compare our results to a standard method of centroid determination by measuring the module eigengene (first principal component) for all rows in a given group across all groups (5.ME) by setting method = "ME". Finally, in our assessment of blood cell type, we also use the average of all marker genes (6.Avg) by setting method = "average".
Declarations
Acknowledgements
The work was supported in part by National Research Service Award F31 AG031649 from the National Institute on Aging (NIA) and by funding from the Allen Institute for Brain Science (JAM), and by grants P50CA092131, U19 AI063603-07 (DRS, SMK), R01 AG26938-05 (to D.H.G), and P01 HL030568 (SH, PL, CC).
Authors' Affiliations
(1)
Interdepartmental Program for Neuroscience, UCLA, Los Angeles, USA
(2)
Human Genetics Department, UCLA, Los Angeles, USA
(3)
Biostatistics Department, UCLA, Los Angeles, USA
(4)
Neurology Department, UCLA, Los Angeles, USA
(5)
Department of Molecular and Experimental Medicine, The Scripps Research Institute, La Jolla, USA
Copyright
© Miller et al; licensee BioMed Central Ltd. 2011
This article is published under license to BioMed Central Ltd. This is an Open Access article distributed under the terms of the Creative Commons Attribution License (http://creativecommons.org/licenses/by/2.0), which permits unrestricted use, distribution, and reproduction in any medium, provided the original work is properly cited.