Methodology article

Open Access
rapmad: Robust analysis of peptide microarray data
BMC Bioinformatics
2011
12:324
Received: 7 May 2011
Accepted: 4 August 2011
Published: 4 August 2011
Abstract
Background
Peptide microarrays offer an enormous potential as a screening tool for peptidomics experiments and have recently seen an increased field of application ranging from immunological studies to systems biology. By allowing the parallel analysis of thousands of peptides in a single run they are suitable for high-throughput settings. Since data characteristics of peptide microarrays differ from DNA oligonucleotide microarrays, computational methods need to be tailored to these specifications to allow a robust and automated data analysis. While follow-up experiments can ensure the specificity of results, sensitivity cannot be recovered in later steps. Providing sensitivity is thus a primary goal of data analysis procedures. To this end we created rapmad (Robust Alignment of Peptide MicroArray Data), a novel computational tool implemented in R.
Results
We evaluated rapmad in antibody reactivity experiments for several thousand peptide spots and compared it to two existing algorithms for the analysis of peptide microarrays. rapmad displays competitive and superior behavior to existing software solutions. Particularly, it shows substantially improved sensitivity for low intensity settings without sacrificing specificity. It thereby contributes to increasing the effectiveness of high throughput screening experiments.
Conclusions
rapmad allows the robust and sensitive, automated analysis of high-throughput peptide array data. The rapmad R-package as well as the data sets are available from http://www.tron-mz.de/compmed.
Keywords
Peptide
Random Forest
Antibody Concentration
Random Forest Classifier
Peptide Array
Background
Peptide microarrays have emerged as a promising technique for the simultaneous high throughput analysis of peptide characteristics. Synthesized peptides are spotted in a grid-layout on glass slides which allow the screening of thousands of peptides within a single experiment with requiring only a small quantity of sample. Applications range from studying the humoral response to HIV [1] or food allergens [2] to the detection of cancer biomarkers [3] and antibody signatures [4] to the characterization of protein-protein interactions [5] and of kinase substrates [6, 7].
While peptide microarrays offer enormous potential for a wide range of applications and while significant improvements have been made with regard to the reliable spotting of small amounts of peptides at closely neighboring, well-defined spatial positions [8, 9], a major bottle neck remains in the automated analysis of the acquired data.
Numerous tools have been developed for the analysis of DNA microarray data, see e.g. [10, 11] for reviews, but these cannot easily be transferred and require major adjustments. For instance, rather than quantifying the impact of differential expression, peptide microarrays experiments commonly only result in a single wavelength measurement per peptide. Usually, only a small proportion of the spotted peptides is expected to show a signal and requires reliable identification. Further specific challenges of the analysis of peptide microarray data include the diverse sources of noise, ranging from peptide synthesis artifacts to unspecific binding effects to peptides.
Existing tools specifically developed for the analysis of peptide microarray experiments can be categorized into three groups, graphical analysis tools, differential analysis tools, and general analysis tools.
As graphical tools, a combined approach of clustering and principal component analysis to visualize similarly behaving groups of peptides has been introduced [12] as well as an integrated webserver for the storage of peptide microarray experiment data with several graphical analysis steps [13].
For differential analysis, several approaches have adapted differential expression detection schemes to peptide microarrays, including a support vector machine driven webtool for distinguishing peptide binding intensities of two experimental groups [14] and adapted statistical tests for differentiating measured intensities for two populations [1, 15].
The more general question of identifying signal carrying peptide spots and accounting for peptide microarray specific sources of noise has been addressed using a robust version of a z-score for the difference of the intensity of a specific peptide spot to empty spots to identify signal carrying peptide spots [2] and a linear model fit on all peptide spot measurements to account for several systematic effects [16]. This approach was extended by a signal calling step based on a t-test and a cutoff based removal of secondary binding spots [17].
Here, we introduce a novel method for the general analysis of peptide microarray data, that significantly extends the existing approaches. Using several classes of control peptides, we apply a linear model for normalization and the removal of systematic array effects. Further, we use a mixture-model to identify secondary antibody binding peptide spots and apply a probabilistic approach for signal calling which does not rely on arbitrary thresholds, but provides a slide specific estimate. Additionally, we provide a machine-learning driven quality control procedure to computationally exclude intensity measurements of low reliability.
After describing our methods in detail, we apply it to data from a cancer-biomarker detection study and demonstrate improvements relative to the existing general analysis tools, particularly with regards to sensitivity.
Results
We analyze the effect of the major steps of our approach including the linear model, the quality control and the secondary antibody binding detection and signal call as well as comparing the overall procedure on the antibody reactivity data.
With regard to the linear model fit, a summary of results for print batch 1 and the high spike-in antibody concentration is given in table
2
. It is evident that the peptide effect itself is the major influence of the measured intensity. Still, all remaining explanatory variables, which model systematic effects, are highly significant as shown by the p-values for the corresponding F-Test. Row and column effects, so the spatial position of a peptide, show the overall strongest influence of the systematic effects. The needle and subarray effect are smaller, but still highly significant. However, it should be noted that a confounding of effects cannot be excluded, e.g. when considering a single needle only a subset of row and column positions are addressable on a subarray. Including all interaction effects requires an unfeasibly high number of degrees of freedom, while choosing subsets does not significantly improve results (data not shown). Overall, the systematic effects contribute to reducing the unexplained variation in the measured peptide intensity data by 65%.
Table 2
Linear model fit summary
| | Df | Sum Sq | Mean Sq | F value | Pr(>F) |
| --- | --- | --- | --- | --- | --- |
| Peptide | 12 | 170916 | 14243.0 | 57461.65 | < 2.2e-16 |
| Subarray | 2 | 24 | 12.2 | 49.18 | < 2.2e-16 |
| Needle | 15 | 45 | 3.0 | 12.08 | < 2.2e-16 |
| Row | 234 | 458 | 2.0 | 7.89 | < 2.2e-16 |
| Column | 75 | 409 | 5.5 | 22.03 | < 2.2e-16 |
| Residuals | 2218 | 550 | 0.2 | | |
After training on a total of 8 historic slides with identical layout, the unreliable spot finding procedure marks 8.3% of all spots in print batch 1 and 11.8% of all spots in print batch 2 as unreliable for the high concentration experiment. Since peptides are excluded only in cases when all three replicates for one peptide are marked as unreliable, this results in the removal of 2.4% of all peptides in print batch 1 and 2.6% of all peptides in print batch 2. Visual inspection (cf. Figure
2
) shows that these peptides primarily show large variation between the two data sets. By removing these peptide spots, we see an improvement of 3% in the coefficient of variation from
R
2
= 0.72 to
R
2
= 0.75. Still, not all outliers are detected by the approach. Analysis of the missed outliers however indicates that these undetected outliers consistently affect replicates of only nine different peptide sequences, in contrast to the 129 different peptide sequences marked as unreliable by the unreliable spot finding procedure.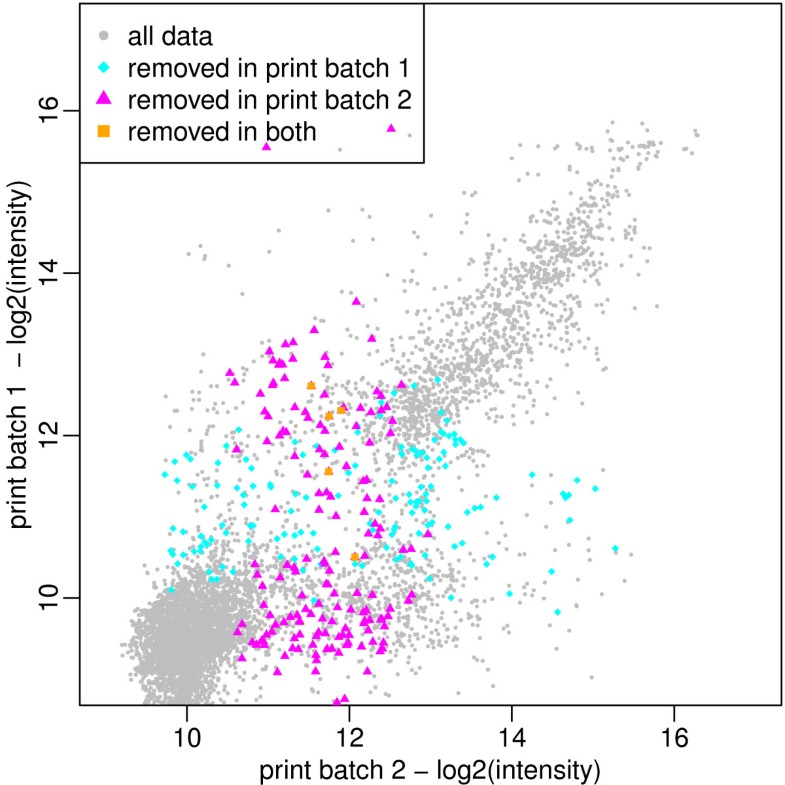 We evaluated our secondary antibody binding removal approach by computing the number of peptides which were excluded from the further analysis because of secondary antibody removal. Out of 5760 non control peptides 354/501 (print batch 1 and print batch 2, respectively) were identified with reaction on the empty slides and excluded from the further analysis. This affected none of the PLAC-1 peptides which were expected to show a specific reaction and 0/2 (print batch 1 and print batch 2, respectively) of the NYESO, VEGFA and CD20 peptides not expected to show a reaction. Consequently, when regarding the sensitivity and specificity which were computed based on these peptides, we observe that with the secondary antibody binding removal the specificity is slightly increased while the sensitivity remains unchanged when compared to running our approach without this step.
The sensitivity and specificity for our approach are shown in Figure
3
in comparison to the approaches of [
2
] and [
17
]. For two print batches, two slides were incubated with a low and a high concentration of spike-in antibody, respectively. Overall, we observe for all approaches that sensitivity is more affected by the reduction of the antibody concentration than specificity, which is rather stable. In comparison, our approach shows best sensitivity across all settings. It shows a sensitivity of 0.96 to 1.00 compared to 0.89 to 0.98 for the other two approaches for the high antibody concentration data. This difference is more expressed for the low antibody concentration data with a sensitivity of 0.77 to 0.81 for our approach compared to 0.50 to 0.65 for the previous two approaches. Specificity is slightly worse for our approaches for print batch 1 with values of 0.91 to 0.95 for our approach and 0.92 to 0.98 for the existing approaches. Similarly for print batch 2, our approach features specificity of 0.83 to 0.84 compared to 0.89 to 0.96. As a consequence of the substantially improved sensitivity, our approach also displays best accuracy. While this difference is small for the high antibody concentration with accuracy values of 0.93 to 0.96 for our approach compared to 0.92 to 0.96 for the previous approaches, it is much more substantial for low antibody concentration. Here, our approach shows an accuracy ranging from 0.80 to 0.85, compared to 0.68 to 0.78 for the two other approaches.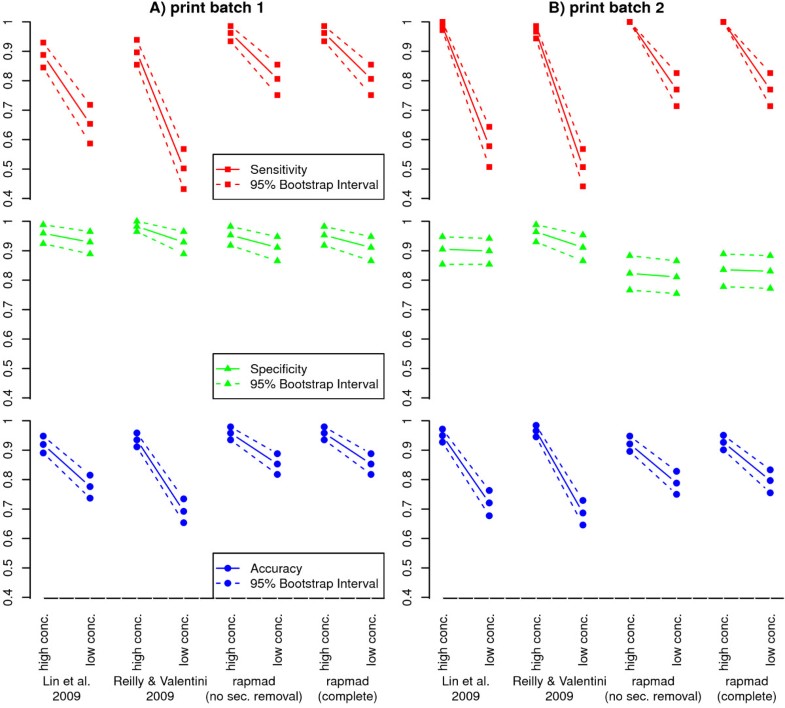 rapmad is based on the assumption of (approximate) normality, especially for the linear model fit and the mixture model. For all arrays incubated with plasma, we analyzed these assumptions and find support for approximate normality (see additional file 1).
Discussion
Removal of systematic bias
By applying a linear model which explains 65% of the noise variation in the data, rapmad significantly improves the reliability of peptide microarray experiments. In addition to previous findings [16], we establish that also the spatial position on the peptide microarray is of high impact for removing systematic effects. This is important for distinguishing low intensity signals from noise. Since the effects are of a systematic nature (e.g. a decline in signal intensity associated with spatial position), it also reduces the risk that systematic effects are mistakenly identified as peptide signal effects. Despite the strong reduction in unexplained variation, not all occurring systematic effects are necessarily included in the model. For instance, we decided against including all interaction effects. While it can be of high interest to model the interaction of a specific peptide with a specific needle, there is usually not a sufficient number of replicates to allow a reliable estimation in a standard experiment. However, for large-scale experiments, it could be beneficial to design specific slides with sufficient replicates to quantify these effects. The effects of the secondary antibody are accounted for within subsequent analysis steps and are thus not modeled explicitly.
Improved data quality after removal of unreliable measurements and secondary binding peptides
The production of peptide arrays as well as the binding of the secondary antibody involve sophisticated chemical processes. In spite of numerous experimental improvements [8, 9] and constant monitoring, artifacts resulting from errors in the spotting of peptides or the unspecific binding of the secondary antibody can strongly influence measurements and result in misleading interpretations. We have proposed two computational statistics driven approaches to identify and exclude these artifacts and show that they can be successfully applied.
By marking approximately 2.5% of the peptide spots as unreliable, we can improve the reproducibility and thus the data quality. It should be noted however that still not all unreliable and irreproducible peptides are detected. The small number of peptide sequences being connected to the undetected outlying observations show that this entails a sequence-specific phenomenon rather than a print process artefact which would affect all sequences more evenly. While characteristics of the print process are captured within the available learning data, for instance in the scatterlight scans, sequence-specific effects are difficult to detect. In addition, the unreliable peptide spot finding procedure is limited by the available training data. We rely on labels based on the assumption that a specific replicate which departs from the remaining two replicates should be labeled as unreliable. We are aware that this definition is not necessarily correct since there are cases when the two remaining replicates are unreliable, but the specific replicate itself is correct. This can result in incorrect labels, which strongly reduce the quality of the random forest prediction. While manually validation could improve the label-quality, this reduces the applicability of the procedure to other data than our own. Thus, we accept a possibly smaller impact of the quality control procedure to allow the fully automated adaption to other datasets. Historic data for training is not always available and thus, this is an optional step for our pipeline.
By identifying 1.2% of the spots as secondary antibody binding, we can improve the specificity of the procedure without sacrifying its sensitivity. While the impact on the data shown here is comparatively small, this step can be of key importance to avoid wrongful interpretation.
When dealing with peptides prone to printing or synthesis problems or the binding of secondary antibody to peptides, any data analysis tool is challenged by the fact that the relevant information was lost before data acquisition, rendering the complete recovery of the information impossible. While not recovering the correct information, the magnitude of excluding wrongful results is significant. If wrongful results were not excluded, research could result in wrongful conclusions. With the removal of wrongful results no conclusions are possible for these doubtful peptide spots. Since in most cases, only subsets of peptide measurements are affected and designs usually contain several replicates, repeats of experiments are often not required to come to reliable conclusions.
Strong sensitivity for low intensities
A particular strength of rapmad is the fact that it is especially suitable for low intensity measurements such as those occurring for low antibody concentrations. While the problem of separating signal from noise is substantially more difficult when the signal intensity is reduced, we only see a comparatively minor reduction in accuracy when reducing spike-in antibody concentration. Sensitivity is affected more significantly than specificity, but still at or above 0.8.
This robustness of our approach can be explained by the adaptivity of the signal calling procedure, which is based on correctly estimating the noise distribution and generating a noise-threshold based on this distribution. Thereby, it is less affected by changes in the signal intensity. As a consequence, the noise-threshold is adaptive and even low intensity signals can be detected to be above the threshold, resulting in a strong sensitivity.
Favorable comparison to existing approaches
The strength of rapmad to maintain a high sensitivity even for low intensity settings is also what sets it apart from existing algorithms. Thus, the sensitivity and accuracy of our approach in low antibody concentration experiment is competitive to the ones of the two other approaches for high antibody concentrations. This is a result of the adaptive procedures which are better suited to distinguish signal from noise in low intensity situation than preset thresholds and demonstrates that our computational approach is capable of compensating for experimental limitations. For high intensities as seen with high antibody concentration, it is generally easier to achieve high sensitivity due to a better separation of signal and noise in the raw data. That is also why we see less of a benefit of rapmad in comparison to existing algorithms.
Increasing the effectiveness of screening procedures
Peptide microarrays have been primarily used within screening settings with follow-up experiments focusing on a small number of promising candidates to ensure specificity [4]. Unidentified reactive peptides from a peptide microarray experiment cannot be distinguished from the large number of rightfully excluded unreactive peptides and are thus not further regarded. By substantially increasing the sensitivity for low intensity reactions, our approach avoids the wrongful exclusion of peptides and thereby increases the effectiveness of screening procedures. While standard settings were used in all experiments, rapmad additionally allows the user to adapt the quantiles used in the mixture models to trade additional sensitivity for specificity.
Conclusion
Within this contribution, we introduce rapmad, a tool for the robust and rapid analysis of peptide microarray data. rapmad is an automated, multi-step approach that combines several computational statistics procedures to augment the data quality of peptide microarray and to allow a reliable analysis. Its steps include the preprocessing of the data by removing systematic effects, the exclusion of unreliable measurements and secondary antibody binding peptides, and a probabilistic signal call for reactive peptides.
In comparison with existing algorithms, it shows competitive performance for high antibody concentration. For low antibody concentration, it shows a significant increase in accuracy over existing approaches. This is mainly due to its substantially improved sensitivity at competitive specificity.
With its increased sensitivity and its automated data analysis, rapmad can thereby contribute to establish and broaden the usage of peptide microarrays as a standard tool for a wide-range of peptidomics applications.
Declarations
Acknowledgements
The authors would like to thank Christina Fleig (TrOn, Mainz) for data acquisition, Antonia Masch (TrOn, Mainz) for critical reading of the manuscript and Ganymed AG, Mainz for providing antibodies.
Authors' Affiliations
(1)
The Institute for Translational Oncology and Immunology (TrOn), Mainz, Germany
(2)
Research Group Bioinformatics (NG 4), Robert Koch-Institute, Berlin, Germany
(3)
JPT Peptide Technologies GmbH, Berlin, Germany
Copyright
© Renard et al; licensee BioMed Central Ltd. 2011
This article is published under license to BioMed Central Ltd. This is an Open Access article distributed under the terms of the Creative Commons Attribution License (http://creativecommons.org/licenses/by/2.0), which permits unrestricted use, distribution, and reproduction in any medium, provided the original work is properly cited.