CloVR: A virtual machine for automated and portable sequence analysis from the desktop using cloud computing
BMC Bioinformatics
2011
12:356
Received: 7 June 2011
Accepted: 30 August 2011
Published: 30 August 2011
Abstract
Background
Next-generation sequencing technologies have decentralized sequence acquisition, increasing the demand for new bioinformatics tools that are easy to use, portable across multiple platforms, and scalable for high-throughput applications. Cloud computing platforms provide on-demand access to computing infrastructure over the Internet and can be used in combination with custom built virtual machines to distribute pre-packaged with pre-configured software.
Results
We describe the Cloud Virtual Resource, CloVR, a new desktop application for push-button automated sequence analysis that can utilize cloud computing resources. CloVR is implemented as a single portable virtual machine (VM) that provides several automated analysis pipelines for microbial genomics, including 16S, whole genome and metagenome sequence analysis. The CloVR VM runs on a personal computer, utilizes local computer resources and requires minimal installation, addressing key challenges in deploying bioinformatics workflows. In addition CloVR supports use of remote cloud computing resources to improve performance for large-scale sequence processing. In a case study, we demonstrate the use of CloVR to automatically process next-generation sequencing data on multiple cloud computing platforms.
Conclusion
The CloVR VM and associated architecture lowers the barrier of entry for utilizing complex analysis protocols on both local single- and multi-core computers and cloud systems for high throughput data processing.
Keywords
Cloud Computing
Virtual Machine
Cloud Provider
Master Node
Cloud Computing Platform
Background
The cost of genome sequencing has been rapidly decreasing due to the introduction of a number of new affordable next-generation sequencing technologies. Coupled with the decreasing costs is an increase in the volume of data produced by sequencing machines. As a consequence, the genomics field has been rapidly changing: Larger amounts of sequence data are not only being produced at lower costs, but also more and more often by small to midsize research groups outside of the large sequencing centers all over the world [1]. This is a trend, which is likely to continue, as newer generation sequencing technologies continue to drive down costs.
High-throughput sequencing technologies have decentralized sequence acquisition, increasing the number of research groups in demand of sequence analysis all over the world. The increasing volume of data from next-generation sequencing has led to increased computational and bioinformatics needs and concern of a bioinformatics bottleneck [2]. Technical challenges in use of bioinformatics software [3, 4] and difficulties in utilization of available computational resources [5, 6] impede analysis, interpretation and full exploration of sequence data.
The installation, operation, and maintenance of software tools for bioinformatics analysis can be cumbersome and require significant technical expertise leading to efforts that pre-package and bundle bioinformatics tools [3]. While, many bioinformatics software tools routinely used in sequence analysis are open source and freely available, the installation, operation, and maintenance can be cumbersome and require significant technical expertise [3, 7]. In addition, individual tools are often insufficient for sequence analysis and, rather, need to be integrated with others into multi-step pipelines for thorough analysis. To aid with this, bioinformatics workflows systems and workbenches, such as Galaxy [8], Ergatis [9], GenePattern [10], Taverna [11] provide user interfaces to simplify execution of tools and pipelines on centralized servers. Prior to analysis, researchers utilizing genomics approaches are faced with a multitude of choices of analysis protocols and best practices are often poorly documented [12]. Complexities of analysis pipelines and lack of transparent protocols can limit reproducibility of computed results [4]. Use of workbenches that store pipeline metadata and track data provenance can improve reproducibility [8].
Bioinformatics service providers, such as RAST [13], MG-RAST [14], ISGA [15], and the IGS Annotation engine [16], have attempted to address challenges in microbial genome analysis by providing centralized services, where users submit sequence data to a web site for analysis using standardized pipelines. In this model, the service provider operates the online resource, dedicating the necessary personnel and computational resources to support a community of users. Bioinformatics workflow systems [8–11] also operate on central servers, utilizing dedicated or shared network based storage, and clusters of computers for improved processing throughput. Other efforts have bundled tools into portable software packages for installation on a local computer, including Mothur [17] and Qiime [18] for 16S ribosomal RNA analysis and DIYA [19] for bacterial genome annotation. A virtual machine (VM) encapsulates an operating system with pre-installed and pre-configured software in a single executable file that can be distributed and run elsewhere. VMs provide a means to eliminate complex software installations and adaptations for portable execution, directly addressing one of the challenges involved with using bioinformatics tools and pipelines.
Cloud computing offers leasable computational resources on-demand over a network [20]. The cloud computing model can simplify access to a variety of computing architectures, including large memory machines, while eliminating the need to build or administer a local computer network addressing challenges in access and deployment of infrastructure for bioinformatics [6, 21]. Cloud computing platforms have been emerging in the commercial sector, including the Amazon Elastic Compute Cloud (EC2) [22], and in the public sector to support research, such as Magellan [23] and DIAG [24]. In combination with virtual machines, cloud computing can help improve accessibility to complex bioinformatics workflows in a reproducible fashion on a readily accessible distributed computing platform [25].
There is considerable enthusiasm in the bioinformatics community for use of cloud computing in sequence analysis [6, 21, 25, 26]. While cloud computing platforms that provide ready access to computing resources over the Internet on-demand can improve processing throughput, utilization of bioinformatics tools and pipelines on such distributed systems requires technical expertise to achieve robust operation and intended performance gains [6, 27]. Cluster management software, workflow systems, or databases may be installed, maintained, and executed across multiple machines. Also, challenges in data storage and transfer over the network add to the complexity of using cloud computing systems [28].
Map-Reduce algorithms [29] using the cloud-ready framework Hadoop are available for sequence alignment and short read mapping [30], SNP identification [31], RNA expression analysis [32], amongst others demonstrating the usability of cloud services to support large-scale sequence processing. Despite emergence of methods in cloud-ready frameworks, many bioinformatics tools, analysis pipelines, and standardized methods are not readily transferable to these frameworks but are trivially parallelized using batch processing systems [8, 9].
In this paper, we describe a new application, Cloud Virtual Resource (CloVR), that relies on two enabling technologies, virtual machines (VMs) and compute clouds, to provide improved access to bioinformatics workflows and distributed computing resources. CloVR provides a single VM containing pre-configured and automated pipelines, suitable for easy installation on the desktop and with cloud support for increased analysis throughput.
In building the CloVR VM, we have addressed the following technical challenges in using cloud computing platforms:
i)

Elasticity and ease-of-use: clouds can be difficult to adopt and use requiring operating system configuration and monitoring; many existing tools and pipelines are not designed for dynamic environments and require re-implementation to utilize cloud-ready frameworks such as Hadoop;
ii) Limited network bandwidth: Internet data transfers and relatively slow peer-to-peer networking bandwidth in some cloud configurations can incur performance and scalability problems; and
iii) Portability: reliance on proprietary cloud features, including special storage systems can hinder pipeline portability; also, virtual machines, while portable and able to encapsulate complex software pipelines, are themselves difficult to build, configure, and maintain across cloud platforms.
The architecture of CloVR addresses these challenges by
i)

simplifying use of cloud computing platforms by automatically provisioning resources during pipeline execution;
ii) using local disk for storage and avoiding reliance on network file systems;
iii) providing a portable machine image that executes on both a personal computer and multiple cloud computing platforms;
In the presented work, we evaluate four features of the CloVR architecture: portability across different local operating systems and remote cloud computing platforms, support for elastic provisioning of local and cloud resources, scalability of the architecture, use of local data storage on the cloud, and built process of the CloVR VM from base image using recipes.
Results
1.7 CloVR runs on the desktop and dynamically utilizes cloud computing providers
To demonstrate the portability of CloVR, we executed a single analysis protocol (CloVR-Microbe) on a local desktop computer and two cloud computing platforms (Table
2
). The input data comprised of 250,000 454 FLX Titanium 8 kb paired-end sequencing reads of the bacterium
Acinetobacter baylyi
totaling ~89 Mbp and expected to cover the ~3.5 Mbp genome at 25-fold coverage. Identical output, comprised of 38 contigs (N50: 262 Kbp) and 3,417 predicted coding genes was obtained on all three platforms. For local analysis, a CloVR instance with 4 CPUs and 8 GB of RAM was used. When using the cloud platforms, the local client VM can be executed in as little as 2 GB of RAM. The DIAG and EC2 platforms allowed for the parallelization of several steps of the protocol offering 4-CPUs per "medium" instance type on DIAG (8 GB RAM) and 8-CPUs per "c1.xlarge" instance type on EC2 (7.5 GB RAM).
Table 2
Portability and performance of the CloVR VM
Local PC

(Intel Xeon 5130)

Max No CPUs: 4

DIAG

(medium instance)

Max No. instances: 5

Max. No CPUs: 20

Amazon EC2

(c1.xlarge instance)

Max No. instances: 18

Max No. CPUs: 80

Runtime

Runtime

Runtime

Assembly

29 min

25 min

28 min

Annotation

2 days 6 hrs 26 min

9 hrs 30 min

7 hrs 2 min

Total

2 days 7 hr 5 min

9 hrs 55 min

7 hrs 30 min
Our evaluation of the CloVR-Microbe protocol demonstrates the ability to run the same genome assembly and annotation protocol both locally and on the cloud for increased throughput (Table 2). A single configuration setting is changed to invoke the pipeline on either the local desktop or the supported clouds.
1.8 CloVR provides automated resource provisioning in the cloud
Elasticity, i.e. dynamic provisioning of resources, is a primary feature of the cloud and allows for the addition of computational resources on-demand. Figure
6
shows the automatic allocation of CloVR VM instances to the cluster on the cloud and the subsequent termination of idle instances upon job completion for the microbial genome assembly and annotation steps of the CloVR-Microbe pipeline and demonstrates dynamic capabilities provided by CloVR. Figure
7
shows a BLASTX comparison using CloVR-Search on clusters composed of up to 160 c1.xlarge instances, comprising 1,280 CPUs. This BLASTX search ran on Amazon EC2 with a throughput of ~36.9 Mbp per c1.xlarge instance, at an estimated total cost of ~$108 per hour for all 160 instances. Resource provisioning for CloVR-Microbe is automatic; for CloVR-Search it is configured by the user but does not require the direct user interaction with the remote cluster on the cloud.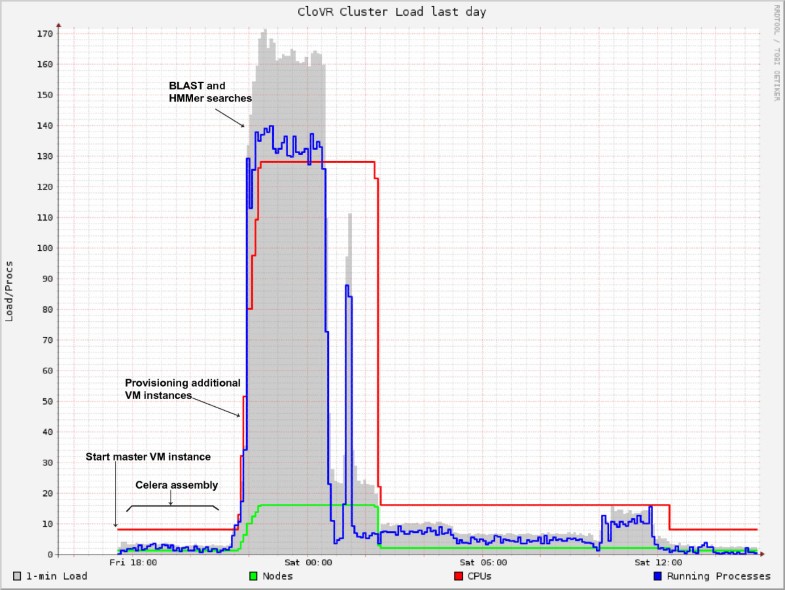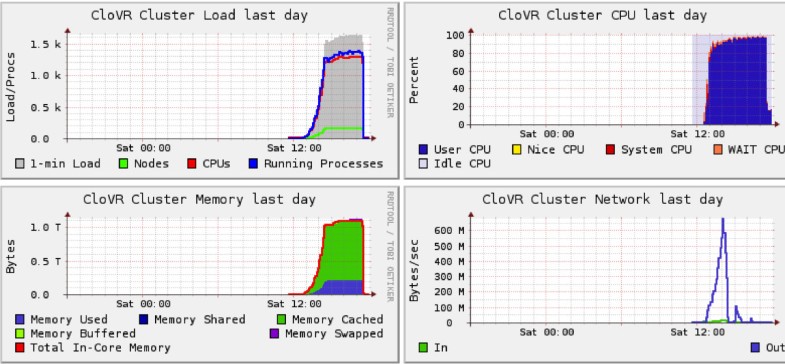 1.9 CloVR uses local disks and does not rely on network file systems during pipeline execution
Bottlenecks in reading or writing data on a shared, network-based file system, such as NFS [
53
], can cause performance problems during processing, especially when many concurrent processes are executing against the shared resource. To avoid data transfer bottlenecks CloVR uses local disks space of the instance running on the desktop or cloud, requiring input files to be transferred to each compute host within the cluster. For data input, these file transfers between master and worker node types are made prior to computation, for data output subsequent to job completion. In addition, reference data sets and intermediate outputs need to be accessed by all VM instances in a cluster. To improve distribution of these data sets, a peer-to-peer data transfer scheme is used for sharing intermediate results and reference data sets. Figure
8
shows data transfers within a cluster of 160 CloVR instances during a run of CloVR-Microbe on Amazon EC2.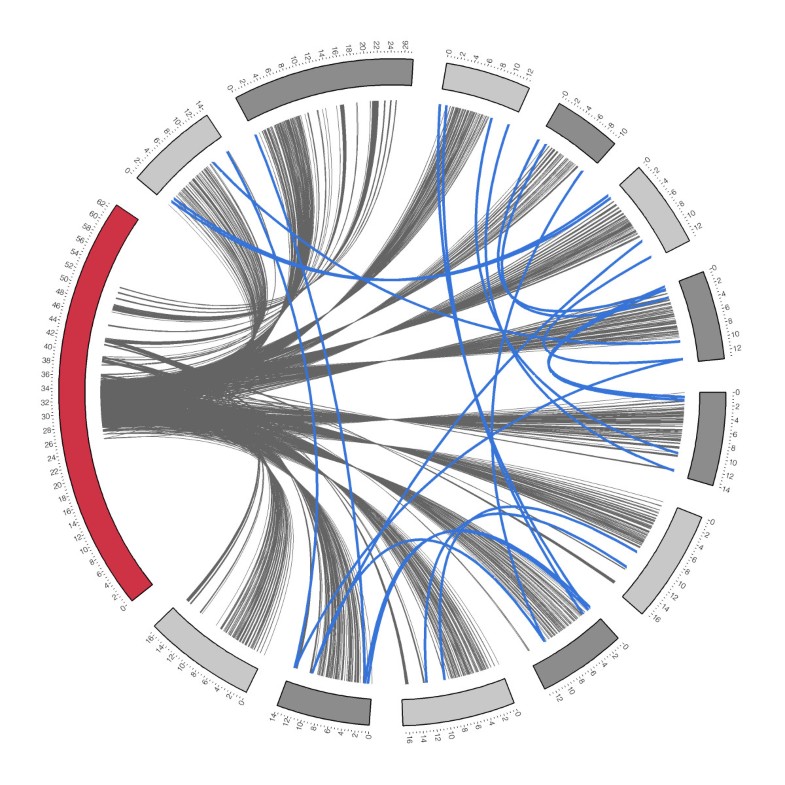 To evaluate the performance of data transfers, the throughput for providing 3.1 GB of compressed reference data to a cluster of 100 c1.xlarge CloVR VM instances was tested (Figure
9
). Instances came online in a staggered fashion and received copies of the reference data upon boot of the instance. The aggregate data throughput exceeded 1.1 GB per second. By comparison, network transfer speeds between a pair of c1.xlarge instance types on the Amazon EC2 network were found to typically fall below ~40 MB per second (data not shown).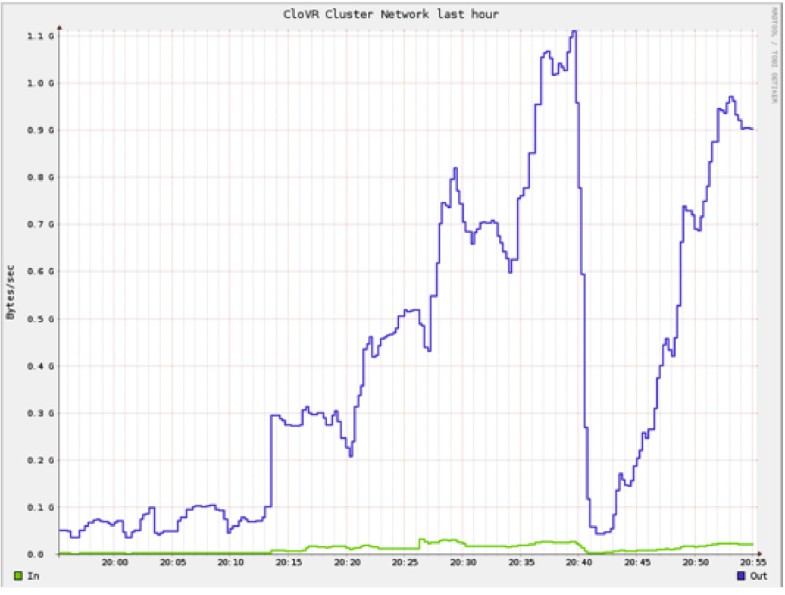 Discussion
CloVR reduces bottlenecks in sequence analysis by using two related technologies: virtual machines (VMs) and cloud computing. CloVR simplifies deployment of complex bioinformatics workflows by providing a single executable (the VM) that is portable across all major operating systems. By default, CloVR runs on a desktop but enables seamless access to large distributed computing resources including Amazon EC2 and other cloud computing platforms, providing a potential alternative to building and maintaining in-house infrastructure for computational analysis.
While genomic workbench systems focus on providing extensive customization, i.e. choices of multiple tools for easy integration into user-customized pipelines, many projects instead rely on static, standardized analysis pipelines. To accommodate this scenario, CloVR provides pre-defined standard pipelines that integrate tools for particular analysis objectives so that no additional configuration or expertise with individual tools by the user is required. This level of automation is intended to enable genomics applications for users that find choice of bioinformatics tools overwhelming and instead seek recommendations for best practices. Ongoing work includes a web-based user interface (Additional file
1
), which will run locally on a user's desktop, and further simplify execution of analysis protocols.
Additional file 1:CloVR screencast. A short screencast launching and CloVR and using the web interface to launch an analysis. (M4V 19 MB)
CloVR utilizes a recipe-driven process to build VMs for both the desktop and cloud computing platforms, which allows for construction of customized VMs by other software developers. While CloVR currently includes a set of protocols for microbial genome analysis, the CloVR VM can serve as a general platform for the integration of additional tools and protocols developed by the research community. To add new protocols to CloVR, developers build recipes to install new software, deploy and test pipelines in the Ergatis workflow system, and create new configuration files for the CloVR API. A first step in this direction has been made by the use of CloVR to create a VM for the QIIME package [54]. We plan to create a wizard to simplify this process in the future and support custom repositories of build scripts.
In contrast to Internet-based software-as-a-service solutions for sequence analysis, such as Galaxy [8] or Taverna [11], which provide centralized that typically execute on dedicated resources and require users to upload data CloVR follows a decentralized model where each of multiple users executes a local client VM that is independent from other CloVR instances in a multi-user environment. By running on the local desktop, CloVR provides the opportunity to utilize substantial computing power provided by multi-core desktop CPUs, potentially avoiding the need for data transfer over the Internet and for use of the cloud entirely. The decentralized CloVR architecture saves all pipeline outputs locally on the personal computer, providing users additional controls on maintaining data privacy. Although CloVR transfers data to cloud servers for processing, CloVR uses the cloud as a temporary resource and does not require that either inputs or results are stored permanently on the cloud.
The architecture of CloVR, which utilizes Grid Engine [36] for job scheduling and local disks for storage, allows for migration of tools and pipelines from non-cloud versions to the cloud without reimplementation. This approach is in contrast to the use of tools developed for cloud-ready frameworks like Hadoop, which are algorithms that follow MapReduce [29]. The availability of these tools is, however, still relatively limited, since utilization of the Hadoop framework requires new methods or reimplementation of existing tools. As more tools that utilize MapReduce [30–32] are becoming available, Hadoop is included on the VM for their potential future integration.
CloVR provides utilities for building private clusters of VM instances on-demand in the Cloud, without expecting users start, manage, or resize clusters in the cloud. A few other systems, such as Nimbus one-click clusters [55], Galaxy CloudMan [27] and StarCluster [56], are also designed to deploy clusters of instances in the cloud. In contrast to these systems, CloVR pipelines include steps to provision these resources automatically. This enables cost savings in the case of commercial clouds, by allocating resources only as they are needed ("just-in-time"). To help ensure compatibility with multiple cloud providers and support emerging cloud computing platforms, CloVR avoids reliance on proprietary features of individual cloud providers, instead utilizing only three EC2 API calls during pipeline execution (ec2-run-instances, ec2-terminate-instances, and ec2-describe-instances). Such core functions of the EC2 API are becoming a standard in middleware that provides cloud services and are expected to be supported by public and private clouds.
With the increasing volume of next-generation sequencing data, data storage and transfer is increasingly important component of analysis pipelines. Compute clusters often rely on centralized, shared storage systems or file servers to simplify access to data for users and pipelines. As part of the design to be both portable and scalable on cloud computing networks, CloVR does not rely on a shared, network file system, such as NFS, for storage. Instead, CloVR relies on local disk storage on either the users' desktop to store pipeline input and output, or temporary disk storage available on the cloud VM instances during pipeline execution. By using local disk for storage rather than the network, CloVR can be expected to run on commodity cloud systems with relatively slow networking and without reliance on the specialized storage features of cloud providers, such as Amazon Elastic Block Storage [57].
Increasing data volumes can be an impediment for utilizing the cloud, as this data needs to be transferred over the Internet. A strategy for moving analysis to data, rather than transferring data over the network, has been raised as a potential solution to dealing with data transfer bottlenecks [5]. The portability of the VM provides such flexibility. The CloVR VM is 1.4 GB compressed and can be easily transferred to computational resources that are co-located with large data sets. Similarly, reference datasets can be saved on the cloud to avoid data transfers over the Internet, such as is done for Uniref100 [58], which is a 2.6 GB compressed reference dataset hosted in the cloud to support the CloVR-Microbe protocol.
The CloVR pipelines are composed of multiple steps, only some of which are computationally demanding or support parallelization on multiple CPUs. To match pipeline needs with available resources, each CloVR pipeline includes steps to automatically provision cloud resources as needed. One strategy for efficient allocation of resources is to estimate runtimes for steps that execute in parallel, in order to only provision resources that can be used. The Cunningham [52] utility, which is implemented in CloVR currently estimates BLAST runtimes during pipeline executions of CloVR-Search and CloVR-Metagenomics. This strategy helps in avoiding over-partitioning of the input data, which introduces overhead that degrades overall performance, and starting too many instances for small searches or too few instances for larger searches. The ability to predict runtimes can also be used to provide an a priori estimation to the user of how much an analysis will cost or whether a particular analysis is even feasible. We plan to explore providing such estimates as future work and anticipate this will be of much interest to users of the software.
Conclusion
We have designed, built, and tested a portable virtual machine, named CloVR, that provides automated analysis pipelines for microbial genomics. CloVR provides a stand-alone client VM for execution on a personal computer providing the ability to perform sophisticated analyses using local resources and cloud computing platforms if additional resources are needed for increased throughput. By providing fully automated pipelines, the CloVR VM allows users without extensive bioinformatics background to process sequence data, lowering the barrier of entry for microbial sequence analysis.
Availability and requirements
The CloVR VM is freely available for download from http://clovr.org
• Project name: CloVR
• Project home page: http://clovr.org
• Operating system(s): Platform independent
• Other requirements: VMWare, VirtualBox virtual machine players
• License: BSD
• Any restrictions to use by non-academics: none
Declarations
Acknowledgements and funding
This research was supported by funds from the National Human Genome Research Institute, NIH/NHGRI, ARRA under Grant No. RC2 HG005597-01, the National Science Foundation, NSF, under Grant No. 0949201 and the Amazon Web Services in Education Research Grants program. We also thank Michelle Giglio Gwinn for help integrating the microbial annotation pipeline and Anup Mahurkar, Dave Kemeza, Victor Felix, and Brian Cotton for IT assistance and help using the DIAG.
Authors' Affiliations
(1)
Institute for Genome Sciences (IGS), University of Maryland School of Medicine, Baltimore, USA
(2)
Center for Bioinformatics and Computational Biology, University of Maryland, Maryland, USA
Copyright
© Angiuoli et al; licensee BioMed Central Ltd. 2011
This article is published under license to BioMed Central Ltd. This is an Open Access article distributed under the terms of the Creative Commons Attribution License (http://creativecommons.org/licenses/by/2.0), which permits unrestricted use, distribution, and reproduction in any medium, provided the original work is properly cited.