Research article
Open Access
Correlated mutations via regularized multinomial regression
BMC Bioinformatics
2011
12:444
Received: 1 June 2011
Accepted: 14 November 2011
Published: 14 November 2011
Abstract
Background
In addition to sequence conservation, protein multiple sequence alignments contain evolutionary signal in the form of correlated variation among amino acid positions. This signal indicates positions in the sequence that influence each other, and can be applied for the prediction of intra- or intermolecular contacts. Although various approaches exist for the detection of such correlated mutations, in general these methods utilize only pairwise correlations. Hence, they tend to conflate direct and indirect dependencies.
Results
We propose RMRCM, a method for Regularized Multinomial Regression in order to obtain Correlated Mutations from protein multiple sequence alignments. Importantly, our method is not restricted to pairwise (column-column) comparisons only, but takes into account the network nature of relationships between protein residues in order to predict residue-residue contacts. The use of regularization ensures that the number of predicted links between columns in the multiple sequence alignment remains limited, preventing overprediction. Using simulated datasets we analyzed the performance of our approach in predicting residue-residue contacts, and studied how it is influenced by various types of noise. For various biological datasets, validation with protein structure data indicates a good performance of the proposed algorithm for the prediction of residue-residue contacts, in comparison to previous results. RMRCM can also be applied to predict interactions (in addition to only predicting interaction sites or contact sites), as demonstrated by predicting PDZ-peptide interactions.
Conclusions
A novel method is presented, which uses regularized multinomial regression in order to obtain correlated mutations from protein multiple sequence alignments.
Keywords
Mutual InformationEdge DensityIntermolecular ContactCorrelate MutationContact Prediction
Background
The amount of available sequence data is growing explosively. Annotation of those sequences at the protein residue level, which includes prediction of functional sites, binding sites and connections between sites, is essential in understanding structure and function of those sequences. Methods that associate specific parts of protein sequences with certain properties either use existing signatures or predict functional properties of the sequence de novo. Among the former, domain or motif based approaches compare sequences with databases of for example regular expressions, rule based motifs [1], or Hidden Markov Models [2]. Such signatures are inferred using sequence alignments, or information such as protein interaction data in combination with protein sequences [3, 4].
Among methods that predict functional sites without using existing signatures, conservation of amino acids in sequence alignments is a well-known indicator of functional properties. In addition to conservation of columns, protein multiple sequence alignments often display correlations between columns. Such correlation contains information about which residues are located close to each other in 3D space and about functional sites [5, 6]. Although several approaches to obtain such signals from sequence alignments exist [7–13], almost all of these are limited towards analysis of pairwise relationships between columns in the alignment. However, co-evolving contacts can be thought of as chains that percolate through the protein structure, inducing indirect dependencies [14]: when m and n are correlated, and n and p are correlated, m and p are likely to be detected as correlated as well, although in reality they do not directly influence each other. Hence, observed correlation does not necessarily imply that residues are located close to each other.
Several years ago it was proposed that graphical models, which take into account the network nature of dependencies, could be used to model protein structures [15]. At that time, the graphical model structure was learned with help from a protein structure and not from sequence data only. Only recently methods have appeared which, using sequence data only, analyze correlated mutations within the framework of graphical models [16–18].
We use recent advances in structure learning of graphical models (e.g. [19]) and learn a network structure where nodes describe columns in the multiple sequence alignment. This method can overcome the problem of indirect dependencies. In addition, because for every column in a multiple sequence alignment we predict (potentially) a number of other columns that are directly correlated with it, we find 'higher-order' multi-body contacts. This is relevant because it is known, based on contact statistics in protein structures, that multi-body contact frequencies are poorly predicted from pairwise contact potentials [20, 21]. However, in the current study, the validation of our algorithm is focused on pairwise contacts because their assessment can be done in a straightforward way using protein structure data.
Our main contribution is a novel algorithm for correlated mutation analysis, Regularized Multinomial Regression based Correlated Mutations (RMRCM). We demonstrate its performance in network reconstruction using simulated datasets. The method was applied to analyze proteins and protein-protein interactions, and validated by comparing predicted residue connections with contacts observed in protein structures. We demonstrate the applicability of our approach by analyzing various types of datasets, and by predicting protein-peptide interactions.
Results
Indirect dependencies between columns in a multiple sequence alignment (MSA) cannot easily be distinguished from direct dependencies by currently available pairwise methods for correlated mutation detection. This limits the applicability of such methods for the prediction of binding sites or residue-residue contacts. To deal with this, we use recently developed methods in structure learning of graphical models which apply regularization in order to learn sparse network structures, i.e. filter out indirect dependencies. To do so, we frame the problem of finding correlated mutations between columns in a protein multiple sequence alignment in a multinomial regression setup. We convert each column in the MSA into 21 different columns (20 amino acids + gap) with 1 (0) in each column indicating presence (absence) of that amino acid in each particular sequence (Figure 1). Subsequently, the resulting binary matrix is used as independent variables ("X") and each column in the original MSA on its turn is used as dependent variable ("Y") in a regression approach; in doing so, we find a model for each column in the original MSA which explains as much as possible of its variation using the information from all other columns in the binary matrix. Regularized regression allows fitting models to such large datasets and comprises a penalty parameter to get a balance between a good fit and a small number of coefficients. These coefficients describe the resulting predicted links between columns in the MSA. To select the optimal penalty parameter, we apply the Bayesian Information Criterium (BIC), or a sum of coefficients found at different values of the penalty parameter. The resulting approach is named Regularized Multinomial Regression based Correlated Mutations (RMRCM); more details are presented in the Methods section. In principle, our method finds 'multi-body' contacts between each residue which is used as dependent variable and all residues for which non-zero coefficients are found with that residue. However, we simply use the non-zero coefficients here as predictors for pair-wise interactions between residues.
To obtain insight into the performance of our algorithm, as well as the influence of factors such as noise or sequence similarity, we analyzed several simulated datasets. We compared the performance of our approach with the often used mutual information (MI) approach for correlated mutations. Next, a number of protein sequence alignments were analyzed for which the predicted contacts were validated with protein structure data and where the performance of RMRCM was compared with MI as well as some other approaches. In this step of validation and application to biological datasets we used both standard benchmark sets (CASP, PFAM) as well as a number of datasets which have been previously analysed.
Validation: artificial datasets
Artificial sequence datasets were generated based on various artificial networks with different interaction densities, using Gibbs sampling with a potential function defined over nodes and over edges between interacting nodes, where interactions could be either weak or strong. In addition to the generated sequences, datasets with added noise were also analyzed (see Methods for description).
The performance of MI and RMRCM was assessed by comparing the predicted interaction strengths between pairs of columns in the MSA with the known network structure using the Area Under the Curve (AUC) value. We first discuss the results for MI. For the datasets without noise, on the alignments with only 50 sequences, or from networks with edge density 0.5, MI resulted in performance very close to random performance. For datasets with 500 or 1,000 sequences, the performance of MI mainly depended on the edge potential (all cases with weak interactions between nodes had random performance) and on the interaction density (for the cases with strong interactions between nodes, the performance was better with lower interaction density). In addition, increasing the number of sequences from 500 to 1,000 improved the performance (although in most cases only slightly).
For the datasets with 10% "position-noise", the performance of MI as predictor seemed hardly affected, but with 25% noise there was in most cases a clear effect. For the datasets with "sequence-noise", the noise had clear impact on the performance of MI predictions at 10% noise added.
In almost all cases, RMRCM resulted in higher AUC (better prediction performance) than MI (Figure
2
). This held true in particular at the intermediate edge density of 0.25, where MI predictions deteriorated compared to edge density of 0.1 whereas our approach suffered much less. For example, when using 500 sequences at edge density 0.25, the AUC value for MI was 0.68 +/- 0.02 for the case of weak node potential values and strong interactions between columns; RMRCM obtained an AUC of 0.82 +/- 0.01. The datasets resulting from sampling using weak edge potential still obtained random AUC scores using RMRCM, probably indicating the absence of any detectable signal in these cases. For the datasets with noise added, again RMRCM results were better than MI results (Figure
2
).

A general issue in correlated mutation analysis is that when sequence similarity is high (sequences originate from closely related species), it can be difficult to disentangle correlation and conservation [34]. To investigate this, we analyzed the effect of sampling frequency when generating the datasets. When using 200 iterations instead of 50 as used above as interval for writing output during the Gibbs sampling (and hence generating sequences that are somewhat less similar), the performance only slightly improved (for both MI and RMRCM). However, when using highly correlated samples (sampling every iteration) there was a clear impact on performance, which dropped considerably. For example, for the same networks with density 0.25 mentioned above, AUC for MI was 0.59 +/- 0.01 and that for RMRCM was 0.63 +/- 0.02.
As the most extreme limit of high correlation between a number of sequences in the alignment, we tested the influence of adding additional copies of a given sequence to the alignment (using the sets with 500 sequences and adding 10, 25 or 50 copies of a randomly chosen sequence). For MI, there was a clear effect; for example, for networks with density 0.1, strong edge preferences and weak node preferences, the AUC for MI with 10 added copies was 0.98 +/- 0.002, with 25 copies 0.95 +/- 0.01 and with 50 copies 0.92 +/- 0.01. However, for RMRCM, there was hardly any change in performance (data not shown) meaning that also in this respect it performed better than MI.
Protein datasets: intramolecular analysis
To test our method on biological datasets and demonstrate its applicability, we first tested two standard benchmarks, viz. CASP contact prediction cases and a large set of PFAM entries. In addition, we chose to analyse various datasets that have been analyzed previously and where prediction performance was assessed using available crystal structures. In order to be able to compare with those previously obtained results, we used validation criteria as described in the original publications. This means that the exact setup varies somewhat between the different cases, but it has the important advantage of allowing comparison with results obtained by developers of various methods, who are experts on those methods and would be expected to obtain the best result possible with their respective methods.
CASP9 contact prediction
Contact prediction target cases were obtained from the latest CASP round. We observed a clear dependence of RMRCM performance for contact prediction on the number of sequences in the alignment (Figure
3A
). We also provide the average CASP performance in Figure
3
as additional comparison. In fact, for two of the four alignments with more than 300 sequences (T0604-D3, 501 sequences, and T0553-D2, 358 sequences), the performance of RMRCM was better than that of any of the CASP9 participants, based on accuracy, i.e. the fraction of predicted contacts that are indeed contacts in the crystal structure. When based on Xd, which measures how the distribution of distances for predicted contact pairs differs from the distribution of all pairs of residues in the target domain structure, this was only the case for T0604-D3, the one with the highest number of sequences (Figure
3B
). For all four of these alignments RMRCM performance was better than the average CASP performance. For many of the cases for which only a small number of sequences was available, RMRCM performance was not good, even not in comparison to the average performance of CASP participants. Note however that various machine learning algorithms are used in CASP, which incorporate various features and as such the performance of RMRCM as a contact predictor could be boosted by combining the correlated mutation search with such approaches. This could include for example specialized beta-sheet contact prediction algorithms such as applied by NNcon [
35
].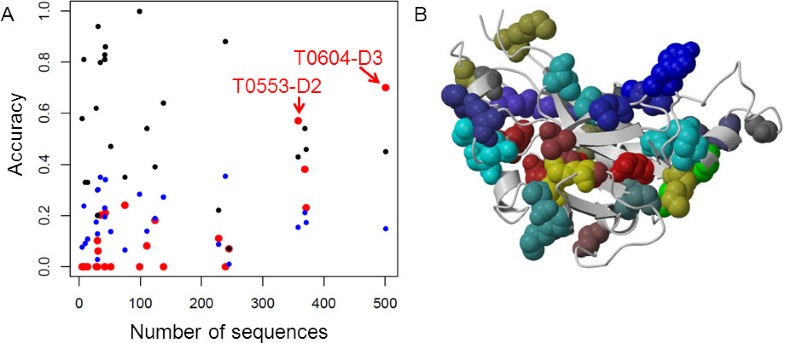 The dependence of RMRCM performance on the number of sequences in the input alignment as observed with the CASP datasets, was similar to what was observed for the artificial datasets (see above). Another observation from the artificial datasets, as mentioned above, was that the contact density had a large influence. However, we did not find such influence for the CASP cases although there is indeed quite some variation in contact density for the CASP cases (data not shown).
PFAM
We selected a subset of PFAM entries (see Methods for criteria), which we subdivided according to the number of sequences in the alignment. A clear dependence for the contact prediction performance was observed on the number of sequences in the alignment, such that going from less than 500 sequences via less than 1,000 sequences to between 1,000 and 2,000 sequences the performance clearly improved (Table
2
). Increasing the number of sequences even further (between 2,000 and 4,000) did not give any additional improvement in performance. Although direct comparison with performance on the CASP cases is obviously not possible, it is reassuring that the average performance measures observed with the cases with at least 1,000 sequences would place RMRCM among the best performing approaches when compared with available CASP prediction results. Performance of Mutual Information on all those datasets was clearly worse; for example, for the sets with between 1,000 and 2,000 sequences, the accuracy for the L/10 best scoring contacts with MI was only 0.18 +/- 0.17 compared with 0.23 +/- 0.24 for RMRCM.
Table 2
Contact prediction performance on PFAM datasets
Nprota

Accuracyb

Xdc

L/5 d

L/10 d

L/5 d

L/10 d

200-500

0.10 (0.09)

0.11 (0.12)

4.1 (4.2)

4.6 (5.5)

500-1000

0.16 (0.14)

0.21 (0.18)

6.3 (5.2)

8.0 (6.9)

1000-2000

0.24 (0.18)

0.32 (0.24)

9.3 (7.5)

12.1 (9.3)

2000-4000

0.25 (0.19)

0.33 (0.26)

8.8 (7.9)

11.8 (10.1)
Because these datasets represent a typical setting in which RMRCM could be applied, we also analyzed the running time. On average, for the sets with 2000 - 4000 sequences RMRCM needed approximately 15 hours on a single CPU for a single dataset, meaning that using any reasonable sized compute cluster one can analyze fairly large amounts of data. For the smaller sets the running time was much smaller, for example for the sets with 500-1000 sequences it was on average less than 2 hours. Running time showed a positive Pearson correlation coefficient of ~0.45 (p~10-12) with both number of columns in the alignment and number of sequences in the alignment.
MADS domain proteins
The MADS domain protein dataset consists of 12 Arabidopsis MADS domain proteins with homologous sequences from various plant genomes which we previously analysed using CAPS, an algorithm which uses BLOSUM and calculates Pearson correlation coefficients between the transition probability scores (between pairs of sequences) observed in one column and each other column [
7
,
36
]. For these proteins, the RMRCM predictions in almost all cases had a significant overrepresentation of short distances compared to the crystal structure: using a χ
2
-test, all but two out of twelve MADS datasets had p-values below 0.05, and in most cases the p-value was much smaller; the average for the ten cases with p < 0.05 was 0.006 +/- 0.01. Although the distance enrichment of the results previously obtained with CAPS was in some cases slightly better than for RMRCM, the number of predicted links was much higher with our new approach (Figure
4A
). To make a proper comparison, we calculated the F-scores [
28
] for the predicted links. With 0.19 +/- 0.09 this was much higher for RMRCM than what was previously obtained with CAPS (0.012 +/- 0.015). We also used MI on those datasets, and found that the distance enrichment of MI-predicted links was much worse than what was obtained with CAPS or RMRCM (data not shown).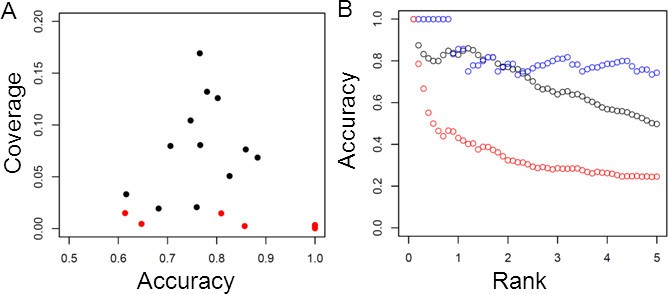 Note that there is quite some variation in the performance for the various MADS domain proteins, which is mainly related to the different amount of sequences in the multiple sequence alignments for those proteins, as observed already when using CAPS (see [36]) and in line with results mentioned above.
Response regulator proteins
For the response regulator proteins, we calculated the accuracy vs. rank percentile for predicting contacts (Figure 4B) as was previously done by Weigt et al. [16]. Here, the predicted contacts were sorted based on the score assigned by RMRCM, and the accuracy of the top n% predicted contacts, i.e. the fraction of predicted pairings which indeed were in contact in the structure, was calculated, for various values of n (0-5%). Figure 4B can be directly compared with Supporting Information Figure S7 in Weigt et al. The performance of our procedure is quite comparable to their performance, which is remarkable because our approach is computationally much less expensive. Weigt et al. had to restrict their analysis to a subset of only 60 positions in order for the problem to be computationally tractable whereas we can easily analyze more columns (for this particular dataset, 187 columns were analyzed with one CPU within a couple of hours).
CDD
As a final set of protein MSAs for intramolecular analysis we used data previously analyzed using MI [8], assembled using the Conserved Domain Database (CDD). Here, combining results for all different datasets, in the crystal structures 6% of the residue pairs had distance below 5 Å and 35% below 15 Å. For the BIC-based predictions, these percentages were 25% and 67%, respectively; this increased to 41% and 73% when restricting to the ten highest scoring pairs for each dataset. The performance when using the sum of the coefficients along the whole regularization path was quite comparable although slightly worse than when using BIC. When restricting to the pairs that had overlap with the top 100 mutual information-based pairs, these percentages were somewhat higher (45% and 79%). The top 100 mutual information based pairs had somewhat lower enrichment with 24% and 66% within 5 Å and 15 Å, respectively.
Comparison with the results obtained by Martin et al., who analyzed only pairs of residues that have no additional partners ("isolated pairs"), indicated that in our case the distance enrichment was slightly lower, but again the number of predicted links was much higher. For example, for the alignments with at least 150 sequences, using the top 10 predictions for each dataset, we obtained a fraction of predicted residue pairs within 5 Å of 0.44 compared to 0.66 for Martin et al.; however, in their case, only 32 pairs were predicted, compared to 240 in our case.
Protein datasets: intermolecular analysis
SK-RR
For the SK - RR interacting proteins, we tested allowing either only intermolecular contacts, or both inter- and intramolecular contacts (the intramolecular contacts were not further analyzed but in building the prediction model they can influence the intermolecular contacts). Based on comparison with intermolecular contacts from the available crystal structure, the exact setup did not influence much the results. Weigt et al. previously predicted 6 links which indeed all had a short distance in the crystal structure. When taking the 6 links with the highest sum of coefficients based on minimum BIC or using the sum of all coefficients along the regularization path, in most cases we also predicted only pairs that were indeed in contact (except in the case of using only intermolecular contacts and using minimum BIC; in that case, one of the predicted links had a larger distance). Most of the predicted links were the same as found by Weigt et al.
PDZ-peptide
The PDZ-peptide dataset consists of a set of human PDZ domains and associated binding peptides for each PDZ, and a similar set of C. elegans PDZ domains and interacting peptides. For this dataset, we used RMRCM to predict residue contacts between the PDZ domain and the peptides, but in addition we tested using RMRCM for predicting which PDZ domain interacts with which peptide. First, we predicted PDZ-peptide residue connections. Here, using only intermolecular contacts resulted in much worse intermolecular contact prediction than using both intra- and intermolecular contacts. We compared the top 50 predicted intermolecular links obtained with the model using both inter- and intramolecular contacts for RMRCM with those predicted by MI. Both had about an equal number of predicted contacts which were found in the crystal structure within 5 Å (10%). However, the number of predicted contacts found within 15 Å in the crystal structure was much higher for RMRCM (80%) compared to MI (50%); the value found for MI is equal to the overall percentage of pairs of residues found within 15 Å of each other in the crystal structure. Hence, although MI does not improve over a random prediction, RMRCM clearly does.
Indeed, the majority of the residues predicted using RMRCM on the PDZ protein are in close proximity of the ligand peptide (Figure
5A
). In some cases, the residues on the PDZ protein also contact with the residue on the ligand with which a connection is predicted whereas in other cases the residues found on the PDZ domain just are near the binding site but do not directly contact the peptide residue with which a connection is predicted (Figure
5A
).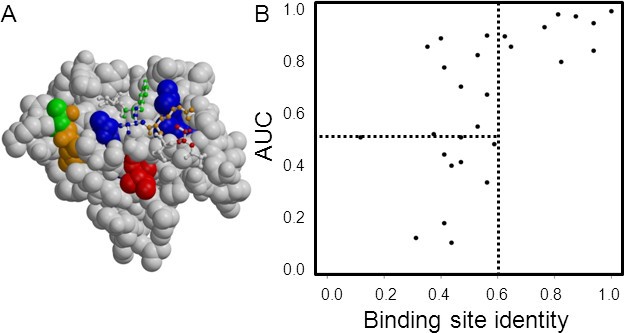 In addition, we used the model trained with human data to predict interactions for C. elegans data based on the likelihood score. When using a model trained using both intra- and intermolecular links, this resulted in poor differentiation between interacting and non-interacting C. elegans PDZ-peptide pairs. However, when using a model trained using only intermolecular links, there was a clear differentiation; for example, among the top 100 PDZ-peptide pairs with the highest score, 97 were indeed interacting, whereas among the lowest 100 scores, 73 were indeed non-interacting.
Previously, a simple method was proposed using binding site similarity between PDZ domains to predict interactions with peptides [33]. In line with the results of that method, we observed a relationship between the maximum binding site identity of a C. elegans PDZ with the human PDZ sequences, and the AUC we obtained for prediction of interactions of that C. elegans PDZ sequence (Figure 5B). Interestingly, only below a binding site identity of 0.6 the interaction prediction became less reliable. This is an improvement over the previously observed binding site identity which was needed to reliably transfer interaction information between PDZ domains (where a value of 0.7 distinguished PDZ domains with similar from PDZ domains with distinct binding profiles) [33]. Hence, at least for this particular dataset, RMRCM is able to push the limit of cross-species sequence-based interaction prediction towards lower similarity levels. Note however that we provide here just one example of using RMRCM as a way to predict interactions, because our focus is on predicting residue-residue connections. Further work would be needed to assess the performance of RMRCM as a general protein-protein (or protein-peptide) interaction predictor.
Discussion
We present RMRCM, a method for correlated mutation analysis using regularized multinomial regression, and demonstrate its performance and applicability with various datasets. Even though correlations between columns in a multiple sequence alignment can arise due to various factors, we focus here on using our algorithm to predict residue-residue contacts. Our algorithm explicitly takes into account the occurrence of direct vs indirect dependencies by using all columns in the multiple sequence alignment simultaneously as independent variables to predict the variation in a given column. Existing methods use various approaches such as applying cutoffs based on randomized alignments to distinguish direct from indirect dependencies but RMRCM uses a more principled approach here.
In comparison with MI, we found on simulated datasets that our approach has a better performance in predicting network edges. Note that our simulation model might be somewhat limited in its ability to reflect biological reality but we used it here as an initial test for our method. Analysis of CASP and PFAM cases indicates a very good performance of our algorithm in cases where enough sequences were available. When analyzing additional biological datasets, we found in most of these a comparable or better distance enrichment for RMRCM compared to existing algorithms, in combination with much higher numbers of predicted links by RMRCM. Also, a combination of MI and our new approach seems particular powerful. A clear dependence of RMRCM contact prediction performance on the number of sequences in the alignment was observed, such that until at least ~1,000 sequences performance increases when adding more sequences. Nevertheless, also with sequence alignments with less sequences RMRCM predictions can be competitive compared to existing algorithms for correlated mutation analysis. Although currently the requirement of ~1,000 homologous sequences for a given protein of interest is still somewhat restrictive, one would expect that for proteins that are present in a large enough range of species quite soon the current explosion in sequence data due to the ongoing revolution in sequencing technology will alleviate that restraint. Of particular relevance here are ongoing projects to sequence hundreds or even thousands of different species (http://genome10k.soe.ucsc.edu/, http://solgenomics.net/organism/sol100/view, http://www.bgisequence.com/eu/scientific-initiatives/projects/1000-plants-and-animals/) For alignments with too few sequences, RMRCM would probably not be the method of choice for predicting residue contacts based on sequence data only.
One additional feature that we plan to add to RMRCM is to take amino acid similarity (based on e.g. BLOSUM) into account, by using a prior and/or penalty term that forces amino acids in a given response-column that are similar to each other (e.g. K and R) to obtain links with amino acids in each predictor-column that are similar to each other (e.g. D and E), or that promote contacts between "complementary" amino acids (e.g. K or R with D or E). We expect that this might further boost performance. Also, currently we do not correct for the effect of phylogenetic relationships in the sequence alignment that we use as input [12, 37]; doing so might further improve RMRCM.
During the preparation of this manuscript, a novel method, GREMLIN, appeared which also uses regularization to learn a graphical model structure based on sequence data [38]. In several computational aspects, including the exact formulation of the regularization, RMRCM is different from GREMLIN. More important, however, is that the focus of that study was on validating the approach by calculating the imputation error, i.e. the probability of not being able to generate a complete sequence given an incomplete one. As such, that study, and the current study where we focus on residue contact prediction and interaction prediction, are complementary.
An interesting and useful aspect of RMRCM is that it is possible to choose subsets of residue interactions to be taken into account. In particular, we tested using either only intermolecular contacts or both intra- and intermolecular contacts; note that existing pairwise correlated mutation approaches per se analyze intermolecular contacts separately from intramolecular contacts in the sense that they analyze pairs of columns, where each pair is either intramolecular or intermolecular. Hence, predictions for intramolecular contacts do not influence predictions for intermolecular contacts, or the other way around. In RMRCM this is different, because we can choose to use either all positions in the alignment as explanatory variables or just a subset. For the prediction of residue contacts, although we did not find much difference for the SK-RR dataset, for the PDZ-peptide dataset the use of both intra- and intermolecular links in the model gave much better results for intermolecular contact prediction compared to using only intermolecular links in the model. For the prediction of C. elegans PDZ-peptide interactions based on human interaction data, the situation was reverse: a model trained using only intermolecular links performed better. This might be because the C. elegans PDZ sequence similarity to human PDZ sequences overwhelms any intermolecular contribution to the scoring of a C. elegans PDZ - peptide pair when including intramolecular links.
Conclusions
To conclude, the validation using simulated data as well as biological data, demonstrates the usefulness of RMRCM. We believe RMRCM is a versatile framework which will prove quite useful in the annotation of protein sequences.
Declarations
Acknowledgements
This work was supported by the Netherlands Organisation for Scientific Research (NWO, VENI Grant 863.08.027 to ADJvD) and by the International Training in Bioinformatics by National Agricultural Innovation Project (NAIP), Indian Council of Agricultural Research, Govt. of India, New Delhi to JS.
Authors' Affiliations
(1)
Central Tuber Crops Research Institute, Kerala, India
(2)
Biometris, Wageningen University and Research Centre, Wageningen, The Netherlands
(3)
Applied Bioinformatics, Plant Research International, Wageningen, The Netherlands
(4)
Keygene N.V., Wageningen, The Netherlands
Copyright
© Sreekumar et al; licensee BioMed Central Ltd. 2011
This article is published under license to BioMed Central Ltd. This is an Open Access article distributed under the terms of the Creative Commons Attribution License (http://creativecommons.org/licenses/by/2.0), which permits unrestricted use, distribution, and reproduction in any medium, provided the original work is properly cited.