Research article

Open Access
A Computational Framework for Proteome-Wide Pursuit and Prediction of Metalloproteins using ICP-MS and MS/MS Data
BMC Bioinformatics
2011
12:64
Received: 10 October 2010
Accepted: 28 February 2011
Published: 28 February 2011
Abstract
Background
Metal-containing proteins comprise a diverse and sizable category within the proteomes of organisms, ranging from proteins that use metals to catalyze reactions to proteins in which metals play key structural roles. Unfortunately, reliably predicting that a protein will contain a specific metal from its amino acid sequence is not currently possible. We recently developed a generally-applicable experimental technique for finding metalloproteins on a genome-wide scale. Applying this metal-directed protein purification approach (ICP-MS and MS/MS based) to the prototypical microbe Pyrococcus furiosus conclusively demonstrated the extent and diversity of the uncharacterized portion of microbial metalloproteomes since a majority of the observed metal peaks could not be assigned to known or predicted metalloproteins. However, even using this technique, it is not technically feasible to purify to homogeneity all metalloproteins in an organism. In order to address these limitations and complement the metal-directed protein purification, we developed a computational infrastructure and statistical methodology to aid in the pursuit and identification of novel metalloproteins.
Results
We demonstrate that our methodology enables predictions of metal-protein interactions using an experimental data set derived from a chromatography fractionation experiment in which 870 proteins and 10 metals were measured over 2,589 fractions. For each of the 10 metals, cobalt, iron, manganese, molybdenum, nickel, lead, tungsten, uranium, vanadium, and zinc, clusters of proteins frequently occurring in metal peaks (of a specific metal) within the fractionation space were defined. This resulted in predictions that there are from 5 undiscovered vanadium- to 13 undiscovered cobalt-containing proteins in Pyrococcus furiosus. Molybdenum and nickel were chosen for additional assessment producing lists of genes predicted to encode metalloproteins or metalloprotein subunits, 22 for nickel including seven from known nickel-proteins, and 20 for molybdenum including two from known molybdo-proteins. The uncharacterized proteins are prime candidates for metal-based purification or recombinant approaches to validate these predictions.
Conclusions
We conclude that the largely uncharacterized extent of native metalloproteomes can be revealed through analysis of the co-occurrence of metals and proteins across a fractionation space. This can significantly impact our understanding of metallobiochemistry, disease mechanisms, and metal toxicity, with implications for bioremediation, medicine and other fields.
Keywords
Inductively Couple Plasma Mass Spectrometry
Relational Database
Significance Curve
Pyrococcus Furiosus
Metal Binding Domain
Background
Metallomics is an emerging field that seeks to comprehensively characterize the role of metals in organisms [1]. As with any new field, unique challenges have been encountered in terms of experimental methodologies and data analysis. The essential role metals play in biology has long been appreciated, but the complete metallome of any organism has yet to be characterized. It is estimated that around a third of all proteins in an organism require a metal partner [2]. While it is possible to predict that certain proteins contain a metal [3], there are fundamental limitations to all current computational methods in comprehensively describing the metalloproteome of any organism. Many current methods rely on sequence motifs that in turn depend on the existence of a sufficiently sized set of previously annotated homologous proteins, a problem further compounded by the diversity of metal-binding sites across organisms as well as within a single organism [4]. It is also well known that heterologous protein expression can result in the production of proteins incorporating metals that are not natively incorporated [5]. In addition, while certain proteins and protein families are known to bind a variety of metals and are annotated accordingly, many are annotated as binding a single metal based on limited evidence.
It was shown recently [6] that the set of metals known to interact with proteins in vivo is a significant underestimate of the true extent and diversity of the metalloproteome. The approach developed used metal-directed protein purification relying on inductively coupled plasma mass spectrometry (ICP-MS) and tandem mass spectrometry (MS/MS) and revealed that a prototypical microbe, Pyrococcus furiosus, takes up 21 of 53 metals measured in its growth medium, 18 of which are present in macromolecular complexes. These results are in stark contrast to the five metals that had previously been identified in proteins individually purified from the same organism. Further, of the 343 metal peaks found across the fractions from a second level of chromatography fractionation (for the 10 metals that were detected), almost half (158) contained no known or predicted metalloprotein corresponding to that particular metal [6]. The purification of eight of these metal peaks resulted in the identification of novel metalloproteins, or proteins containing unexpected metal ions [6]. Unfortunately, this method has two major limitations. Firstly, given the large number (158) of unassigned metal peaks and difficulty in purifying a single protein, it is impractical to purify a significant portion of these novel metalloproteins. Secondly, it is not technically feasible to natively purify proteins of very low abundance over several chromatographic steps.
Herein is described a computational infrastructure and analytical methodology developed to both aid in the pursuit of novel metalloproteins [7] as well as to predict which proteins observed via MS/MS during this fractionation are likely to be metalloproteins without requiring purification to homogeneity. This required the development of a database, an Online Analytical Processing (OLAP) cube and InterPro-Metal (IPM) automated metal domain identification methods (directly supporting the pursuit of novel metalloproteins), as well as a Global Metal Protein Association (GMPA) analysis (enabling the prediction of metal-protein associations without complete purification). Given the essential biological role of metals, the discovery of novel metalloproteins has a multitude of implications in a variety of fields [1, 8]. Moreover, the computational infrastructure and methods described can be applied to any form of biomass of interest from tissues to microbes to identify potential metalloprotein targets for experimental characterization. Most importantly, this analysis allows the discovery of low abundance metalloproteins without radioisotope labeling, which have eluded other methods [9, 10] but which nonetheless may occupy key roles in essential biological pathways.
Methods
Experimental design
The experimental data set utilized in this study is an expanded version of the data set described in [7]. Briefly, native biomass of the hyperthermophilic archaeon Pyrococcus furiosus was fractionated anaerobically through multiple non-denaturing chromatography steps utilizing multiple column chemistries. The resulting 2,589 fractions were analyzed by ICP-MS to identify metals, and by MS/MS to identify proteins (primarily high-throughput MS/MS in this study). The MS/MS data were filtered such that the false discovery rate was less than 1%, as described in [7] and only proteins identified by Mascot with two or more peptides were considered in the current bioinformatics based study. The use of non-denaturing native chromatography, ICP-MS and MS/MS captures the co-occurrence of metals and proteins in their native form, and enabled a metal-based purification strategy, in contrast to conventional enzyme assay guided protein purification [6]. While this metal-based separation was used to purify a number of metalloproteins to homogeneity [6], the wealth of metal and protein data collected for proteins that were not explicitly targeted for direct purification provided an additional opportunity (applying data analysis techniques) to identify proteins that are likely to contain one or more metals in their native form.
Data infrastructure
A relational database was constructed using Microsoft SQL Server 2005 to store the data used in this study. The database consists of three principal modules: a procedural (fractionation) module, a metal data (ICP-MS) module, and a protein data (MS/MS) module. The fractionation module was designed to store the procedural information used in each of the separation steps carried out during the multi-level column fractionation (allowing reconstruction of the complete experimental pathway). These multi-level hierarchical relationships between fractions were queried using recursive common table expressions (CTE). The metal data module was designed to store both procedural data and replicate metal concentration data for each sample and metal analyzed using ICPMS. This module also stores the peak assignments determined by manual inspection. Finally, the protein module stores data for each peptide identified by MS/MS, its protein source and the corresponding ORF, and details related to the MS/MS run and Mascot search as imported from Mascot XML result files. All fractions and samples (from fractions) collected were assigned unique IDs and labeled with 2 D data matrix barcodes to facilitate sample tracking. This ensured the simple and reliable association of the data contained in all three principal modules within the context of the experimental hierarchy.
The relational database contains 2,589 records corresponding to fractions (the fractionation module) obtained from the chromatographic separation in which 1,026 proteins (the protein module) were identified by MS/MS. Of these 1,026 proteins (corresponding to 135,989 peptide hit records in the database), 870 were identified with 2 or more peptides (125,777 peptide hit records) and were used in statistical scoring of metal association (GMPA scores, see below). Each of these fractions has associated metal concentration data generated by ICP-MS analysis for multiple metals depending in part on what metals were relevant to the goals of a given separation step (up to 53 with 78,514 overall metal concentration records; the metal module). An Online Analytical Processing (OLAP) cube (Figure
1
, middle right) was constructed on top of the relational database using Microsoft SQL Server 2005's Analysis Services. The cube enabled efficient preprocessing of significant amounts of aggregate data (e.g. sums, averages, etc.) and at the same time enabled convenient data slicing across multiple dimensions of experimental data in real-time (e.g. queries as to the number of proteins and metals detected in the same fraction) [
11
]. OLAP is commonly used in the business analysis field but has not been widely exploited in scientific fields. However, OLAP is particularly well suited to the types of analyses presented herein given the hierarchical nature of the data set and the aggregate nature of queries utilized in this study to investigate experimental outcomes (e.g. are we purifying a protein-i.e. are metal/protein ratios improving?). A more detailed description of data infrastructure is given in the supplementary material (Additional Files
1
,
2
,
3
,
4
,
5
). For the 870 proteins with GMPA scores, metal concentrations and numbers of peptides in the column fractions containing those proteins (designated by ORF number) are available at
http://enigma.bmb.uga.edu/impact
.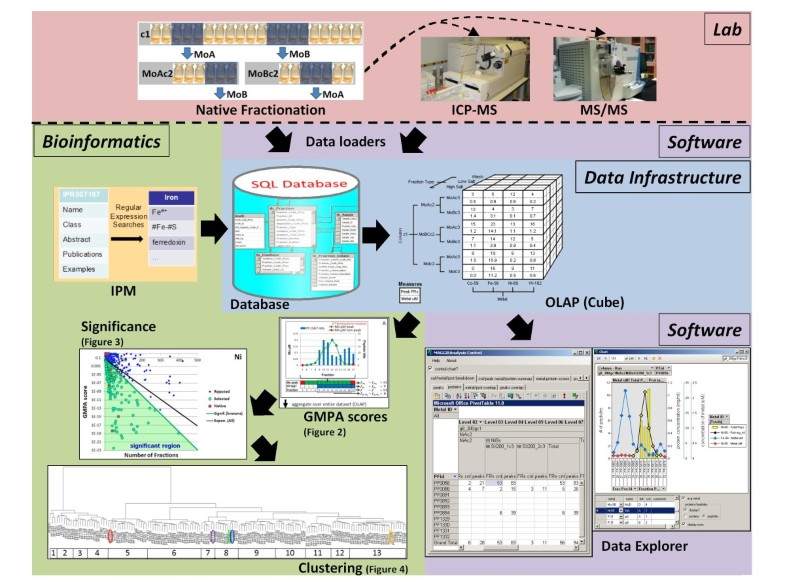 Bioinformatic metalloprotein prediction-InterPro-Metal (IPM) automated metal domain analysis
The set of known metalloproteins that have been previously purified and characterized from P. furiosus by conventional chromatographic methods consists of only 23 proteins (encoded by 39 genes). Each contains one or more of Co, Fe, Ni, W and/or Zn atoms [6]. Although the utility of bioinformatic predictions is limited, such predictions can be used to identify homologs of more extensively characterized metalloproteins and serve as a starting point for assigning proteins to the observed metal peaks. The Integrated Resource of Protein Domains and Functional Sites (InterPro) [12] was used to predict known metal associated domains encoded in the genome of P. furiosus. InterPro integrates multiple popular protein feature databases, and provides the Iprscan utility for searching protein sequence queries against these databases. The genome was searched using this utility and the resulting matches of proteins to InterPro entries were stored in a relational database (protein-InterPro data). The description of each InterPro entry, including name, abstract and publication list, is available in a downloadable XML file ftp://ftp.ebi.ac.uk/pub/databases/interpro/interpro.xml.gz. This file was parsed and inserted into a corresponding relational database. A number of regular expression patterns relating to metal ions, metal cofactors and metal binding domains were used to search the text of each InterPro entry description to classify the entries which potentially involve specific metals (metal-InterPro data). Those metal-InterPro entries that had hits in the P. furiosus genome were evaluated manually for quality and assigned a subjective score. In some cases, keyword hits were not deemed to be indicative of a potential association of the given domain with a given metal, for instance an abstract for a particular subfamily of an enzyme may include additional information on other subfamilies which use alternate metals. Such spurious hits were assigned a score of 0 while metals with evidence of association with the given domain were assigned a positive score. All hits with nonzero scores were considered as potentially metal associated domains in subsequent analyses. The protein-InterPro data and metal-InterPro data were joined to determine which P. furiosus proteins had associations with specific metals and this subsequently will be referred to as the InterPro-Metal (IPM) database or InterPro-Metal analysis. These domain-based predictions were incorporated into the relational database and OLAP cube (Figure 1) to aid in the identification of novel metalloproteins and proteins for which the metal prediction and observed metal associations differ.
Data driven metalloprotein prediction-Global Metal Protein Association (GMPA) analysis
Results and Discussion
The computational framework that was developed consisted of a database, an Online Analytical Processing (OLAP) cube, InterPro-Metal (IPM) automated metal domain identification and Global Metal Protein Association (GMPA) analysis. This complemented and enhanced our recent effort to elucidate the metalloproteome of P. furiosus and to identify novel metalloproteins [6]. The GMPA analysis in particular was used to provide estimates of the numbers of metalloproteins that could be expected proteome-wide and a narrowed list of candidates (based on ICP-MS and MS/MS data) at various stages of the column chromatography fractionation, culminating in our predictions at the conclusion of the study that the numbers of undiscovered metal containing proteins in P. furiosus range from approximately 5 for vanadium up to as many as 13 for cobalt. Validation of these predictions is provided by the overall success of the GMPA analysis in categorizing known metalloproteins from P. furiosus, the establishment of lower bounds on the numbers of proteins required to explain all metal peaks seen during the fractionation, the fact that the predictions lie within reasonable ranges in the context of literature (where up to a third of proteins are expected to contain or be involved with metals in various ways with the caveat that the majority are likely to be involved with Mg) [2, 17, 18] and considering the effect of dynamic association/adventitious metal binding [19].
In order to determine how much of the information contained in our data set remains uncaptured by the GMPA analysis, nickel (Ni) and molybdenum (Mo) were chosen for manual evaluation using the GMPA predictions as a starting point. Of the 870 proteins identified by MS/MS with two or more peptides, 153 and 119 were found to be significantly associated with Ni and Mo respectively, upon clustering yielding predictions of 13 and 10 total Ni- and Mo-proteins in the proteome of P. furiosus. The local semi-quantitative MS/MS peptide hit data for each of the proteins clustered was then manually compared to the local metal concentration data using our data explorer (Figure 1). This step excluded an additional 131 and 99 proteins producing top candidates lists of 22 and 20 proteins that are most likely to contain Ni and Mo respectively. These lists were then analyzed more extensively through bioinformatic analyses and literature searches. We will first describe the results obtained at the conclusion of our experimental study and then discuss the bioinformatics of the lists of predicted Ni- and Mo-proteins, concluding with the limitations inherent in this study.
Conclusions
We have presented a computational methodology that can uncover probable metal-containing proteins using data from a non-comprehensive native fractionation coupled with metal and protein measurement using ICP-MS and MS/MS. This methodology has identified a number of candidate novel metalloproteins that are targets for future experimental verification. Application of the method to simulated data sets indicates that additional predictive accuracy could be achieved through the use of a more comprehensive fractionation. Our results for each of the 10 metals examined in this study underscore the unexplored complexity of metalloproteomes and have broad implications for protein structure and function as well as metal toxicity.
Abbreviations
Co:

cobalt
Fe:

iron
Mn:

manganese
Mo:

molybdenum
Ni:

nickel
Pb:

lead
U:

uranium
V:

vanadium
W:

tungsten
Zn:

zinc
HT-MS/MS:

high-throughput tandem mass spectrometry
ICP-MS:

inductively coupled plasma mass spectrometry
ID:

identifier
MS/MS:

tandem mass spectrometry
OLAP:

online analytical processing
ORF:

open reading frame
Declarations
Acknowledgements
This work conducted by ENIGMA was supported by the Office of Science, Office of Biological and Environmental Research, of the U. S. Department of Energy under Contract No. DE-AC02-05CH11231.
Authors' Affiliations
(1)
Department of Biochemistry and Molecular Biology, University of Georgia, Athens, USA
(2)
Philadelphia College of Osteopathic Medicine, Suwanee, USA
(3)
Scripps Center for Mass Spectrometry and the Departments of Molecular Biology and Chemistry, The Scripps Research Institute, La Jolla, USA
(4)
Life Sciences Division, Lawrence Berkeley National Laboratory, Berkeley, USA
Copyright
© Lancaster et al; licensee BioMed Central Ltd. 2011
This article is published under license to BioMed Central Ltd. This is an Open Access article distributed under the terms of the Creative Commons Attribution License (http://creativecommons.org/licenses/by/2.0), which permits unrestricted use, distribution, and reproduction in any medium, provided the original work is properly cited.