Research article
Open Access
A theoretical entropy score as a single value to express inhibitor selectivity
BMC Bioinformatics
2011
12:94
Received: 21 September 2010
Accepted: 12 April 2011
Published: 12 April 2011
Abstract
Background
Designing maximally selective ligands that act on individual targets is the dominant paradigm in drug discovery. Poor selectivity can underlie toxicity and side effects in the clinic, and for this reason compound selectivity is increasingly monitored from very early on in the drug discovery process. To make sense of large amounts of profiling data, and to determine when a compound is sufficiently selective, there is a need for a proper quantitative measure of selectivity.
Results
Here we propose a new theoretical entropy score that can be calculated from a set of IC50 data. In contrast to previous measures such as the 'selectivity score', Gini score, or partition index, the entropy score is non-arbitary, fully exploits IC50 data, and is not dependent on a reference enzyme. In addition, the entropy score gives the most robust values with data from different sources, because it is less sensitive to errors. We apply the new score to kinase and nuclear receptor profiling data, and to high-throughput screening data. In addition, through analyzing profiles of clinical compounds, we show quantitatively that a more selective kinase inhibitor is not necessarily more drug-like.
Conclusions
For quantifying selectivity from panel profiling, a theoretical entropy score is the best method. It is valuable for studying the molecular mechanisms of selectivity, and to steer compound progression in drug discovery programs.
Keywords
SorafenibSunitinibGefitinibDasatinibNilotinib
Background
In recent years, the kinase field has developed the practice of monitoring inhibitor selectivity through profiling on panels of biochemical assays [1–7], and other fields are following this example [8, 9]. Such profiling means that scientists are faced with increasing amounts of data that need to be distilled into human sense. It would be powerful to have a good single selectivity value for quantitatively steering the drug discovery process, for measuring progress of series within a program, for computational drug design [10–12], and for establishing when a compound is sufficiently selective. However, in contrast to, for instance, lipophilicity and potency, where values such as logP or binding constant (K d ) are guiding, quantitative measures for selectivity are still under debate. Often graphic methods are used to give insight, for example dotting a kinome tree [13, 14], heat maps [4, 6], or a radius plot, but such methods only allow qualitative comparison of a limited set of compounds at a time.
To make quantitative selectivity comparisons, three notable methods have been proposed (Figure
1
). The first is the 'selectivity score' [
5
], which simply divides the number of kinases hit at an arbitrary K
d
or IC
50
value (e.g. 3 μM) by the number of kinases tested (S(3 μM), Figure
1a
). A related score is S(10x), which divides the number of kinases hit at 10 times the K
d
of the target by the number of kinases tested [
5
]. The disadvantage of both methods is that 3 μM, or the factor 10, is an arbitrary cut-off value. For example, take two inhibitors, one that binds to two kinases with K
d
s of 1 nM and 1 μM, and another with K
d
s of 1 nM and 1 nM. Both are ranked equally specific by both S(3 μM) and S(10x), whereas the first compound is clearly more specific.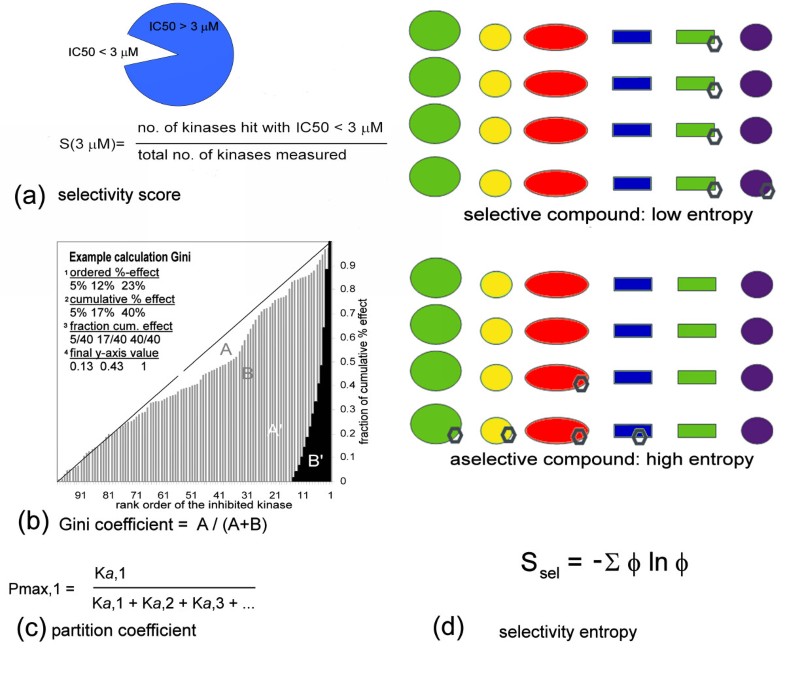 A less arbitrary parameter for selectivity is the Gini score [15]. This uses %-inhibition data at a single inhibitor concentration. These data are rank-ordered, summed and normalized (Figure 1b) to arrive at a cumulative fraction inhibition plot, after which the score is calculated by the relative area outside the curve (Figure 1b). Though this solves the problem with the selectivity score, it leaves other disadvantages. One is that the Gini score has no conceptual or thermodynamic meaning such as a K d value has. Another is that it performs suboptimally with smaller profiling panels [16]. In addition, the use of %-inhibition data makes the value more dependent on experimental conditions than a K d -based score [15]. For instance, profiling with 1 μM inhibitor concentration results in higher percentages inhibition than using 0.1 μM of inhibitor. The 1 μM test therefore yields a more promiscuous Gini value, requiring the arbitrary 1 μM to be mentioned when calculating Gini scores. The same goes for concentrations of ATP or other co-factors. This is confusing and limits comparisons across profiles.
A recently proposed method is the partition index [16]. This selects a reference kinase (usually the most potently hit one), and calculates the fraction of inhibitor molecules that would bind this kinase, in an imaginary pool of all panel kinases (Figure 1c). The partition index (Pmax) is a K d -based score with a thermodynamical underpinning, and performs well when test panels are smaller [16]. However, this score is still not ideal, since it doesn't characterize the complete inhibitor distribution in the imaginary kinase mixture, but just the fraction bound to the reference enzyme. Consider two inhibitors: A binds to 11 kinases, one with a K d of 1 nM and ten others at 10 nM. Inhibitor B binds to 2 kinases, both with K d s of 1 nM. The partition index would score both inhibitors as equally specific (Pmax = 0.5), whereas the second is intuitively more specific. Another downside is the necessary choice of a reference kinase. If an inhibitor is relevant in two projects, it can have two different Pmax values. Moreover, because the score is relative to a particular kinase, the error on the K d of this reference kinase dominates the error in the partition index. Ideally, in panel profiling, the errors on all K d s are equally weighted.
Here we propose a novel selectivity metric without these disadvantages. Our method is based on the principle that, when confronted with multiple kinases, inhibitor molecules will assume a Boltzmann distribution over the various targets (Figure 1d). The broadness of this distribution can be assessed through a theoretical entropy calculation (it is not actually measuring entropy). We show the advantages of this method and some applications. Because it can be used with any activity profiling dataset, it is a universal parameter for expressing selectivity.
Conclusions
In order to quantify compound selectivity as a single value, based on data from profiling in parallel assays, we have presented a selectivity entropy method, and compared this to other existing methods. The best method should avoid artifacts that obscure compound ranking, and show consistent values across profiling methods. Based on these criteria, the selectivity entropy is the best method.
A few cautionary notes are in order. First, the method is labelled an entropy in the sense of information theory [17], which is different to entropy in the sense of vibrational modes in enzyme active sites. Whereas these vibrations can form a physical basis for selectivity [39, 48, 49], our method is a computational metric to condense large datasets.
Secondly, any selectivity metric that produces a general value does not take into account the specific importance of individual targets. Therefore, the entropy is useful for generally characterizing tool compounds and drug candidates, but if particular targets need to be hit, or avoided, the K d s on these individual targets need to be monitored. It is possible to calculate an entropy on any particular panel of all-important targets, or to assign a weighing factor to every kinase, as suggested for Pmax[16] and calculate a weighted entropy. However, the practicality of this needs to be assessed.
Next, it is good custom to perform profiling in biochemical assays at [ATP] = KM-ATP, because this generates IC50s that are directly related to the ATP-independent K d value. However, in a cellular environment, there is a constant high (~5 mM) ATP concentration and therefore a biochemically selective inhibitor will act with different specificity in a cell. If the inhibitor has a specificity for a target with a KM,ATP above the panel average, then that inhibitor will act even more specifically in a cell and vice versa (KM,ATP values can generally be found on websites of profiling research organizations). Selectivity inside the cell is also determined by factors such as cellular penetration, compartimentalization and metabolic activity [39]. Therefore, selectivity from biochemical panel profiling is only a first step in developing selective inhibitors.
Another point is that any selectivity metric is always associated with the assay panel used, and the entropy value will change if an inhibited protein is added to the panel. Adding a protein that does not bind inhibitor will not affect the entropy value. In this way the discovery of new inhibitor targets by e.g. pulldown experiments, can change the idea of inhibitor selectivity, and also the entropy value. A good example is PI-103, the most selective inhibitor in Table 1, which in the literature is known as a dual PI3-kinase/mTOR inhibitor [50], and which appears specific in Table 1 because PI3-kinase is not incorporated in the profiling panel.
In addition, an inhibitor that hits 2 kinases at 1 nM from a panel of 10 has the same selectivity entropy as an inhibitor that inhibits 2 kinases at 1 nM in a panel of 100. However, intuitively, the second inhibitor is more specific (the 'selectivity score' differentiates in this case). This illustrates that it is important to compare entropy scores on similar panels. At the same time, when results from different panels are weighed, as in the example, it should not be assumed for the first inhibitor, that it is inactive against all 90 other kinases in the second panel. It would be better to assign an average K d where measurements are missing. In that case the first inhibitor would score a more promiscuous entropy compared to the second inhibitor.
Finally it must be stressed that the selectivity entropy could be applied in many more fields. It could, for instance, be a useful metric in the computational studies that attempt to link compound in vitro safety profiles to compound characteristics [51–53]. Currently, that field uses various forms of 'promiscuity scores' which bear similarity to the selectivity score. A more robust and non-arbitrary metric such as the selectivity entropy could be of help in building more detailed pharmacological models of compound activity-selectivity relationships [51–53].
In summary, the selectivity entropy is a very useful tool for making sense of large arrays of profiling data. We have demonstrated its use in characterizing tool compounds and drug candidates. Many more applications are imaginable in fields where an array of data is available and the selectivity of a response needs to be assessed. In that sense, the selectivity entropy is a general aid in the study of selectivity.
Methods
Calculation of other selectivity scores
For comparisons between currently used methods, we calculated the selectivity scores S(3 μM) and S(10x) as outlined above and in ref. 5. The partition coefficient Pmax was calculated as originally proposed [16], by taking the K a value of the most potently hit kinase, and dividing it by Σ K a . It is worth to note that the partition coefficient is the same as ϕl in our entropy equation (eq. 2).
The Gini score was calculated from data on %-inhibition [15]. In Figure 1b, these data were extracted from K d values using the Hill expression: %-inhibition = 100/(1+10-(pKd - pconc)), where pK d = -log (K d ) and pconc = -log (inhibitor concentration evaluated). In addition, to work more directly with K d s, we also introduce a K a -Gini score, in which association constants are used for rank-ordering the kinase profile. From this K a -rank ordering, a cumulative effect is calculated and normalized, after which the areas are determined, in the same way as for the original Gini score [15]. All calculations were done in Microsoft Excel.
Sources of existing and new data
For our comparative rank-ordering (Table 1, Uitdehaag_S1) we used the publicly available dataset released by Ambit http://www.ambitbio.com, which contains binding data (K d s) of 38 inhibitors on 290 kinases (excluding mutants), and which is currently the largest single profiling set available [5].
For comparing profiles across methods (Figure 2), we selected 16 kinase inhibitors of the Ambit profile (Table 2) and submitted these to the kinase profiling service from Millipore (http://www.millipore.com/drugdiscovery/svp3/kpservices, data available as Additional file 2). Both profiling methods are described earlier [3, 5, 14] and differ (among other variations) in the following way: Ambit uses a competitive binding setup in absence of ATP on kinases from T7 or HEK293 expression systems [14]. Millipore uses a radioactive filter binding activity assay, with kinases purified from Escherichia coli or baculovirus expression systems [3]. All Millipore profiling was done on 222 human kinases at [ATP] = KM,ATP.
For comparing inhibitors with an allosteric (actually: induced fit) profile (Figure 3a), we used data from the Ambit profile [5], supplemented with Millipore profiling data on nilotinib, PD-0325901 and AZD6244, because these important inhibitors were lacking in the Ambit dataset (data available in Additional file 2).
For comparing nuclear receptor data (Figure 3b), we used the published profiling dataset of 35 inhibitors on a panel consisting of all six steroid hormone receptors [9] The data we used were EC50s in cell-based assays.
For evaluation of a screening dataset (Figure 3c), we selected data from the PubChem initiative, determined at the University of New Mexico on regulators of G protein signalling (isoforms 4, 19, 7 and 16. Assay identifiers: 1872, 1884, 1888 and 1869) [21].
For evaluating clinical success (Figure 3d), we tracked the clinical status of each compound in the Ambit profile using the Thompson Pharma® database (status February 2011, analysis availabe as Additional file 3).
Declarations
Acknowledgements
We thank our colleagues Rogier Buijsman, Husam Alwan and Koen Dechering for discussion and critical reading of the manuscript. We thank Jennifer Wilkinson (Invitrogen) for sharing nuclear receptor data.
Authors' Affiliations
(1)
Merck Research Laboratories, Department of Molecular Pharmacology and DMPK, Oss, The Netherlands
Copyright
© Uitdehaag and Zaman; licensee BioMed Central Ltd. 2011
This article is published under license to BioMed Central Ltd. This is an Open Access article distributed under the terms of the Creative Commons Attribution License (http://creativecommons.org/licenses/by/2.0), which permits unrestricted use, distribution, and reproduction in any medium, provided the original work is properly cited.