Predicting gene ontology from a global meta-analysis of 1-color microarray experiments
BMC Bioinformatics
2011
12(Suppl 10):S14
Published: 18 October 2011
Abstract
Background
Global meta-analysis (GMA) of microarray data to identify genes with highly similar co-expression profiles is emerging as an accurate method to predict gene function and phenotype, even in the absence of published data on the gene(s) being analyzed. With a third of human genes still uncharacterized, this approach is a promising way to direct experiments and rapidly understand the biological roles of genes. To predict function for genes of interest, GMA relies on a guilt-by-association approach to identify sets of genes with known functions that are consistently co-expressed with it across different experimental conditions, suggesting coordinated regulation for a specific biological purpose. Our goal here is to define how sample, dataset size and ranking parameters affect prediction performance.
Results
13,000 human 1-color microarrays were downloaded from GEO for GMA analysis. Prediction performance was benchmarked by calculating the distance within the Gene Ontology (GO) tree between predicted function and annotated function for sets of 100 randomly selected genes. We find the number of new predicted functions rises as more datasets are added, but begins to saturate at a sample size of approximately 2,000 experiments. For the gene set used to predict function, we find precision to be higher with smaller set sizes, yet with correspondingly poor recall and, as set size is increased, recall and F-measure also tend to increase but at the cost of precision.
Conclusions
Of the 20,813 genes expressed in 50 or more experiments, at least one predicted GO category was found for 72.5% of them. Of the 5,720 genes without GO annotation, 4,189 had at least one predicted ontology using top 40 co-expressed genes for prediction analysis. For the remaining 1,531 genes without GO predictions or annotations, ~17% (257 genes) had sufficient co-expression data yet no statistically significantly overrepresented ontologies, suggesting their regulation may be more complex.
Keywords
Gene OntologyGene Expression OmnibusQuery GeneOpen Biomedical OntologyPredict Gene Function
Background
As the availability and abundance of microarray data has grown across the major microarray data repositories, such as Gene Expression Omnibus (GEO) [1], ArrayExpress [2], and the Stanford Microarray Database [3] to encompass hundreds of thousands of experiments now, there is an increased interest in methods of mining this data. One approach has been to conduct what might be termed a global meta-analysis, which differs from traditional meta-analysis of experimental datasets that are normally undertaken to increase sample size by using highly similar experimental conditions and tissue types. The motivation behind a meta-analysis of heterogeneous data is to focus on gene-gene transcriptional patterns rather than experiment-experiment patterns.
In any given microarray experiment, there are likely many different processes going on at once when comparing experiment versus control. For example, even when one condition, such as oxidative stress, is induced, cells experience changes in multiple processes such as enzymatic activity, chromatin structure, apoptosis-related signaling, antioxidant production, etc. Identifying gene pairs that are consistently differentially expressed with each other across many different conditions permits an analysis of which of the many genes involved in these different processes are specific to each other outside of individual experimental conditions (e.g., apoptosis can be induced in response to many different stimuli).
Using patterns of consistent co-expression to predict function
The generation of high-throughput data provides the opportunity to examine patterns across datasets to identify correlations [4]. Analysis of co-expression networks to try to identify regulatory patterns and modularity in co-expression dates back to early studies in yeast [5, 6] and soon thereafter in higher organisms [7]. One of the motivations in identifying these patterns is that they can be used to predict gene function [8, 9], as well as potential roles for non-coding elements [10]. Different methods of identifying gene-gene correlations are used, of which Pearson's has been widely used[11–14], but also other patterns such as dividing patterns into parallel/anti-parallel [15] and Boolean quadrants [16] have been useful. It's becoming clear that methods to study gene-gene co-expression patterns across unrelated experiments can tell us about the underlying genetic regulation, which has broad implications. For example, by establishing what could be considered "normal" gene-gene regulation one can than try to detect abnormal or disease-related disturbances [17]. In particular, with approximately 34% of human genes still without known function [15, 18], it is important to develop methods to accurately predict function. The situation in human is not unique – the fraction of still uncharacterized genes ranges from ~38% in mouse [19] to ~17% in perhaps the best-studied eukaryotic organism of all, yeast [20].
The general approach to inferring associations using guilt by association is outlined in Figure
1
. Here, associations can be inferred by analyzing a set of genes that are consistently co-expressed with a query gene across heterogeneous conditions. These genes can then be analyzed for what they have in common. Using GO, this would yield predicted associations with molecular function, biological process and cellular components. Literature-based analysis software such as IRIDESCENT [
21
–
23
] could also be used to identify phenotypes, diseases and other entities such as drugs and/or chemicals that are also associated with the genes in the literature. Studies have shown that this approach can predict GO categories [
24
], but at this point, it's not known how accurate this type of approach is at inferring different associations (e.g., disease, phenotype, cellular location, etc).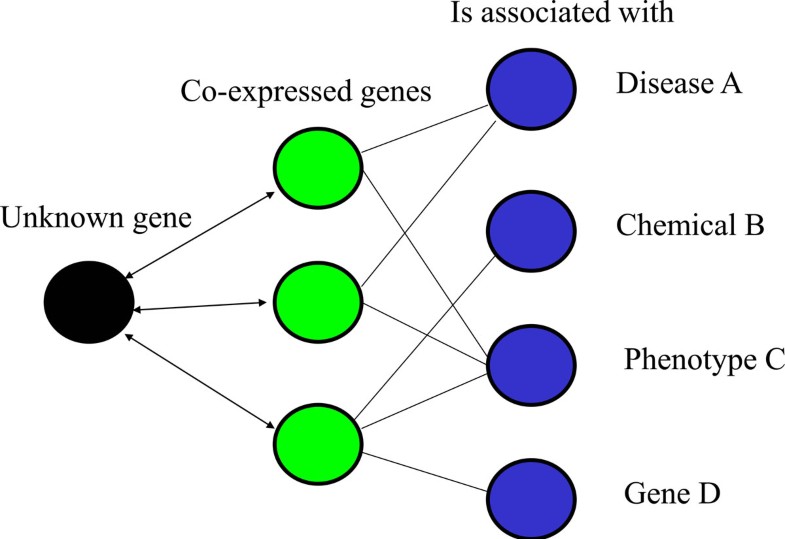 Our initial study used 3,600 human 2-color arrays, which yielded a 34% direct hit rate (i.e., the predicted GO category was the same as the known GO category) [15]. On the surface, this may appear to be a low accuracy, but because GO annotation lags the literature and our knowledge of genes is biased towards a select few [15, 18], it is difficult to estimate the false-positive rate in this type of analysis. That is, it is not clear how many predicted functions are simply not known. For example, we have experimentally examined some of the predicted functions made from this 2-color analysis and have found them to be generally accurate (manuscripts in preparation) and have published the results of one of these studies [25]. In this initial study, gene expression was categorized into genes that were expressed in parallel (i.e., tended to be up-regulated and down-regulated together), anti-parallel (i.e., when one was up-regulated, the other tended to be down-regulated and vice versa) and not differentially expressed. Here, we first want to establish whether or not similar parameters can be used for 1-color arrays which do not display differential expression like their 2-color counterparts, but merely expression or non-expression, an important technical distinction [26]. Second, we want to know how the set size of genes used for inference affects precision and recall (e.g., in Figure 1, 3 genes are shown as being used to infer function). Finally, we want to know what the relative contribution of the ranked genes is to the process of inference – that is, do the top genes contribute to more accurate predicted functions.
Discussion
Two-color microarrays contain information about co-repression of gene pairs, but in 1-color arrays the measurement focuses on expression rather than differential expression and information is only obtained on co-induction of gene pairs. Non-expressed gene pairs in 1-color arrays are normally uninformative since most genes are not expressed at any given point in time. The ability to use a large set of heterogeneous microarray datasets as a means of studying gene-gene co-expression and predicting function has been demonstrated by us [15, 25] and others [6, 7, 24] previously, but much of the details underlying why and how the approach works has not been explored.
Our metrics for selection of co-expressed genes (Equation 1) have been validated in the previous work [15], however, for one-color microarray data addition of Pearson's correlation coefficient increased the performance of predictions. The main limitation of our work is incomplete GO annotations, which led to relatively low F-measure. Also, other metrics for finding similarities among GO annotations [34] can be used to improve statistical calculations. We expect the quality of predictions to increase as new GO annotations will be added.
We observed the F-measure of predictions begin to taper off around 2,000 experiments analyzed (Figure 6). While rarely expressed transcripts will likely benefit from more experiments analyzed, this finding is important because it tells us that, for most genes, there is more than enough experimental data to make predictions. It is also important because, as more data is accumulated on non-coding RNA (ncRNA) expression, it suggests approximately how many experiments we will need to begin correlating ncRNA expression with gene function. Currently, among the GSE files deposited in GEO there were 370 annotated as "non-coding RNA profiling by array" at the time of this writing. Interestingly, precision remained constant independently of the number of experiments used (Figure 6), suggesting overall that only a small amount of co-expression data is sufficient to garner accurate predictions for genes that are included within these experiments, but that more data is required to produce predictions for transcripts that are more rarely expressed or are included within few platforms, resulting in a more gradual increase in recall.
Another important observation is that precision drops quickly once genes outside the top ranked group are chosen. Although not unexpected, it is useful to know that most of the informative gene pairs are within a relatively small group or module. This suggests that it is important to algorithmically identify and characterize these modules to maximize our ability to infer associations from these co-expressed gene sets.
Interestingly, we observed an overall trend that genes tend to co-express with other genes from the same subfamilies. For example, among top 20 genes best co-expressed with LILRB1 (leukocyte immunoglobulin-like receptor, subfamily B member 1) there were LILRB3, LILRA6, LILRA3 and others alike, such as PILRA (paired immunoglobulin-like type 2 receptor alpha). This not only further strengthens "guilt by association" principle but also explains why some poorly annotated genes did not have any predictions. A poorly annotated gene tends to be co-expressed with other poorly annotated genes. As such, the top co-expressed genes without ontologies would be discarded (because they cannot be used to infer GO category), while annotated genes further down the list already don't have enough precision for functional prediction (see Figure 3).
Precision and recall differed for different GO namespaces. Seemingly counter intuitively, "cellular component" has the highest precision/recall rates, and "biological process" has the lowest. An explanation lies in the total number of annotations in a given category. "Cellular component" has the lowest number of annotations and subcategories, is easier to establish experimentally than either molecular function or biological process, and thus the rate of true positives would be higher. "Biological process" on the other hand has largest number of annotations and, other parameters equal, the rate of direct hits in relation to the total number of annotations would be lower. "Molecular function" had intermediate number of annotations and intermediate precision/recall rates.
Conclusions
A global analysis of gene-gene co-expression behavior is a promising means of predicting gene function, particularly for the third of human genes that are still uncharacterized and for those that are only sparsely characterized. Our examination of how much data is needed to effectively conduct these analyses and how different parameters affect the precision and recall of inference will help enable this approach.
Declarations
Acknowledgements
We would like to thank the NIH for their support of this work via NIH grants #5P20RR020143 and #R21ES019248.
This article has been published as part of BMC Bioinformatics Volume 12 Supplement 10, 2011: Proceedings of the Eighth Annual MCBIOS Conference. Computational Biology and Bioinformatics for a New Decade. The full contents of the supplement are available online at http://www.biomedcentral.com/1471-2105/12?issue=S10.
Authors' Affiliations
(1)
Arthritis and Clinical Immunology Research Program, Oklahoma Medical Research Foundation;, Oklahoma City, USA
Copyright
© Dozmorov et al; licensee BioMed Central Ltd. 2011
This article is published under license to BioMed Central Ltd. This is an open access article distributed under the terms of the Creative Commons Attribution License (http://creativecommons.org/licenses/by/2.0), which permits unrestricted use, distribution, and reproduction in any medium, provided the original work is properly cited.