Correlation of cell membrane dynamics and cell motility
BMC Bioinformatics
2011
12(Suppl 13):S19
Published: 30 November 2011
Abstract
Background
Essential events of cell development and homeostasis are revealed by the associated changes of cell morphology and therefore have been widely used as a key indicator of physiological states and molecular pathways affecting various cellular functions via cytoskeleton. Cell motility is a complex phenomenon primarily driven by the actin network, which plays an important role in shaping the morphology of the cells. Most of the morphology based features are approximated from cell periphery but its dynamics have received none to scant attention. We aim to bridge the gap between membrane dynamics and cell states from the perspective of whole cell movement by identifying cell edge patterns and its correlation with cell dynamics.
Results
We present a systematic study to extract, classify, and compare cell dynamics in terms of cell motility and edge activity. Cell motility features extracted by fitting a persistent random walk were used to identify the initial set of cell subpopulations. We propose algorithms to extract edge features along the entire cell periphery such as protrusion and retraction velocity. These constitute a unique set of multivariate time-lapse edge features that are then used to profile subclasses of cell dynamics by unsupervised clustering.
Conclusions
By comparing membrane dynamic patterns exhibited by each subclass of cells, correlated trends of edge and cell movements were identified. Our findings are consistent with published literature and we also identified that motility patterns are influenced by edge features from initial time points compared to later sampling intervals.
Keywords
Gaussian Mixture ModelMinimum Description LengthEdge FeatureEdge ActivityCell Class
Background
Cellular populations exhibit phenotypic heterogeneity across various physiological and pathological processes. The causative factors range from biological noise to complex distinct states of cell functions. Different approaches have been reported to study cellular heterogeneity from different fronts. Morphological responses to perturbations in cellular environments have been characterized by patterns of signaling marker colocalization from high content images [1]. Cellular heterogeneity through FACS (fluorescence activated cell sorting) has been captured to provide a large number of cell read outs, but without any spatial information [2]. Earlier studies have profiled cell subpopulations from fluorescent images by computing dynamic features of the cells along with static features by using unsupervised clustering [3]. Cellular morphology is a highly dynamic entity and time-lapse high-content imaging of cells provides an unprecedented opportunity to understand the mechanisms of morphodynamics. Morphodynamics is defined as a correlation of cell morphology and the underlying functional activity with respect to time [4]. This concept has enabled the discovery of functionality of specific biomolecules and demanded new techniques for interpretability, accuracy, and speed. Extensive research has been performed in understanding and application of morphodynamics of cell edges. High throughput analysis of cell morphodynamics has been used to discover functions of specific proteins [5]. A series of studies using quantitative fluorescent speckle microscopy have revealed the power of computer assisted high throughput analysis of time-lapse microscopy images: an analysis of the number of speckles suggested distinct regulation of actin polymerization-depolymerization dynamics in different intracellular regions [6, 7]. The ratio of protrusive to inactive cell perimeter has been used as the measure of cell edge activity [8]. Difference of the cell membrane boundary was reported in the study of cell spread dynamics [9] and its role in actin transport for protruding lamellipodia [10], formation of filopodia downstream of SCAR (Suppressor of cAMP receptor) [11], and the role of cofilin as a promoter of actin polymerization leading to protrusion [12]. Alternatively protrusion rates are measured at multiple locations of the cell boundary. The morphological changes have been studied by placing markers in the cell boundary at regular intervals and tracking their displacement in orthogonal directions to the cell boundary [13]. Instead of direct displacement of tracking, cell boundaries can be analyzed with kymographs [14]. This technique involves high resolution time-lapse microscopy to capture subcellular motion which is widely used for relatively small sample sizes due to highly magnified imaging and for relatively short periods of time. However, these approaches are not suitable for high throughput applications due to computational complexity compounded by elaborate cell shapes and its ever changing dynamics.
In this work, we propose novel morphodynamics concepts to quantify the relationship between whole cell movement and edge dynamics. Whole cell movement as a function of space and time and its possible influence on protrusion retraction dynamics have not been studied in detail. Heterogeneous populations exhibiting characteristic protrusion and retraction patterns have been completely exploited by us in order to identify possible correlations with motility features. Such information is helpful in determining overall motility functions of cells in collective migration. Cell membrane movements are extracted and protrusion/retraction dynamics along the cell edges at different time points were obtained to correlate with whole cell motility features. An approach to extract such patterns from heterogeneous cell populations is presented. Our experiments show that the cells with similar kinetic profiles display different edge movements and that features observed in initial time points have profound influence in determining the type of motility patterns as the cell adapts to its motion.
Conclusion
Non-genetic heterogeneity in cell populations arises from a combination of intrinsic and extrinsic factors. This heterogeneity has been measured for gene transcription, phosphorylation, cell morphology, drug perturbations, and used to explain various aspects of cellular physiology. Our understanding of individual players in cell migration process is increasing; but there remains a vital gap to be filled concerning how they are coordinated spatially and temporally. New techniques are needed which can quantify dynamic cell movements at the level of single cell resolution in an automated manner.
Here, we report multivariate analysis of different sets of motility features through a meaningful combination of both novel (edge) and existing (centroid based) dynamic features. The first set of measurements has been already proved to improve subpopulation analysis. The second set of features is a novel measurement of edge activity. These features capture pixel movement, either through protrusion or retraction frame by frame over the entire length of observation. Since these measurements are temporally sampled, it is suitable to study cell activity over time. These features are unique and not necessarily a measurement of cell migration, as membrane protrusion-retraction is possible without translocation. Our data indicate different levels of correlation between sets of features, depending on the dynamic classes they belong to. This type of relationship was expected for this cell line due to its highly motile nature. Our findings compare well with previous literature [23].
The introduction of edge features is the major contribution of this work since it captures edge activity of large number of cells from high throughput imaging platforms in a way that no other profiling methods we are aware of have previously demonstrated. Our profiling method was able to provide additional insights which might have been missed using population based cell migration techniques or classical motility assays. To conclude, we have identified heterogeneous edge patterns of related dynamic profiles and validated our correlation patterns by comparing with previous publications. The dynamic profiles were obtained from cell displacement data by GMM clustering. Edge prints from these subclasses were further used to characterize heterogeneity arising due to different edge movements. The patterns arising from statistical correlation analysis were validated by comparing with previous publications. We also provided statistical evidence that initial time point edge features influence the motility patterns that a cell adapts.
Methods
Segmentation and tracking of cells
Level-set was used to segment cells from images, independently at all the time frames [20]. The image gradient was used to stop the evolution of level-sets. Touching cells were further separated by a marker-controlled watershed that uses initially segmented cells as shape markers for marking function [26]. The segmented cells in adjacent frames were correspondingly matched by spatiotemporal matching scheme that uses features like size, intensity, and spatial coordinates for matching [22]. The tracks of cells were subsequently corrected for mismatches and only those cells moving for the entire period of observation were included for further analysis.
Dynamic feature extraction
Dynamic features of cells are classified into two categories based on motility modes: features describing whole cell dynamics and features representing membrane (edge) dynamics. Two different methods were employed to extract the two sets of features.
Cell dynamics
where

is a set of N samples and x i is the i th sample comprising of n features,

are the mixture weights, and

are component Gaussian densities. Each class density is a n-variate Gaussian function. The mixture weights satisfy the constraints that

. The complete Gaussian mixture model is parameterized by the mean vector, covariance matrices and mixture weights from all component densities. These parameters are collectively represented as

where (µ k , Σ k ) denotes the mean and covariance of the k th component.
Where

. The penalty term in MDL includes the total number of features to avoid over-fitting of the model.
Edge dynamics
Cell membrane features are defined as features characterizing movements of cell protrusions and retractions. Given a sequence of cell boundaries at the image frames, cells are aligned using their centroids. Edge pixels are then transformed to polar coordinates from Cartesian coordinates and a set of
M
markers

are placed on the segmented boundary
ϕ
of the cell marked by the radial coordinate. The movement of cell boundary
ϕ
t
at time
t
to
ϕ
t
+
τ
at time
t
+ τ is calculated by measuring the displacements of individual markers within an interval τ. Protrusion and retraction features

of a cell are computed as a function of marker displacements over sampling intervals τ. A positive displacement is considered as a protrusion and negative displacement a retraction. The protrusion and retraction features are computed from total boundary displacement
ν
(
t
:
τ
) of the cell at time
t
:
where
ϕ
m,t
denotes the location of the
m
th marker of the boundary
ϕ
t
at time
t
. The protrusion
p
t
and retraction
r
t
features at each time point
t
are then computed and features are extracted thereof. Fig.
5
illustrates the steps involved in evaluating edge features.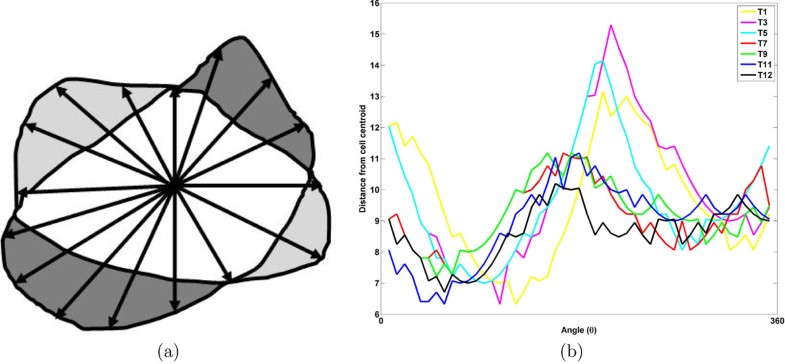 Cells are classified by a set of protrusion and retraction features measured over all the time points. These features provide an idea about the activity level of a cell at respective time instances and are used to cluster the cells. Clustering was performed using K-means algorithm.
Declarations
Acknowledgements
This article has been published as part of BMC Bioinformatics Volume 12 Supplement 13, 2011: Tenth International Conference on Bioinformatics – First ISCB Asia Joint Conference 2011 (InCoB/ISCB-Asia 2011): Bioinformatics. The full contents of the supplement are available online at http://www.biomedcentral.com/1471-2105/12?issue=S13.
Authors' Affiliations
(1)
Computation and Systems Biology, Singapore-MIT Alliance, Nanyang Technological University, Singapore
(2)
BioInformatics Research Centre, Nanyang Technological University, Singapore
(3)
Sloan School of Management, Massachusetts Institute of Technology, Cambridge, USA
(4)
Department of Biological Sciences, National University of Singapore, Singapore
(5)
Centre for BioImaging Sciences, National University of Singapore, Singapore
(6)
Mechanobiology Institute, National University of Singapore, Singapore
(7)
Department of Biological Engineering, Massachusetts Institute of Technology, Cambridge, USA
Copyright
© Veronika et al; licensee BioMed Central Ltd. 2011
This article is published under license to BioMed Central Ltd. This is an open access article distributed under the terms of the Creative Commons Attribution License (http://creativecommons.org/licenses/by/2.0), which permits unrestricted use, distribution, and reproduction in any medium, provided the original work is properly cited.