Challenges in the association of human single nucleotide polymorphism mentions with unique database identifiers
BMC Bioinformatics
2011
12(Suppl 4):S4
Abstract
Background
Most information on genomic variations and their associations with phenotypes are covered exclusively in scientific publications rather than in structured databases. These texts commonly describe variations using natural language; database identifiers are seldom mentioned. This complicates the retrieval of variations, associated articles, as well as information extraction, e. g. the search for biological implications. To overcome these challenges, procedures to map textual mentions of variations to database identifiers need to be developed.
Results
This article describes a workflow for normalization of variation mentions, i.e. the association of them to unique database identifiers. Common pitfalls in the interpretation of single nucleotide polymorphism (SNP) mentions are highlighted and discussed. The developed normalization procedure achieves a precision of 98.1 % and a recall of 67.5% for unambiguous association of variation mentions with dbSNP identifiers on a text corpus based on 296 MEDLINE abstracts containing 527 mentions of SNPs.
The annotated corpus is freely available at http://www.scai.fraunhofer.de/snp-normalization-corpus.html.
Conclusions
Comparable approaches usually focus on variations mentioned on the protein sequence and neglect problems for other SNP mentions. The results presented here indicate that normalizing SNPs described on DNA level is more difficult than the normalization of SNPs described on protein level. The challenges associated with normalization are exemplified with ambiguities and errors, which occur in this corpus.
Keywords
Single Nucleotide PolymorphismReference SequenceRegular ExpressionSingle Nucleotide Polymorphism DatabaseDatabase Identifier
Introduction
Sequence variations are changes of the genetic material, usually DNA, of an organism. They are important to increase the variance of the genetic pool of species but may also lead to severe hereditary diseases like Huntington disease, Cystic fibrosis or Hemophilia. Two terms are commonly distinguished when referring to variations on the DNA level: mutation and polymorphism. Polymorphism are alterations with a minor allele frequency of ≥ 1 % in a particular population. Variations with a lower frequency are usually called mutation. However, the term mutation is also often used to imply a deleterious effect of a sequence variation without any knowledge about the underlying frequency distribution. Throughout this publication we use the term variation to describe arbitrary changes in a genomic sequence while variation mention refers to the textual description of a variation. Differences in a single nucleotide between members of one species are referred to as single nucleotide polymorphism (SNP). SNPs are a subclass of sequence variations, encompassing single base exchanges, single base deletions and single base insertions. It is assumed that 90 % of all human sequence variants are SNPs [1] and that they occur in average about every 100 to 300 bases [2, 3]. SNPs are, therefore, the major source of human genetic heterogeneity. Diseases like Sickle–cell anemia, β Thalassemia or Cystic fibrosis might result from a SNP [4–6]. Some SNPs are associated with the metabolism of different drugs [7–9] and are, therefore, relevant for research areas like pharmacogenomics. SNPs without an observable impact on the phenotype are still useful as genetic markers in genome wide association studies, because of their sheer quantity and the stable inheritance over generations.
Information on SNPs is covered in curated databases. Nevertheless, the wealth of information about the clinical impact of SNPs is contained in free text in the form of biomedical publications. At the moment, PubMed provides access to more than 19 million citations contained in MEDLINE. The described SNP mentions need to be interpreted to be valuable, either by a human curator alone or supported by a text mining system. This interpretation often requires the normalization of the SNP mention. By normalization we refer to the association of SNP mentions in text with their corresponding database identifiers, for instance from a sequence database such as dbSNP.
The interpretation of SNP mentions is challenging due to ambiguous use of different nomenclatures, missing information in a publication or sloppiness in the description. Automated text mining methods are able to extract SNP mentions from text, but only few associate these with unique identifiers in SNP databases.
The main contribution of this paper is the description and analysis of these challenges and to provide background knowledge to either build such a system or to interpret SNP mentions in text. The paper is organized as follows: A brief summary of different SNP data sources is given in Section SNP Data Sources, followed by a description of different problems of finding a database identifier for a SNP mention in Section Normalization Process. This section reviews the evolution of a human mutation nomenclature, common problems in named entity recognition, provenance and other problems. Subsequently previous approaches for automated extraction of variation mentions are discussed. The generation of a corpus and the implementation of our normalization algorithm is described in Section Methods and the relevancy of error types is estimated on this corpus in Section Results and Discussion.
SNP data sources
Detailed information about SNPs can be found in various databases like Online Mendelian Inheritance (OMIM) [10], jSNP [11], or the Human Gene Mutation Database [12]. OMIM focuses on the relationship between phenotype and genotype and cites the corresponding publications while jSNP is a repository of Japanese SNP data and the Human Gene Mutation Database constitutes a collection of data on germ-line mutations.
All these databases have links to the dbSNP database [13], which is the most comprehensive resource with 55 organisms and more than 63 million unique SNP entries. Every single entry is accessible via a unique database identifier called refSNP or "rs number". The content of dbSNP is interconnected with many other resources, e. g. EntrezGene [14], GenBank [15], the Universal Protein Resource (UniProt) [16], HapMap [17], Ensembl [18] or SNPedia [19].
All these different sources contain valuable information like primer sequence, population frequency or information on the corresponding gene, but only little about the biomedical implication. This information is mostly covered in publications, which are stored in databases like MEDLINE. The National Center for Biotechnology Information (NCBI) provides references to 4487 articles for 24079 dbSNP entries. Due to high-throughput techniques like SNP-arrays [
20
], mass spectrometry [
21
,
22
], and new DNA sequencing methods [
23
,
24
], the amount of SNP related data and publications is rapidly increasing. The number of articles annotated with MeSH term "polymorphism, single nucleotide" is depicted in Figure
1
.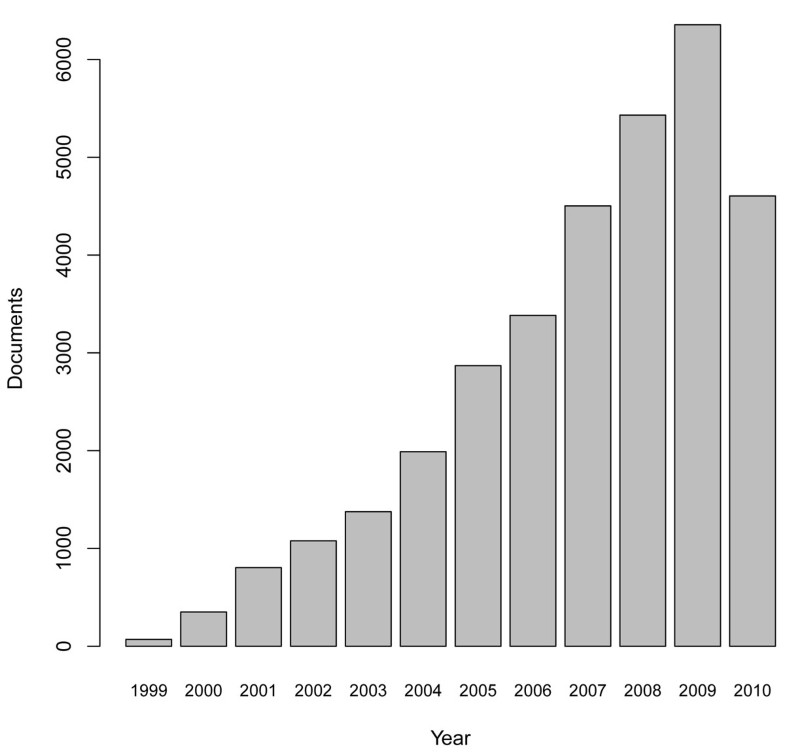 In the following, we describe characteristics regarding the process of finding database identifiers for free text mentions of human SNPs. More precisely, this work focuses on SNP substitutions in Homo sapiens with about 18 million entries (as of dbSNP version 128).
Normalization process
Workflow
A general workflow for the automated extraction of SNP mentions from literature is illustrated in Figure
2
. The figure shows required subtasks for the extraction and subsequent normalization of SNP mentions. The individual tasks are subsequently described and task specific problems are highlighted. For the description of the concrete implementation we refer to the
Methods
section.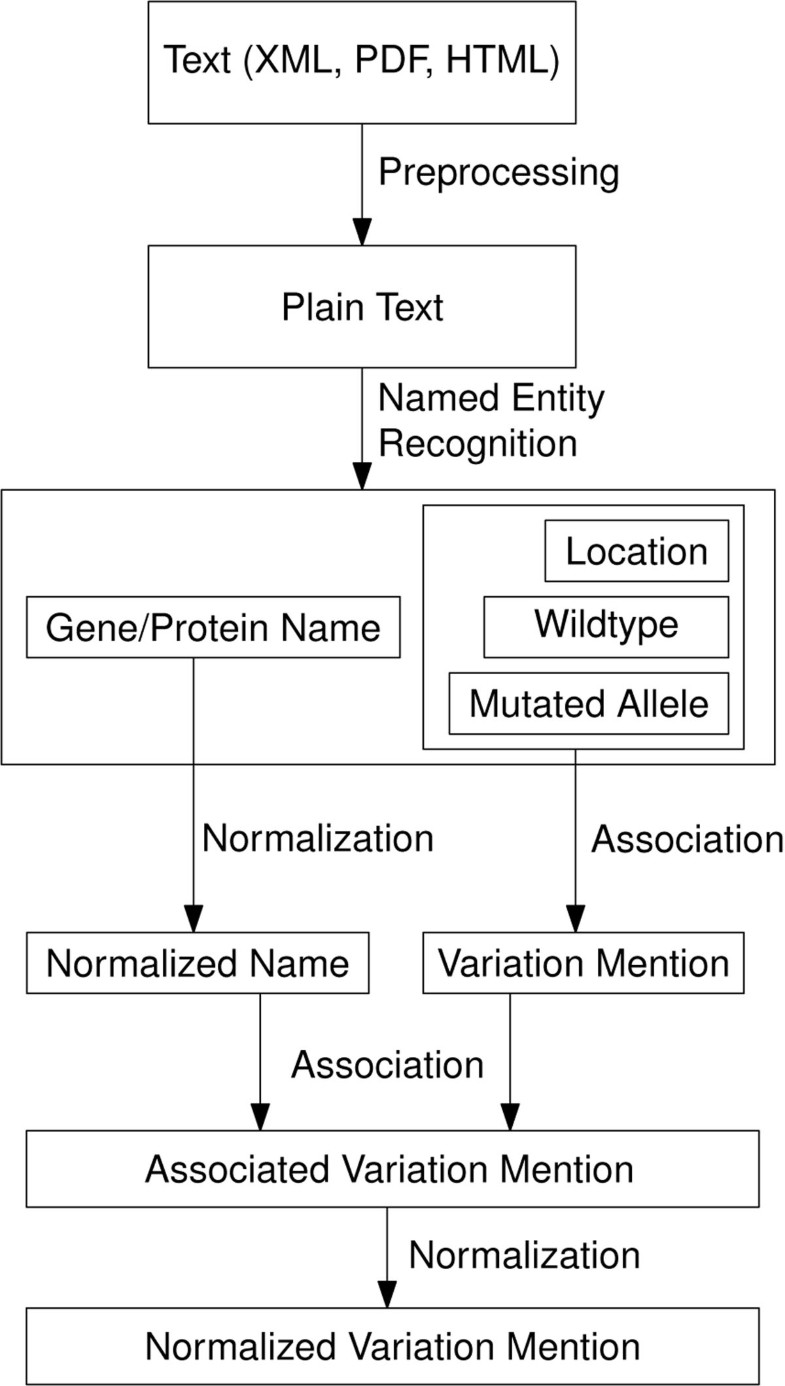 In contrast to a human who typically perceives the provided document in the published form best (e. g. hard copy, pdf, html), an automated machinery needs a uniform text representation that necessitates a preprocessing step (conversion of XML formats or extraction of plain text from full text documents). The mentions of SNPs in different nomenclatures or natural language need to be detected as well as the gene names. While this task is typically easily accomplished by a human, it is challenging for an automated system due to the huge amount of different complex formulations found in free text.
Based on the detected SNP mention and the gene/protein names (and their normalization to the databases like EntrezGene or UniProt) and their association, the normalization process is performed. This process is straight-forward for direct mentions of identifiers but highly problematic for other formulations.
The aim of SNP normalization is to correctly associate SNP mentions in text with unambiguous database identifiers. Thus, it is necessary to understand how these entities are typically described. To normalize a SNP the wild type, mutated allele, and location on the reference sequence is required. Further the underlying gene or protein needs to be identified. Whereas the terms wild type and mutated allele describe biological concepts, the rules to determine the position of a variation on a certain gene have changed recently. The following subsection describes the most important changes in the nomenclature for human mutations.
Human mutation nomenclatures
This section briefly summarizes some concepts of human mutation nomenclature and its evolution relevant for the normalization of SNP mentions. Prior to the first recommendation of a common nomenclature many different descriptions were arbitrarily used. For some alleles nicknames like "hemoglobin Crete" [25], "haemoglobin Guantanamo" [26], "Factor IX Angers" [27], "Factor IX Bordeaux" [27], or "α1-antitrypsin Pittsburgh" [28] were commonly used. As articles became harder to interpret by non domain experts, in 1993 the emerging problem of many different nomenclatures lead to first initiatives to define a nomenclature covering different types of genetic variations.
Genetic sequence changes occur in general on the DNA level. Variants located on an exon may be propagated to mRNA and may consequently lead to a change of the encoded polypeptide chain. Therefore, a SNP can be described on at least one of these three levels. However, SNPs are usually described on protein or DNA level. To distinguish between these two concepts, we use the terms protein sequence mutations (PSM) and nucleotide sequence mutations (NSM) [29]. For instance, the first sentence of the publication from Wolff et al. [30] describes the same SNP as NSM (894G– –>T) and PSM (Glu(298)– –>Asp and E298D):
"The Glu(298)– –>Asp (E298D; 894G– –>T) polymorphism of eNOS (endothelial nitric oxide synthase) has been related with cardiovascular disease."
All three SNP mentions can be further associated with the unambiguous dbSNP identifier rs1799983. For simplicity, the following sections are focusing on SNPs, but can be applied to many other types of variations analogously. However, the description of complex variations, like changes within duplications, can become rather complicated.
Identification and association of gene and variation entities
Provenance
Genomic information rapidly changes over time. This also includes the sequence of the genome and its annotation. In 2004 the sequence of the human genome covered already 99 % of the euchromatin sequence with an error rate of 0.01 ‰ [59]. However, this sequence consisted of 308 gaps on euchromatic material in regions which are hard to sequence. Therefore, it is not surprising that the sequence of the genome underwent some updates since 2004. Without additional information, the human genome is just a long concatenation of characters using a comparatively small alphabet (A,T,G,C). Annotation information of the genomic sequence is needed to put meaning to this heap of data. Genes are often annotated using evidence like protein or cDNA sequences. Due to additional evidence or a change in the genome assembly the structural annotation of genes may alter. The change of annotated transcripts in the ENSEMBL database between version V46 and V47 has been investigated by the authors. Between these two versions the algorithm for transcript and UTR placement has been changed and therefore many changes can be expected. Approximately 33 % (12,435/38,238) of all shared transcripts had a different location for the start codon. NSMs located on one of these transcripts would obtain new position numbers.
Problems of not being able to normalize a SNP mention because of database changes are hard to solve. Changes in the reference sequence as well as merging or renaming of identifiers are often not well documented. To circumvent these problems, the latest human mutation nomenclature advises authors to mention the accession number of the used reference sequence in front of the variation description. Adherence of this rule simplifies the normalization substantially, because the respective reference sequence is known.
It has been previously mentioned by Antonarakis et al. [37], that the accession number of the used reference sequence should be additionally included in the publication. However, in some publications the accession number is not mentioned in the abstract. Therefore, it may be beneficial to incorporate the most appropriate sequence based on the publication date of an article. It is also crucial to use a SNP database which is derived from the same genome build as the used sequence database. Otherwise the position of a SNP can be miscalculated. Only the most recent version of dbSNP is available for download. However, the mapping information to the previous build is available.
Allele information in dbSNP
A SNP is always observable on both strands because of the structure of DNA. Therefore, the alleles can be described on any strand side. For example, the replacement of an adenine by a cytosine on one strand leads to a replacement of a thymine by a guanine on the anti-parallel strand. To avoid confusion in the textual description of variations, alleles are always described on the same strand as the reference sequence and cDNA sequences are usually on the same strand as the associated gene.
In contrast, alleles in dbSNP may be arbitrarily located on any strand side. This is based on the build process of dbSNP. Submitted sequences obtain a unique and stable submission sequence (ss) number. The submitted sequence is aligned to the genome in question. Submission sequences describing the same SNP are merged into one single rs entry. A new rs entry is generated, if no ss previously covered this specific sequence variation. Regardless of the number of ss entries, every rs cluster has exactly one reference sequence. The reference sequence is always the longest submission sequence of each cluster and may be arbitrarily located on the sense or antisense strand. Therefore, the alleles are, depending on the alignment of the sequence to the genome, located on either strand. Due to this property, some alleles of dbSNP are on the opposite strand than the cDNA sequence. Information about the placement of a SNP on the current contig can be found online in the database table SNPContigLoc. Additionally information about the placement of a contig on the chromosome is contained in table ContigInfo.
Ambiguity between PSM and NSM
The shared alphabet between protein and nucleotide sequences introduces another problem of ambiguity. For example, the SNP A123T could describe a NSM or a PSM. Several rules to disambiguate PSM and NSM are described in [35]. An approach for this disambiguation based on machine learning techniques is described in [60].
Miscellaneous pitfalls
Additionally to the aforementioned problems, pitfalls that are obvious but not neglectable are reported: 1.) Some SNPs may not be contained in the SNP database of interest. This may have several reasons like a missing submission or a rather low minor allele frequency. 2.) SNPs reported in non coding regions are difficult to normalize as the current human mutation nomenclature covers these only in terms of genomic descriptions. Nevertheless, publications often describe these SNPs in relation to the closest gene, which is not covered in dbSNP. 3.) Not all needed information might be explicitly mentioned in the abstract. For example, the associated gene might be only mentioned in the full text article. 4.) Typos can basically appear in all types of descriptions (alleles, locations,…) and may make the normalization infeasible.
Previous approaches for SNP extraction
Manual extraction and normalization of SNP mentions is time consuming but feasible for specific domain topics. For example, the AlzGene database [61] contains manually harvested information about SNPs from full text publications associated with Alzheimer's disease.
Collecting such information on large scale requires automated methods due to the large amounts of published literature. Several text mining approaches for different purposes have been developed in the Life Science domain [62, 63]. A typical problem for proper identification of biological entities in text is the lack of a common and widely established nomenclature. In context with the human variation nomenclature, many different ideas have been discussed [31, 32, 36–39, 64]. In comparison to other NER tasks, only a few publications concentrated on the identification of SNPs and other types of small sequence variations in full text publications.
Methods
Corpus generation
To find and describe typical real world problems, a corpus consisting of SNP mentions associated with their dbSNP accession number mentioned in the text has been generated. Only few articles describe a variation in terms of natural language and the corresponding rs number. An initial list of 2,232 relevant articles has been received from dbSNP help desk. These abstracts were annotated by dbSNP and are known to mention at least one dbSNP identifier. The 2,232 abstracts were then automatically screened for SNP mentions using a modified version of MutationFinder.
Modifications encompass five regular expressions matching different NSM variants of the notations introduced in Section Human Mutation Nomenclatures. These modifications allow the detection of NSM mentions and are available in the supplementary material. The strict amino-acid alphabet of MutationFinder has been expanded to match ambiguous symbols like Xle, which can be used to describe the two amino acids leucine or isoleucine. Also different variations of termination symbols like term, amber or opal have been added to detect nonsense mutations. Additionally, regular expressions matching variation mentions using the latest recommendations for a human mutation nomenclature have been generated. The mutation mentions described on the homepage of the human genome variation society have been used for developing these regular expressions.
All regular expressions have been applied to the initial corpus of 2,232 articles. Extracted SNP mentions are then manually checked and associated with the corresponding dbSNP entry. SNPs missed by any of the regular expressions are also added into the corpus, if they could be associated with a dbSNP identifier. Identical descriptions were extracted only once per abstract. This procedure resulted in 527 variation/rs number pairs. From the 385 distinct rs numbers, 21 were found to use outdated dbSNP identifiers. These were replaced by the currently valid identifiers of dbSNP build 128.
The main properties of our corpus are as follows:
The 527 SNP mentions can be separated into 283 PSM and 244 NSM.
48 SNP mentions refer explicitly to the type of used reference sequence
19 SNP mentions use the IVS concept to describe intronic variations
17 PSM are ambiguous as they could be potentially interpreted as NSM
Implementation details
For each rs number we extract information about the associated gene, the position on the chromosome, known alleles, and the orientation of the SNP in relation to the associated gene. This information is extracted from a local copy of dbSNP. If the SNP is located in the coding region, the respective amino acid residues are also extracted from dbSNP. To allow for compensation of systematic differences in numbering, we follow the approach described by Yip et al. and parse information about post translational modifications from UniProtKB. Gene centric information, like exon/intron boundaries or the location of the start codon is extracted from Entrez Gene and ENSEMBL databases. Although both databases use the same genomic reference sequence, the boundaries for some transcripts (and their number) differ. Therefore, information about transcripts has been included from both databases. Gene name recognition and normalization to Entrez Gene and UniProt is performed using ProMiner. For evaluation we assume a perfect named entity recognition of gene names, by manually adding genes missed by ProMiner but required for subsequent SNP-normalization. This information can be gathered directly from the corpus, as dbSNP entries are associated with their corresponding Entrez Gene identifier. This allows a realistic assessment of the normalization procedure as the normalization algorithm is not influenced by the limited recall of a gene name recognition procedure. Subsequently, the algorithm retrieves for each SNP mention in the corpus a list of dbSNP candidates. The list of candidates is collected by retrieving all dbSNP entries associated with a gene contained in the article. In other words the SNP mention is associated with all genes mentioned in an article. The method iterates over all dbSNP candidates and performs a validation for the specific SNP mention.
The normalization algorithm for one SNP mention and one dbSNP candidate is depicted in Figure
9
. The workflow disambiguates between PSM and NSM mentions. For ambiguous mentions like A123T the algorithm pursues both normalization strategies: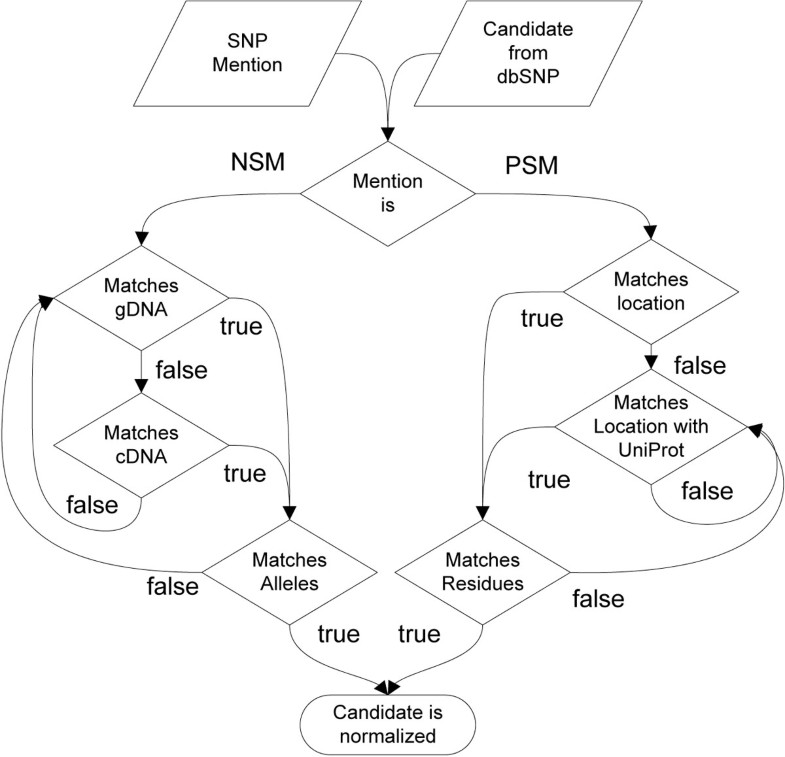 1.) For normalization of PSM the method first matches the extracted position against the dbSNP candidate. In case of a match the residues of the SNP mention are compared against the dbSNP residues. If both residues of the SNP mention are contained in the dbSNP candidate, the algorithm normalizes the mention. If the location of the SNP mention can not be validated, the algorithm incorporates knowledge about post translational modifications from UniProtKB. If any post translation modifications explains the difference in numbering the residues are validated. In case of a match the SNP mention is associated with the candidate. Otherwise the candidate is discarded.
2.) For NSM normalization the normalization procedure is more sophisticated, as several counting variants have been introduced. For each dbSNP entry we rebuild all different counting variants as described in Section Human Mutation Nomenclatures depending on the information where the SNP is located (Exon, Intron, UTR). These counting variants are calculated for each reference sequence associated with the current candidate entry. The algorithm reverses alleles (e. g. A– >G becomes T– >C), if the dbSNP reference sequence is located on the opposite strand than the reference sequence. Again, the algorithm attempts to validate first the position of the SNP mention with the dbSNP candidate. If the location of the SNP mention complies with any of the counting variants the corresponding alleles are also compared.
The algorithm does not distinguish between wildtype and mutated allele/residue as this information is usually based on the frequency in the observed population sample and does not necessarily resemble the recommendations for a human mutation nomenclature. Therefore, the normalization procedure checks if both alleles/residue are at the correct location, but allows changes in the directionality (e. g. A– >G becomes G– >A).
Results and discussion
The general workflow described in Section Normalization Process was implemented as mentioned in Section Implementation details. The implementation correctly found 356 out of 527 variation/dbSNP pairs. The recall is 67.5% with a precision of 98.1 % (7 false positives in total). These 356 true positive SNPs can be further divided into 268 PSM and 88 NSM. Therefore, the recall is 94.7 % and 36.0 % for PSM and NSM respectively. Based on a manual inspection of each variation and the challenges described in the previous sections, typical problems and pitfalls are highlighted in the following.
Inspection of normalization issues
Conclusions
Normalization and interpretation of SNP mentions is highly challenging for human readers as well as automated machineries. In this paper, we discussed several common pitfalls which have to be overcome for successful normalization of variation mentions to dbSNP. Most of them are generally valid and apply also for other SNP databases.
In particular we depicted a number of observed real world examples based on a corpus of 527 SNP/dbSNP pairs. Using this corpus reveals non-systematic errors like permutation of numbers, which are hard to find. We demonstrate that our developed normalization algorithm produces precise results for both PSM and NSM. However, the recall for the normalization of PSM is substantially better (94.7 %) than for NSM (36.0 %). We believe that this might have several reasons: First, our approach currently incorporates no provenance information and uses only the latest gene annotations from ENSEMBL and Entrez Gene. Second, the early papers on mutation nomenclature pointed out, that the lack of a complete reference sequence might lead to an almost arbitrary position numbering and domain experts might stick to these deprecated references. Third, manual conversion of a SNP into any mutation nomenclature is, without any computational assistance like Mutalyzer, error prone. Finally, sequencing errors might lead to small but substantial differences in numbering. To overcome the limited recall for NSM normalization we plan to incorporate RefSeq transcripts, which are derived from GenBank and provide current and deprecated annotations for genes.
We believe the developed corpus will help to facilitate further development in the normalization of SNPs to dbSNP identifiers and will assist the community progress toward a common corpus useful for the systematic evaluation of grounding tools. The annotated corpus is available at http://www.scai.fraunhofer.de/snp-normalization-corpus.html.
List of abbreviations and recently used biological terms
• cDNA:

Complementary DNA
• gDNA:

Genomic DNA
• IVS:

Intervening Sequence
• Mutation:

Refers to rare variants which often cause diseases and affect conserved residues in the protein sequence. Also used to refer to modified residues in a sequence after the experimental procedure of mutagenesis
NSM:

Nucleotide Sequence Mutation
• PSM:

Protein Sequence Mutation
SNP:

Single Nucleotide Polymorphisms or SNPs are DNA sequence variations in which a single nucleotide (A, G, C or T) is altered. SNPs are also referred as polymorphisms, natural variants, or common variants because they have a minor allele frequency in the population of at least 1 %. In contrast, rare variants have a minor allele frequency of less than 1 %. SNP mention: Textual description of a SNP
• UTR:

Untranslated Region
• Variation:

Any kind of short range sequence variation in the nucleotide sequence of the genome
• Variation mention:

Textual description of a variation
Declarations
Acknowledgements
We wish to thank Samira Jaeger and Stefanie Goller for critical comments on the manuscript and dbSNP helpdesk for discussing several aspects of dbSNP. This work has been partially funded by the Max-Planck Society-Fraunhofer Society Machine Learning Collaboration (http://lip.fml.tuebingen.mpg.de/), by the framework of the European integrated project @neurIST, which is co-financed by the European Commission through the contract no. IST-027703 (see http://www.aneurist.org)and by grants from Instituto de Salud Carlos III FEDER (CP10/00524). The Research Unit on Biomedical Informatics (GRIB) is a node of the Spanish National Institute of Bioinformatics (INB) and a member of the COMBIOMED network.
This article has been published as part of BMC Bioinformatics Volume 12 Supplement 4, 2011: Proceedings of the European Conference on Computational Biology (ECCB) 2010 Workshop: Annotation, interpretation and management of mutation (AIMM). The full contents of the supplement are available online at http://www.biomedcentral.com/1471-2105/11?issue=S4.
Authors' Affiliations
(1)
Fraunhofer Institute for Algorithms and Scientific Computing (SCAI), Department of Bioinformatics, Schloss Birlinghoven, Sankt Augustin, Germany
(2)
Knowledge Management in Bioinformatics, Humboldt-University Berlin, Berlin, Germany
(3)
Research Unit on Biomedical Informatics (GRIB), IMIM-Hospital del Mar, UPF, Barcelona, Spain
(4)
Department of Computer Science, University of Applied Science and Arts Dortmund, Dortmund, Germany
Copyright
© Thomas et al; licensee BioMed Central Ltd. 2011
This article is published under license to BioMed Central Ltd. This is an open access article distributed under the terms of the Creative Commons Attribution License (http://creativecommons.org/licenses/by/2.0), which permits unrestricted use, distribution, and reproduction in any medium, provided the original work is properly cited.