Modelling osteomyelitis
BMC Bioinformatics
2012
13(Suppl 14):S12
Published: 7 September 2012
Abstract
Background
This work focuses on the computational modelling of osteomyelitis, a bone pathology caused by bacteria infection (mostly Staphylococcus aureus). The infection alters the RANK/RANKL/OPG signalling dynamics that regulates osteoblasts and osteoclasts behaviour in bone remodelling, i.e. the resorption and mineralization activity. The infection rapidly leads to severe bone loss, necrosis of the affected portion, and it may even spread to other parts of the body. On the other hand, osteoporosis is not a bacterial infection but similarly is a defective bone pathology arising due to imbalances in the RANK/RANKL/OPG molecular pathway, and due to the progressive weakening of bone structure.
Results
Since both osteoporosis and osteomyelitis cause loss of bone mass, we focused on comparing the dynamics of these diseases by means of computational models. Firstly, we performed meta-analysis on a gene expression data of normal, osteoporotic and osteomyelitis bone conditions. We mainly focused on RANKL/OPG signalling, the TNF and TNF receptor superfamilies and the NF-k B pathway. Using information from the gene expression data we estimated parameters for a novel model of osteoporosis and of osteomyelitis. Our models could be seen as a hybrid ODE and probabilistic verification modelling framework which aims at investigating the dynamics of the effects of the infection in bone remodelling. Finally we discuss different diagnostic estimators defined by formal verification techniques, in order to assess different bone pathologies (osteopenia, osteoporosis and osteomyelitis) in an effective way.
Conclusions
We present a modeling framework able to reproduce aspects of the different bone remodeling defective dynamics of osteomyelitis and osteoporosis. We report that the verification-based estimators are meaningful in the light of a feed forward between computational medicine and clinical bioinformatics.
Keywords
Osteomyelitisosteoporosisbone remodellingRANKLRANKOPGNF-kBStaphylococcus aureus.
Background
There are two main types of bone tissues: cortical bone, and trabecular bone. The former is a compact tissue that makes up the outer shell of bones. It consists of a very hard (virtually solid) mass of bony tissue arranged in concentric layers called Haversian systems. Trabecular (also known as cancellous or "spongy") tissue is located beneath the compact bone and consists of a meshwork of bony bars (trabeculae) with many interconnecting spaces containing bone marrow. Both bone tissues undergo a continuous remodelling dynamics where old bone is replaced by new tissue ensuring the mechanical integrity and the morphology of the bone [1, 2]. However, pathological conditions such as cancer, infection and autoimmune diseases can alter the equilibrium between bone resorption and bone formation, reducing bone density and increasing the risk of spontaneous fractures.
Bone remodelling (BR) is a cellular process conducted by osteoclasts, the cells responsible for bone resorption and by osteoblasts, the cells responsible for bone formation. Osteoblasts follow osteoclasts in a highly coordinated manner, forming the so-called Basic Multi-cellular Units (BMUs). While osteoblasts and osteoclasts are located in the fluid part of the BMU, another type of cells, the osteocytes, are trapped in the bone matrix and they play a relevant role in the remodelling process. Osteocytes serve as mechanosensors: they translate mechanical stimuli at the tissue level into biochemical signals that flow through the osteocytic canalicular network to the BMU cells. In normal bone, the number of BMUs, the bone resorption rate, and the bone formation rate are all relatively constant [3].
The
RANK/RANKL/OPG
signalling pathway plays an important role in bone metabolism. RANK is a protein expressed by osteoclasts; RANK is a receptor for RANKL, a protein produced by osteoblasts. RANK/RANKL signalling triggers osteoclast differentiation, proliferation and activation, thus it prominently affects the resorption phase during bone remodelling. Osteoprotegerin (OPG) is a decoy receptor for RANKL. It is expressed by mature osteoblasts and it binds to RANKL, thus inhibiting the production of osteoclasts. Figure
1
shows the key steps during the bone remodelling process, that are: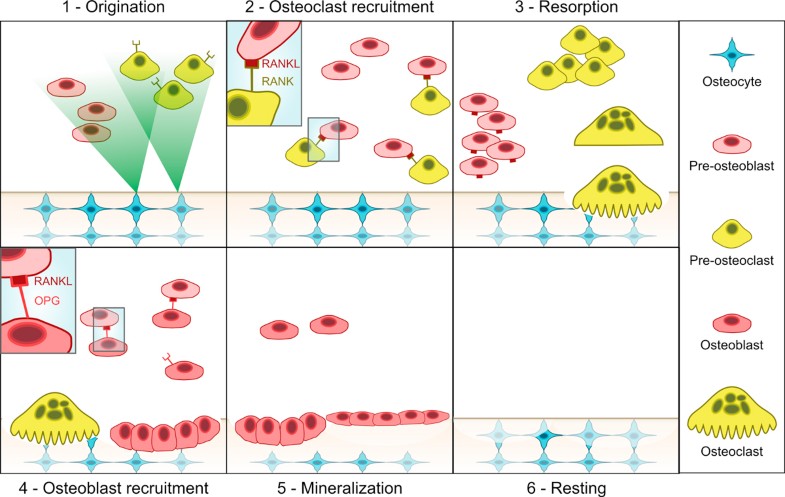 1.

Origination. During normal turnover or after a micro-crack, or as a response to mechanical stress, the osteocytes in the bone matrix produce biochemical signals showing sufferance towards the lining cells, i.e. the surface cells around the bone. The lining cells pull away from the bone matrix, forming a canopy which merges with the blood vessels.

2.

Osteoclast recruitment. Stromal cells divide and differentiate into osteoblasts precursors. Pre-osteoblasts start to express RANKL, inducing the differentiation of and attracting pre-osteoclasts, which have RANK receptors on their surfaces. RANKL is a homotrimeric molecule displayed on the membrane of osteoblasts that stimulates differentiation in osteoclasts and is a key induction molecule involved in bone resorption leading to bone destruction.

3.

Resorption. The pre-osteoclasts enlarge and fuse into mature osteoclasts. In cortical BMUs, osteoclasts excavate cylindrical tunnels in the predominant loading direction of the bone, while in trabecular bone they act at the bone surface, digging a trench rather than a tunnel. After the resorption process has terminated, osteoclasts undergo apoptosis.

4.

Osteoblast recruitment. Pre-osteoblasts mature into osteoblasts and start producing osteoprotegerin (OPG). OPG inhibits the osteoclastic activity by binding to RANKL and preventing it from binding to RANK. When RANKL expression is high, osteoprotegerin levels are low and vice versa.

5.

Mineralization. Osteoblasts fill the cavity by secreting layers of osteoids. Once the complete mineralization of the renewed tissue is reached, some osteoblasts can go apoptosis, other can turn into lining cells, while other can remain trapped in the bone matrix and become osteocytes.

6.

Resting. Once the cavity has been filled by osteoblasts, the initial situation is re-established.
The bone remodelling undergoes a pathological process, generally related to ageing, termed osteopenia and with more severity, osteoporosis, during which an unbalance of the RANKL/OPG signalling equilibrium is typically observed. The osteoporosis is a skeletal disease characterized by low Bone Mineral Density (BMD) and structural fragility, which consequently leads to frequent micro-damages and spontaneous fractures; it is a chronic disease requiring long-term treatment. This disease primarily affects middle-aged women and elderly people and at present its social and economic impact is dramatically increasing, so much that the World Health Organization considers it to be the second-leading healthcare problem. While under normal circumstances, the ratio of RANKL/OPG is carefully balanced, the increase of RANKL plays an essential role in favouring resorption through osteoclast formation, function, and survival. With ageing and after a large number of remodelling cycles, the density of osteons increases and the cortical porosity and architectural defects of the bone increase as well. This leads to a vicious cycle where microdamages and consequently remodelling occur more and more frequently, weakening the bone structure and increasing the rate of spontaneous fractures [4]. Moreover, recent studies suggest that plasma levels OPG and RANKL are inversely related to bone mineral density and contribute to the development of osteoporosis in postmenopausal women [5], and thalassemia-induced osteoporosis [6]. One of the most worrying events is the infection of the bone which causes a disease called osteomyelitis. Similarly to osteoporosis, it is characterized by severe and rapid bone loss and by an unbalance at the molecular signalling level.
The aim of this work is to provide a computational modelling framework able to reproduce and compare the defective dynamics of osteoporosis and osteomyelitis. We believe that this framework could easily be adapted to model also other bone diseases like multiple myelomas or Paget's disease, and that it could help in better understanding the disruptions of cellular and signalling mechanisms that underlie such bone pathologies.
Osteomyelitis
Osteomyelitis is a bone infection mainly caused by the aggressive pathogen S. aureus. Upon exposure to the bone, S. aureus induces a severe inflammatory response followed by progressive bone destruction and loss of the vasculature and with a persistent chronic infection; this is further complicated by the rapid emergence of resistant strains of S. aureus. Lab researches have shown that the infection prevents proliferation, induces apoptosis and inhibits mineralisation of cultured osteoblasts. The action of S. aureus increases RANKL expression and decreases OPG expression in osteoblasts in patients with staphylococcal osteomyelitis. Recent findings suggest that S. aureus SpA protein binds to osteoblasts, possibly through an interaction with the death receptor TNFR-1 which induces caspase 3 activation and apoptosis. The increase in RANKL is likely to trigger osteoclast-induced bone resorption and bone destruction and may help explain why patients with osteomyelitis have significant bone loss [7].
Although effective treatment of this disease is very difficult, one of most used drug is the fusidic acid that acts as a bacterial protein synthesis inhibitor by preventing the turnover of elongation factor G (EF-G) from the ribosome. Fusidic acid inhibits bacterial replication and does not kill the bacteria, and is therefore termed "bacteriostatic". Many strains of methicillin-resistant S. aureus (MRSA) remain sensitive to fusidic acid, but because there is a low genetic barrier to drug resistance (a single point mutation is all that is required), fusidic acid is usually combined with other antibiotics.
We believe that a model of the infection could provide a framework for a better diagnosis and understanding the antibiotic intervention. Here we develop a hybrid modelling framework for combining and untangling the relationships of physiological and molecular data. We then apply the methodology to determine disease related abnormalities of the key osteogenesis molecular network. The universality of the approach is demonstrated by an integration of the modelling and diagnosis which resembles medical visits with blood testing for infection progress and bone mineralisation measurements along a period of time. Our perspective is that this approach would inch towards an automatized methodology for improving disease classification and diagnosis.
Methods
Data analysis
We found that there are no comprehensive analysis on osteomyelitis; most studies focus on specific conditions. We have collected a large ensemble of gene expression data related to osteomyelitis and osteoporosis. For this reason, we have considered 6 microarray data sets of the same platform GPL96 from the Gene Expression Omnibus (http://www.ncbi.nlm.nih.gov/geo/), accession numbers are GSE16129, GSE6269, GSE11907, GSE11908, GSE13850 and GSE7429 [20–23]. We observe that RANKL, RANK, OPG and NF-kB proteins impact more on the bone remodelling for osteomyelitis and osteoporosis [7, 20–22]. For this reason to understand the effect osteomyelitis and osteoporosis on bone remodelling, we have considered the genes related to the proteins RANKL, RANK, OPG, NF-kB proteins, TNF and TNF receptor superfamilies. We observed that there are 82 genes are related with these proteins. So, we filtered the required 82 genes related data. We have selected samples for 48 infected and 27 healthy controls for osteomyelitis and 30 infected and 30 healthy controls for osteoporosis. The datasets contain data from people of different age and sex.
For more evidence about osteomyelitis, we have considered more gene expression data related to osteomyelitis on different platform GPL97. For this reason, we have considered additional 3 microarray data sets from the Gene Expression Omnibus (http://www.ncbi.nlm.nih.gov/geo/), accession numbers are GSE6269, GSE11907 and GSE11908 [21, 22]. To understand the effect of osteomyelitis on the bone remodelling, we have considered the genes related to the proteins RANKL, RANK, OPG, NF-kB proteins, TNF and TNF receptor superfamilies like previous analysis. We observed that in the platform GPL97, there are 31 genes are related to these proteins and superfamilies. So, we filtered the required genes related data. We have selected samples for 43 infected and 17 healthy controls. Standard anova and Box plots representation were used to analyse and visualise the expression levels of these genes for the infection of osteomyelitis and osteoporosis condition. We output in Table 1 the groups of over expressed and under expressed categories.
ODE and probabilistic model checking models
We have implemented the ODE model based on Komarova et al [10] in R, and using the FME package [24] to analyse parameter sensitivity and robustness. We have used Mathematica and MATLAB for steady states and ODE calculation using state of art numerical routines. Scripts and functions for the models could be made available upon request to the first author. For the specification of the stochastic model and for performing probabilistic verification we have adopted the open-source PRISM probabilistic model checker [17], one of the reference existing model checkers for the analysis of systems which exhibits random or probabilistic behaviour. Since model checking is based on graph-theoretical techniques for exploring the whole state space of the model, this task becomes computationally infeasible for non-trivial models, due to the combinatorial explosion of the state space. For this reason, verification has been performed by means of approximate probabilistic model checking techniques that calculate the probability of a given property on a statistical basis, i.e. by sampling on a number of simulations of the model. In this work we have taken 20 samples for each verified property, that were enough to reproduce outputs similar to the non-approximate verification. PRISM models could be made available upon request to the second author.
Declarations
Acknowledgements
We thank Bruce P. Ayati (Iowa University) and Glenn Webb (Vanderbilt University) for suggestions and help in computation.
This article has been published as part of BMC Bioinformatics Volume 13 Supplement 14, 2012: Selected articles from Research from the Eleventh International Workshop on Network Tools and Applications in Biology (NETTAB 2011). The full contents of the supplement are available online at http://www.biomedcentral.com/bmcbioinformatics/supplements/13/S14
Authors' Affiliations
(1)
Computer Laboratory, Cambridge University, William Gates Building, Cambridge, UK
(2)
School of Science and Technology, Computer Science Division, University of Camerino, Camerino, Italy
(3)
Department of Mechanical Engineering, University of Sheffield, Sir Frederick Mappin Building, Sheffield, UK
Copyright
© Liò et al.; licensee BioMed Central Ltd. 2012
This article is published under license to BioMed Central Ltd. This is an open access article distributed under the terms of the Creative Commons Attribution License (http://creativecommons.org/licenses/by/2.0), which permits unrestricted use, distribution, and reproduction in any medium, provided the original work is properly cited.