Mapping small molecule binding data to structural domains
BMC Bioinformatics
2012
13(Suppl 17):S11
Published: 13 December 2012
Abstract
Background
Large-scale bioactivity/SAR Open Data has recently become available, and this has allowed new analyses and approaches to be developed to help address the productivity and translational gaps of current drug discovery. One of the current limitations of these data is the relative sparsity of reported interactions per protein target, and complexities in establishing clear relationships between bioactivity and targets using bioinformatics tools. We detail in this paper the indexing of targets by the structural domains that bind (or are likely to bind) the ligand within a full-length protein. Specifically, we present a simple heuristic to map small molecule binding to Pfam domains. This profiling can be applied to all proteins within a genome to give some indications of the potential pharmacological modulation and regulation of all proteins.
Results
In this implementation of our heuristic, ligand binding to protein targets from the ChEMBL database was mapped to structural domains as defined by profiles contained within the Pfam-A database. Our mapping suggests that the majority of assay targets within the current version of the ChEMBL database bind ligands through a small number of highly prevalent domains, and conversely the majority of Pfam domains sampled by our data play no currently established role in ligand binding. Validation studies, carried out firstly against Uniprot entries with expert binding-site annotation and secondly against entries in the wwPDB repository of crystallographic protein structures, demonstrate that our simple heuristic maps ligand binding to the correct domain in about 90 percent of all assessed cases. Using the mappings obtained with our heuristic, we have assembled ligand sets associated with each Pfam domain.
Conclusions
Small molecule binding has been mapped to Pfam-A domains of protein targets in the ChEMBL bioactivity database. The result of this mapping is an enriched annotation of small molecule bioactivity data and a grouping of activity classes following the Pfam-A specifications of protein domains. This is valuable for data-focused approaches in drug discovery, for example when extrapolating potential targets of a small molecule with known activity against one or few targets, or in the assessment of a potential target for drug discovery or screening studies.
Keywords
Pfam Domain
Multidomain Protein
Bind Site Residue
Domain Annotation
Single Domain Protein
Background
Research in the field of drug discovery is increasingly driven by the data mining of large-scale pharmacological, screening, patent, literature and other bioactivity data. Such approaches have led to interesting concepts that challenge historical dogma - for example the view that many small molecules and indeed drugs exert their effect through interactions with multiple rather than a single target [1]. New targets have been predicted for FDA approved drugs through analysis of large-scale bioactivity databases [2] and side-effect data mined from package inserts [3].
The discipline of combining small molecule bioactivity, the 'ligand space', with bioinformatics analyses of the 'target space' is also known under the name chemogenomics [4, 5]. Chemogenomic approaches can be used to systematically examine and explore the binding of small molecules to large target families such as kinases [6, 7] or G-protein coupled receptors (GPCRs) [8, 9] or for the design of compounds targeting multiple proteins [10]. One of the current limitations of these approaches is the biased distribution of data that is available for individual targets. While there are a few prominent target classes such as certain GPCR families, protein kinases and various protease families, for which the bioactivity of many thousands of ligands has been measured, most targets have measured bioactivities for only a few compounds or no annotation at all [11]. To partially address this limitation, we propose an indexing of target space at a structural domain level, allowing aggregating ligands known to bind targets containing a given structural domain into a larger bioactivity class. The practical implication for the analysis of large-scale bioactivity data is a necessity to automatically and reliably annotate large numbers of protein targets with a domain containing the site of small molecule binding. We therefore propose to map small molecule binding to structural domains and present an initial implementation for targets in the ChEMBL database [12] (version chembl_13). Previous studies have statistically associated small molecule binding to protein domains [13] and direct mapping has been applied to ligands in crystallographic structures [14]. Here we extrapolate these mappings to pharmacologically relevant interactions described in the CHEMBL database.
Structural domains are independent folding units that form the basic evolutionary and architectural 'building blocks' of proteins [15]. While there can be large sequence differences between members of a domain family, the fold of the peptide backbone is generally conserved [16], even though (exceptional) cases of homologous proteins with differing folds have been identified and discussed [17]. A small protein would typically consist of one domain, while longer proteins are often an assembly of more than one domain [18]. In some eukaryotic proteins, the underlying intron-exon structure of the gene reflects this structural domain segmentation [19]. For the mapping of small molecule binding, targets consisting of combinations of domains impose a challenge because the binding site for the ligand might lie in either domain and in addition more than one domain in a protein might interact with the same or different ligands. Domain assignment information is available from a number of publicly available resources. SCOP [20] and CATH [21] are databases that define protein architecture based on hierarchical definitions of 3D structural domains. Pfam-A [22] is a database of hidden Markov chain models of non-overlapping full domain sequence alignments. Pfam-A domain definitions are also manually annotated and curated. Interpro [23] is a database that integrates different domain models into a comprehensive set of protein domains. For our purposes, the Pfam-A database with its non-overlapping, non-hierarchical architecture and extensive coverage of protein families, is ideal to map ligand binding to a given protein domain. In this study, we propose a simple heuristic to map the site of small molecule binding to Pfam-A domains and compare our results with binding site information from the protein sequence database Uniprot [24] and PDBe [25], a repository of crystallographic protein structures.
Conclusions
In this study, we show that small molecule binding sites are associated with the regions in a protein that map to a Pfam domain, and hence typically have a discrete structure defined by a conserved sequence profile. We exploit this knowledge to map small molecule binding to Pfam domains in single- and multi-domain proteins. The integration of small molecule bioactivity data from the ChEMBL database and (predicted) structural data from Pfam will drive cross-linking across databases and deeper semantic annotation for chemical biology. In addition, our mapping allowed for an analysis of the distribution of known small molecule ligands per Pfam domain. The power-law behavior of this distribution mirrors the genomic distribution of protein folds and the incremental progression of drug discovery.
The heuristic presented here is simple and efficient. However, the mapping does not address two naturally occurring edge cases. Firstly, a number of Pfam domains occur only in combination with other domains and hence are not picked up in the initial seeding step. We address this partially by manually including such domains if they occur in more than one hundred ChEMBL targets. The second case is the relatively rare occurrence of ligand binding at the interface of domains, as discussed in the section on mapping small molecule binding to multidomain proteins.
One incentive to annotate recorded activities of small molecules against multi-domain proteins is a phenomenon we term 'domain poisoning' - where the presence of a common 'spectator domain' links together targets on the basis of sequence searches, but the ligand-binding domain is absent from the identified homologue. To avoid false positives, we were previously forced to use very conservative cut-offs for sequence similarity (see [
35
] for an example) because we found that without this safeguard, known drug targets were associated with a query protein through high conservation in regions that are not involved in small molecule binding and thus 'poisoned' our query results with irrelevant compounds. For example, when querying the ChEMBL target dictionary for targets similar to Tyrosine-protein phosphatase Syp (e.g. P35235), the presence of SH2 domains would result in relatively strong association with tyrosine kinases such as Tyrosine-protein kinase SYK (e.g., Q64725) and poison the query with kinase inhibitors (see Figure
6
for an illustration). In such a case, a query using only the domain relevant to small molecule binding would automatically filter out targets that are associated through domains not relevant to ligand binding.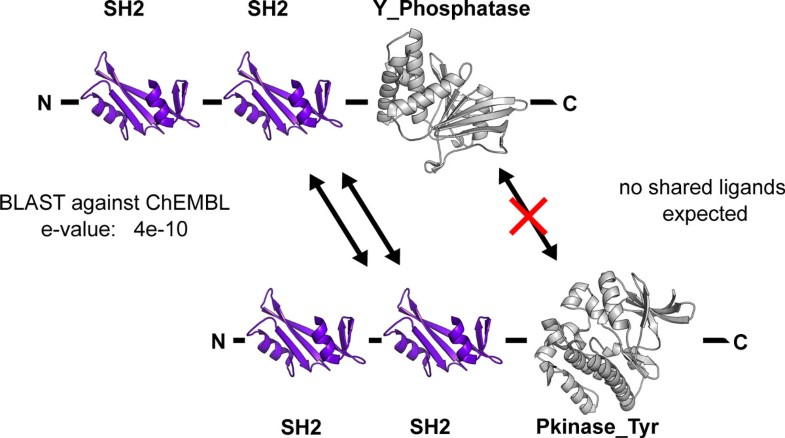 The mapping described in this study further provides ligand sets for the development of methods to predict bioactivity for new compounds and gives an estimate of the chemical space of ligands associated with each domain. We also used these sets as a starting point to explore the selectivity of small molecules within and across protein families following the Pfam domain definitions. Mappings and ligand sets resulting from this study will be kept up-to-date with new ChEMBL releases and are available at http://www.ebi.ac.uk/~fkrueger/mapChEMBLPfam, along with documentation.
Declarations
Acknowledgements
We thank Samuel Croset (EMBL-EBI) for exploratory work on validation of the mapping described in this article. We thank Saqib Mir (EMBL-EBI) for help with designing the PDBeMotif XML queries. The work was supported by funding from the EMBL Member Nations; FAK is a member of Fitzwilliam College, University of Cambridge.
This article has been published as part of BMC Bioinformatics Volume 13 Supplement 17, 2012: Eleventh International Conference on Bioinformatics (InCoB2012): Bioinformatics. The full contents of the supplement are available online at http://www.biomedcentral.com/bmcbioinformatics/supplements/13/S17.
Authors' Affiliations
(1)
European Bioinformatics Institute, Hinxton, UK
Copyright
© Kruger et al.; licensee BioMed Central Ltd. 2012
This article is published under license to BioMed Central Ltd. This is an open access article distributed under the terms of the Creative Commons Attribution License (http://creativecommons.org/licenses/by/2.0), which permits unrestricted use, distribution, and reproduction in any medium, provided the original work is properly cited.