B-cell epitope prediction through a graph model
BMC Bioinformatics
2012
13(Suppl 17):S20
Published: 13 December 2012
Abstract
Background
Prediction of B-cell epitopes from antigens is useful to understand the immune basis of antibody-antigen recognition, and is helpful in vaccine design and drug development. Tremendous efforts have been devoted to this long-studied problem, however, existing methods have at least two common limitations. One is that they only favor prediction of those epitopes with protrusive conformations, but show poor performance in dealing with planar epitopes. The other limit is that they predict all of the antigenic residues of an antigen as belonging to one single epitope even when multiple non-overlapping epitopes of an antigen exist.
Results
In this paper, we propose to divide an antigen surface graph into subgraphs by using a Markov Clustering algorithm, and then we construct a classifier to distinguish these subgraphs as epitope or non-epitope subgraphs. This classifier is then taken to predict epitopes for a test antigen. On a big data set comprising 92 antigen-antibody PDB complexes, our method significantly outperforms the state-of-the-art epitope prediction methods, achieving 24.7% higher averaged f-score than the best existing models. In particular, our method can successfully identify those epitopes with a non-planarity which is too small to be addressed by the other models. Our method can also detect multiple epitopes whenever they exist.
Conclusions
Various protrusive and planar patches at the surface of antigens can be distinguishable by using graphical models combined with unsupervised clustering and supervised learning ideas. The difficult problem of identifying multiple epitopes from an antigen can be made easied by using our subgraph approach. The outstanding residue combinations found in the supervised learning will be useful for us to form new hypothesis in future studies.
Keywords
Protein Data Bank
Accessible Surface Area
Boundary Edge
Residue Type
Residue Pair
Background
A B-cell epitope is a set of spatially proximate residues in an antigen that can be recognized by antibodies to activate immune response [1]. B-cell epitopes are of two types: about 10% of them are linear B-cell epitopes and about 90% are conformational B-cell epitopes [2–4]. Linear epitopes differ from conformational epitopes in the continuity of their residues in primary sequence--residues of a linear-epitope are contiguous in primary sequence while the residues in a conformational-epitope are not. B-cell epitope prediction is a long-studied problem of high complexity which aims to identify those residues in an antigen forming one or multiple epitopes.
This problem has attracted tremendous efforts over the last two decades because of its significance in prophylactic and therapeutic biomedical applications [5]. Various approaches have been proposed to identify conformational epitopes, for example, by clustering accessible surface area (ASA) [6], by combining residues' ASA and their spatial contact [7], by grouping surface residues under their protrusion index [8], by aggregating epitope-favorable triangular patches [9], or by using naïve Bayesian classifier on residues' physicochemical and geometrical properties [10]. Far more approaches have been developed for predicting linear epitopes. Some of these methods use just a single feature of residues--such as hydrophobicity, polarity, or flexibility only--to detect the crests or troughs of propensity values as epitopes [11, 12]. The other methods take complicated machine learning approaches, including artificial neural network, Bayesian network, and kernel methods, to tackle this problem [13–19]. With these tremendous efforts, this field of research has been advanced significantly and the best AUC performance has reached to 0.644 [9]. However, there are still many limitations in existing methods, and huge room for performance improvement exists.
A limitation of those methods using geometrical properties [
7
,
8
,
10
] is that they only favor epitopes with protrusive shapes, not identifying epitopes in other formations such as planar shapes. In fact, many epitopes are shaped at plain areas of antigens. For example, the surface atoms of the epitope of paracoccus denitrificans cytochrome C oxidase is very at in 3-dimensional space with a root mean square deviation (rmsd, an index of non-planarity) of only 1.08Å (Figure
1
). The second limitation of the conventional methods is that they do not separate or distinguish between any two epitopes in an antigen when multiple epitopes exist. They only tell which residue of the antigen is antigenic, but not tell to which epitope it belongs to. That is, only a union of all antigenic residues, irrespective to specific epitopes, are just predicted. This is a limitation because multiple epitopes are possible at the same antigen [
20
]. For instance, there exist two non-overlapping epitopes on the ubiquitin antigen: one of them has a very smooth surface with a non-planarity of 1.04Å, while the other stretches out remarkably with a non-planarity of 3.14Å. See Figure
2
for more details of their constituent resides. In this work, we propose a graph-based model to improve the prediction performance by identifying both protrusive and planar epitopes and by detecting multiple epitopes in an antigen if applicable (i.e., identifying all of the epitopes instead of the union of all epitope residues).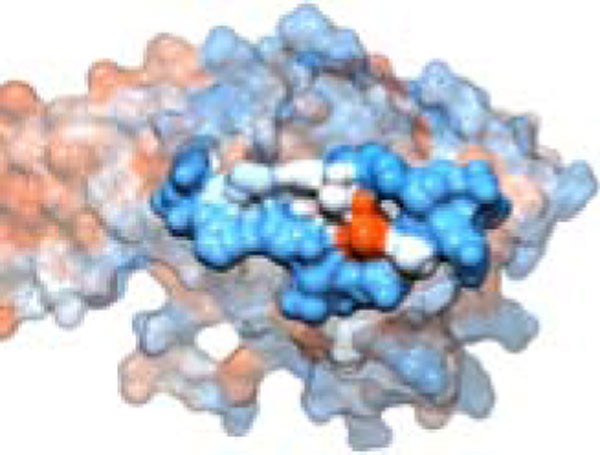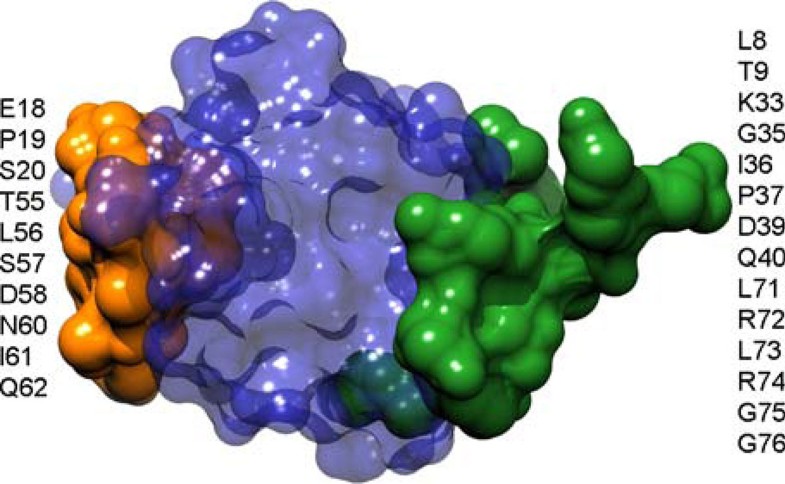 The use of graph model is motivated by the following biological observations. First, the tight packing of residues at each protein surface can be effectively represented by a graph. Second, epitope/non-epitope residues form particular patches separately on antigen surfaces, displaying distinct subgraphs of their own characteristics. As shown in Figure 1, the binding site shapes like a hydrophilic island (a hydrophilic subgraph) containing a hydrophobic core (a hydrophobic subgraph). It can be also seen that this island subgraph is surrounded by hydrophobic non-epitope residues which form a non-epitope subgraph. Third, the distinction between protrusive and planar eptiopes can be manifested by the change of weights in the connections between residues.
Our graph-based prediction method consists of three main steps: construct a weighted graph to represent an antigen surface, cluster the nodes of this weighted graph, and learn a label (epitope or non-epitope) for each cluster. Specifically, we take the idea of Delaunay tessellation and use Qhull [21] in the implementation of Delaunay tessellation to construct a protein surface graph. The weights of the edges in this graph are determined by test statistics combined with a log odds ratio of each edge type. An edge type is determined by the amino acid types of the interacting residue pair. Then, a Markov CLustering algorithm (MCL) [22] is used to partition the entire graph into subgraphs based on the weights of the edges and the graph topology. MCL simulates flows in a network with two operations: expansion and inflation. Expansion increases homogeneity of nodes within one subgraph, while inflation evaporates inter-flow between different subgraphs and amplifies flow within subgraphs. These ideas mimic properties of residues connecting within an epitope, within a non-epitope, or between an epitope and a non-epitope. Thus, we can divide the weighted antigen surface graph into a good set of subgraphs for the subsequent learning algorithms to predict these subgraphs as epitopes or non-epitopes accurately.
Experimental results on a set of 92 non-redundant antibody-antigen complexes compiled from the Protein Data Bank (PDB) [23] show that our proposed graph model improves the performance of B-cell epitope prediction significantly and, it is also able to identify multiple epitopes as well as predict epitopes with various geometrical formations. For ease of reference, we refer to the proposed B-Cell e piTop e prediction model as BeTop. Our data and web server for B-cell epitope prediction are available at http://sunim1.sce.ntu.edu.sg/~s080011/betop/index.php.
Materials and methods
Collection of antigen protein data
Protein complexes satisfying the following criteria were retrieved from the PDB on May 14th, 2011: (i) the macromolecular type is protein only, no DNA, RNA, or their hybrid complexes; (ii) the number of protein chains in an asymmetric unit of one complex is larger than two; (iii) the length of every chain is larger than or equal to 30; (iv) the X-ray resolution of one complex is less than 3Å; and (v) the structure title contains at least one of the following terms: antibody, Fab, Fv, or VHH. We obtained 622 antibody-antigen complexes. As transformed and redundant chains in the raw PDB complexes may cause noise effect on the results, we removed all of the transformed chains and duplicate chains. One antigen chain is considered as a duplicate if there exists one pair-wise chain similarity between this chain and one of the other in the data set larger than 80%, a threshold widely used to remove redundant antigens [24]. Removal of duplicate chains by pair-wise chain similarity may filter out multi-epitope antigens, but it can significantly reduce more noise data because the number of non-epitope residues is extremely larger than the number of epitope residue for an antigen. Asymmetric units in each complex that do not have structural difference were also excluded from our consideration. Finally, a non-redundant data set containing 92 antibody-antigen complexes were collected for our model training and testing. Epitope residues on antigen surfaces were determined by using the Euclidian distance of 4Å for every antigen-antibody PDB complex, following the traditional method for determining epitope residues [7].
Construction of epitope prediction model
The training phase of our prediction method has the following steps: (i) antigen surface triangulation, (ii) weight calculation for edges, (iii) clustering on the nodes of the graphs, and (iv) supervised learning for distinguishing between epitope subgraphs and non-epitope subgraphs. The details of each step are presented below.
Prediction of epitopes for an unknown antigen
Given an antigen with 3D coordinate information, the following steps are taken to identify one or multiple epitope for this antigen: (i) calculate each atom's ASA by using NACCESS, and filter out those atoms with ASA less than 10Å2; (ii) construct an atom-level graph by using Qhull and upgrade it to a residue-level graph; (iii) assign weights to all edges of this residue graph, where the weights are those determined during the training; (iv) cluster this undirected and weighted graph into exclusive subgraphs using mcl; and (v) transform every subgraph into a feature vector, and predict its label by the well-trained two-stage classification model. Epitope residues are the residues within those subgraphs which are predicted as epitope. Two epitope subgraphs can be merged together if they are connected in the original surface graph.
Results and discussions
Our graph-based method BeTop made remarkable improvement on B-cell epitope prediction in comparison to the state-of-the-art methods. First, BeTop shows significant improvement on overall prediction accuracy. Second, BeTop is capable of predicting epitopes located at both protrusive and planar surface areas. Third, BeTop is able to identify multiple epitopes if an antigen contains them. The detailed results of all these are presented below together with highlights of those features that distinguish epitope subgraphs from non-epitope subgraphs.
Conclusion
Epitope prediction is an important way to understanding the immune basis of antibody-antigen interactions and is beneficial to prophylactic and therapeutic solutions. In this study, we proposed a novel graph-based model ("BeTop") to predict B-cell epitope by incorporating statistical ideas, graph clustering algorithms and supervised learning approaches. Our experimental results conducted on two data sets of non-redundant antigen-antibody complexes show that BeTop makes great improvements for identifying those planar epitopes and for distinguishing multiple epitopes in an antigen. We have also presented interesting features and triplet feature patterns for the epitopes which will be useful for us to form new hypothesis in the future studies.
Declarations
Acknowledgements
We thank Mr. Zhenhua Li for helping us developing the web site. This work was supported by Nanyang Technological University [RG66/07].
This article has been published as part of BMC Bioinformatics Volume 13 Supplement 17, 2012: Eleventh International Conference on Bioinformatics (InCoB2012): Bioinformatics. The full contents of the supplement are available online at http://www.biomedcentral.com/bmcbioinformatics/supplements/13/S17.
Authors' Affiliations
(1)
Bioinformatics Research Center, School of Computer Engineering, Nanyang Technological University, Singapore
(2)
School of Computing, National University of Singapore, Singapore
(3)
School of Biological Science, Nanyang Technological University, Singapore
(4)
Advanced Analytics Institute, School of Software, Faculty of Engineering and IT, University of Technology Sydney, Australia
Copyright
© Zhao et al.; licensee BioMed Central Ltd. 2012
This article is published under license to BioMed Central Ltd. This is an open access article distributed under the terms of the Creative Commons Attribution License (http://creativecommons.org/licenses/by/2.0), which permits unrestricted use, distribution, and reproduction in any medium, provided the original work is properly cited.