Correspondence

Open Access
The Enzyme Portal: a case study in applying user-centred design methods in bioinformatics
BMC Bioinformatics
2013
14:103
Received: 22 June 2012
Accepted: 8 February 2013
Published: 20 March 2013
Abstract
User-centred design (UCD) is a type of user interface design in which the needs and desires of users are taken into account at each stage of the design process for a service or product; often for software applications and websites. Its goal is to facilitate the design of software that is both useful and easy to use. To achieve this, you must characterise users' requirements, design suitable interactions to meet their needs, and test your designs using prototypes and real life scenarios.
For bioinformatics, there is little practical information available regarding how to carry out UCD in practice. To address this we describe a complete, multi-stage UCD process used for creating a new bioinformatics resource for integrating enzyme information, called the Enzyme Portal (http://www.ebi.ac.uk/enzymeportal). This freely-available service mines and displays data about proteins with enzymatic activity from public repositories via a single search, and includes biochemical reactions, biological pathways, small molecule chemistry, disease information, 3D protein structures and relevant scientific literature.
We employed several UCD techniques, including: persona development, interviews, 'canvas sort' card sorting, user workflows, usability testing and others. Our hope is that this case study will motivate the reader to apply similar UCD approaches to their own software design for bioinformatics. Indeed, we found the benefits included more effective decision-making for design ideas and technologies; enhanced team-working and communication; cost effectiveness; and ultimately a service that more closely meets the needs of our target audience.
Keywords
3D protein structureBiological pathwaysCard sortingDesignEnzymeEnzyme portalImplementationPersonaePrototypingUser-centered design (USA spelling)User-centred designUser experienceUser profilesUser requirementsUsability testing
Background
User-centred design (UCD) is defined as "an approach to design that grounds the process in information about the people who will use the product. UCD processes focus on users through the planning, design and development of a product" [Usability Professionals Association http://www.upa.org]. With the aims of UCD in mind, we have designed and built a new digital portal, 'Enzyme Portal' to display publicly available enzyme-related information; available at http://www.ebi.ac.uk/enzymeportal. The aim of this freely-available service is to bring together disparate biological and chemical data, so that all the information at a specific point in time about a given enzyme (or other protein with enzymatic activity, such as receptors), can be explored in one place.
In the recent past, integration of bioinformatics data has proven challenging due to the vast amounts available in the public domain, and in some cases due to the lack of agreed data-sharing standards. In spite of these hurdles, much has been published recently on integration software and portals for bioinformatics applications, often aimed at the bench scientist rather than the informatician [1-5] (also see EBI Search, EMBL-EBI's gene and protein data summary service, example [6], unpublished, which is based on the EB-eye search [7]).
At EMBL-EBI we have recently moved to applying UCD techniques to develop new software services [8] and this article is the first full account of this type of work for bioinformatics. We describe the methodology applied for the design and development of the Enzyme Portal so that others may be inspired to use the same approaches and see the benefits of having a more useful and usable end product.
UCD for bioinformatics in the literature
It is recognised that bioinformatics resources suffer from significant usability problems. Javahery et al., for example, make the point that bioinformatics interfaces "lack sophistication" compared to those that people come across in their daily lives on other websites and in other software applications [9]. Moreover, Bolchini et al., who performed usability inspections for four major bioinformatics web applications, showed that users were unable to complete their tasks due to usability problems [10]. The result is that user expectations are frequently not met when interfacing with bioinformatics resources, and this influences the rate of adoption and general use of the data and services [9]. This is unfavourable, since the public domain has invested money in creating these resources and data content, so the greatest value possible should be leveraged from them if the funders are to realise a good return on their investment. By applying proven practices in usability engineering we, as a community, have the opportunity to significantly improve the usability, and thus utility, of bioinformatics resources. Indeed, in Rutherford and co-workers' article, which demonstrated improved usability of one type of gene browser view compared to another, they state: "it is essential that usability issues are key design criteria for bioinformatics software if it is to be of maximum value to researchers who are increasingly reliant on it" [11].
In summary, usability is a genuine problem for bioinformatics services. To address it, we believe that users should be taken into account from inception of new bioinformatics resources, rather than at the end when the project is already well under development - with the caveat that heuristic analysis of existing systems may also be helpful, for example, when redesigning a service [12].
Challenges when applying UCD to bioinformatics
UCD is a general design philosophy, therefore should theoretically be applicable to any domain. For example, it has been successfully applied to the Web for e-commerce [13], mobile development [14] and gaming [15]. However, case studies about how to increase usability of scientific software are in short supply in the literature, and virtually non-existent for bioinformatics, specifically. One example for chemistry, [16], showed how the authors applied UCD to design an e-science laboratory book. They observed chemists in the laboratory and noted how they interacted with their physical laboratory notebook, which then inspired the design of a digital version.
Moreover, the lack of 'step-by-step' information for UCD in bioinformatics may be due to the fact that bioinformatics is a complex data domain. Consequently, we suggest that there is a unique combination of challenges to be overcome when attempting to apply UCD to bioinformatics; these include:
'Dry' (computational) and 'wet' (lab-based) life science research communities often use the same software resources, so there are challenges to meet their diverse needs, and to account for their different level of computer skills.

It is difficult to measure the impact of UCD. Desired outcomes of bioinformatics services are improved access and understanding of the data being provided, which in turn, may lead to more fruitful scientific discoveries. 'Discovery' is an intangible metric and therefore difficult to demonstrate to stakeholders.

Historically, this community has not used UCD approaches; it requires a 'cultural shift'. Bioinformatics applications have often been command-line driven and technical in nature. Moving these types of functionalities to the Web is a new frontier, which sometimes meets resistance when it is perceived that usability practitioners may be 'over-simplifying'/'dumbing down' interfaces.

Biology is a complex and constantly evolving subject where standard rules often have exceptions, therefore interfaces to the information are difficult to design. Take Enzyme Commission (EC) nomenclature, for example, which is a hierarchical structure of the data to describe enzyme function. This is a set of rules used by some biochemists to categorise enzymes, but it fails to separate all enzymes effectively for other life scientists, who use the same data resources. For instance, COX-1 and COX-2, which have the same EC number (rule), but have very different (scientifically and commercially important) functions in the body. Likewise, criteria to define a 'small molecule' or 'chemical' fail to account for large biomolecules such as peptides or tRNA.

Vast amounts of interconnected data are being generated in bioinformatics. It is a huge technical challenge to present the data in meaningful ways to the user. One has to consider the technical constraints and scalability as well as what the user wants and make compromises.

It is difficult to find individuals with sufficient knowledge of three discrete sciences (namely, human-computer interaction, molecular biology/biochemistry/bioinformatics, and computing) to carry out UCD work effectively in bioinformatics; a problem for many complex domains [17]. This is especially true, since empathy with the end user is key to developing effective strategies for capturing user requirements, designing solutions, and setting plausible scenarios and tasks for usability testing.
To attempt to meet the above challenges, we devised a full lifecycle of UCD techniques to design the Enzyme Portal. For example, we used a bespoke variant of card sorting ('canvas sort', described later) to allow prioritisation and categorisation of a large number of data items and functionalities, instead of applying a generic card sorting approach (such as in [18]). Hence, we believe that this case study may be informative for those wishing to design digital services for the life sciences, where complex interconnected data is involved.
Methods
A summary of our UCD approach is outlined in Figure
1
. Chilana
et al.
[
17
] have shown that effective results in a UCD process can be achieved when user experience analysts either work closely with domain experts, or are experts in the domain themselves and have had training in usability evaluation. For creating the Enzyme Portal, we used the former approach, where domain experts, such as scientists working in the field of enzymology or pharmaceutical research were consulted at several points in the development process to inform the most appropriate design and implementation of the system. There was also some knowledge of chemistry and biochemistry amongst the design team members.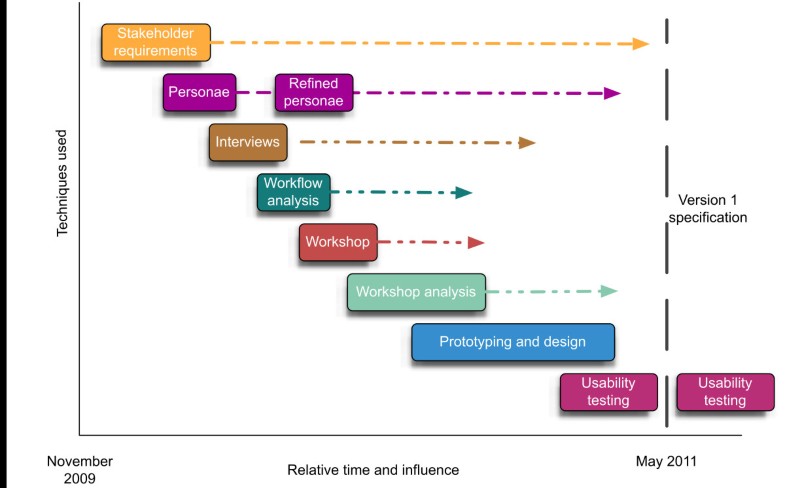 The choice, and order, of activities (Figure 1) were based on: the nature of the data content, the availability of users, and the information we needed at the time. UCD approaches vary and this is just one manifestation of a UCD lifecycle. The dotted lines indicate the influence that each step had on the project; for example, user profiles (or 'personae', described later) were used throughout the project, such as for recruiting participants for workshops and usability testing. Each element shown in Figure 1 corresponds to specific pieces of work, so for a more detailed set of steps see the full workflow in the Additional file 1.
Ethical approval from an institutional ethics board is usually necessary when conducting usability studies with participants. Participant consent forms are often required and may vary depending on the institution and type of study conducted. In accordance with the EMBL ethics committee, all participants were asked to sign a consent form (see Additional file 2) and informed of their right to withdraw their participation at any time. Identifiable traces of participant data were removed and no data were made publicly available. All data handling conformed to the EMBL-EBI Terms and Conditions (http://www.ebi.ac.uk/about/terms-of-use).
We now give an account of each step in our UCD process.
Results
Historically, enzyme information at the European Bioinformatics Institute website was organised across multiple data resources, which were loosely hyperlinked. Initial interviews indicated that users struggled to identify which resources were available, and could not navigate the information, as it was not logically grouped together and was not easily searchable. Users also pointed out that critical information was missing (e.g. disease). The Enzyme Portal addresses these issues in a single system, whereby disparate resources, including a protein knowledgebase [19], various other biological and chemical databases [20-24, 38, 39], experimental factor ontology (EFO) [40] and literature citations (http://www.ebi.ac.uk/citexplore), may all be explored in a single visual display after a single search.
Summary of insights uncovered through UCD
Specific user expectations were revealed as a direct result of applying UCD techniques to develop the Enzyme Portal. We do not report all of the learnings we gained from interaction with users here, however a summary of key findings that inspired the design is below. Note that these observations were applicable to the personae we were designing for.
Users do not want enzymes grouped by EC number alone, they also require an ontology that fits with a pharmacologically-relevant schema.

Users want entries to be species-specific, not an average combined model of a structure across the protein found in several species.

Users want to compare the list of characteristics of two or more enzymes on the same page, as one might compare specifications of retail products side-by-side on a commercial website.

The enzyme function is really important and is a key decision maker on whether to take a deeper look at the enzyme.

Users want the information embedded not hyperlinked, to save time clicking to and from multiple webpages/ browser tabs.

Protein structure is essential information when looking at an enzyme. Thus, presenting thumbnails to indicate whether a structure is available is handy for determining which enzymes to explore further.

All enzyme synonyms should be searched on, not only those approved by the NC-IUBMB. This is because enzymes may have been referred to by different names in the literature, so the scope of the search must include these alternatives

Users want to forward information to colleagues easily and also download time-stamped data for further reference.

Facets are desirable for narrowing down the search results based on the user's criteria, such as species.

Information about disease is under represented in most publicly-available databases. Users want this information categorised separately.

In the canvas sort activity, users categorised information in the following key categories: small molecules, reactions, pathways, protein structure and enzyme summary.
Enzyme portal is a freely-available service hosted at EMBL-EBI
The Enzyme Portal was released in February 2012 (http://www.ebi.ac.uk/enzymeportal), with subsequent releases planned for the short term to address outstanding functionalities identified in our UCD process. Interactive prototype testing conducted a month prior to release indicated that users liked the features the Enzyme Portal has delivered. The layout and categorisation of the data has also been well received. As mentioned, minor issues were uncovered in navigation, such as how the available species information was displayed for each search hit (as shown in Figure 8 and 9), and these were fixed for the final release.
There are still outstanding technical and data issues that prevent the Enzyme Portal from delivering all aspects of the user requirements we discovered. For example, we did not include the side-by-side enzyme comparison tool, and the species search facets in a separate pop up window, in the first release. We intend to resolve these omissions in subsequent versions of the Enzyme Portal. Further user testing has not been conducted since the release, and although the portal is in its infancy informal interviews with users who have been introduced to the portal through the EBI's training programme have heralded it a success.
We see UCD as an overarching philosophy, and thus we plan to continue monitoring user interactions with our new service going forward; for example, through website usage analysis and continued usability testing of software updates.
Discussion
Did the UCD approach work?
We have applied UCD thinking to the design and development of a new bioinformatics service called the Enzyme Portal. Many new bioinformatics services and data integration portals are described in the literature, such as those published each year in the database issue of Nucleic Acids Research journal [41], however few have undertaken a UCD approach to develop them as we present here. Furthermore, we believe there is a need to increase visibility of UCD approaches in the community at large, as Veretnik et al. suggest: "The issue of persistence and usability…plays a significant role in how our discipline is perceived" and "there are scientists themselves who publish the work but do not want to go to the trouble of making the resources easy to use…Wouldn't it seem that evidence of usability…should be prerequisite to publishing a paper …about such a resource?" [42].
Our motivation for applying UCD to the Enzyme Portal was to create a service based on the expectations of our users, rather than on our underlying data structure and our own assumptions of what users would want. We have shown how a UCD philosophy may be applied in bioinformatics and provide materials for general use by developers of bioinformatics applications, such as a card sorting template, an example of a consent form, etc.. In summary, we presented the practical steps involved to realistically achieve improvements in usability: from stakeholder analysis, user research and persona development to prototyping and usability testing.
We found that the UCD process is more complex than the traditional 'waterfall' software development cycle [43] applied to the development of most new bioinformatics services. However it offered distinct advantages to the traditional methods of development. For example, the decision-making process was simpler at each stage of the design, because we had clear requirements from users to follow. Furthermore, using this approach we had physical artefacts from workshops and visual sketches as communication tools to explain what was needed within the team. These were helpful for preparing both visual and functional specifications for implementing the software.
Other benefits of the UCD methodology included access for the development team to feedback from users immediately after each section was implemented, rather than receiving comments after all development was completed, when the site could not be easily changed; as often happens in bioinformatics software development. Another real, yet intangible, benefit was the opportunity that UCD provided for enhanced team-working, where developers, stakeholders, user experience practitioners and project coordinators were all practically involved, including for pre-implementation activities, such as persona development, user testing and sketching designs.
Most importantly the UCD process prevented us from pursuing false avenues and challenged our assumptions about the data we were integrating and displaying: for example, in our decision not to focus on enzyme commission (EC) numbers [44], but rather on other hierarchies, such as ChEMBL enzyme bioactivity classification. Overall, we believe it allowed us to deliver a better experience for the end user, compared to using a standard waterfall software development process.
There were some limitations to the UCD process we applied; for example, software development was initially delayed while we were characterising the needs of our users, hence no measurable output could be provided up-front. However, once development did start, developers reported that they enjoyed coding the project, and felt they were coding efficiently because they had a clearer visual specification to work from.
Initially, there were problems in convincing the team, stakeholders and management of the benefits in adopting the UCD process. This was primarily because there was an initial cost for gathering requirements, but in the long term this was negated by the faster development time.
Demonstrating the advantages of UCD was challenging, because the benefits are only realised after the software is released, and even then, they may be intangible - such as impacting on early-stage scientific discoveries and basic research - thus are hard to quantify and communicate to stakeholders. However, the intangible nature of the 'value' of such services is the same for most bioinformatics services.
Conclusions
We hope that the approach used to design the Enzyme Portal will motivate the reader to apply UCD to their own bioinformatics tools and services, because we believe that if you design a product in consultation with the user, you will likely find that more people will use it and will benefit from your offering - even if these benefits may be hard to measure. For the bioinformatics community, getting the design right is key, in order that the scientific community may reap the benefits of the public spend to create data from scientific endeavour. It is our duty to make the data available so scientists can find and manipulate it easily. We believe UCD may provide a way to achieve this ambition in the future.
Abbreviations
EC:

Enzyme Commission
EMBL-EBI:

European Molecular Biology Laboratory - European Bioinformatics Institute
PDE5A:

cGMP-specific 3',5'-cyclic phosphodiesterase
UCD:

User-centred design
Declarations
Acknowledgments
We thank the individuals who attended the workshops and usability testing sessions including those from EMBL-EBI, Cranfield University, Warwick University, University College London, GlaxoSmithKline, Syngenta and DuPont.
Authors' Affiliations
(1)
EMBL-EBI, Wellcome Trust Genome Campus, Hinxton, UK
(2)
European Commission, European Research Council Executive Agency, (Formally of EMBL-EBI), Brussels, Belgium
Copyright
© de Matos et al.; licensee BioMed Central Ltd. 2013
This article is published under license to BioMed Central Ltd. This is an Open Access article distributed under the terms of the Creative Commons Attribution License (http://creativecommons.org/licenses/by/2.0), which permits unrestricted use, distribution, and reproduction in any medium, provided the original work is properly cited.