TCC: an R package for comparing tag count data with robust normalization strategies
BMC Bioinformatics
2013
14:219
Received: 10 January 2013
Accepted: 7 July 2013
Published: 9 July 2013
Abstract
Background
Differential expression analysis based on "next-generation" sequencing technologies is a fundamental means of studying RNA expression. We recently developed a multi-step normalization method (called TbT) for two-group RNA-seq data with replicates and demonstrated that the statistical methods available in four R packages (edgeR, DESeq, baySeq, and NBPSeq) together with TbT can produce a well-ranked gene list in which true differentially expressed genes (DEGs) are top-ranked and non-DEGs are bottom ranked. However, the advantages of the current TbT method come at the cost of a huge computation time. Moreover, the R packages did not have normalization methods based on such a multi-step strategy.
Results
TCC (an acronym for Tag Count Comparison) is an R package that provides a series of functions for differential expression analysis of tag count data. The package incorporates multi-step normalization methods, whose strategy is to remove potential DEGs before performing the data normalization. The normalization function based on this DEG elimination strategy (DEGES) includes (i) the original TbT method based on DEGES for two-group data with or without replicates, (ii) much faster methods for two-group data with or without replicates, and (iii) methods for multi-group comparison. TCC provides a simple unified interface to perform such analyses with combinations of functions provided by edgeR, DESeq, and baySeq. Additionally, a function for generating simulation data under various conditions and alternative DEGES procedures consisting of functions in the existing packages are provided. Bioinformatics scientists can use TCC to evaluate their methods, and biologists familiar with other R packages can easily learn what is done in TCC.
Conclusion
DEGES in TCC is essential for accurate normalization of tag count data, especially when up- and down-regulated DEGs in one of the samples are extremely biased in their number. TCC is useful for analyzing tag count data in various scenarios ranging from unbiased to extremely biased differential expression. TCC is available at http://www.iu.a.u-tokyo.ac.jp/~kadota/TCC/ and will appear in Bioconductor (http://bioconductor.org/) from ver. 2.13.
Keywords
Normalization MethodDifferential Expression AnalysisDESeq PackageRank Gene ListCyclic Result
Background
High-throughput sequencing (HTS), also known as next-generation sequencing (NGS), is widely used to identify biological features such as RNA transcript expression and histone modification to be quantified as tag count data by RNA sequencing (RNA-seq) and chromatin immunoprecipitation sequencing (ChIP-seq) analyses [1, 2]. In particular, differential expression analysis based on tag count data has become a fundamental task for identifying differentially expressed genes or transcripts (DEGs). Such count-based technology covers a wide range of gene expression level [3-6]. Several R [7] packages have been developed for this purpose [8-14].
In general, the procedure for identifying DEGs from tag count data consists of two steps: data normalization and identification of DEGs (or gene ranking), and each R package has its own methods for these steps. For example, the R package edgeR[8] uses a global scaling method, the trimmed mean of M values (TMM) method [15], in the data normalization step and an exact test for the negative binomial (NB) distribution [16] in the identification step. The estimated normalization factors are used within the statistical model for differential analysis and gene lists ranked in ascending order of p-value (or the derivative) are produced. Naturally, a good normalization method combined with a DEG identification method, should produce well-ranked gene lists in which true DEGs are top ranked and non-DEGs are bottom ranked according to the confidence or degree of differential expression (DE). Recent studies have demonstrated that the normalization method has more impact than the DEG identification method on the gene list ranking [17, 18].
Note that the normalization strategies employed by most R packages assume that there is an approximately balanced proportion of DEGs between the compared samples (i.e., unbiased DE) [19]. However, a loss of function of histone modification enzymes will lead to a biased distribution of DEGs between compared conditions in the corresponding ChIP-seq analysis; i.e., there will be data with biased DE. As a result, methods assuming unbiased DE will not work well on data with biased DE. To normalize data that potentially has various scenarios (including unbiased and biased DE), we recently proposed a multi-step normalization procedure called TbT [17]. TbT consists of three steps: data normalization using TMM [15] (step 1), DEG identification by using an empirical Bayesian method implemented in the baySeq package [9] (step 2), and data normalization using TMM [15] after eliminating the estimated DEGs (step 3) comprising the TMM-baySeq-TMM pipeline. Different from conventional methods, our multi-step normalization strategy can eliminate the negative effect of potential DEGs before the normalization in step 3.
While the three-step TbT normalization method performed well on simulated and real two-group tag count data with replicates [17], it is practically possible to make different choices for the methods in each step. A more comprehensive study regarding better choices for the DEG elimination strategy (DEGES) is needed. To our knowledge, only the R package, TCC (from Tag Count Comparison), provides tools to perform multi-step normalization methods based on DEGES. Our work presented here enables differential expression analysis of tag count data without having to worry much about biased distributions of DEGs.
Implementation
The
TCC
package was developed in the R statistical environment. This is because R is widely used and the main functionalities in
TCC
consist of combinations of functions from the existing R/Bioconductor [
20
] packages (i.e.,
edgeR
[
8
],
DESeq
[
10
], and
baySeq
[
9
]). Since the main purpose (identification of DEGs from tag count data) of these three packages is essentially the same as that of
TCC
and many users may be experienced in their use, we will illustrate the main functionalities of
TCC
by contrasting them with the corresponding functions in those packages (see Figure
1
). While
TCC
employs Object Oriented Programming design utilizing the R5 reference class, it has interface functions that do not change the object passed as the argument in order to be compatible with the semantics of the standard R environment. Detailed documentation for this package is provided as a vignette: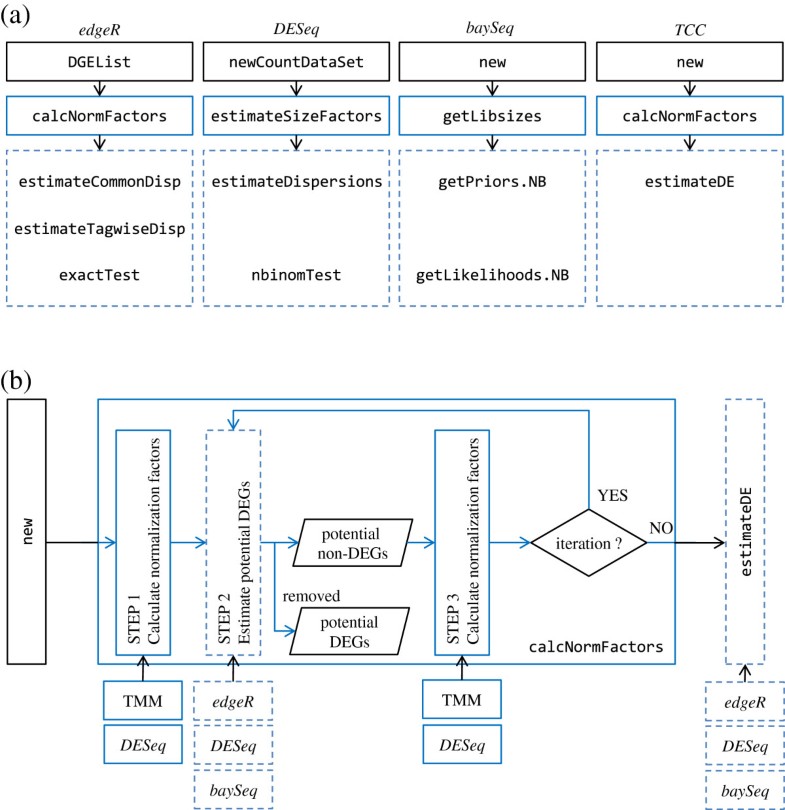 Results and discussion
Accurate data normalization is essential for obtaining well-ranked gene lists from tag count data. Similar to other R packages such as edgeR, the TCC package has functionalities for DE analysis of tag count data. Of these functionalities, TCC provides multi-step normalization methods (including DEGES/TbT [17]) that internally use the functions implemented in edgeR, DESeq, and baySeq. Here, we demonstrate that the DEGES-based normalization methods are more effective than the methods implemented in the other packages. All analyses were performed using R (ver. 2.15.2) and Bioconductor [20]. Execution times were measured on a Linux system (CentOS release 6.2 (Final), Intel® Xeon® E5-4617 (2.9 GHz) 24 CPU, and 512 GB memory). The versions of major R libraries were TCC ver. 1.1.99, edgeR ver. 3.0.4, DESeq ver. 1.10.1, and baySeq ver. 1.12.0.
Following our previous study [17], we here demonstrate the performance of these methods by using the same evaluation metric, simulation framework, and real experimental datasets. We use the area under the receiver operating characteristic (ROC) curve (i.e., AUC) as a means of comparison. The simulation conditions are as follows: 5-25% of the genes are DEGs (PDEG = 5-25%), 50-90% of the DEGs are up-regulated in G1 compared to G2 (PG1 = 50-90%), and the levels of DE are four-fold in both groups. The count dataset consists of 70,619 unique small RNAs (sRNAs) and a total of four Arabidopsis thaliana leaf samples (i.e., two wild-type [WT1 and WT2] and two RNA-dependent RNA polymerase 6 (RDR6) knockout [KO1 and KO2] samples) [9]. This dataset was originally analyzed with baySeq. The data has 657 provisional true DE sRNAs (i.e., PDEG = 657 / 70,619 = 0.93%), and all of the sRNAs can be regarded as up-regulated in the wild-type (i.e., PG1 = 100%). This is because they uniquely match tasRNA, which is produced by RDR6, and they are down-regulated in RDR6 mutants. In addition to the RDR6 knockout dataset, we also analyze four other experimental datasets (called "sultan" [4], "gilad" [22], "maqc" [23], and "katz.mouse" [24]) obtained from the ReCount database [25]. The four datasets are used for evaluating the DEGES-based methods aimed at two-group count data with replicates.
Conclusion
The R package TCC provides users with a robust and accurate framework to perform DE analysis of tag count data. TCC has an improved data normalization step, compared with existing packages such as edgeR. While the other normalization strategies assume that there is an approximately balanced proportion of DEGs between compared samples (i.e., unbiased DE), our multi-step DEGES-based normalization methods are designed to deal with various scenarios (including unbiased and biased DE situations): the internally used DEG identification method eliminates the effects of biases, if any, of potential DEGs. Our study demonstrated that the iDEGES/edgeR-edgeR combination can be recommended for analyzing two-group data with replicates (see Tables 1 and 2) and that the iDEGES/DESeq-DESeq can be recommended for analyzing two-group data without replicates (see Additional file 3). The success of these methods primarily owes to the high scalability of the normalization and DEG identification methods in the R packages used in TCC.
The functionality of TCC can be extended in many ways. First, the current study focuses on the analysis of two-group data, but some users may want to utilize the DEGES-based methods for data consisting of two or more groups. As can be seen in the vignette, some prototypes of DEGES-based pipelines for analyzing data in three or four groups have already been implemented. Evaluations such as these and further improvement are our next tasks. Second, the current approach of TCC is somewhat reminiscent of a microarray analysis of the count matrix for genes. We know that (i) one or more isoforms can be transcribed in a same gene region, (ii) those transcripts may have distinct expression levels, and (iii) it could lead to a DE result at the transcript level but a non-DE result at the gene level. To prevent this possible problem and fully utilize the resolution of RNA-seq data, advanced R packages (e.g., BitSeq[21] and DEXSeq[14]) have recently been developed. We believe that the use of those packages together with DEGES enables us to obtain a more reliable result, because the idea of DEGES can, of course, be applied to DE analysis at both gene-level and transcript-level resolutions.
Finally, the current DEGES-based normalization methods implemented in TCC only employ linear scaling normalization methods and statistical methods for identifying DEGs. This is because these scaling normalization methods do not change the shape of the original count distribution and the statistical methods for identifying DEGs in edgeR, DESeq, and baySeq assume the model. Technically speaking, we can construct many other pipelines consisting of, for example, a non-linear normalization method (e.g., quantile normalization [26]) and a DEG identification method originally developed for microarray analysis (e.g., WAD [27]). As we learned from the microarrays, there are suitable combinations of normalization methods and DEG identification methods [28]: we speculate that a non-linear normalization method would be incompatible with a statistical DE method. A critical evaluation of those pipelines will be of interest in the future and we will continue to offer up-to-date guidelines.
Availability and requirements
Project name: TCC
Project home page: TCC is available at http://www.iu.a.u-tokyo.ac.jp/~kadota/TCC/ and will appear in Bioconductor (http://bioconductor.org/) from ver. 2.13.
Operating systems: Platform independent
Programming language: R
Other requirements: requires the edgeR, DESeq, baySeq, and ROC packages
License: GPL-2
Any restrictions to use by non-academics: None
Acknowledgments
The authors thank Dr. TJ Hardcastle for providing the dataset used in the baySeq study. This study was supported by grants (KAKENHI 24500359 to KK and 22128008 to TN) from the Japanese Ministry of Education, Culture, Sports, Science and Technology (MEXT).
Abbreviations
DE:

Differential expression
DEG:

Differentially expressed gene
DEGES:

DEG elimination strategy
FDR:

False discovery rate
CPM:

Counts per million (normalization)
sRNA:

small RNA
tasRNA:

TAS locus-derived small RNA
TMM:

Trimmed mean of M values (method)
TbT:

the TMM-baySeq-TMM pipeline
TCC:

Tag count comparison.
Authors' Affiliations
(1)
Graduate School of Agricultural and Life Sciences, The University of Tokyo, Tokyo, Japan
(2)
Advanced Science Research Center, Kanazawa University, Kanazawa, Japan
Copyright
© Sun et al.; licensee BioMed Central Ltd. 2013
This article is published under license to BioMed Central Ltd. This is an Open Access article distributed under the terms of the Creative Commons Attribution License (http://creativecommons.org/licenses/by/2.0), which permits unrestricted use, distribution, and reproduction in any medium, provided the original work is properly cited.