GentrepidV2.0: a web server for candidate disease gene prediction
BMC Bioinformatics
2013
14:249
Received: 22 November 2012
Accepted: 13 August 2013
Published: 16 August 2013
Abstract
Background
Candidate disease gene prediction is a rapidly developing area of bioinformatics research with the potential to deliver great benefits to human health. As experimental studies detecting associations between genetic intervals and disease proliferate, better bioinformatic techniques that can expand and exploit the data are required.
Description
Gentrepid is a web resource which predicts and prioritizes candidate disease genes for both Mendelian and complex diseases. The system can take input from linkage analysis of single genetic intervals or multiple marker loci from genome-wide association studies. The underlying database of the Gentrepid tool sources data from numerous gene and protein resources, taking advantage of the wealth of biological information available. Using known disease gene information from OMIM, the system predicts and prioritizes disease gene candidates that participate in the same protein pathways or share similar protein domains. Alternatively, using an ab initio approach, the system can detect enrichment of these protein annotations without prior knowledge of the phenotype.
Conclusions
The system aims to integrate the wealth of protein information currently available with known and novel phenotype/genotype information to acquire knowledge of biological mechanisms underpinning disease. We have updated the system to facilitate analysis of GWAS data and the study of complex diseases. Application of the system to GWAS data on hypertension using the ICBP data is provided as an example. An interesting prediction is a ZIP transporter additional to the one found by the ICBP analysis. The webserver URL is https://www.gentrepid.org/.
Keywords
Candidate disease gene predictionCandidate disease genesMendelian diseasesComplex diseasesGenome-wide association studiesGenotypePhenotypeCandidate gene identificationGenetic-association studiesHypertension
Background
The identification of genes implicated in human disease enables an understanding of disease mechanisms and is essential for the development of diagnostics and therapeutics. While genetic approaches such as linkage mapping or genome-wide association studies (GWAS) can successfully identify genomic regions linked to a particular disease, identification of the disease-causing genes is still a difficult task. For linkage analysis, genomic regions are large, as these analyses look at inheritance over several generations in a known pedigree which may have few recombination events. Genetic association studies, which do not focus on recent observable ancestry but rather look at historic recombination, have shorter disease-associated regions [1]. However, when applied at the genome-wide scale (eg. GWAS), the large number of markers used requires stringent correction for multiple testing, limiting the number of reliably identified candidate genes. Lower scoring markers may still indicate potential disease genes but may also be false positives. Analysis of this valuable but noisy data would benefit from a candidate disease gene prioritization approach [2].
A variety of publicly available systems employ various methodologies to map phenotype to genotype in order to predict or rank candidate disease genes [3, 4]. Many of these systems are available as web services. Because oligogenic diseases are associated with disruption of genes that have similar functions [5], the most prevalent method employed is gene clustering [6]. Genes are clustered based on shared features, such as common domains, similar functional annotation, involvement in the same protein complex or signaling pathways, co-expression, or combinations of these [6-11].
Here we present the
Gentrepid
web server, a public candidate disease gene prediction system that associates genes with specified phenotypes using genetic and biomolecular data (Figure
1
).
Gentrepid
draws on two gene clustering methods to make candidate gene predictions; the Common Pathway Scanning (CPS) and Common Module Profiling (CMP) approaches [
10
]. Both methods identify links between genes in loci associated with a disease phenotype. CPS is based primarily on protein interaction data, whereas CMP is based on sequence data.
Gentrepid
can be assisted by phenotype-associated genes as seeds (
seeded
mode), or can work in the absence of disease gene knowledge using only phenotype-associated loci (
ab initio
mode). The system can be applied to both Mendelian and complex diseases [
4
,
6
,
10
].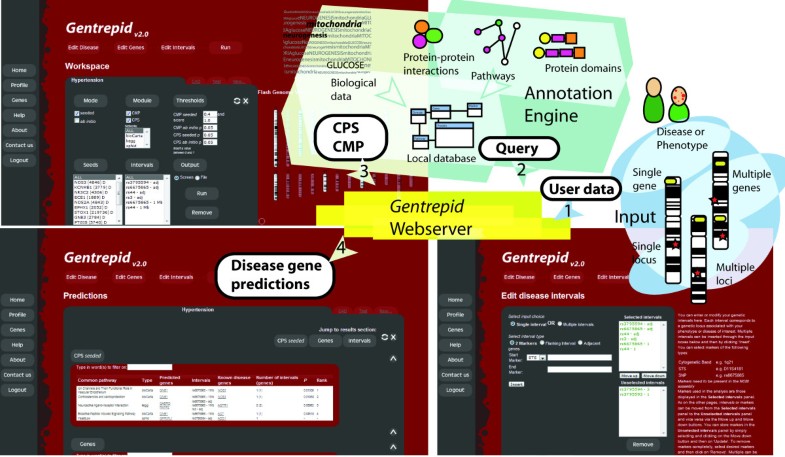 Utility and discussion
The system can be used on both linkage and genome-wide association data. Linkage data from family studies associates much larger regions of the genome with the disease or phenotype. Similar but not identical to an enrichment analysis, Gentrepid's modules can be employed to sift through these regions and select genes that warrant further study. In the case of GWAS data, the tool can be used to search the genetic data holistically for affected pathways or molecular mechanisms. GWAS use SNPs in linkage disequilibrium (LD) to pinpoint phenotype-associated areas of the genome. When employing Gentrepid, genes within the vicinity of the associated SNP, not necessarily in LD, are analysed. The associated SNPs may be identifying haplotype blocks which contain control regions affecting the distal protein coding gene in cis. Other systems such as GRAIL [34] allow users a similar flexibility by requesting either an interval, a gene list or a set of SNPs.
The usefulness of each module for candidate gene prediction seems to depend on the heritability of the phenotype. For Mendelian diseases, CPS is the more effective of the two modules. Because of the small number of loci typically involved in Mendelian disease, it works best when there is some prior knowledge of the genes underlying the phenotype. For complex diseases, where it is believed multiple genes are involved, both modules, common pathways and common functional domains, appear to be effective. Provided enough significant loci are supplied, significant predictions can be made for complex diseases either with or without prior knowledge [4].
Previous validation
Validation studies of the Gentrepid approach have been published previously for both Mendelian diseases [10] as well as complex diseases [6]. To summarize, for Mendelian diseases benchmark tests on a set of 170 disease genes for 29 diseases showed that the CMP and CPS methods have a combined sensitivity of 0.52 and a specificity of 0.97, and reduce the candidate list by 13-fold [10]. These tests were performed using artificially constructed loci of 50, 100 or 150 genes around the target disease genes, numbers which are typical of linkage-based disease loci.
Complex diseases are more difficult to benchmark due to limited knowledge of the underlying genetics. In a comparison using loci previously determined by linkage analysis against 11 highly significant Type 2 Diabetes GWAS SNPs, Gentrepid had a sensitivity of 0.18 and a specificity of 0.96 while reducing the candidate list by 19-fold [6]. In a second benchmark on seven complex diseases using GWAS SNP data, Gentrepid was capable of extracting known disease genes and predicting plausible novel disease genes in known and novel loci. Depending on the size of the search space used, the system had a sensitivity that ranged between 0.09 and 1, specificity between 0.55 and 1, and enrichment ratios up to 25-fold [4].
In addition to these benchmark tests, we have used Gentrepid in-house to successfully predict a novel gene for autosomal recessive spondylocostal dysostosis [35] and analyse mutations in MESP2, LNFG and HES7[36]. An advantage of Gentrepid's biological clustering approach is that, as it does not use machine learning algorithms, it does not rely on training data sets and thus avoids concomitant problems such as model overfitting [37].
Case study: hypertension and blood pressure
Hypertension (HTN) is a medical condition where blood pressure in the arteries is significantly elevated resulting in increased risk for cardiovascular disease, kidney disease or stroke. To demonstrate the application of the Gentrepid system in the analysis of GWAS data, we ran our analyses on a set of 29 significantly associated loci from a meta-GWAS performed by the International Consortium for Blood Pressure (ICBP) [38-40] where the phenotypes investigated were hypertension (HTN), systolic blood pressure (SBP), and diastolic blood pressure (DBP). The study reported 45 likely candidate and confirmed disease genes (Additional file 1: Table S1). We collated a set of 23 HTN-implicated genes from OMIM as seeds (Additional file 1: Table S2), using only genes known prior to the publication of GWAS so as not to skew our results. The seed genes are involved in pathways that regulate blood pressure and blood volume such as: calcium signalling, the renin-angiotensin system, and hormone metabolism [41-43]. Using the 29 significant loci reported, we generated a gene search space based on SNP-gene proximity labelled the adjacent approach where we pool genes adjacent to the associated SNP both upstream and downstream on the + and - strands [4]. We also generated a second gene search space based on SNP-gene distance, labelled the bystander approach. We used a 1Mbp window centred on each SNP and pooled genes within that interval. We then ran Gentrepid in seeded mode, with the 23 seed genes; and in ab initio mode, where no additional genotype/phenotype information is used. We report the predictions made by Gentrepid. We compared these predictions to the reported candidates from the study; which themselves, may or may not be the causal gene. Predictions different to the reported genes in the ICBP study [38] are annotated as alternate predictions.
From the 29 loci implicated by the ICBP study [
38
], the
adjacent
mapping generated a search space of 77 genes, as some loci mapped to fewer than 4 genes. From these 77 genes,
Gentrepid
returned 19 gene predictions for 15 of the 29 loci (Table
1
). Of these 19 predictions, 12 were gene candidates reported by the ICBP study to be the likely disease genes.
Gentrepid
thus made 7 alternate gene predictions in 7 loci. Of these alternate predictions, many are in generic signalling pathways (eg. MAPK signalling,
p
 = 0.08). Although the mitogen-activated protein kinase (MAPK) cascade is involved in various cellular functions including vascular oxidative stress, it is debated whether this is solely a symptom of hypertension [
44
]. The study suggests that variant alleles of the MAPK signalling pathway predispose individuals to hypertension.
Table 1
Comparison of reported genes and candidate disease genes predicted by Gentrepid using the gene search space from the adjacent mapping
Reported SNP

Reported gene(s) by study

Predicted candidate gene(s)

Method

Common property used in prediction

Seed gene

Score

Relative rank

rs419076

MDS1, EVI1

EVI1

CMP-ab

zf-C2H2

-

S = 5.17

3

rs13107325

SLC39A8

SLC39A8

CMP-ab

Zip

-

S = 150.96*

1

NFKB1

CPS-s

Corticosteroids & cardioprotection

NOS3

P = 0.09

1

rs13139571

GUCY1A3,

GUCY1A3,

CPS-ab

Purine metabolism

-

P = 0.23

7

GUCY1B3

GUCY1B3

CPS-s

Long-term depression

NOS2A,

P = 0.39

7

NOS3

rs4373814

CACNB2

SLC39A12

CMP-ab

Zip

-

S = 150.96*

1

rs932764

PLCE1

PLCE1

CPS-ab

Calcium signaling pathway

-

P = 0.31

11

CPS-s

Calcium signaling pathway

AGTR1,

P = 0.31

5

NOS2A,

NOS3

rs7129220

ADM

AMPD3

CPS-ab

Purine metabolism

-

P = 0.23

9

rs2521501

FURIN, FES

FES

CMP-ab

Pkinase_Tyr

-

S = 13.97

2

rs17608766

GOSR2

WNT9B

CPS-ab

Basal cell carcinoma

-

P = 0.05*

3

rs6015450

GNAS, EDN3, ZNF831, MRPS16P

C20orf174

CMP-ab

zf-C2H2

-

S = 5.17

3

rs3774372

ULK4

CTNNB1

CPS-ab

Cell to Cell Adhesion Signaling

-

P = 0.01*

1

rs1458038

FGF5

FGF5

CPS-ab

MAPK signaling pathway

-

P = 0.08

5

PRDM8

CMP-ab

zf-C2H2

-

S = 5.17

3

rs1813353

CACNB2

CACNB2

CPS-ab

MAPK signaling pathway

-

P = 0.08

5

rs17249754

ATP2B1

ATP2B1

CPS-ab

Calcium signaling pathway

-

P = 0.31

11

CPS-s

Calcium signaling pathway

AGTR1,

P = 0.31

5

NOS2A,

NOS3

rs1378942

CYP1A2, CSK

CYP1A2

CMP-s

p450

CYP3A5

S = 0.15

1

CSK

CPS-s

PPIN

ACSM3,

-

-

ADD1

rs12940887

ZNF652

ZNF652

CMP-ab

zf-C2H2

-

S = 5.17

3
The 1Mbp bystander approach generated a search space of 386 genes. Gentrepid returned predictions for 25 of the 29 implicated loci, with a total of 108 gene predictions (results not shown). Of the 25 loci with predictions, 15 gene predictions were congruent with those reported by the ICBP study. Alternate predictions of note include the nuclear factor NF-kappa-B (NFKB1), predicted via the "Corticosteroids and cardioprotection" pathway (p = 9.99e-5). Corticosteroids exert a variety of actions by binding to the glucocorticoid receptor and may play a role in increased water excretion in the kidneys to reduce blood volume and atrial pressure [45]. In addition to the ZIP domain ion transporter SLC39A8 reported by the ICBP, Gentrepid CMP predicted the solute carrier SLC39A12 that, like SLC39A8, has a Zinc transporter domain (Zip, Pfam PF02535). The ICBP study postulated that SLC39A8 may play a role in disease through its transport of cadmium [46, 47].
As demonstrated, both SNP/gene mapping approaches are useful to obtain likely candidates. We recommend the adjacent approach as a first step, and then the 1Mbp bystander approach can be used to generate possible candidates further from the associated locus.
Limitations and future directions
Gentrepid, as with all tools in the field, is limited by the current knowledge database. In an effort to compensate for the missing data, Gentrepid uses multiple modules (CPS, CMP) which gather data from multiple sources (protein-protein interactions, pathways, protein domains). Other protein function data that has been employed include tissue-specific expression levels [48-50], post-translational modifications [51], phylogenetic lineage [52], and other ontological classifications [53]. With the publication of regulatory annotation data such as those from the ENCODE project [54], a future direction for the tool would be to use such regulatory information as a likely candidate disease gene prediction module. Genes targeted by common transcription factors, or miRNAs, amongst other elements that affect gene expression, have also been disease associated and would be a useful update to the system [55, 56].
Conclusions
The Gentrepid web server facilitates the prediction and prioritization of candidate disease genes for both Mendelian and complex diseases using two complementary approaches, namely Common Pathway Scanning and Common Module Profiling. The ability to apply different approaches separately enables the application of different prioritization strategies to different categories of disease—for instance, the optimal approach for the prioritization of candidate disease genes for Mendelian diseases might differ from that for complex diseases, or for cancer. The alternate predictions made by Gentrepid for hypertension and blood pressure traits are interesting candidates that require further validation. The system has shown to be capable of both replicating known or reported candidates and also making novel plausible predictions, demonstrating the usefulness of Gentrepid in de novo analysis and reanalysis of GWAS data. In the future, the addition and integration of yet more data types will further increase the utility of Gentrepid in candidate disease gene prediction and prioritization, for all types of diseases.
Availability and requirements
Gentrepid is available at https://www.gentrepid.org. It requires no special or additional data sources, other than the input data (genetic loci) from the user.
Abbreviations
BP:

Blood pressure
CPS:

Common Pathway Scanning
CMP:

Common Module Profiling
DBP:

Diastolic blood pressure
GWAS:

Genome-wide association studies
HTN:

Hypertension
LD:

Linkage disequilibrium
PPI:

Protein-protein interactions
OMIM:

Online Mendelian Inheritance in Man
SBP:

Systolic blood pressure
SNP:

Single nucleotide polymorphism
STS:

Sequence tag sites.
Declarations
Acknowledgements
The authors would like to thank industrial training students who contributed to the project including Rosemary Sadsad (database), Ignatius Pang (annotations) and Boer Xu (Gviewer implementation).
Authors' Affiliations
(1)
Structural and Computational Biology Department, Victor Chang Cardiac Research Institute, Darlinghurst, NSW, Australia
(2)
School of Computer Science and Engineering, University of New South Wales, Kensington, NSW, Australia
(3)
Centre for Molecular and Biomolecular Informatics, Radboud University Nijmegen Medical Centre, Nijmegen, The Netherlands
(4)
School of Medical Sciences, University of New South Wales, Kensington, NSW, Australia
(5)
Molecular Cardiology and Biophysics Division, Victor Chang Cardiac Research Institute, Darlinghurst, NSW, Australia
(6)
School of Medicine, Deakin University, Geelong, VIC, Australia
(7)
Stanley Institute for Cognitive Genomics, Cold Spring Harbor Laboratory, Woodbury, USA
Copyright
© Ballouz et al.; licensee BioMed Central Ltd. 2013
This article is published under license to BioMed Central Ltd. This is an Open Access article distributed under the terms of the Creative Commons Attribution License (http://creativecommons.org/licenses/by/2.0), which permits unrestricted use, distribution, and reproduction in any medium, provided the original work is properly cited.