Peak Finder Metaserver - a novel application for finding peaks in ChIP-seq data
BMC Bioinformatics
2013
14:280
Received: 27 March 2013
Accepted: 10 September 2013
Published: 23 September 2013
Abstract
Background
Finding peaks in ChIP-seq is an important process in biological inference. In some cases, such as positioning nucleosomes with specific histone modifications or finding transcription factor binding specificities, the precision of the detected peak plays a significant role. There are several applications for finding peaks (called peak finders) based on different algorithms (e.g. MACS, Erange and HPeak). Benchmark studies have shown that the existing peak finders identify different peaks for the same dataset and it is not known which one is the most accurate. We present the first meta-server called Peak Finder MetaServer (PFMS) that collects results from several peak finders and produces consensus peaks. Our application accepts three standard ChIP-seq data formats: BED, BAM, and SAM.
Results
Sensitivity and specificity of seven widely used peak finders were examined. For the experiments we used three previously studied Transcription Factors (TF) ChIP-seq datasets and identified three of the selected peak finders that returned results with high specificity and very good sensitivity compared to the remaining four. We also ran PFMS using the three selected peak finders on the same TF datasets and achieved higher specificity and sensitivity than the peak finders individually.
Conclusions
We show that combining outputs from up to seven peak finders yields better results than individual peak finders. In addition, three of the seven peak finders outperform the remaining four, and running PFMS with these three returns even more accurate results. Another added value of PFMS is a separate report of the peaks returned by each of the included peak finders.
Keywords
Transcription factor
Peak finder
ChIP-seq
Metaserver
Background
The aim of peak finding in ChIP-seq analysis is identification of genomic regions with a high density of mapped sequence tags relative to a measured or estimated background. A simple approach to achieving this goal consists of two steps. Firstly, a sequence of mapped tags along the genome is extracted. Secondly, every contiguous sequence of base pairs with more than a predefined threshold number of tags is selected as an enriched region or binding site. However, the experimental noise and inherent complexities of the tags require more sophisticated algorithms. Numerous solutions have been designed following different statistical models and enrichment measures, including window-based models such as Erange [1], Hidden Markov Model-based methods such as HPeak [2] and others, for example, FindPeaks [3]. Differences in the characteristics of the algorithms result in identification of different sets of peaks for the same ChIP-seq data set. These algorithmic diversities provide an opportunity to analyze ChIP-seq datasets under different conditions, but the problem of deciding which method is optimal for a given data set remains unsolved [4]. Here, in the spirit of protein structure prediction meta-servers, e.g. [5], we present the first meta-solution as a method that combines results from peak-finders chosen by the user.
Implementation
The implemented meta-server collects results from several peak finders and from these extracts the final result. The peak finders currently included in PFMS are: MACS v1.3.7 [6], CisGenome v2.0 [7], SISSRs v1.4 [8], Erange v2.1 [1], SeqSite v1.0 [9], FindPeaks v3.1.9.2 [3], and HPeak v1.1 [2]. The system can be configured to include any combination of these peak finders. PFMS is implemented in a multi-threading manner. The peak finders can be run in parallel, or sequentially depending on user's hardware.
Results and discussion
Our method was evaluated against the benchmark datasets published by Rye et al. [
12
]. They analyzed ChIP-seq reads of three transcription factors (MAX, NRSF and SRF) using five different peak finders (MACS, SISSRs, PeakSeq, FindPeaks and QuEST). Furthermore, the authors visually inspected a number of detected peaks, classifying them as True Positive, False Positive or Ambiguous, providing an excellent resource for evaluation of peak finder performance. In our analysis we ran all seven peak finders included in PFMS on the three datasets incorporating control data with those peak finders that support experimental background measurements. PFMS with various combinations of parameters and peak finders was evaluated. The peaks obtained by the peak finders and by PFMS were intersected with the Rye's results using BEDTools [
10
], keeping track of counts of True Positives and False Positives for each data set and parameter setting. The performance results of all runs are shown in Figure
3
.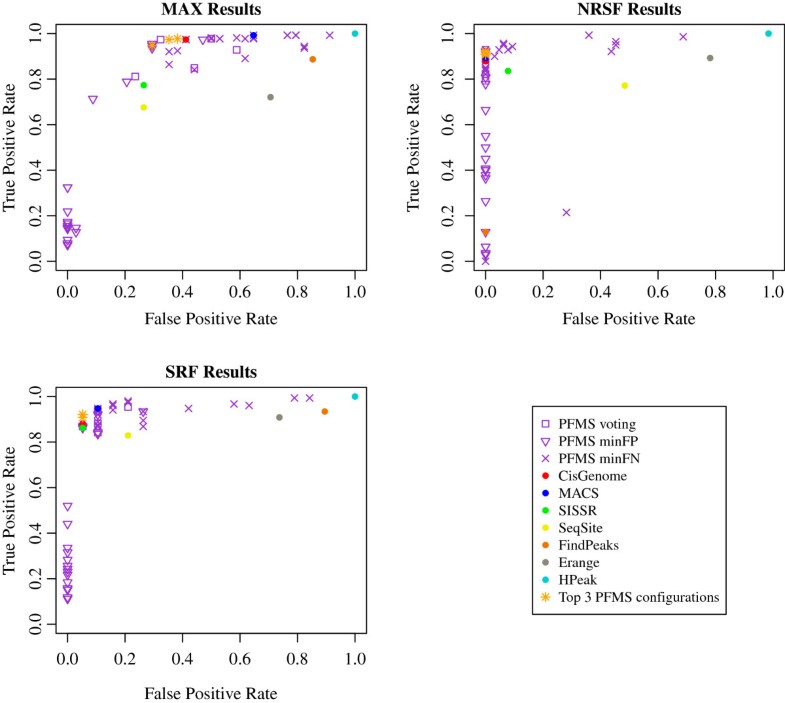 In order to clearly compare the performance of single peak finders and various configurations of PFMS three different measures were applied. Firstly, we calculated Euclidian distance of the points on the Figure 3 to point (0,1) for each of the investigated TFs. Secondly, for each configuration, we calculated Average Euclidean Distance for the three TFs results (see Additional file 1: Table S1). However, in the first measure the largest impact on the overall output have the results for the most 'difficult' TF. A ranked-based approach was applied to compensate for this factor. We ordered increasingly the Euclidean distances separately for each TF. For each configuration we summed up the ranking position from all three TFs obtaining Combined Ranking Score. The third measure implemented in order to compare the performance of the peak finders and various configurations of PFMS was the Average Normalized Distance. To calculate this measure we applied studentization on the distances for each of the TF datasets. Then, for each peak finder and PFMS configuration we calculated mean value of the measure for the three datasets. For all three measures, the lower the score, the better configuration is.
In our validation analysis, the peak finders were ran with the default settings. However, tuning settings of the peak finders for the given datasets may improve the results. Configuration of the individual peak finders may be easily modified within PFMS (for detailed information see http://bioinf.icm.uu.se/~pfms/). CisGenome, MACS and SISSR were found to perform much better than the remaining four peak finders. Not surprisingly, PFMS performed best with only the three peak finders included. The top three choices for transcription factor dataset analysis utilize only these three peak finders with the min_rank parameter set to 2. We recommend either voting or minFP with Rank Normalization or Top Rank Normalization as these three configurations outperform each of the single peak finders as well as any other configuration of PFMS. Depending on the quality measure, one of the three configurations was the optimal one. However using any of the three quality measures the above mentioned configurations make the top three choices. As predicted, the minFP option returns results with only few False Positives but quite often misses True Positives. Apparently, this leads to a very high specificity and can be useful for applications such as selecting the strongest putative TF target genes for biological validation [13]. We recommend using the minFP option with CisGenome, MACS, SISSR and optionally with SeqSite.
In contrast, minFN has very high sensitivity, i.e. it returns most of the True Positives at the cost of including a considerable number of False Positives. This option also performs best with the four peak finders. The choice of normalization type did not seem to be crucial for the quality of the results when using minFN or minFP. Nevertheless, we do not recommend using the Normal Normalization unless one is certain that the peak scores obtained from all peak finders have a bell-shaped distribution. Otherwise, it is much safer to use Naive Quantile Normalization (e.g. quantile 0.75), Average or Rank Normalization. These methods do not require any assumptions about the distribution of the scores.
The configurations described in this section proved to be the best for transcription factor ChIP-seq datasets. Other types of ChIP-seq data such as histone modifications were not tested. Further investigation needs to be carried out and more validated datasets have to be provided to reveal the optimal settings for both PFMS itself as well as the individual peak finders. As an example, histone modifications ChIP-seq datasets are likely to have varying peak widths and shapes depending on the pattern of the modification (e.g. single or consecutive nucleosomes) and the density of the chromatin. Therefore, different approaches and options might be better for different cases.
PFMS can be used as a single interface for analyzing ChIP-seq datasets employing several peak finders simultaneously since users may choose a set of peak finders amongst the ones currently integrated in this application. In addition to the list of putative peaks identified by PFMS, the results of each peak finder may be stored in the output directory of PFMS.
Conclusions
We present Peak Finder Metaserver - a novel tool for finding peaks in ChIP-seq data. The tool combines the results from various widely used methods and generates consensus results. We investigated seven peak finders and identified three that perform best for transcription factor ChIP-seq datasets, i.e. CisGenome, MACS and SISSR. Applying only these three peak finders and setting the voting peak selection method and the minrank parameter to 2. To the best of our knowledge this is the best method of finding peaks in transcription factor ChIP-seq datasets. Meta-Server approach proved to be successful and PFMS with the above mentioned settings generates results of a better quality than any of the individual peak finders. Different configurations of our tool can be optimal for different types of analyses, but identification of optimal settings requires other validated datasets.
Availability and requirements
Project name: Peak Finder MetaServer

Project homepage: http://bioinf.icm.uu.se/~pfms/

Operating system(s): Linux, MacOS

Programming language: python

Other requirements: Python 2.6 or higher, GCC compiler, Perl, JRE 1.6

License: GNU

Any restrictions to use by non-academics: none
Abbreviations
ChIP-seq:

Chromatin immunoprecipitation sequencing
PFMS:

Peak Finder Metaserver
TF:

Transcription factor.
Declarations
Acknowledgements
We want to thank an anonymous referee for a critical and insightful review and inspiration to create measures to compare our tool with other peak finders.
Funding
Studies supported by Uppsala University, and Foundation for Polish Science, International PhD Projects (MPD) program (MK), and a grant N301 239536 from the Polish Ministry of Science and Higher Education (JK).
Authors' Affiliations
(1)
Department of Cell and Molecular Biology, Uppsala University, Uppsala, Sweden
(2)
Postgraduate School of Molecular Medicine, Warszawa, Poland
(3)
Department of Immunology, Genetics and Pathology, SciLifeLab Uppsala, Rudbeck Laboratory, Uppsala University, Uppsala, Sweden
(4)
Interdisciplinary Centre for Mathematical and Computational Modelling, University of Warsaw, Warszawa, Poland
Copyright
© Kruczyk et al.; licensee BioMed Central Ltd. 2013
This article is published under license to BioMed Central Ltd. This is an Open Access article distributed under the terms of the Creative Commons Attribution License (http://creativecommons.org/licenses/by/2.0), which permits unrestricted use, distribution, and reproduction in any medium, provided the original work is properly cited.